If you are looking for free Monopoly Go dice reward links for November 2023, you've come to the right place. We gather all the free dice links from various social media and platforms where these rewards are published. We compile them in one article, making it easier for you to access all the free dice links in one spot.
These links provide players with 25 dice rolls and in-game money, allowing you to keep enjoying the game. Numerous players search for these special dice links daily, eager to gain more spins and money but endup at spammy sites. Thats why we have stepup to help all of them to give only legit and working dice links after testing it. So, without worring you can use this links daily and enjoy the reward.
Monopoly Go Dice Links November 2023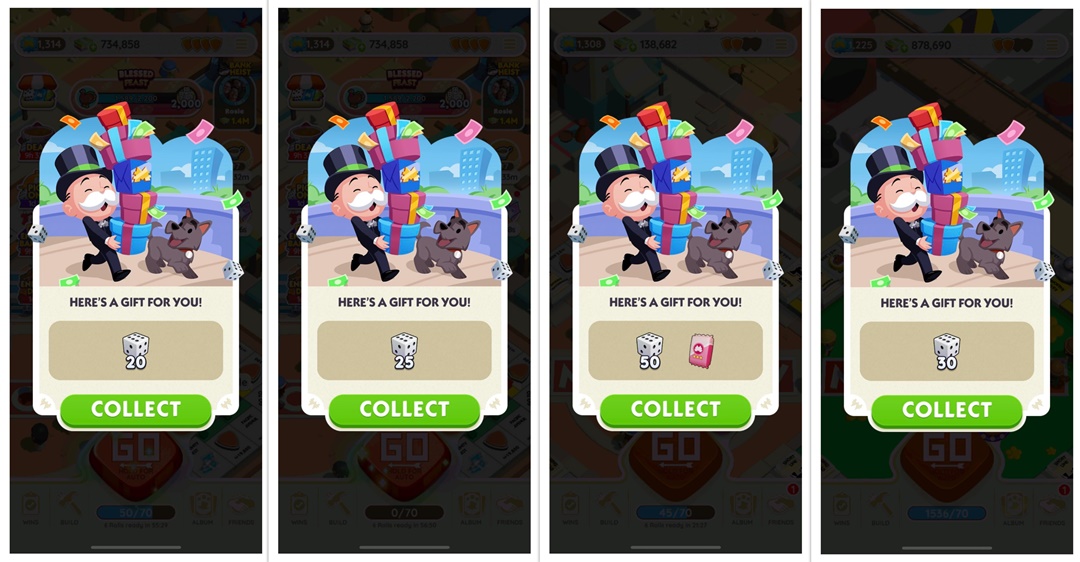 (save this article or share this article with anyone on whatsapp or messenger so you can come directly to this article by the article link)
Article link- techgameworld.com/monopoly-go-free-dice-rolls/
November 27
November 25
November 24
November 23
November 22
November 21
November 20
November 19
November 18
November 17
November 16
November 15
November 13
November 12
November 11
November 10
November 9
November 8
November 7
November 6
November 5
5 Easy Ways to get Extra Dice in Monopoly Go
Daily Login Rewards: Loyalty in the world of Monopoly Go pays off. By logging in to the game daily, you can claim your daily dose of free dice rolls. This rewards dedicated players and ensures they have the means to continue their Monopoly Go adventure.
Dice Links Giveaways on social media: Keep an eye out for dice giveaways by Monopoly Go developer on social media platforms like Twitch, Twitter, YouTube, and Facebook. These creator of monopoly go game often reward their fans and followers with free dice rolls, sometimes in exchange for completing simple tasks or challenges.
Participating in Game Events: Monopoly Go frequently organizes in-game events that challenge players to complete unique missions. As a reward, participants receive free dice rolls. These events not only add excitement to the game but also offer an opportunity to bolster your dice collection.
Online Forums and Communities: Joining Monopoly Go online forums and communities can be a goldmine for free dice rolls. Many users within these communities generously share their extra dice rolls. In some cases, you might need to politely request them. Platforms like instagram, Facebook, and other online forums can be excellent places to connect with these communities. A simple search for "Monopoly Go Free dice link Discord" can lead you to various forums offering daily free rolls.
Third-Party Websites: Another avenue for obtaining free Monopoly Go dice links is third-party websites. These websites often provide valuable content and guides about the game while periodically offering their visitors free dice links. Some of them even aggregate dice links from sources like Facebook and Twitter and share them with their audience.
Smart strategies to use dice links in Monopoly Go
When you've got lots of dice links in Monopoly Go, it's important to use them wisely. Here are some smart strategies:
Timing is Everything: Don't use all your dice links at once. Save them for when you really need a boost, like when you're close to a big win or need that extra push to beat your opponents.
Plan Ahead: Think about your moves before using a dice link. Sometimes it's better to wait for the perfect moment rather than using it right away. Strategy pays off!
Focus on Goals: Use your dice links to help achieve your main goals in the game, whether it's buying key properties, avoiding tough spots, or making big trades.
Watch Your Opponents: Pay attention to what others are doing. Use your dice links to stay ahead or to catch up if someone's doing really well.
Balance and Diversity: Mix up your use of dice links. Don't spend them all on just one thing. Keep a balance and use them for different strategies.
Remember, the key to being a Monopoly Go master with dice links is to think smart and use them when they'll give you the best advantage!
In Conclusion
Monopoly Go in 2023 has totally changed the game! One big reason? Free Dice Links. These links make the game way more exciting and fast-paced than before. They're not just extras; they're super important in shaping where Monopoly Go is headed.
The future of Monopoly Go with Free Dice Links looks amazing. Games will be quicker, more unpredictable, and even more strategic. These links are like your pass to a Monopoly game that's super dynamic and way more fun.