This guide to the best anime streaming sites will help you better orient yourself in the world of Japanese animation that with the advent of the internet and online streaming has had a new life after years of censorship on TV. So let's find out together which are the best portals for streaming anime!
Japanese animation has largely been abandoned from television to enter the vast world of online streaming. A guide to anime streaming sites it is certainly necessary to orient yourself and understand what online platforms offer today. The amount of subtitled material is always higher than the dubbed one (by the way, read our guide to the best subtitling sites), but we will try to balance both things in order to meet everyone's needs.
Ranking evaluation criteria
Before starting to list the anime streaming sites it is a good habit to list the criteria we have used to select the portals that we are going to propose to you. What we propose is not a real ranking, but you will find in the first positions the portals that have made a better impression. So here's a summary of the metrics we evaluated:
Rights: the sites that should be preferred are those that acquire the rights for the diffusion of the contents. Of course there are some products destined to never arrive in our country officially, but first of all it is necessary to recognize who is committed to rewarding the work of so many artists.
Costs and advertising: Of course, nothing comes for nothing, but everything has a limit. We evaluated the value for money and the invasiveness of advertising in relation to the service offered
Quantity and quality: sites with a complete offer and above all rich in interesting and high value-added titles have been preferred to others that instead offer products that are a little more niche
Mobile interface and optimization: now we all watch streaming content through smartphones, tablets and smart TVs. It therefore becomes important to enjoy content in a satisfactory manner by integrating with these devices.
Best anime streaming sites: the ever-expanding ranking
Let's discover our special ranking of best anime streaming sites. This is not an absolute classic, but we have tried to put the most interesting sites in the highest positions. Below is a summary of the ranking and detailed descriptions of the various sites.
1) VVVVID – Best anime streaming sites
Between anime streaming sites could not fail to include VVVVID, a small masterpiece completely made in Italy that has made the streaming of anime its trademark. Collaborate with large industry groups like Dynit and Nexo Digital for one free and legal streaming. VVVVID is a portal full of great titles (Attack on Titan just to name one) and exclusives, many of which are broadcast in simulcast – that is, simultaneously with the release in Japan. Many successful titles are then dubbed and remain available in both versions.
obviously there is advertising and many have complained about its invasiveness or repetitiveness, however we consider it a well organized service because it rarely happens that advertising interrupts important scenes. In any case, for the modest sum of 4.99 euros per month – or 49.99 euros per year – it is possible to activate a subscription to avoid advertising. The possibility of choice is a great added value. Also great is available mobile application which also allows you to connect to smart TVs compatible with Chromecast technology.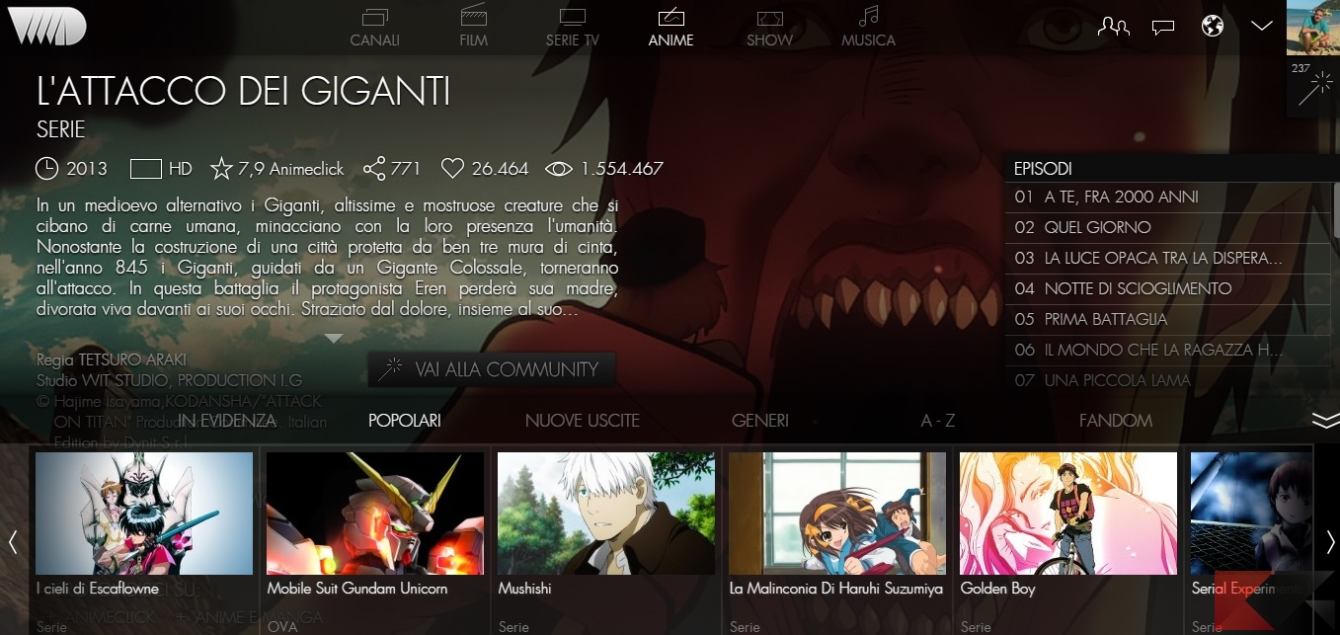 2) Netflix – Best anime streaming sites
The American streaming giant stands investing heavily in anime streaming. The enormous economic capital that Netflix has at its disposal allows it to have numerous titles of great depth in the catalog, even exclusively. Moreover, the first original products are also beginning to appear, that is, produced by Netflix in collaboration with Japanese animation studios, of course, such as "Flavour of Youth". But we also find many great masterpieces of the past such as "Akira". We also have a great guide if you can't find your way around the streaming giant's catalog.
Every now and then the American giant makes some small gaffe that angers the fans a little, but the service it offers is of excellent quality globally, with a catalog destined to expand more and more. We are also not wasting time listing the benefits in terms of integration with devices.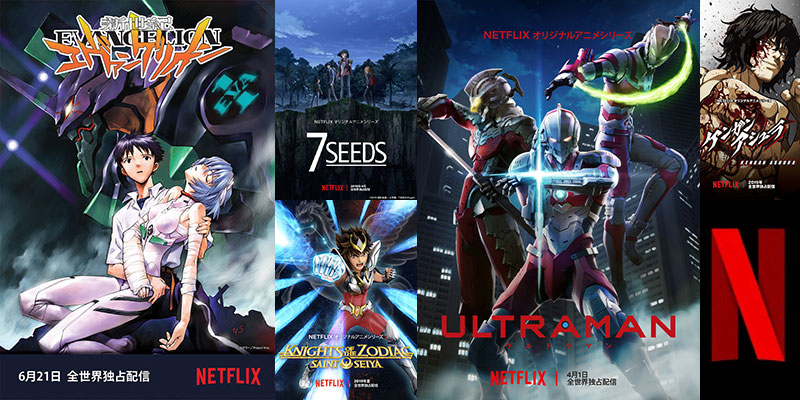 3) Crunchyroll – Best anime streaming sites
If you love subtitles Crunchyroll is the site for you! A huge one Fully legal subtitled anime collection. Also in this case it will be possible to choose between an adv-free subscription or a free service stuffed with a little advertising.
A mobile app is also available, but there is no integration with smart TVs in this case. The amount of material available is really high and there is a good number of great titles also in exclusive.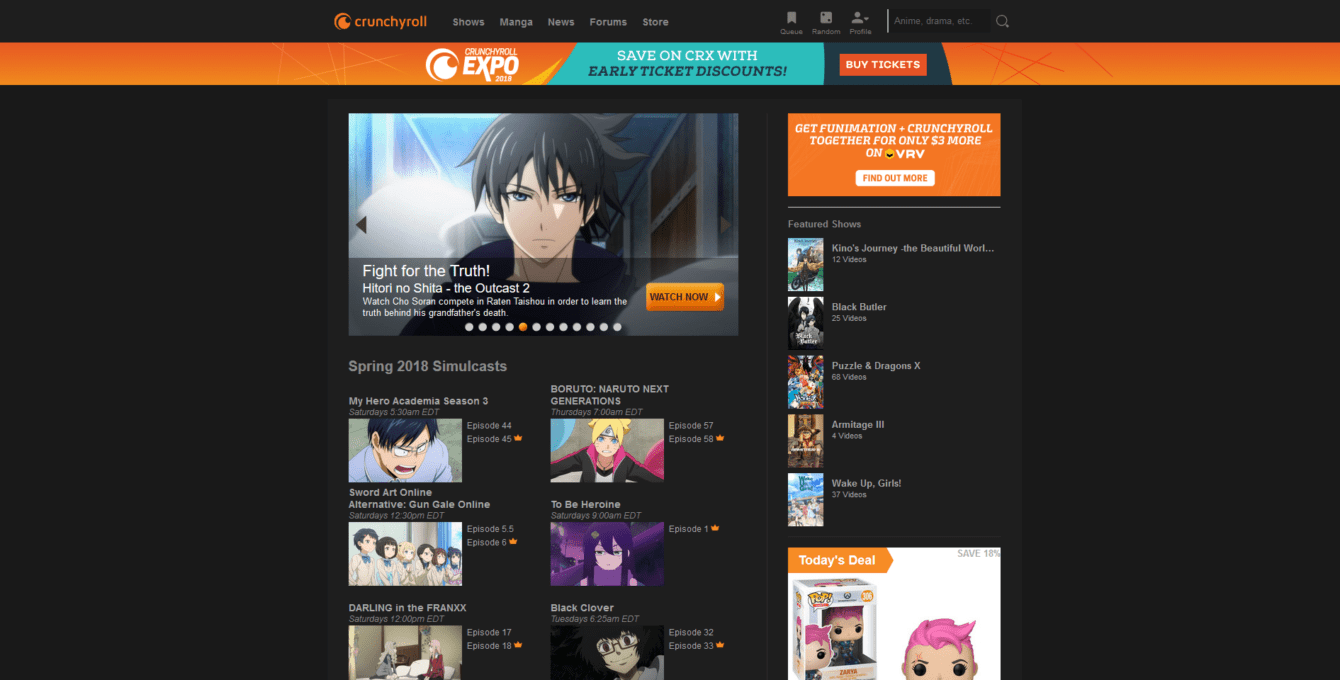 4) Amazon Prime Video – Best anime streaming sites
A little further back in ranking of anime streaming sites, Amazon Prime Video is trying to catch up. The catalog is constantly updated with news and exclusives and it offers some great titles like Vinland Saga and the integration with various smart devices is very good. The new agreement with Dynit could bring many great news to Amazon Prime Video in the future. And then badly you can take advantage of the Amazon Prime subscription to get your favorite boxes delivered quickly! However, the commitment of another giant in favoring the legal streaming of these products is to be rewarded.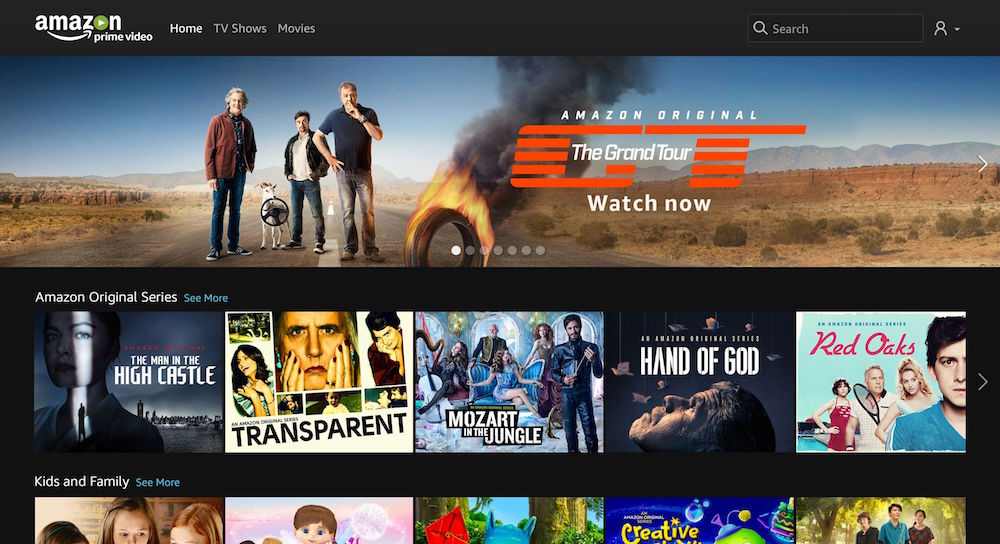 5) Yamato Animation
Basically it is the Yamato Video YouTube channel which for years has been involved in bringing oriental animation products to our country. Access is therefore very simple from any device, just use the YouTube app and search for "Yamato Animation". The channel cannot boast a wide and high-level offer like the other realities we have listed above, but still offers good titles (especially in sub ita) like "Art" or the very original "High School of the Dead". Other Yamato Video products, especially movies, are available on DVD or other paid streaming platforms. In any case it is a great chance to see some anime series in a 100% legal way!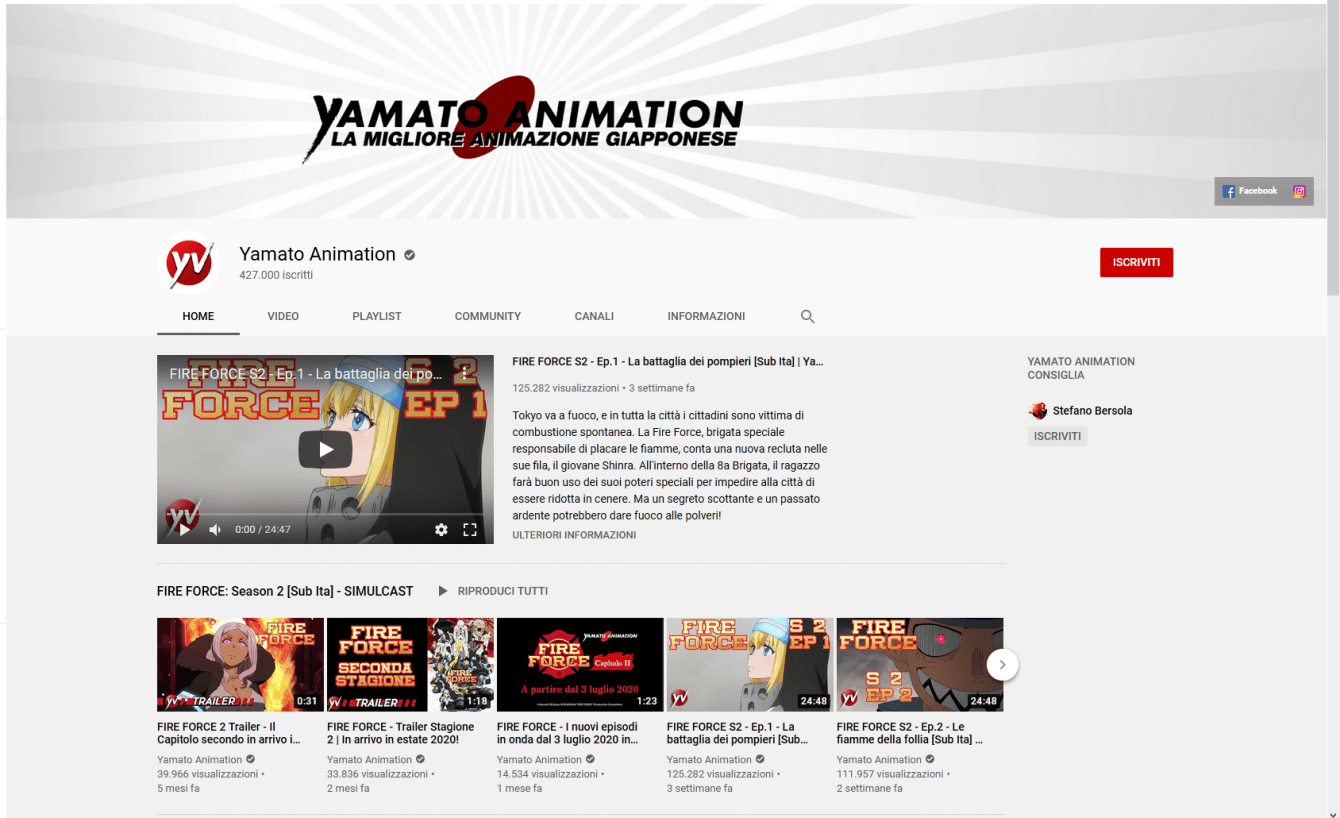 6) FansubDB – Best anime streaming sites
The sub fan phenomenon is definitely worth mentioning in this guide to anime streaming sites. It is a group of fans of Japanese animation products who commit their time to translate the series destined to never arrive in the West or in any case not in the immediate future. The commitment of these people a provide a service to the entire community of enthusiasts it is commendable.
The most important sub-fan bring to our country is definitely FansubDB. The site acts as a collector and reference point for all amateur "subtitlers" you can find dozens and dozens of unpublished series. The quality and quantity of advertising varies a little depending on the releaser, but overall it is a good service; only a little cumbersome especially when using mobile devices.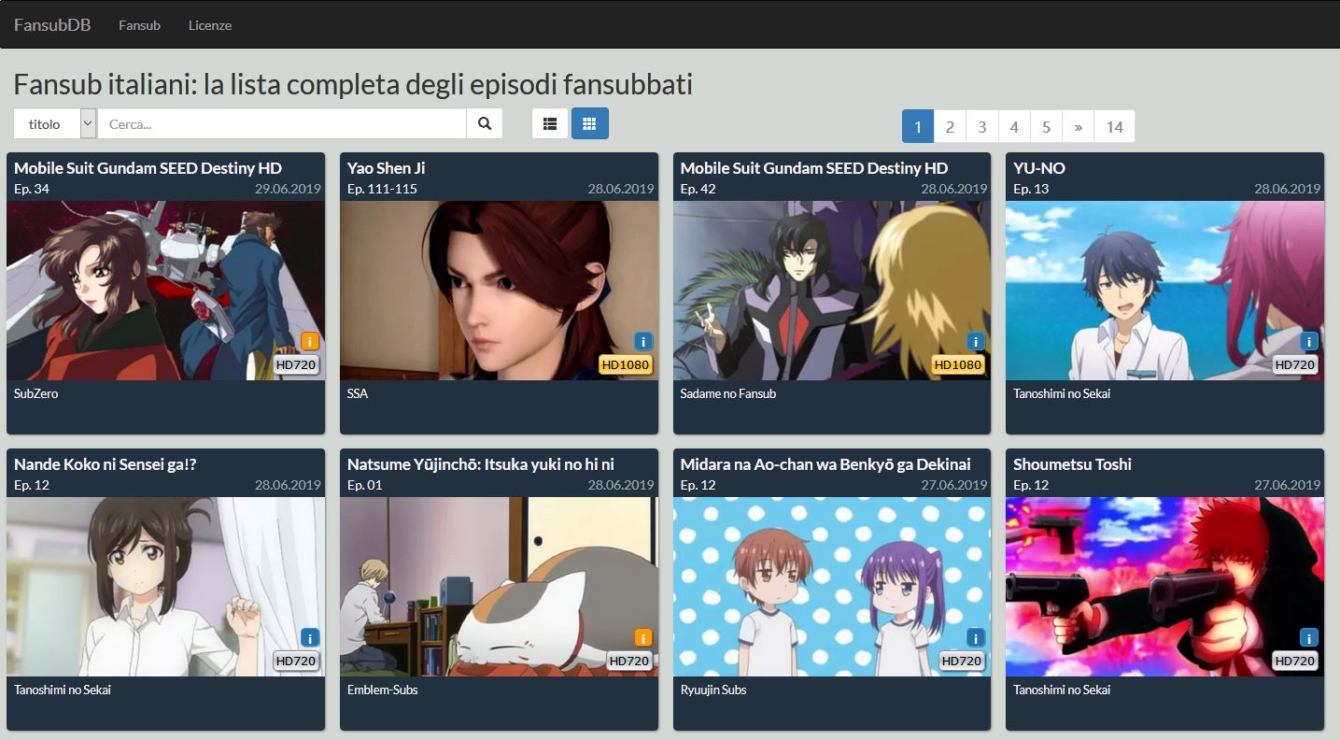 7) Toonitalia – Migliori siti streaming anime
Do we have nostalgia for it? In the Toonitalia site you can find practically all the great titles that have the history of animation in our country. There is really everything and more, even numerous now forgotten titles such as "Lamù", "Ranma 1/2", "City Hunter", "Hunter x Hunter" o "Beyblade", do you remember the afternoons spent in front of the TV or Tuesday nights on MTV? You can relive all the emotions of the past thanks to this practical site.
There is advertising, but it allows a fairly smooth navigation and only activates before starting streaming. Nothing too invasive anyway. Even with smartphones and tablets, vision is not a problem, quite the contrary. The graphical interface is a bit spartan, but completely intuitive.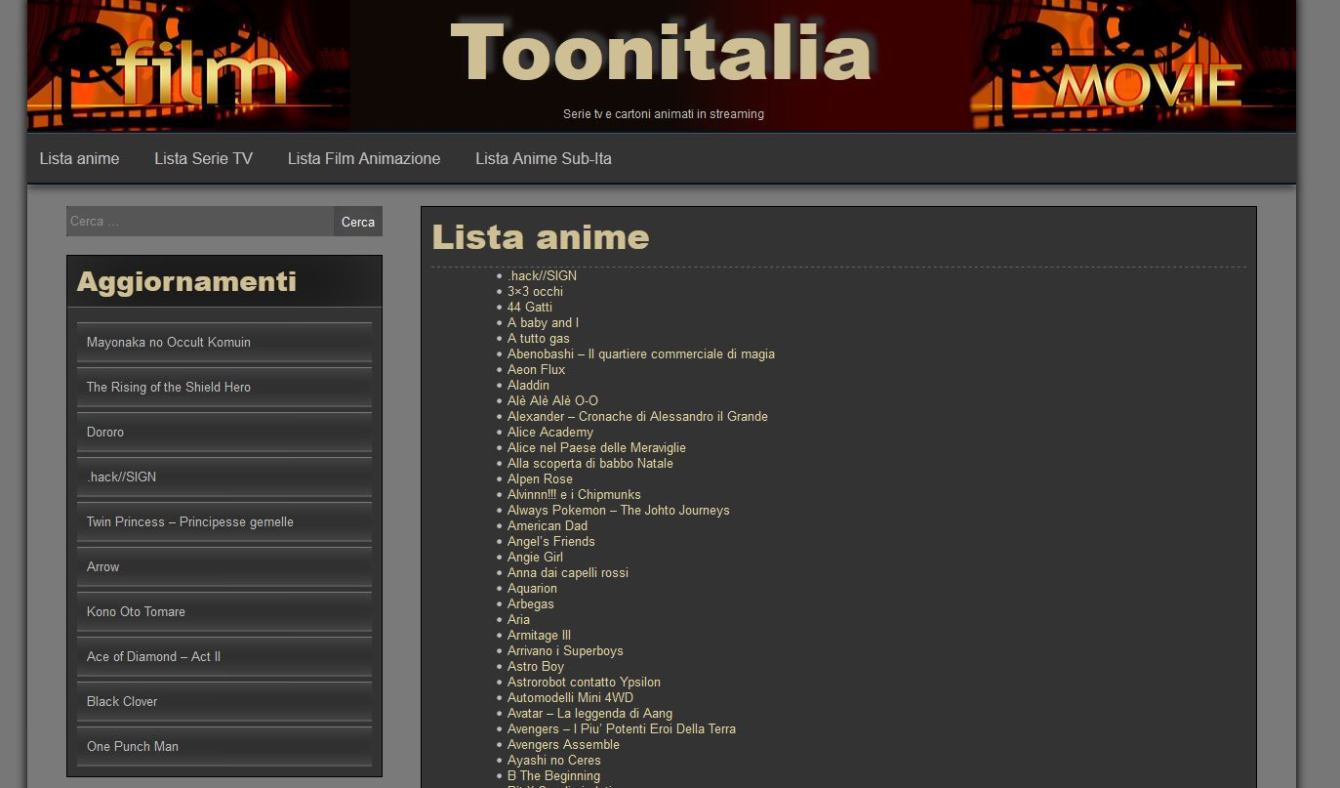 8) AnimeAltaDefinizione – Best anime streaming sites
This is certainly a great site to watch anime. The catalog contains thousands of titles, both new and old, both dubbed and in sub ita. In short, you will find everything you are looking for if not a little more. The graphical interface is simple, perhaps a little rough, but very usable. The entire database is organized in alphabetical order. You can't search directly from the site – just do it from your browser. It is also possible to access some macro categories such as "Dubbed" or "Completed". Each anime has its own sheet with the episodes well organized in a table, which refers to the link for streaming that is integrated into the site itself, so you will not have to go through tedious external sites. Very little advertising compared to many other competitors: a couple of clicks on the streaming page, a couple of pops and you can see the video. Recommended!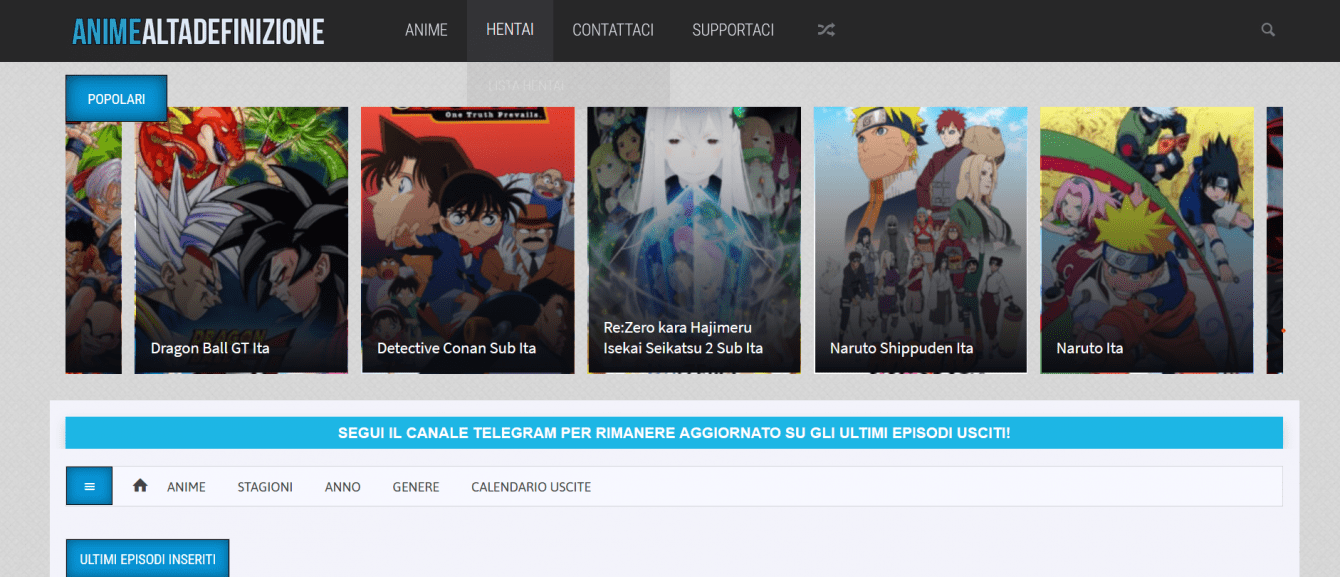 9) Dream Sub – Best anime streaming sites
Dream Sub is practically there largest collection of anime available in our country. We are talking about thousands of titles in total with numerous big pieces also available with dubbing in Italian, even if for the most part the contents with Italian subtitles available. If you don't find something on Dream Sub it is likely it has been wiped off the face of the Earth by some very powerful villain.
The advertising is unfortunately very invasive, but it remains manageable mostly from mobile devices and the quality in general is very good. There is also an application for Android which, however, is not available in the Play Store for obvious reasons.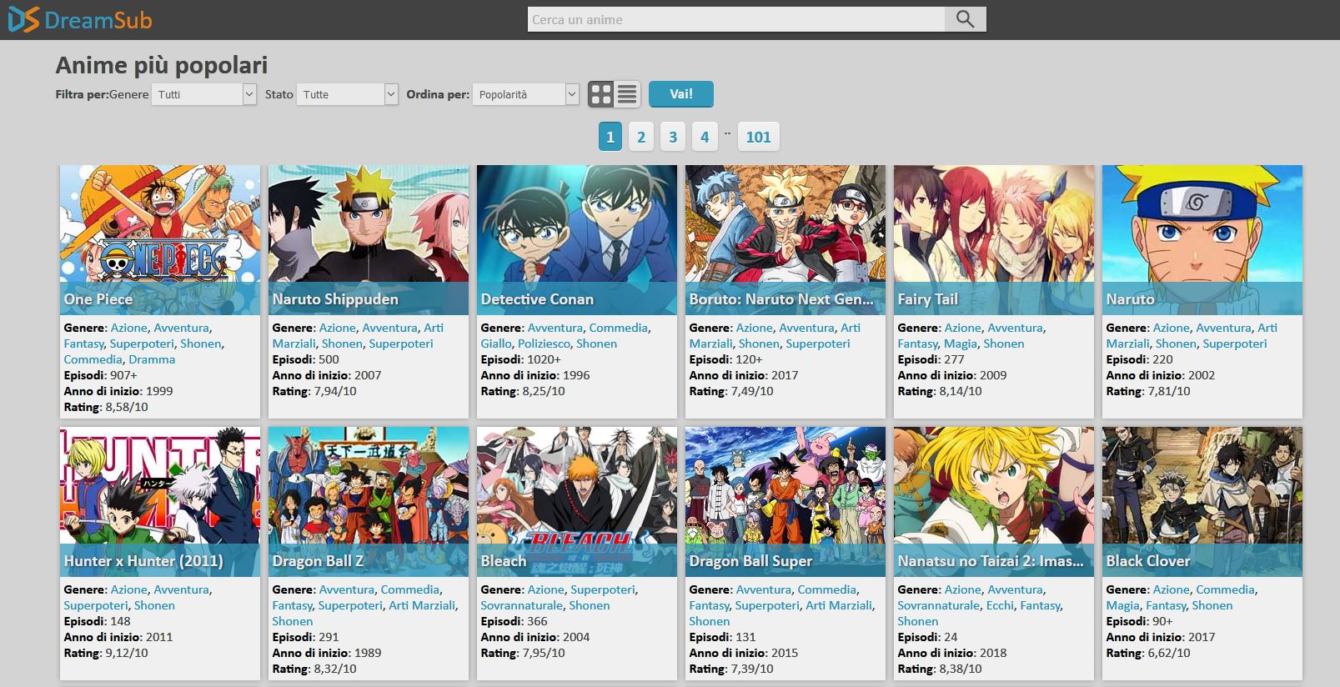 10) AnimeForce – Best anime streaming sites
AnimeForce contains thousands of souls, more or less famous, in SUB ITA. The site is constantly updated with new releases and has a very strict calendar to follow all the new products. The UI is easy to use from both PC and tablet and you can search for titles that interest you by name or by category.
Unfortunately there is advertising during navigation several pop-up windows open and there is advertising on the site too. You can contribute with a free donation to help cut down on advertising.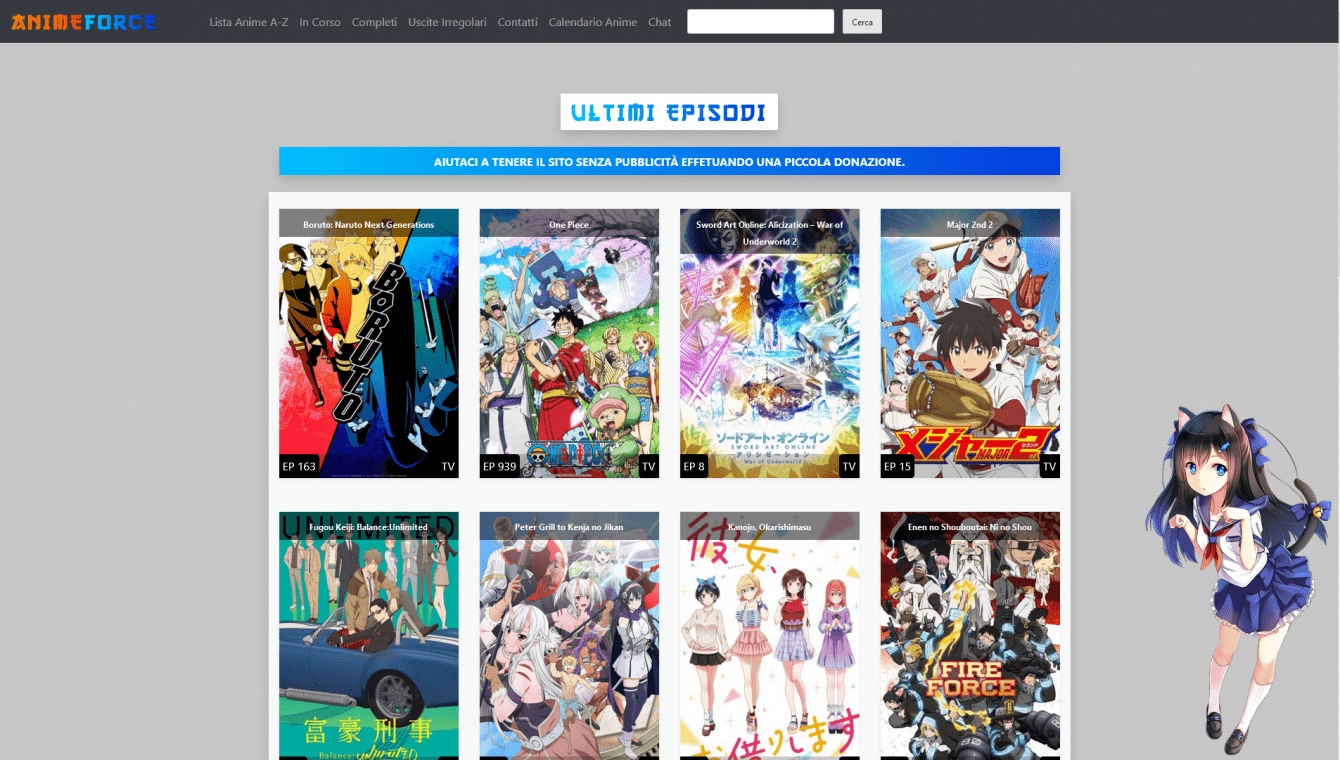 11) Anime World – Best anime streaming sites
AnimeWorld is also a nice giant in the sector and could not miss among the anime streaming sites. Particularly popular is the graphical interface that offers search tools by genre with the ability to see only subtitled content, only dubbed or even those most viewed by other users. We are talking about a heritage of hundreds of titles, many of these also of good quality, mostly subtitled, but not with excellent titles, even dubbed.
Also in this case advertising is a sore point: practically with every click or almost an advertising window opens. The situation a little better if we log in with …