Staying in touch with the people we love has never been easier, all you need is a smartphone connected to the Internet and the right application installed. Here are the best chat apps available on your mobiles
The advent and evolution of smartphone it completely reconfigured the conception of human relationships. Despite the conflicting opinions, the countless advantages in the level and capacity of communication and distance achieved are undoubted to the point of relegating these devices to essential consumer goods. The digital union between a smartphone and an internet connection has allowed the direct physiological evolution of the communication system, now light years away from the first telephone of Meucci but not only that, just think of a few years ago in which SMS e MMS on the network GSM ed UMTS they were considered an indispensable prodigy. Nowadays it is enough to have achat app installed on your smartphone with Internet connection and it is possible keep in touch with anyone at any distance on the globe.
So what are the best apps to chat? In this guide we will try to analyze the most popular and most important features available for both devices iOS that Android. All you have to do is browse your reference store, make sure you have at least a very small amount of storage on your smartphone, install the apps to chat and you will be ready to keep in touch with all the people you love.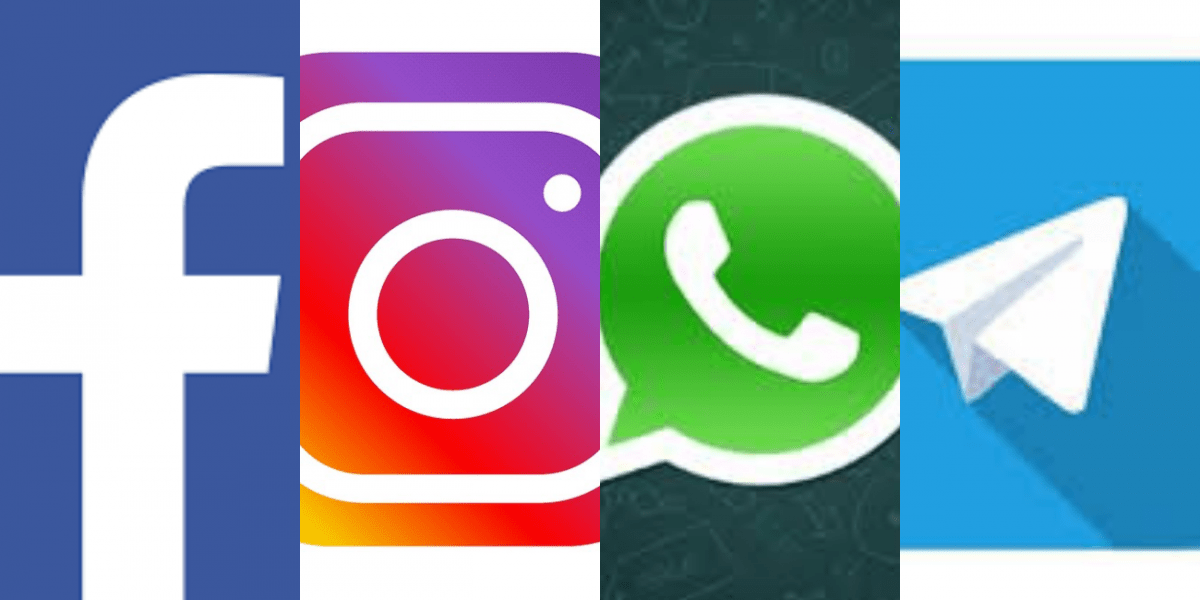 What are the must-have features in the best chat apps?
Inevitably, messaging applications are considered as such when they allow you to exchange lines of writing in real time between the two interlocutors but now, to this, a series of features considered standard must be added. Surely the most important addition is the one identifiable in the possibility of send, in addition to the text, a voice recording of variable duration as needed. Definitely a very important aid to avoid wasting time due to texts that are too verbose or difficult to understand in terms of tone used. To these two functions was then added the possibility of making real ones calls and video calls of excellent quality that take advantage of the internet connection and therefore avoid wasting money if you do not have a promotion with reference to free minutes. In all this they cannot be missing emoticons, GIF, stickers, which have sometimes also become a personal distinctive trait comparable to a signature. Then there are a series of advanced features due to the presence of bot installable able to perform the most disparate functions.
The best messaging apps for chat included in this list were choices based on diffusion parameters and functionality. Although some of these may be partially overlapping due to functional similarities, each of them possesses significant peculiarities compared to its competitors. It is impossible to forget that a messaging application must offer the possibility to connect everyone in the same way, despite the programming differences between the various Android and iOS platforms, except for iMessage, of which we will go into more detail in a bit.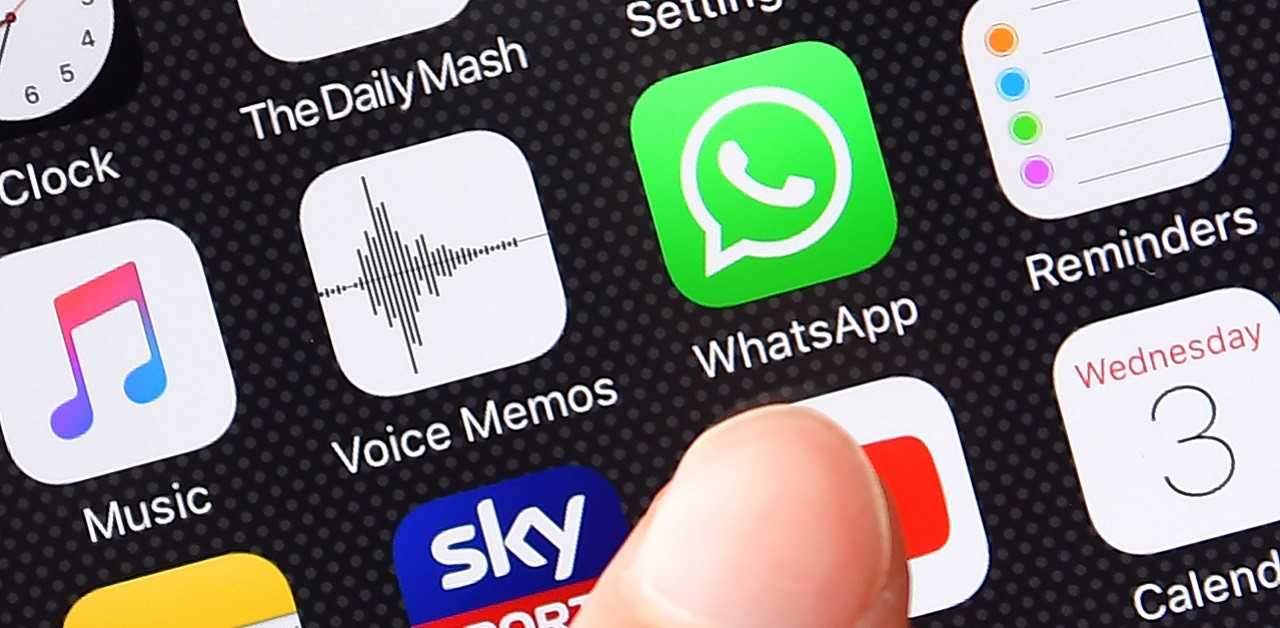 The time has come to break the delay and examine them best apps to chat on iOS and Android.
WhatsApp – Best Chat Apps
What other way to start than by starting from the absolute queen application: WhatsApp. With more than 1.5 billion users between Android and iOS is officially the most used chat app in our country and in the world. Certainly thanks to the free of charge but also to theincredible accessibility and ease of use. Added to this are a series of well-designed features: instant text messaging with voice recordings, media and text file exchange, calls e video calls. WhatsApp is also available in the PC version, allowing you not to miss anything even during work sessions in front of a monitor. The real difference between WhatsApp and other applications lies precisely in proposing functions that can now be defined as standard but with one excellent quality, to the point of having created a user base that is so large and loyal as to avoid migration to other platforms.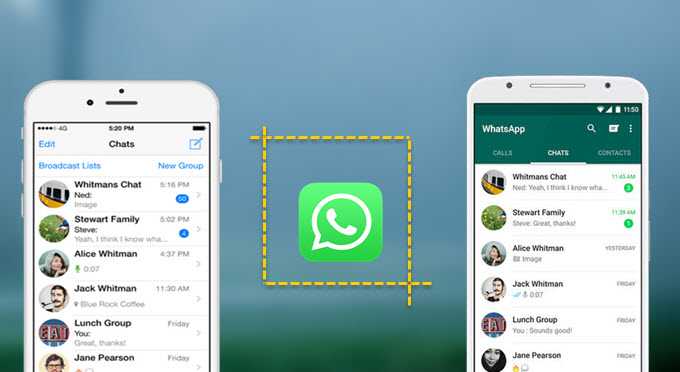 Telegram – Best Chat Apps
Among the best messaging apps to chat, it cannot be missing Telegram. Telegram is the direct competitor of WhatsApp, to be compared to the messaging giant for a similarity in the services provided although, in this case, the possibility of making video calls is lacking. But Telegram is also much more! In fact, it provides its own more than 200 million active users around the world a series of unique and very interesting functions, two of which we want to deepen.
I "Channels" are a tool provided by Telegram that allows you to put even a single person in contact with several hundred people. On balance it can be considered a means of disseminating news through which the owner of the channel manages to keep in touch with an agglomeration of people intent on "following" his messages. But what intrigues most of all about Telegram is the presence of bot. A Telegram bot is a "program" programmed by a developer (which could be any of you as an open source feature), capable of performing a series of very convenient operations. Among the various bots, just to give an example, there are those for track a shipment, per download videos and music, per start random chats with strangers, per Wikipedia searches and much more. In short, as you may have guessed, the development possibilities of this platform are truly endless!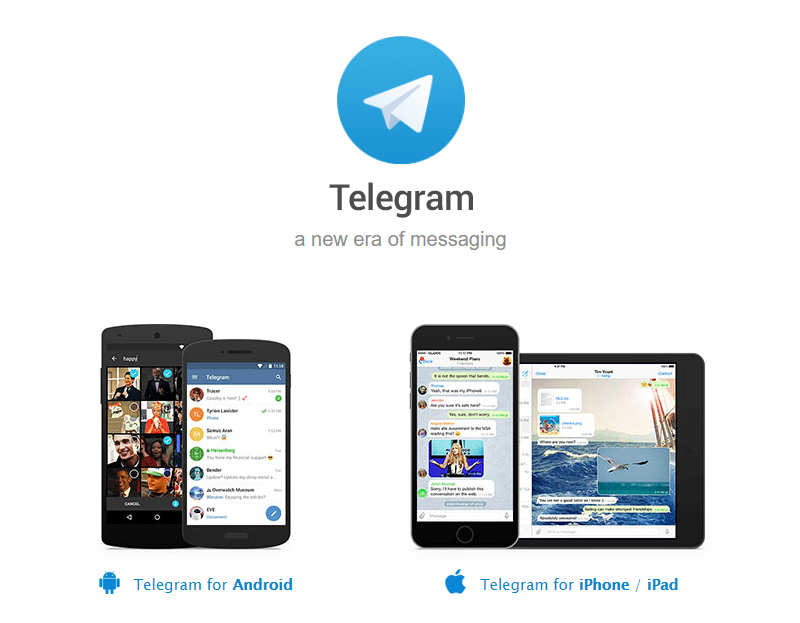 Skype – Best Chat Apps
It is definitely not considered the best text messaging application but, in our opinion, Skype enters by right in this guide for its enormous potential in the field of video calls. The chat app developed by Microsoft has been and still is a benchmark for high quality calling and video calling across platforms for years PC. Its landing in mobile version on devices Android e iOS has made video calls (including group) possible not only between mobile devices but also between PCs and smartphones. The high video quality of Skype has also allowed it to be considered a "working" application employed at company level thanks to the possibility of making conference calls with very low signal loss.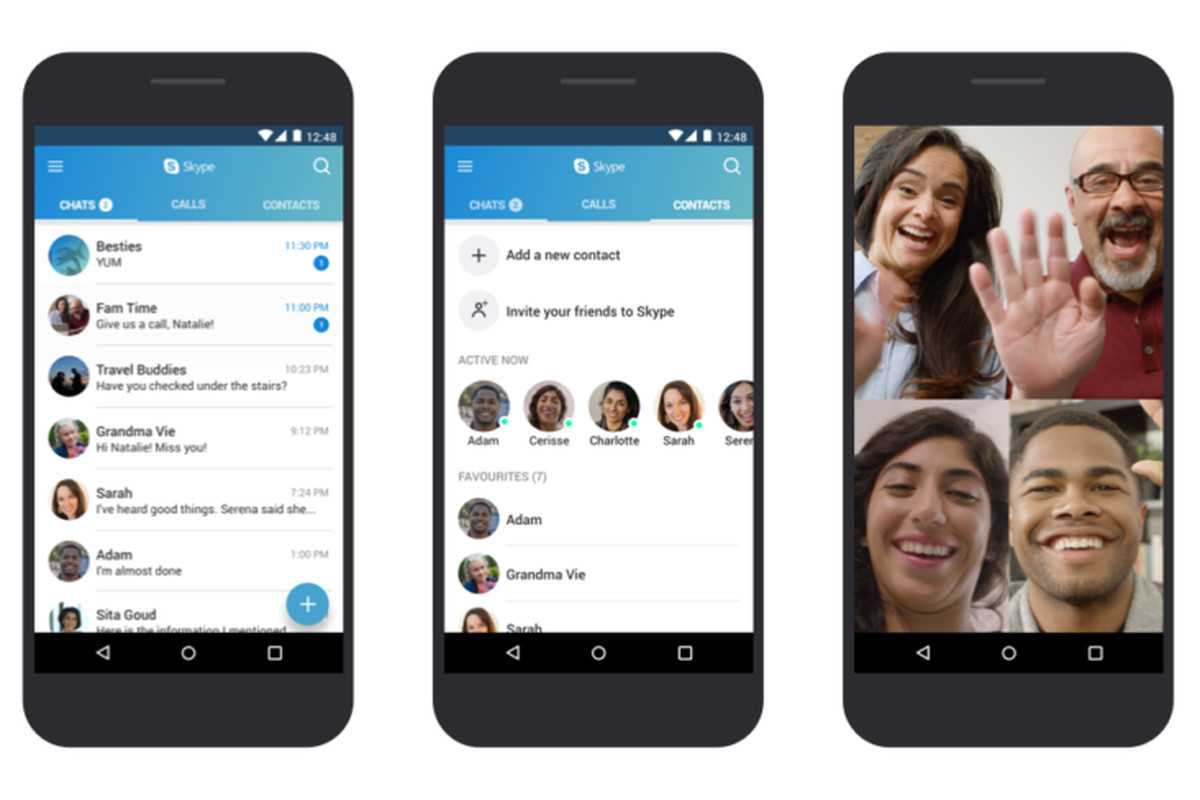 iMessage – Best Chat Apps
iMessage is the instant messaging service developed directly by Apple. Although it is not comparable to the other chat apps in this guide because it is much more limited in terms of functionality, it was necessary to include it among the best messaging apps for chatting. iMessage in fact allows you to communicate only between Apple devices but it represented, even before the arrival of WhatsApp, a reference point for free portable communication. Simplicity and perfect integration into the Apple ecosystem are its best qualities.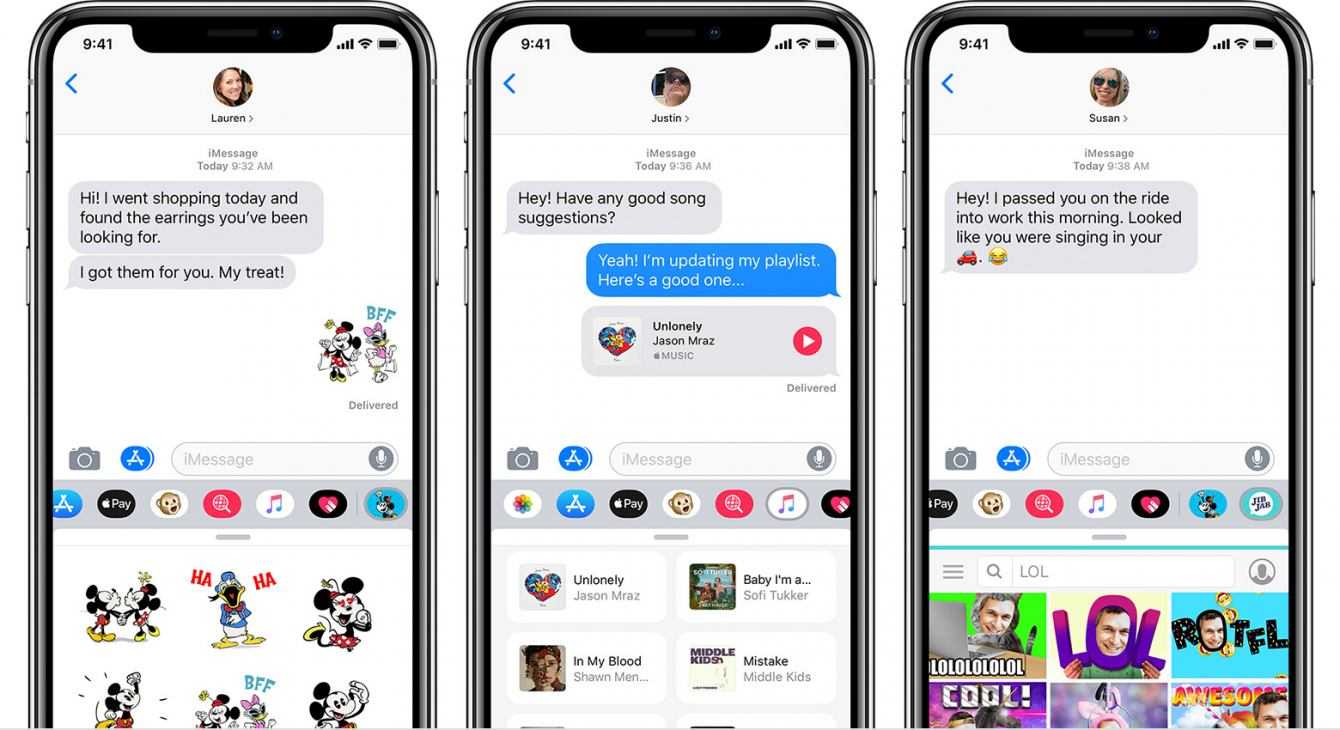 Facebook Messenger – Best Chat Apps
Facebook Messenger it is nothing more than the messaging app that keeps in touch and allows communication between the various profiles Facebook. The messaging client is available as an application on iOS e Android as well as being integrated into the desktop version of the social network's web page. The strength of this application is precisely the perfect integration between it and your Facebook account, which has now become an inevitable element in everyone's life. Through this application you can get in touch with friends via text chat, calls and video calls. In addition to this, it allows you to send messages to Facebook profiles that are not part of the circle of friends so as to meet new people. This perfect integration with one of the most famous and used social networks ever made Facebook Messenger the second most used application in instant messaging after WhatsApp with 1.3 billion active users.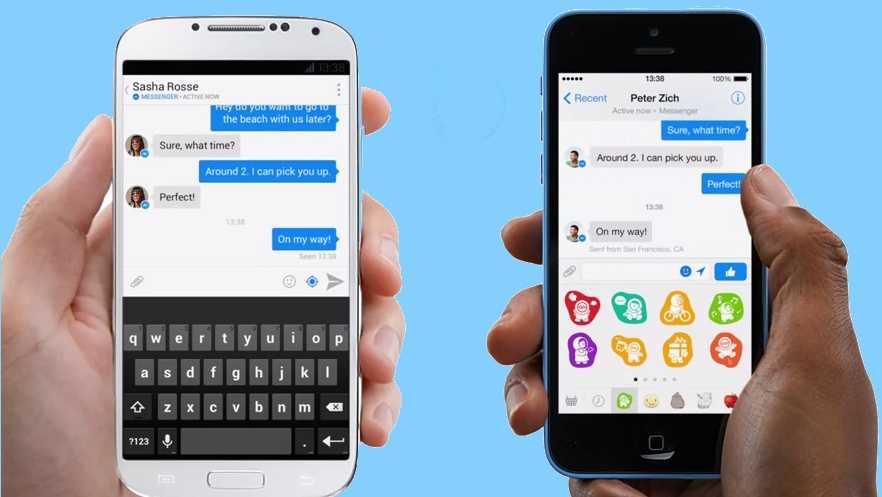 Any others I've heard of?
As we said in the introduction, we wanted to focus this guide's attention on the best chat apps based on diffusion in Italy, avoiding overlapping apps that are too similar and lacking in personal ideas. In the boundless world of the web there are in fact applications of the most varied nature that could easily be included in this list because they are excellent in the messaging field.
Surely you have already heard of WeChat The LINE, Asian counterparts of WhatsApp e Telegram, or you will surely have received or sent a message in chat through the increasingly used client of Instagram. Or again, it will have happened to you by mistake, if not intentionally, to send a message via Google Hangouts, the service developed by Google usually pre-installed in some Android builds.
In short, the web is huge and full of infinite variations of apps for chatting or which in any case include this functionality (you already forgot when a few months ago Snapchat had reached the peak of diffusion?). Let us know in the comments which of these applications you use the most and which you haven't been able to try yet.