After days of waiting, Masahiro Sakurai showed in detail the gameplay of Pyra and Mythra in Super Smash Bros. Ultimate: let's talk
We certainly couldn't leave you speechless after that tease in the last interview with Masahiro Sakurai, so here we are to discuss in detail his presentation of Pyra e Mythra in Super Smash Bros. Ultimate. As was the case with the latest Nintendo Direct (and, in the context of the game, with Sephiroth), we will provide you with the possibility below to retrieve the entire presentation if you have not yet seen it, but if you prefer a summary in writing we have thought of that too. Among other things, in the video the game designer also showed how imminent the next game update is.
Health First of all
The presentation opens with a touch of bitterness: Pyra and Mythra make their official debut in Super Smash Bros. Ultimate within the walls of Masahiro Sakurai's home, given the surge in the coronavirus on Japanese soil. The new wave of infections has in fact reduced once again the opportunities to interact with each other in person, but the game designer preferred to go further with the verve and positive energy that distinguish him. In this sense, we can not help but wish him our best wishes.
Pyra and Mythra in Super Smash Bros. Ultimate: the base
At this point, Sakurai took the opportunity to talk in detail about Xenoblade Chronicles 2 in itself. We summarize the basic idea behind Monolith Soft's 2017 open world RPG by saying that the game world is divided into Ductor, who fight alongside their living weapons, and the latter, the Gladius. Sweet Pyra and her tenacious, sarcastic latent personality Mythra fall into this category, while their Ductor is Rex, who has so far featured in the game as a Mii costume for the first Fighters Pass and as a Collector's Spirit. Smash reproduces their skills with a complex fighting style, but not too much.
Pyra e Mythra in Super Smash Bros. Ultimate: lo scenario
To accompany Pyra and Mythra in Super Smash Bros. Ultimate we have the scenario Alrest Sea of ​​Clouds. Here we will sail the skies aboard the main platform, the colossus Azurda also known as "grandfather". Background detail helps predict Azurda's head movements, which sometimes make the right end of the platform intangible. In the background the various Ductors of the game make a brief appearance (Nia, Tora, Morag and Zeke) with their respective Gladius (Dromarch, Poppi α, Brighid and Pandoria). The Le Ruine and Ω versions of the arena replace everything with an airship.
Pyra and Mythra in Super Smash Bros. Ultimate: The Appearance
The two fighters show up with a costume more "chaste" than the original game, which ironically has already included the changes made by Smash with an update. In fact, remember that, after Min Min, Pyra and Mythra are the second fighter to have already been present in the base game in the form of Spirit. Originally Sakurai had in mind to join the two Gladius the protagonist of Xenoblade Chronicles 2, Rex, but later the idea of ​​a dynamic similar to that of the Ice Climbers proved already quite burdensome with the same little Eskimos.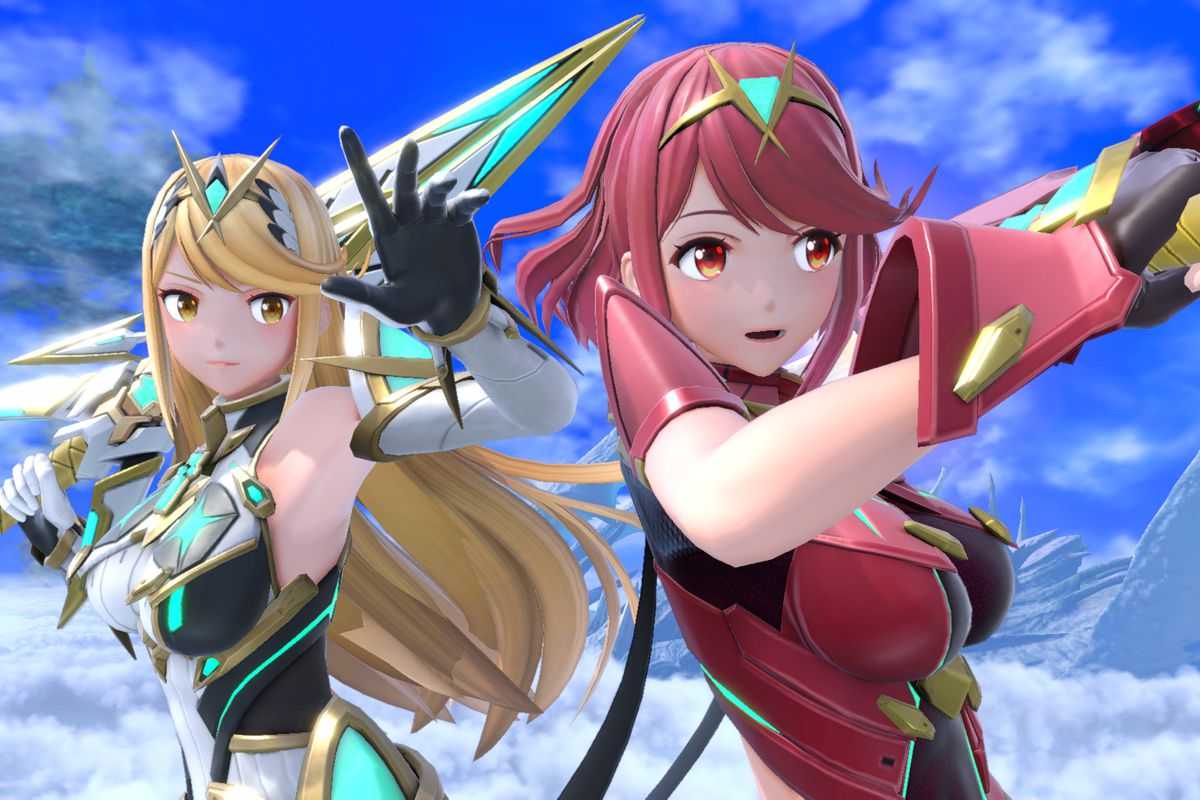 Pyra and Mythra in Super Smash Bros. Ultimate: normal moves
Moving on to the gameplay itself, Pyra and Mythra stand out from each other in Super Smash Bros. Ultimate with one simple trick: the first is slow and powerful, the other is fast but it strikes less strong. In reality there is more – the first boasts a fiery effect for every attack, the second boasts very fast holds – but in principle the difference is all here. Pyra's Side Smash Attack, Flame Smash, can be devastating (potential KO to 20% damage at full charge), and can even spam. What we believed to be Mythra's counterattack, Prevention, instead results in a dodge on the spot (shield + ↓) with an effect similar to Bayonetta's Temporal Sabbat.
Pyra and Mythra in Super Smash Bros. Ultimate: The Special Moves
If you've followed our guide, you'll also know how to read our abbreviations for inputs. We'll list Pyra's special attacks, and then Mythra's, respectively, below, for a quick and concise outline.
B on site: Fire Nova (once in place, loadable) / Lightning Destroyer (forward slashing, loadable)
↔+B: Incendiary Ending (boomerang upgradeable with Smash input, allows you to move after launch, subject to spotlights) / Photon Shot (burst of shots, similar to Sephiroth's Octacolpo)
↑+B: Harsh Riot (sprint up, followed by swoop) / Punisher Beam (jump and diagonal bullet down, upgradeable by pressing B again as Chrome Dust, subject to spotlights)
↓+B: Switch to Mythra (dodge in place, swap with Mythra) / Switch to Pyra (dodge in place, swap with Pyra)
Smash Finale: Burning Sword (Rex strikes forward, traps up to three targets) / Holy Arrow (identical concept)
Pyra e Mythra in Super Smash Bros. Ultimate: Rex and Kirby
About the presence of Rex alongside Pyra and Mythra, she doesn't only appear in their Final Smash in Super Smash Bros. Ultimate. It also appears in the upward taunt (↑ + digital cross) and in two out of three victory screens. Kirby's copy ability is based on the copied character's standard special move (B), but is more powerful than the original attack on which it is based. In the case of Pyra, this boasts gigantic potential.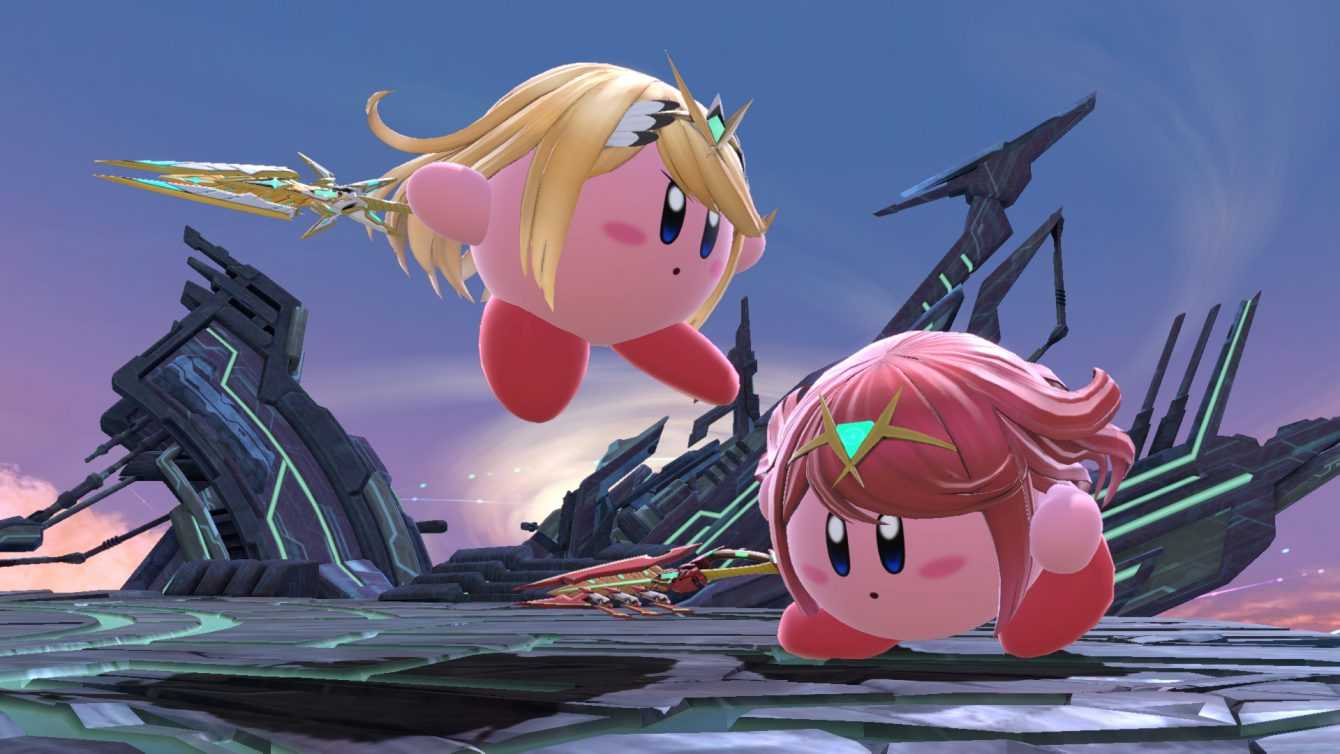 Pyra e Mythra in Super Smash Bros. Ultimate: test and music
As happened some time ago with Byleth, Sakurai resorted to the mode Group Smash for his road test with the characters. It used a team consisting of Shulk, a Mii Swordsman (Rex) and Pyra / Mythra against a team of three level 8 CPUs, made up of the three characters that appeared in the last Nintendo Direct trailer. Talking about music, 16 new songs are added (three of which are unreleased rearrangements) to the music of Xenoblade, bringing the total (also usable in Shulk's arena, Piana di Gaur) to no less than 27.
Pyra and Mythra in Super Smash Bros. Ultimate: Spirit Board
What we said earlier about Spirits of Pyra and Mythra also applies to their "new" Super Smash Bros. Ultimate board. We use quotation marks because of the small number of new Spirits, but nevertheless the novelties are there. For example, Poppi α receives a fight of his own, as a Spirit previously limited to the summoning mechanic. Among the unpublished Spirits we have instead Pneuma, or the Legend class of the group, which received an unpublished artwork from the character designer Masatsugu Saito. Not only that: the Spirit of Rex can now evolve, but since these are spoilers for Xenoblade Chronicles 2, Sakurai preferred to hide them both.
Pyra e Mythra in Super Smash Bros. Ultimate: Guerrieri Mii
Where (in part) Pyra and Mythra have preferred to opt for the safer way, the costumes for My Warriors on the other hand, they demonstrate a more marked ambition in terms of agreements with third parties. There isn't a single Nintendo character this time around: they all come from Capcom. In conjunction with the upcoming release of Monster Hunter Rise, in fact, we have the hunter equipment and – from the fourth Smash – that of Rathalos for the Mii Swordsmen, as well as the Felyne cap. The final surprise, for the Miis, was Arthur / Sir Arthur da instead Ghosts 'n' Goblins for Mii Swordsmen.
… And finally comes the release date
Let's avoid maintaining the suspense further: Pyra, Mythra and all other content will be available starting from tomorrow. In closing, Sakurai wanted to clarify that the one of the new characters was the first trailer almost entirely edited by the authors of the original game. Finally, the statuettes depicting the two swordsmen are not larger amiibo, but action figures that the development team uses as reference material. The game designer has teased the most impatient fans by admitting that there are also statuettes depicting the last two characters, but they are in a drawer.
Now it's up to you to tell us yours: what do you think of the news? Let us know below, and as always do not forget to stay on TechGameWorld.com for all the most important news on the videogame sphere. For your gaming needs, you can instead find the best discounts in digital format on Instant Gaming.