TEAMGROUP organizes the 2021 edition of the International Wallpaper Design Contest which is giving away many prizes including a real PC for content creator worth 3000 dollars. Let's see the details
In response to today's growing demand for creative content, TEAMGROUP, a leading manufacturer of PC memory, is organizing theInternational Wallpaper Design Contest 2021 through its T-CREATE brand, focused on creators. From today until April 30th, TEAMGROUP cordially invites us reactors from all over the world to participate. Hopefully, creators can express their inner positivity and the spirit of spreading conviction, hope and brotherly love in times of trouble through art.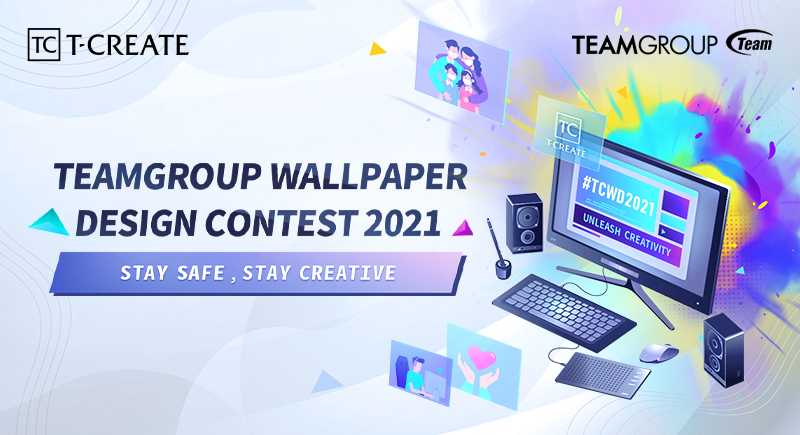 TEAMGROUP: here is the International Wallpaper Design Contest 2021
To foster creativity and encourage creative minds around the world, TEAMGROUP is organizing this design competition with the theme "Stay Safe, Stay Creative" and offers numerous awards, including a PC worth $ 3,000 for the grand prize winner and a T-CREATE series memory kit, a large capacity SSD and an ASUS ProArt B550-CREATOR motherboard compatible for the second prize winner. Those who unleash creativity, composition, beauty and thematic relevance in their projects will all have a chance to win a spectacular prize. TEAMGROUP welcomes all creators who will participate and share their inspiring creativity with the world!
We encourage creators from all over the world to submit unique works that can fully express their artistic prowess in this design competition for PC and smartphone wallpapers. To show appreciation for the attendees and their limitless creativity, TEAMGROUP invited two creators from abroad to join and convey the spirit of the T-CREATE brand by designing with the theme "Stay Safe, Stay Creative". You can draw inspiration from these concepts and bring forward new creative ideas. Try entering the contest now, all information is available on the TEAMGROUP official website. That's all from the hardware section, keep following us!