Thunder Force is the new Netflix original film that stars Melissa McCharty and Octavia Spencer, intent on saving the world as heroines by chance. Here is our Thunder Force review.
ORIGINAL TITLE: Thunder Force. GENRE: Action / Comedy. NATION: United States. FILM DIRECTOR: Ben Falcone. CAST: Melissa McCarthy, Octavia Spencer, Jason Bateman, Bobby Cannavale, Melissa Ponzio. time: 105 min. DISTRIBUTOR: Netflix. EXIT: April 9, 2021.
Thunder Force is the new Netflix original movie, released on the platform on April 9, 2021 and which sees protagonists Melissa McCharty and Octavia Spencer, with screenplay and direction by Ben Falcone. A film that takes up the most popular theme of recent years, that of superheroes and which therefore sees Netflix produce original content referring to an exceptional cast, which sees
Plot | Thunder Force Review
The plot centers on the struggle between good and evil, particularly that of the unbelievers, who are human beings with superpowers that are used to sow terror and destruction. After Emily has lost her parents precisely because of the actions of these super-villains, as an adult she fulfills the dream of becoming a scientist and of developing a machine capable of injecting even ordinary mortals with particular superpowers. His plan runs into trouble when his old friend Lydia accidentally gets injected with this treatment and then they have to get together to improvise a team of super heroines, Thunder Force.
A simple plot that follows a narrative development that unfortunately does not have great twists, but which clearly wants to be based on the talent of the two leading actresses and on the politically incorrect comedy of Melissa McCharty, who plays Lydia.
The result unfortunately fails in its intent, because Thunder Force is an action comedy about superheroes, which, however, does not make you laugh, but only entertains, with a plot that develops quite slowly.
What appears as soon as you start watching the film is that we can be faced with one of those products that desecrate the classic narrative structure of action and adventure that we are used to seeing with comedy. So in this case, we are faced with clumsy and ridiculous villians in their appearance, for example Jason Beatman who is a crab man, with arms instead of claws and improvised heroines, led by Lydia's unpredictability. Lydia wants to help her friend Emily defeat the "bad guys", but she remains an impulsive, unreliable woman, even if with a big heart.
Melissa McCharty and her character are unfortunately no longer enough | Thunder Force Review
This structure, however, is not enough to provoke a laugh in the viewer and neither are the comic performances of Melyssa McCharty, who now finds herself imprisoned within a stereotypical character that has already been seen in most of the comedies in which she has starred in the last years. An impulsive, messy woman, without shame or inhibitions, vulgar and still looking for her way. A character who has worked very well in the past, for example in the film Friends of the Bride or even in Bodies of crime, to stay in the comedy and action theme.
But with the passing of the years, this is no longer enough, especially if the film lacks a script and the supporting actress is decidedly subdued. And this is the case with Octavia Spencer, a great actress in dramatic roles who appears totally out of place here. Her character does not take off and does not find a precise location within the story, although it all starts with her and her professional and personal dream.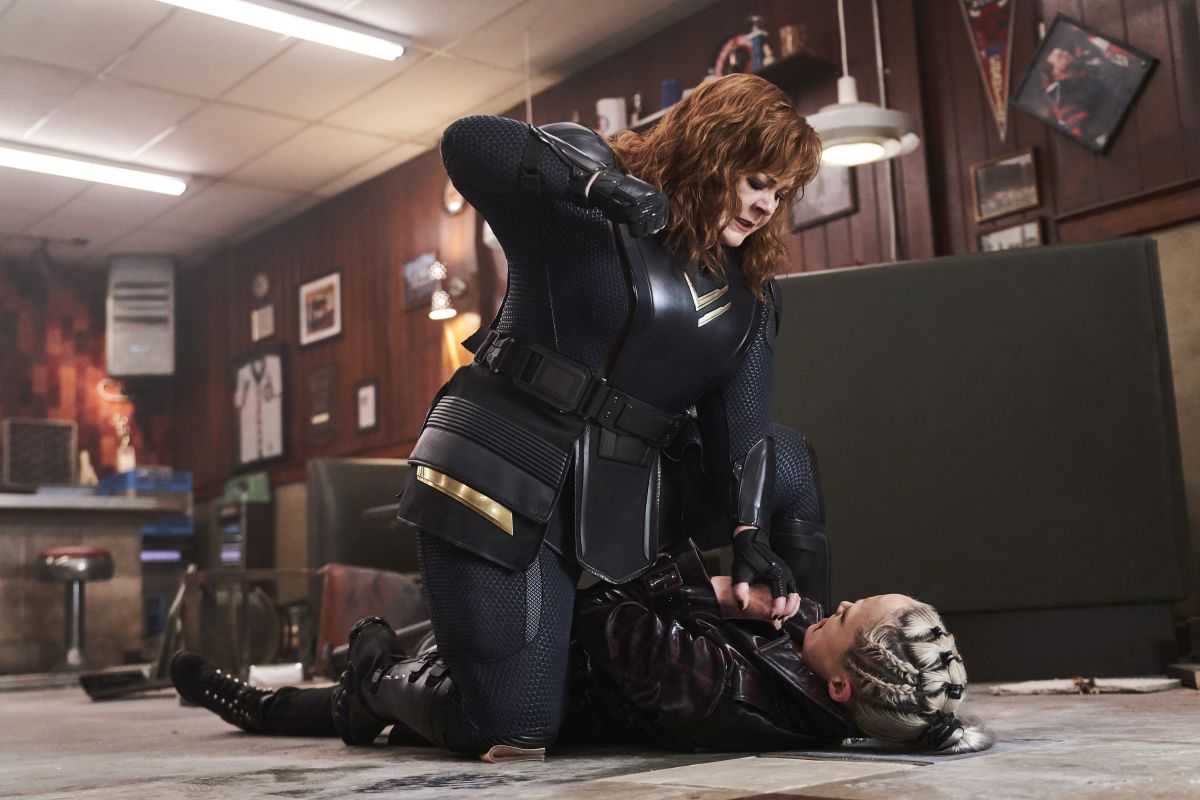 The direction does not follow a specific style | Thunder Force Review
But the two actresses and their comedic scenes aren't the only thing wrong with this film: the poor script that underlies it is not supported by a fluid direction.
Thunder Force appears in fact built of many blocks, not very united with each other, starting from the beginning in which there are the flashbacks of the young protagonists at the beginning of their friendship, to then get to them as adults who find themselves being friends after being friends. lost for many years. The interactions between Jason Beatman and Melissa McCharty also appear totally unrelated, although with the clear intention of accentuating the comic's story.. Their dance inside the robbed shop or the romantic dinner are blocks that do not follow a clear line of direction.
The final result of this not very fluid direction is a story that you look at with difficulty, because at times it is almost boring, with a few twists and action scenes that are not very credible if we consider it basically a film that would have it anyway. exalt.
Conclusions
The many defects of Thunder Force are therefore what first come to the attention and then insert the film into one of those easily forgotten and non-original products within a panorama constantly full of new ideas. Overall, it remains a film with an important cast that wants to be characterized by lightness and entertainment, even if it fails in the main intent, which is to laugh and really get involved in the action story.
Melissa McCharty is no longer enough to provoke laughter
Points against
Direction not very fluid
Poor script
Comedy ineffective