YouTube, full movies in Italian for free. A wide choice of contents accessible in a few clicks and a completely free reality!
When you are on a train, traveling by car (as a passenger of course) or traveling long distances by bus, the desire to see a good movie is felt. What if I told you that one of the most well-known video platforms offers a wide range of choices? That's right, if you don't know there is a chance to see through YouTube full movies for free and in Italian (but also in other languages).
In this guide I want to point out a number of ways to enjoy best free and full movies on YouTube! If you follow this simple but effective guide, you will be able to enjoy a wide range of films on the web and totally free!
If you think you will find only poor quality full films on the red tube, I can safely deny you right away! There are also free and Italian films on the platform that have marked the history of cinema. Cult movies, such as: Legally Blonde, Terminator e Rocky. Obviously, in addition to films, you can also find anime of the caliber of Yu Yu Hakusho, Death Note, Evangelion and many others.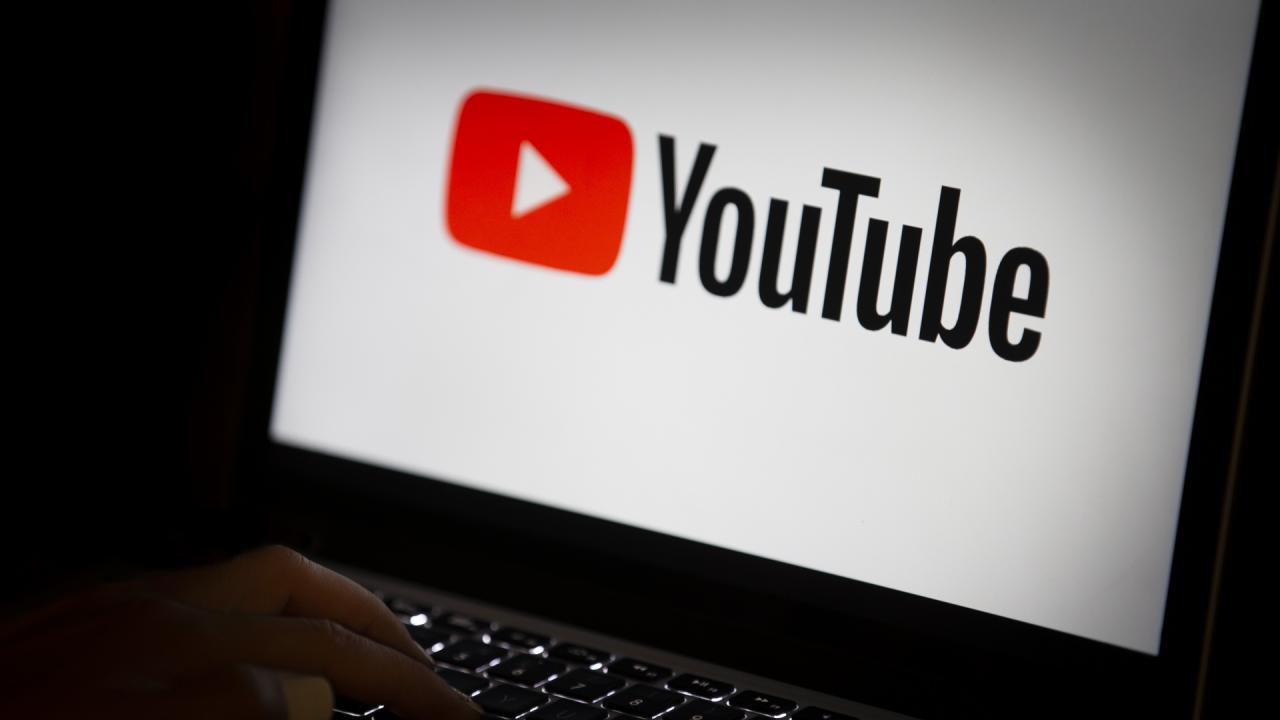 YouTube: full movies in Italian for free, but is it legal?
Know that there are so many full movies and free on the red tube could naturally raise the question of their legality. The answer is in a shade of gray. A lot of content is 100% legal. Others are a bit on the edge.
Many contents are totally free as they are distributed by YouTube itself. Others are accessible thanks to large networks that make these films available after having acquired the rights.
All of this is sustainable thanks to small commercial breaks. At the cost of a few seconds of your time, spent watching advertising, you can enjoy full movies on YouTube.
The films I'm talking about are free films in Italian but which can also be seen in English if you prefer to see them in English. There is sometimes also the possibility to see them in other languages ​​(even the original ones). In short, there is a wide choice that can satisfy all palates.
YouTube: free full movies and where to find them
Before telling you where to find the complete movies on YouTube it is good to specify that taking advantage of this platform is necessary to have a suitable device. Nowadays we all have a smartphone but to better see i free movie on youtube it would be good to have one with a great battery, a Full-HD screen and good sound reproduction.
If you already have one and want to change it or are looking for the perfect one for you, please read our guide: Best smartphones to buy.
Obviously, these complete files can also be seen via Smart TV or TV Box. Also in this case if you are in doubt I suggest you take a look at our guides: Migliori TV 4K, HDR, OLED e Best TV Boxes to Buy.
Here is a list of the best YouTube channels with full movies in Italian
The first channel YouTube che offers free film I want to advise you is: The Best Complete Movies. A channel with a huge breadth of content ranging from action movie a drama films passing through the category comic movies.
The channel is very active and boasts approx 600 video. In short, a lifetime would not be enough to watch all the contents on this channel!
The second channel YouTube che offers free film I want to advise you is: film in Streaming – MOVIE ON. A channel that spans all categories of cinema. In fact, we can find among the other films: horror, action, of war, romantic, e of costume. It also offers the possibility of see full movies in Italian on YouTube but also in English or Russian.
At the moment the channel is followed by about 130,000 people which suggests that it has a long line of followers that could increase thanks to its excellent content!
The third channel YouTube che offers Film gratis I want to advise you is: Kiss Tube. This channel offers a huge variety of genres. If you want to see science fiction film, horror, western or excellent souls (and much more) you are in the right place.
This channel Free YouTube Movies in Italian it really offers a huge amount of content. Including also some series such as all the episodes broadcast by Mr. Bean.
Some "minor" channels
In addition to these entertainment giants there are also small channels trying to emerge. We are very far from the amount of content we have seen so far but looking through the pages you might find some gems.
An example could be the Youtube channel: Joshua Bridget or MisterXTop. As mentioned, they are minor channels, which could still give you some satisfaction!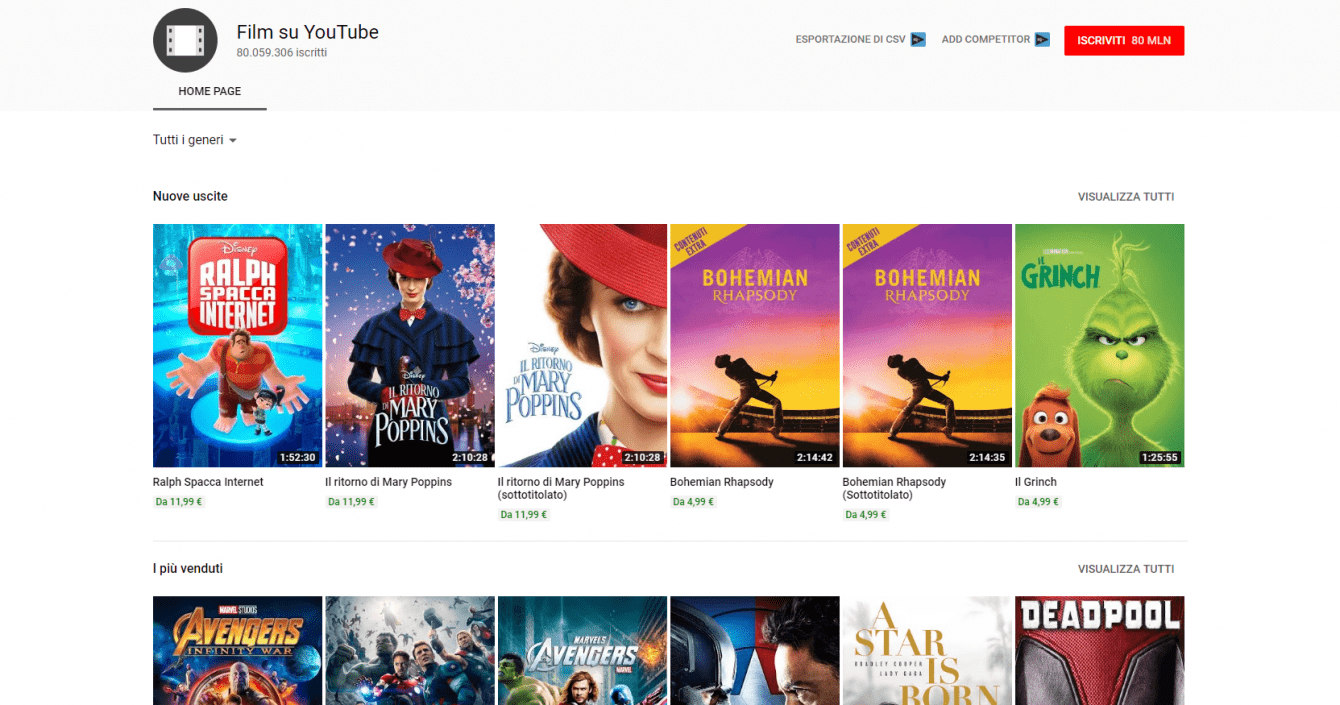 YouTube: full movies in Italian for a fee, where to find them
Even if so far we have talked about free movies it is good (for the sake of completeness at least) to mention the rental and sales platform on YouTube. If you want to have a huge choice with films, even recently released, you can take advantage of the section The movie is YouTube.
In this platform you will find titles such as: The Return of Mary Poppins, Bohemian Rhapsody, Avengers: Infinity War and many others!
Obviously, depending on the film you choose, you will have different expenses. Sifting through the genres you can also find almost given projections. For example we can suggest you Deadpool in this moment enjoyable with only 0.99 euros.
A brief summary
Before saying goodbye and giving us an appointment next month to update our lists, a quick and convenient recap of the YouTube channels to watch full movies in Italian for free.
Obviously we invite you to also follow our YouTube channel where you will not find complete or free movies, but excellent information and entertainment material!