Acer Aspire True Review. An Eco-Sustainable laptop made of PCR, which thinks about the environment and the future
Increasingly higher temperatures over the years; storms increasingly intense and frequent in many geographical areas with consequent enormous human and economic losses; severe increase in drought; warming and rising oceans; lack of food; loss of species and increased health risks; reduction of drinking water. I'm really the risks we are facing are innumerable with the current trend of the planet.
The theme of climate change and pollution becomes every day, every minute, every extra second that passes, a topic of vital importance. A theme that must be taken to heart by each of us so that something really changes.
Some images depicting the "Pacific Trash Vortex" better known as a plastic island. Between 135º and 155º West meridian and 35º and 42º North parallel of the Pacific Ocean.
So important, to the point that primarily concerns each of us individually with our small daily actions – which can have a positive impact on the global situation – but, above all, that it also affects large multinationals that every year, every month, every day, they produce waste materials and emit tons of co2 in the air.
There are several companies that are pushing to adopt increasingly cutting-edge production technologies with ecological tractionboth through renewable sources and through the complete supply of machinery with Eco-Sustainable energy according to guidelines.
Acer, protagonist of today's review, took the step forward with the Vero series. Making a PC completely from renewable and waste sources. Let's get to the heart of the review to find out more.
An eye on the environment | Acer Aspire True Review
The new Vero family is a range that thinks "Green" using plastics Post-Consumer Recycled (PCR). PCRs are made with recycled plastic from waste materials from domestic, commercial, industrial and public facilities. Post-consumer waste represent the largest flow of waste materials in the world and any effort to reduce this flow reduces the impact of human activities on the environment.
Since sustainability is about both the materials a product is made from and the way it is used and disposed of, Acer Vero devices are specially designed to be easy to disassemble, thus simplifying repair and upgrade processes as well as increasing durability. of their life cycle.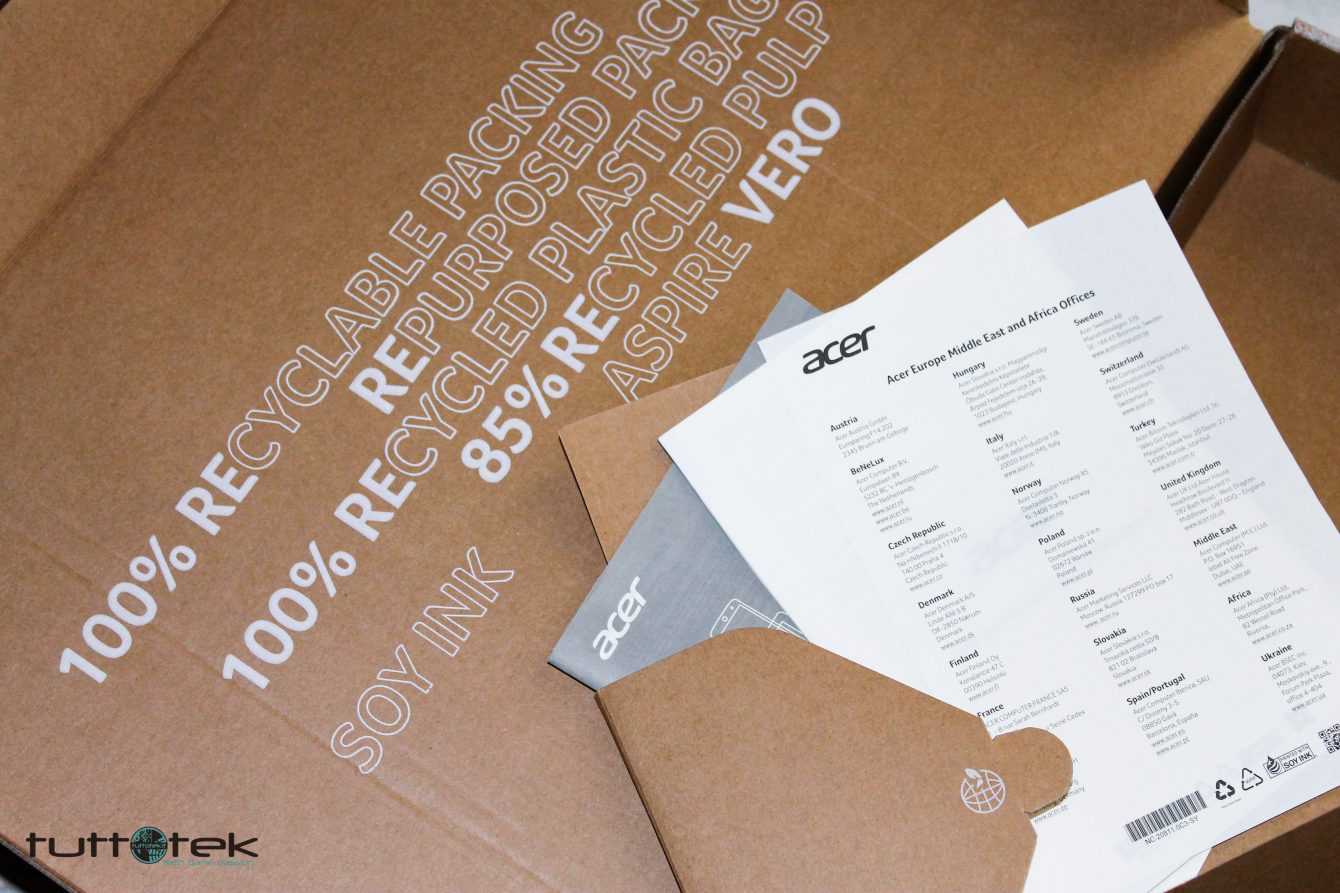 Just think that the new Vero range has saved tons of CO with just the machining of the body. The shell is made up of 30% PCR materials, this has allowed a 21% reduction in emissions. Acer has let us know that the emissions saved are to be compared directly to normal plastic chassis for laptops of the same size.
The estimated value is calculated from the PlasticsEurope Eco-profile reports, and the comparison focuses only on the material itself and limits itself to comparing 100% virgin plastic with 70% virgin plastic and 30% recycled plastic. The keys themselves also contain 50% PCR.
Design and features | Acer Aspire True Review
The laptop – including what materials it is made of – returns a truly singular and particular aesthetic result. But it's a matter of taste, not everyone liked it. De gustobus non est disputandum. Personally, I don't mind this returned effect, almost "marbled". Also to the touch the sensation it gives is particular, it seems to touch a mixture of marble and velvet.
The PC as a whole is however very rigid and very solid, it does not emit creaks nor does it have areas where the body "plays" in its housing. The only game present is in the display hoverthat it is not among the most robust of all. The laptop does not open with one hand.
The color is actually unwanted, that is, it does not have any paintwork, so what you see is the final processing process of the scraps used.. The only elements that stand out are the 2 small yellow rubber pads that serve for the stability of the display when opening and act as anti-slip, just like the other feet present.
We have various elements present in the body, engraved, which remind us of the nature of the laptop, and the processes used. In particular, the initials Post Consumer Recycled is proudly displayed on the front, proud of having obtained EPEAT Silver certifications.
Revolution = Evolution, this was Acer's motto. In fact, we notice a small peculiarity in the keyboard, the "ER" keys are mirrored, resulting therefore "RE" is a small message that Acer wants to launch, namely: REduce, REuse, REcycle (Reduce, Reuse, Recycle), you will see later the related photos. Moreover, this PC can also be reused in the future, in a possible way of disposal the body and various other components can be reused for the creation of new units.
Special attention was also given to the software with the Eco + VeroSense suite. The software will allow you to receive an account of what has been consumed and issued, and you can choose well from it 4 consumption management modes: Eco+ (an important saving mode that deactivates non-essential functions) Ecological (reduces performance slightly without disabling any works but improving energy efficiency) Balanced (takes care of automatically managing the energy saving functions) e Performance.
Nice design indicative of the level of health and environmental impactwhere for performance (the worst case scenario on the consumption side) we have a completely bare tree.
The technical data sheet and the needs of Acer | Acer Aspire True Review
Let's put aside the constructive question now, because the time has come to talk about how the PC is doing in the operational field. Because it's still a productivity PC.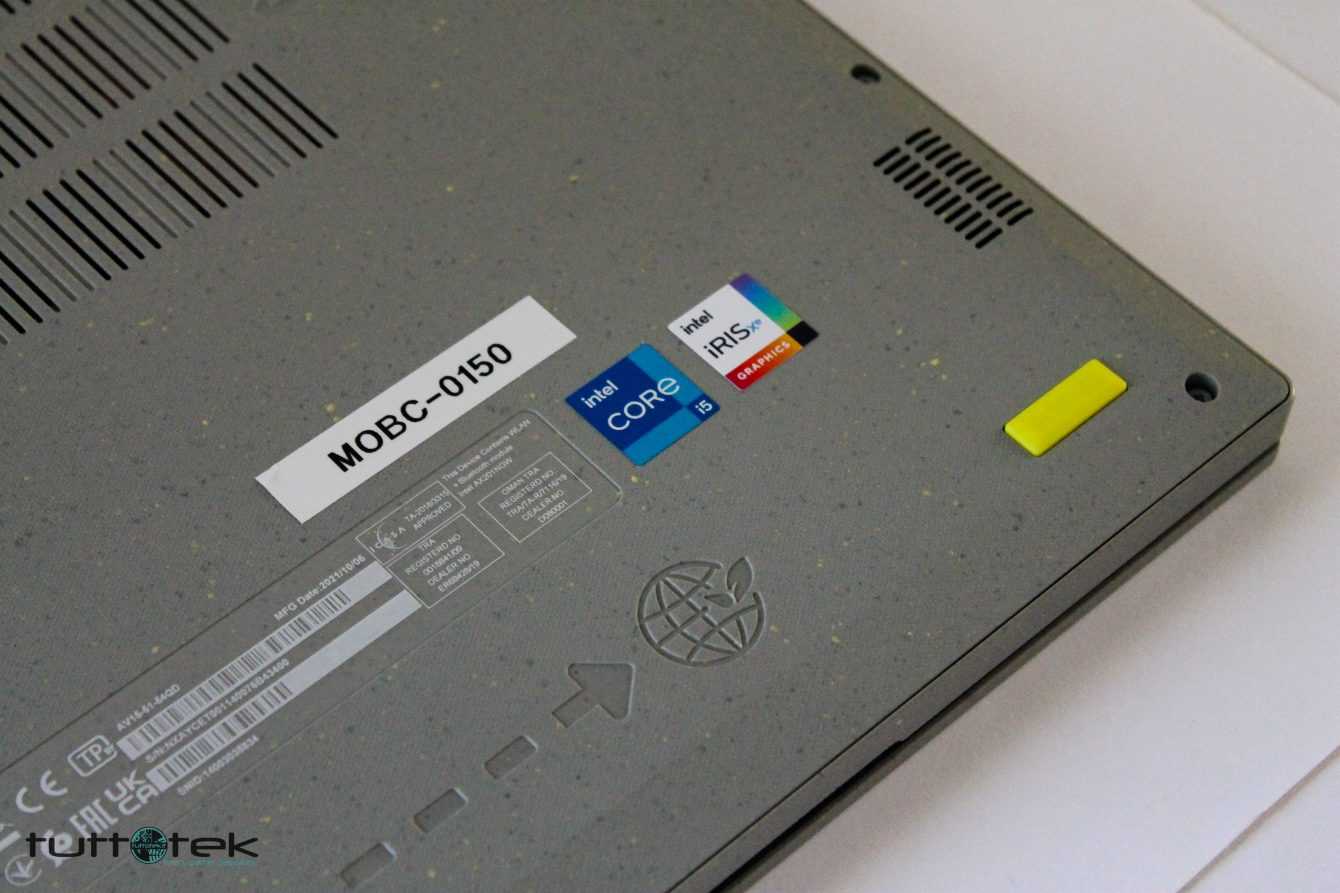 The laptop has a door USB 3.2 Gen 1 Type-C, due porte Type-A USB 3.2 Gen 1, a USB 2.0 port, and LAN connectora porta HDMIat an entrance Headphone jack. We then 2 LED lights, one indicating the power on status, the other the charging status.
The laptop owns 2 fans suitable for dissipation, in fact it is not a noisy PC in the operational phase, being well balanced they do not produce excessive noise, they are accompanied by 2 heat pipes. Despite the truly optimal structure in terms of dissipation, even well superior to PCs belonging to the same range or higher, the processor does not push to the maximum of its potential, as it has been deliberately reduced in terms of operating frequencies and maximum achievable consumption. However, having a dissipative structure of this kind, the ideal balance was sought between humble performance and reduced consumption.
The laptop owns 8 GB in RAMand 15.6 FHD IPS panela memory SSD and 512. To complete the technical kit we have a 48 wh battery and obviously there is no lack of it standard Wi-Fi 6 (802,11 AX 2 x 2). And, to be precise, our model is AV15-51-54QD. The power supply External PSU instead has a maximum capacity of 65W. To power this Green PC we have ualready Intel I5 1155G7 CPU, with integrated Xe graphics.
The processor ensures excellent performance, we are still talking about a recent processor of the family 11th Generation Tiger Lake product a 10 nanometersin this case this I5 1155G7 from 4 Core 8 Thread ensures a good compartment performance.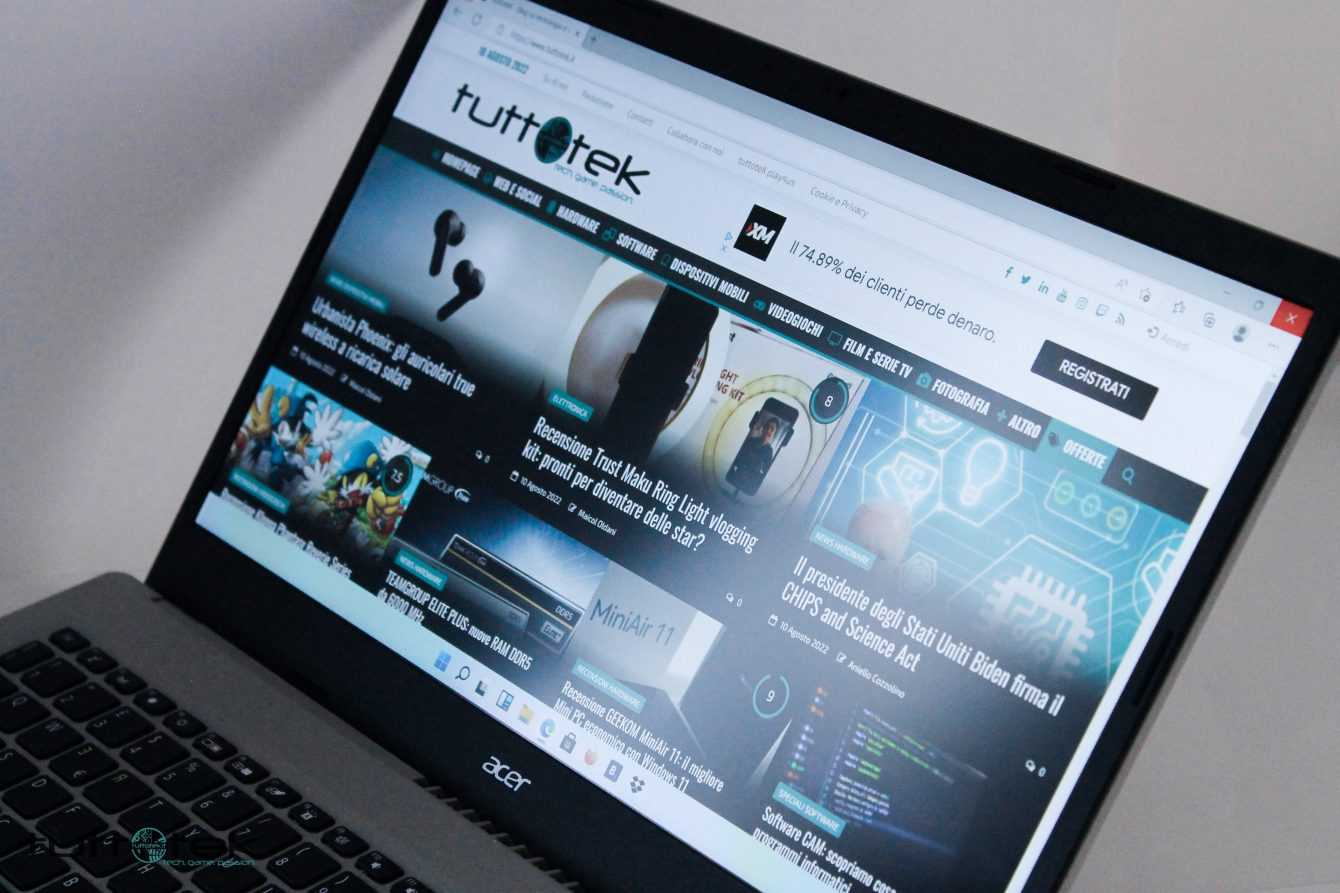 It is a processor that in terms of maximum turbo frequency can reach 4.5 GHzAcer at least in this model, has configured it to touch a maximum of 2.5 GHz on average, with peak moments that touch the 3.0 / 3.2 measured. In idle it also reaches 1.0 GHz. It can be configured with a maximum of 28 W, he is always stable on 12W / 15W. The total consumption of the entire machine, on the other hand, never exceeded 25/34 Watts total in times of high demand.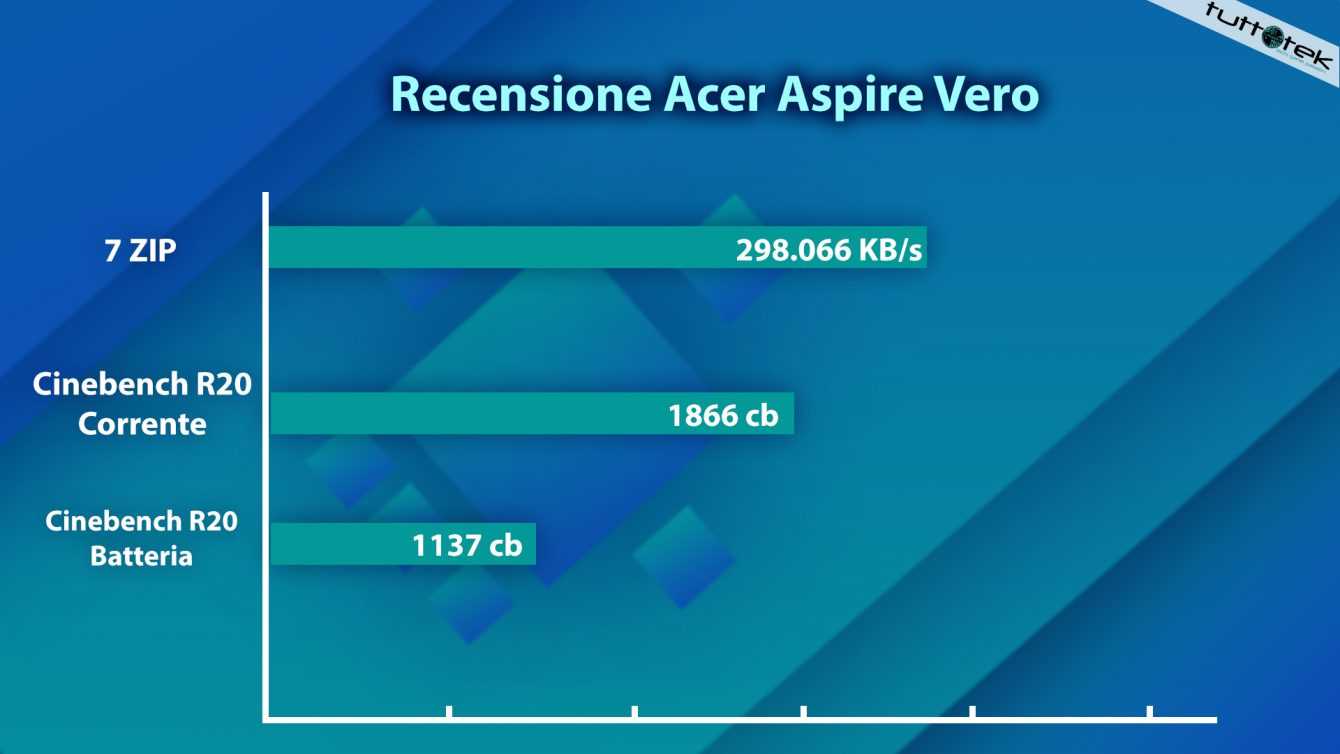 On the SSD nothing to say in particular, it is a mediocre model, a KINGSTON OM8PDP3512B-AA1 intended for industrial use at retail. We can define it as average, no top-of-the-range performancebut still able to manage everyday applications with good speed, but do not expect a flash opening of Adobe Lightroom 2022, in short, the tests carried out with different software are very close to those obtained with CrystalDiskMark, and as you can see they are not excellent values .
Some measurements made have led to these results. Then, confirmed by daily use. The dissipation, on the other hand, is well taken care of and performing, to carry out the tests on Cinebench R20 we obtained a maximum oscillation of 45/60 degreeswhile for medium to long jobs on Photoshop we got a medium range between 75 and 76 degrees. Ma in daily use, 50 degrees are rarely exceededobviously, with mild office operations.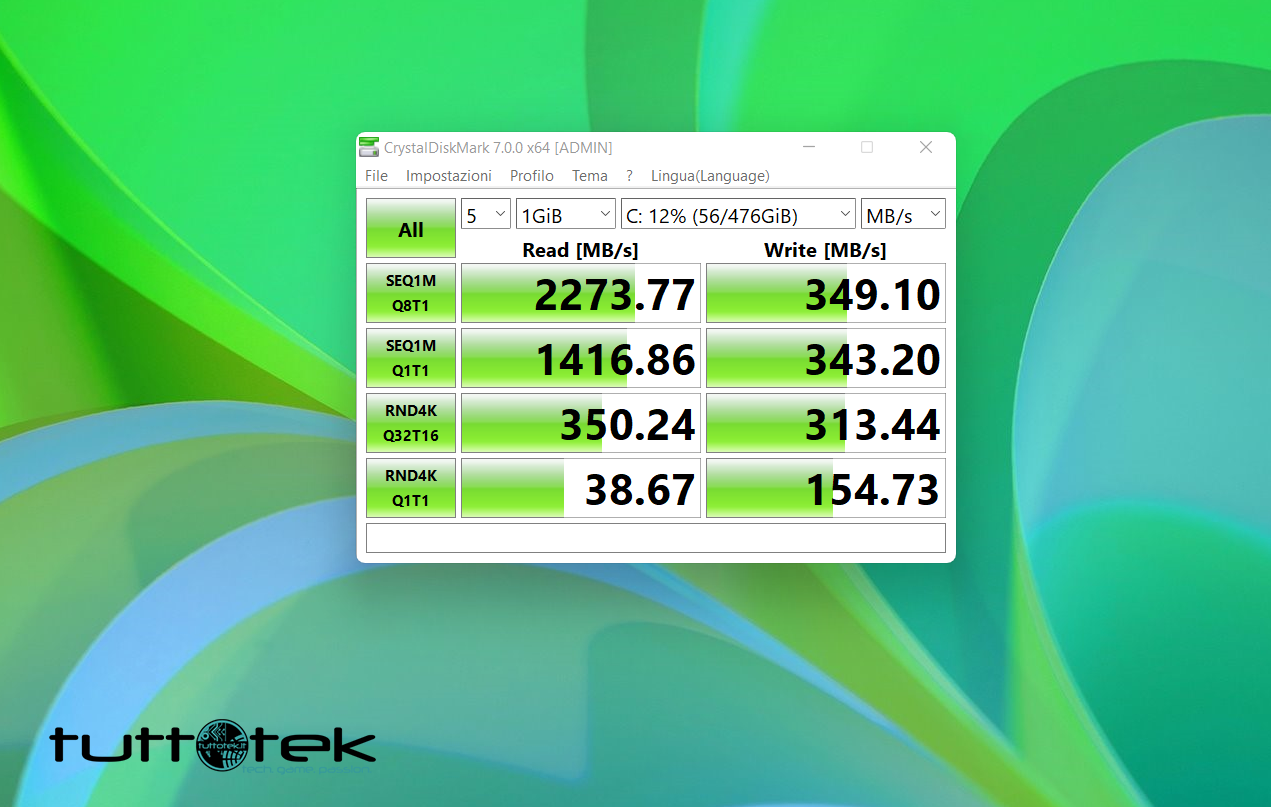 Keyboard and Touchpad and Display
As for the Display, the user experience was positive, the maximum brightness is sufficient to guarantee use under the sun, and being slightly opaque it improves readability further. The viewing angle is excellent, and it is comfortable even in very low brightness.
The trackpad, on the other hand, is a bit uncertain, precise and reliable in the lower part, a bit rubbery in the upper portions, while the fingerprint sensor is excellent, which is always lightning-fast. The dimensions are 7 cm in depth and 12 in width.
The backlit keyboard, on the other hand, is definitely goodprecise keys that are well spaced (typical chiclet), is a classic membrane keyboard, and the stroke of the keys is about 1.2mm. The typing it returns in general is very "solid" and no mistakes are made.
The webcam, on the other hand, surprised. We know that this hardware component always sins in terms of quality, and this happens on a global scale, regardless of the product range, in this case we have a quality that is half a step above the widespread average, also thanks to the software that optimizes the VideoCall and focuses on faces excellently.
Price and conclusions
Ultimately, we can say that this Acer Aspire Vero has convinced us. Of course it is not a notebook that can be chosen by those who by necessity need a particular hardware, for heavy mobile work of video and audio editing, design of 3D models, or programming of software and applications, therefore certainly will not satisfy the user looking for a portable and compact "workstation", for that surely there are other products, but certainly for the use of multimedia at 360 degrees it represents a good compromise. It can be an interesting choice for students who don't need special software.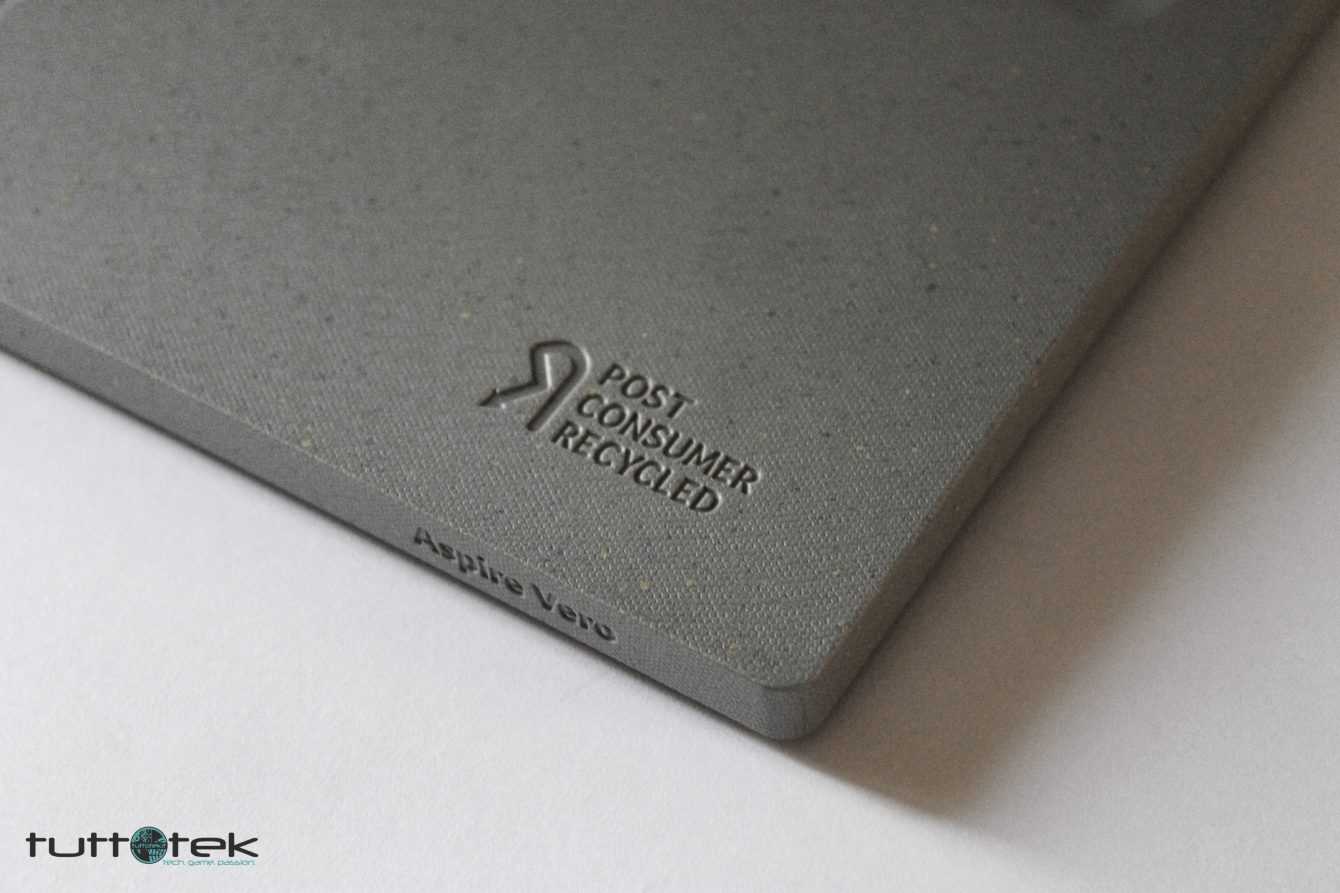 Its strong point is certainly its battery life, and its obvious, and relative low power consumption. So if you have no special needs, but you are …