Lenovo has launched a lot of interesting news at Tech World 2021. Starting with the new ones Lenovo Yoga Slim 7 (Carbon e Pro), which come with Windows 11 on board. Then passing through i IdeaPad Duet 5 Chromebook, tablets, wireless headphones, gaming screens and much more. A review of unmissable news for all technology lovers.
Lenovo: all the news presented at the Tech World 2021 event
The new products launched by Lenovo at the Tech World 2021 event are really interesting. And many. So we divided them into categories: first laptops, then tablets, and finally gaming screens and headphones. But we advise you to take a look at them all: we will try to be brief and provide only the necessary information, without going too far. Even if it is difficult, seen some absolute novelties (like the arrival of Windows 11!).
New in Tech World 2021: Lenovo Yoga and Chromebook
Lenovo has presented new versions of the new Yoga Slim 7, combined with a thin thickness that does not give up record performance. The Carbon version comes with an AMD processor that goes up to Ryzen 7 5800U, for super performance without impacting autonomy. You can choose both graphics AMD Radeon than to add a NVIDIA GeForce MX 450 optional. He arrives up to 16GB of RAM and can even accommodate 1TB of SSD PCle M.2. The battery from 61 WHrs can be recharged with Rapid Charge Express, which offers 3 hours of battery life after a quarter of an hour of charging. And Lenovo has also managed to insert speakers Dolby Atmos in this laptop often 14,9 mm and that it weighs only 1,1 kg.
The screen is a Samsung 14 inch OLED panel, offering certification VESA® DisplayHDR™ TrueBlack 500 and has all the trappings to help you in creating content. With refresh rate from 90Hz e 400nits in brightness, the Corning Gorilla Glass screen really shines. Software side found Windows 11, with the ability to also skill the Alexa Show Mode to use it as a voice assistant when not working. There are also all the benefits of Lenovo Smart Assist.
Lenovo Yoga Slim 7 Pro
The Pro version instead offers a large panel 16 inch QHD IPS, certified VESA Certified DisplayHDR 400 e TUV for eye protection. You can choose up to AMD Ryzen 7 5800H as a processor e NVIDIA GeForce RTX 3050 as a GPU: a real monster of power. Which you can accobbate to 16Gb of DDR4 RAM, 1TB of PCle M.2 SSD and a battery with 75WHr and fast charging.
And despite the larger screen and monstrous tech specs, don't expect a bulky laptop – just 2.1 kg and 17.4mm thick.
IdeaPad Duet 5 Chromebook
If you prefer portability to potency and have a soft spot for Chrome OS, the best choice may be Lenovo IdeaPad Duet 5 Chromebook, one of the most interesting innovations presented at Tech World 2021. You can have access to all the apps of Google Play, including games, Spotify, YouTube and much more. All on one screen from 13.3 inches OLED, which also does not drain the battery too much (Lenovo promises up to 15 hours of battery).
Quick operations on Chrome and use of the Google Assistant are handled by a quick Snapdragon 7c Gen 2, who goes to fly this ultraportable. With up to 8GB of RAM (very many for the operating system) e 256GB di storage, it is a device devoted to the cloud but which seems very performing. The keyboard and stylus make it a replacement for the PC but with alone 7.24mm thick and 700 grams in weight, you risk mistaking it for a simple tablet with a big screen. But it is much more.
All three of these laptops arrive by October 2021. The Italian prices have not yet been communicated to us. But in the US they cost $ 1,289.99 (Carbon), $ 1,449 (Pro), and $ 429.99 (Chromebook).
Lenovo news at Tech World 2021: tablets
The world of work is becoming more and more hybrid and the tools we use to work or study must also become so. Who want to be resources for productivity and entertainment together. Like new Lenovo Tab P12 Pro, which offers a brilliant AMOLED screen and magnetic stylus in a really light and slim body (5.65 mm and 565 grams). The display has a variable refresh rate fino a 120Hz, perfect for gaming, the resolution a 2560 × 1600 and 600 nits of brightness.
The speaker JBL ensure great sound with Dolby Atmos. And thanks to the processor Snapdragon 870, up to 8GB in RAM and an ultra-fast WiFi 6 connection (with optional 5G), it doesn't give up anything. The battery from 10200 mAh should be enough for two full days, with fast charging a 45W to accelerate. The Precision Pen 3 and keyboard make it perfect for productivity. But Lenovo's Project Unity is also very interesting, which allows you to use the tablet as a secondary screen of the PC while it is running. An additional wireless display and a tablet at the same time.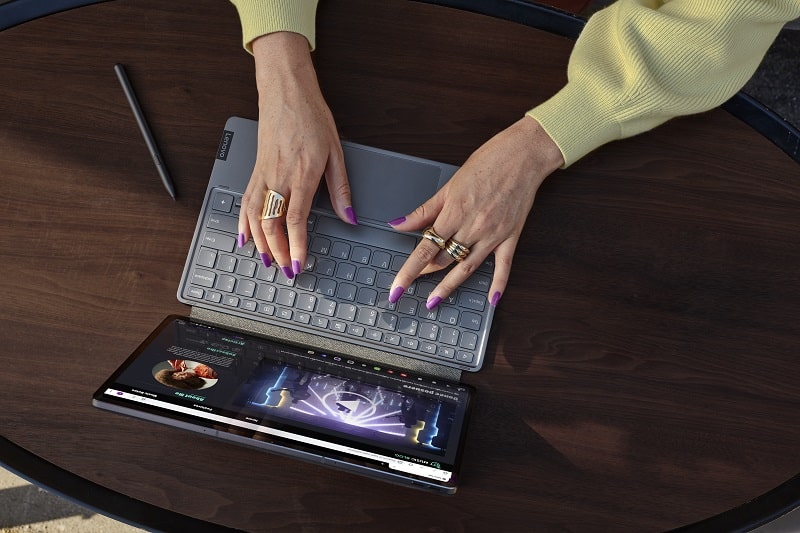 If, on the other hand, you want a smaller but snappy tablet, Lenovo Tab P11 5G promises lightning-fast connections, anywhere. The 11 inch 2K IPS screen make it perfect for multimedia content. But the keyboard and Lenovo Precision Pen 2 are great for working on the go as well. As a processor find one Snapdragon 750 5G, accompanied by 8GB of RAM and 256GB ROM. With the battery from 7700 mAh comes to 12 ore abundant in content, and in the case there is 20W charging.
Both tablets arrive in October 2021. The US price is from $ 899 for the P12 Pro and from $ 499 for the P11 5G.
Display and earphones for games and entertainment
At Tech World 2021, Lenovo also unveiled two great gaming screens, the displays ThinkVision P27u-20, as well as screens G27e-20 e G24e-20. The first offers an experience in Ultra High Definition (3840×2160) on a certified IPS screen VESA® Certified DisplayHDR™ 400. The screen is Energy Star 8.0 certified and includes a large selection of ports. We have more doors USB 3.2 with Thunderbolt 4 input as well, a USB-C and an RJ45 Ethernet port. A screen that also becomes a docking station.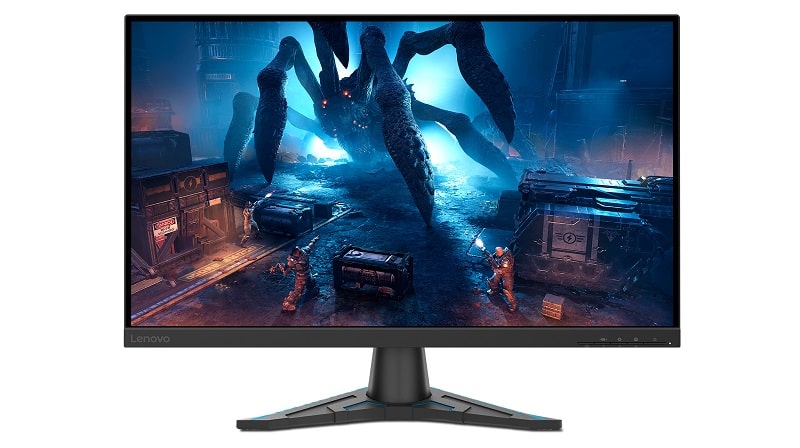 Lenovo G27e-20 e G24e-20 offer 300 nits of brightness on a Full HD display. Both displays are Lenovo Eyesafe certified for eye protection. But they don't give up on performance, there is also technology AMD FreeSync Premium to cancel latency.
ThinkVision P27u-20 arrives in December 2021 and costs $ 769. Instead, the two G-series screens arrive in October, the 27-inch one costs $ 239.99 and the 24-inch one costs $ 209.99.
Lenovo Smart Wireless Earbuds
To conclude with a flourish, the tech gadget that no one can do without: the true wireless earphones. Available in both black and white, i Lenovo Smart Wireless Earbuds have dynamic drivers from 11 mm to give great sound quality and deep bass, for over 28 hours of charging (including that in the case. Thanks to Lenovo Enhanced Multipoint they can be connected simultaneously to your PC and your phone, allowing you to quickly switch between them.
You can say "Ok, Google" to activate the voice assistant and use with the reduction of 38 decibels of the noise you can focus on the call you are making. The headphones will arrive in the third quarter of 2021 (so soon) and should cost $ 99.99.
Everything-as-a-Service
In addition to all these products, Lenovo at Tech World 2021 also established a new business model: Evertything-as-a-Service. The idea is to provide hybrid solutions between work and private life, which adapt to the needs of all customers (including business ones). As the president and CEO of Lenovo, Yuanqing Yang: "The new reality is here and both individuals and companies today have different needs and uses that require smarter technology. Lenovo is focused on solutions for this new reality. From our hybrid solutions for work and home to the edge-to-cloud portfolio, from the new Everything-as-a-Service business model as part of Lenovo TruScale to Lenovo Brain and AI technologies, to our commitment to a 'green and responsible innovation: Lenovo aims to innovate to enable its customers and the world to experience a digital and intelligent transformation ".
Dall'edge computing to the artificial intelligence platform Lenovo Brain, passing through the products, this new model aims to give companies and those who work there the winning tools for an increasingly digital world. You can learn more about the new strategy of the company at this address.
With so many new products and a strategy to make them more usable, Lenovo is "back from vacation" in a big way.