BERLIN – Amazfit invited us to his booth in IFA 2022 for a special occasion: the announcement of the new smartwatches Amazfit GTR 4, GTS 4 e GTS 4 Mini. The news is really a lot, from the circular polarized GPS antenna to increase the accuracy of the position during your excursions or runs, up to grande display HD AMOLED. But without forgetting the power of the operating system Zepp OS 2.0 and the design, which we were able to preview at the Berlin fair.
Amazfit presents the new GTR 4, GTS 4 and GTS 4 Mini at IFA Berlin 2022
Amazift started the conference by recalling the experience it has rapidly gained in recent years, with really interesting smartwatches (which we have told you with our reviews). How Amazfit T-Rex 2that Amazfit it even launched into space.
But after a while we were able to discover and touch the real protagonists of the event: the new GT 4 series. Smartphones that keep the obvious attention to sport, with the ability to monitor over 150 sports modes. But with a truly elegant and high quality style.
Advanced sports features
The new smartwatches that Amazfit unveiled at IFA 2022 have some advanced features for sportsmen. On the contrary: for every type of sportsman. In fact, you can use the new functionality Track Run mode which allows for example to improve the tracking of your run. Or the mode Golf Swing, to improve your performance on the green. Plus, you can track your workouts with apps like Strava and soon with Adidas Runningthanks to the new partnership between the two brands.
And then dozens of strength and endurance or high intensity workouts for the gym, with ten sports to follow. And if you prefer to work out outside the gym, the improved GPS navigation allows you to find your position with absolute precision and the support of five satellites. And Amazfit promises us that soon via software you will be able to load the routes from your smartphone and be guided step by step.
Designed for greeting but with many smart features
The new BioTracker 4.0 PPG utilizza i 2LED to detect up to 33% more data than the previous generation. Amazfit then explained to us that the new proprietary algorithms allow you to take advantage of this data to accurately monitor heart rate, oxygen saturation and more. It improves sleep tracking to track your habits and make you sleep better.
And with Zepp OS 2.0 you can even download the Baby Record apps, so you can also monitor your baby's sleep and feeding cycles. And there are even games for your smartwatch.
There is also the intelligent assistance of Amazon Alexa, which you can also use to manage the music that you can save on your smartwatch and take with you during sports activities. The speaker also allows you to hear live sports results, and when you play sports, it can tell you times, distances, rhythms. And you also remembered when it's time to drink.
All with a battery that's on GTR 4 promises up to 14 days of autonomousa, thanks to a particularly light operating system. GTS 4 it has a bigger screen but it should still hold out at least 8 days.
Amazfit GTR and GTS 4: elegant designs at IFA 2022 in Berlin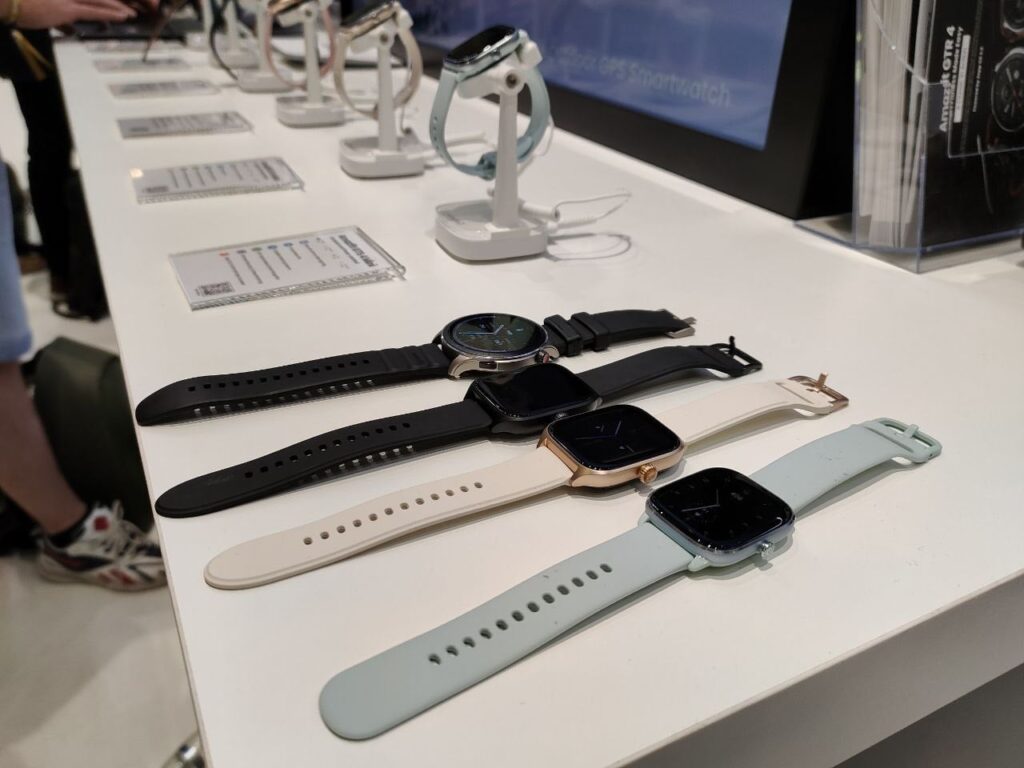 When we were able to touch the devices, we were immediately struck by the great lightness of the design. GTS 4 actually weighs 27 grams and GTR 4 34 grams, without considering the straps. Which you find in different variations and textures (the nylon one for GTR 4 we particularly liked).
The round display of GTR 4 measures 1.43 inches with 326ppi, which match very well with leather, nylon and silicone straps. The screen of GTS 4 even reaches 1.75 inches and 341ppi. The round version comes in Superspeed Black, Vintage Broe Leather e Racetrack Grey (which goes great with nylon). While GTS 4 comes in colors Black, Misty White, Autumn Brown e Rosebud Pink.
GTS 4 Mini
Finally, there is also a smaller and lighter variant, GTS 4 Mini, which still has a really big display: 1,65 pollici HD per 309ppi. The battery is truly exceptional, reaching up to 15 days and up to 45 in power saving mode.
It comes in colors Midnight Black, Flamingo Pink, Mint Blue e Moonlight White. A smartwatch that has all the best features of Zepp OS and that can be combined with any look.
Amazfit GT 4 Series: price and availability
Amazfit GTR 4 and GTS 4 will soon arrive with a price starting from 199.99 euros. They will be available for sale on September 2 in the US, followed by Germany on September 12. In Italy, along with Spain, France, the UK and other countries and regions around the world from mid-September to October 2022.
Amazfit GTS 4 Mini is priced starting from 99,99 euro and is now available in Germany. But it should come to us soon too. For more information, you can visit the Amazfit website.