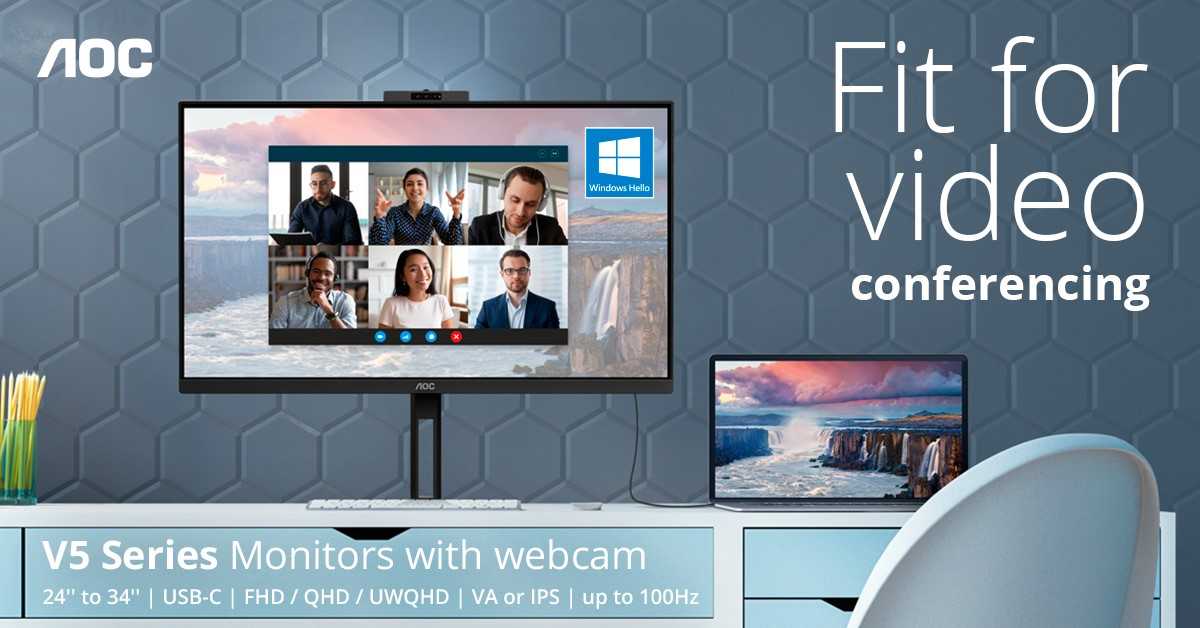 The elegant AOC V5 series is enriched with new monitors equipped with USB-C connectivity and webcam, monitors for video conferencing, let's find out together in this article
AOCa company specializing in displays, announces three new monitors multifunctional of the series V5, designed for those who work in smartworking and to the students, just in time for the next school year. Three novelties in three sizes (24 ″ / 60.4 cm 24V5CW, 27 ″ / 68.6 cm Q27V5CW and 34 ″ / 86.4 cm ultrawide CU34V5CW) featuring integrated webcams from 2 MP with support Windows Hello for easy login and enhanced security, making them ideal for video conferencing and meetings.
V5 series monitors, borderless on 3 toare thin and equipped with a versatile connector USB-C con Power Delivery and 65W to recharge and power your own laptop o tablet with a single cable while connected to the screen.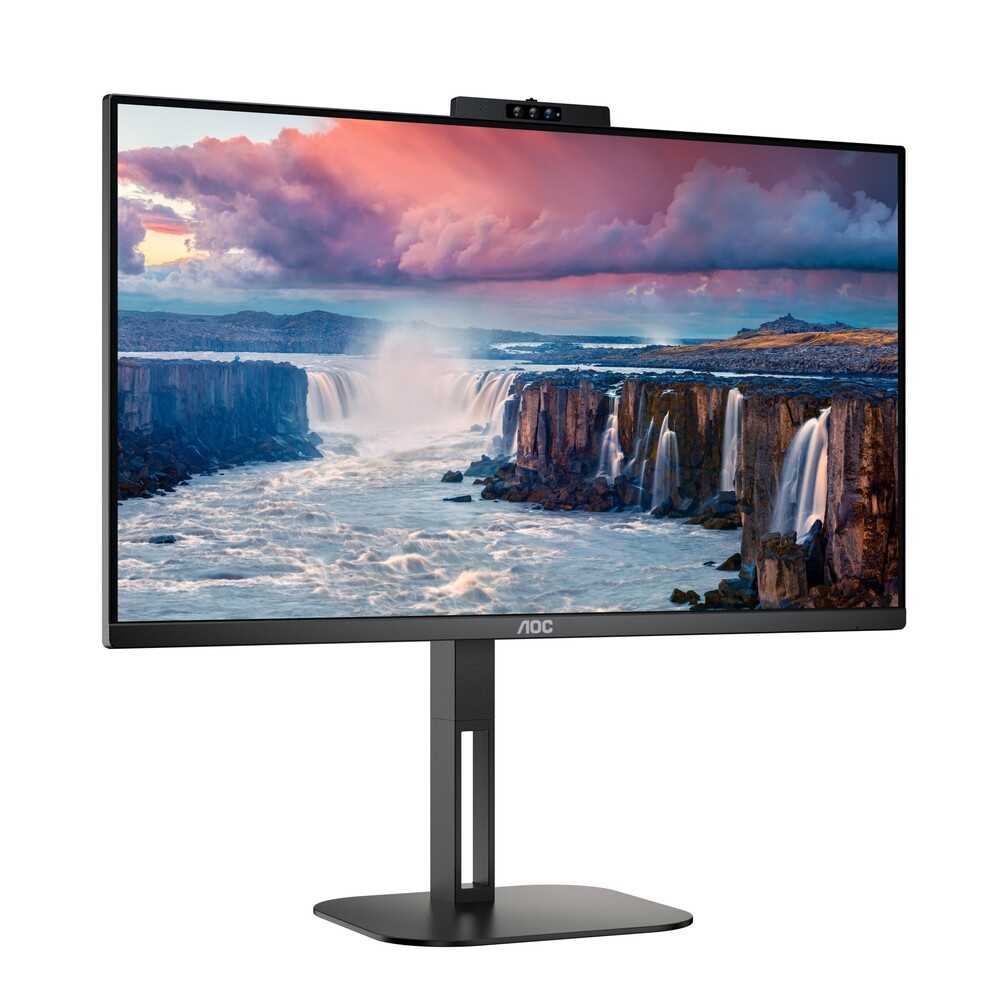 Contemporary design
Unlike monitors bulky and boringthe design of the V5 series is light and contemporary, perfect for modern desks they home studies. Featuring a three-sided borderless design with a slim bezel at the bottom, a slim base (12.1mm) and a ergonomic support adjustable in height, the V5 series monitors fit the elegant and modern décor of living spaces.
Versatile on multiple levels
The new models V5CW, they stand out from the rest of the V5 series by their webcam from 2 MP and the support of Windows Hello. It is evident that nowadays the webcam has become a essential element both in the world of work and in school. Somehow videoconferencing and distance learning are destined to stay.
The V5CWs solve this need in an optimal way by offering even more than what can be expected from a simple webcam. Thanks to the technology of Facial recognition Windows Hello, Windows users can in fact access their sessions simply by looking at the webcam, without entering any password, thus improving system security and usability.
Not only are webcams necessary, but they have also become essential for those who work flexibly and in the school world. In fact, it is increasingly common to work on a laptop in the office or university for at least a few days a week, and work from home on other days.
In this case, the integrated hub USB 3.2 to 4 port and connectivity USB-C of the V5 series allow you to have continuity between the office and home in one simple move: just connect your laptop with a single USB-C cable. The laptop will then be powered and charged (up to 65W) and the screen can be extended or reflected on the monitor to allow the laptop to access devices from the monitor's USB hub. Thanks to the versatility of the USB-C connection, with the V5 series it's easy to create your own minimal and clutter-free workstation.
Quality images, from 24 "to 34"
The ultrawide model CU34V5CW 34 ″ offers a wider view thanks to the panel VA curvedwhose curvature of 1500R improves visibility in edges by increasing immersion in games and movies. The sharp and detailed resolution of the WQHD (3440 × 1440 pixels) allows you to take advantage of most of the horizontal space, allowing you to view too 3-4 windows side by side.
The CU34V5CW model is a great all-rounder for both work and leisure. Compared to models from 16:9offers better multifunctional solutions for work by showing for example multiple applications at the same time, but its strong point is evident when it comes to entertainment.
With a deep and rich contrast ratio 3000:1 and a cinematic aspect ratio of 21:9, watching movies about this model is a pleasure. Its refresh rate of 100 Hzwith the support AMD FreeSync and the low response times (1 ms MPRT, 4 ms GtG) prove that the CU34V5CW is also suitable for gaming. In addition, it supports Picture-in-Picture (PiP) and Picture-by-Picture (PbP) modes to view two sources at the same time.
27 inch format
In the format 27″il Q27V5CW is equipped with a panel IPS with resolution QHD (2560 × 1440), an ideal pixel density for this format. The update rate of 75 Hz improves the clarity of movements compared to the most common models a 60 Hzwhile the wide viewing angles (178 ° / 178 °) and color accuracy (126% sRGB, 105% AdobeRGB, 98% DCI-P3) are not compromised thanks to IPS technology.
The 24V5CW
For smaller desks, the most suitable is the 24V5CW 24 ″. It offers all the features of the other larger monitors in the range but in a smaller size, from 24″: is equipped with a panel IPS for rich and accurate colors, resolution FHD (1920 × 1080) and refresh rate of 75 Hz. Being the cheapest of the range, the 24V5CW model is a great alternative to laptop displays. It is also a great gift idea for friends and family.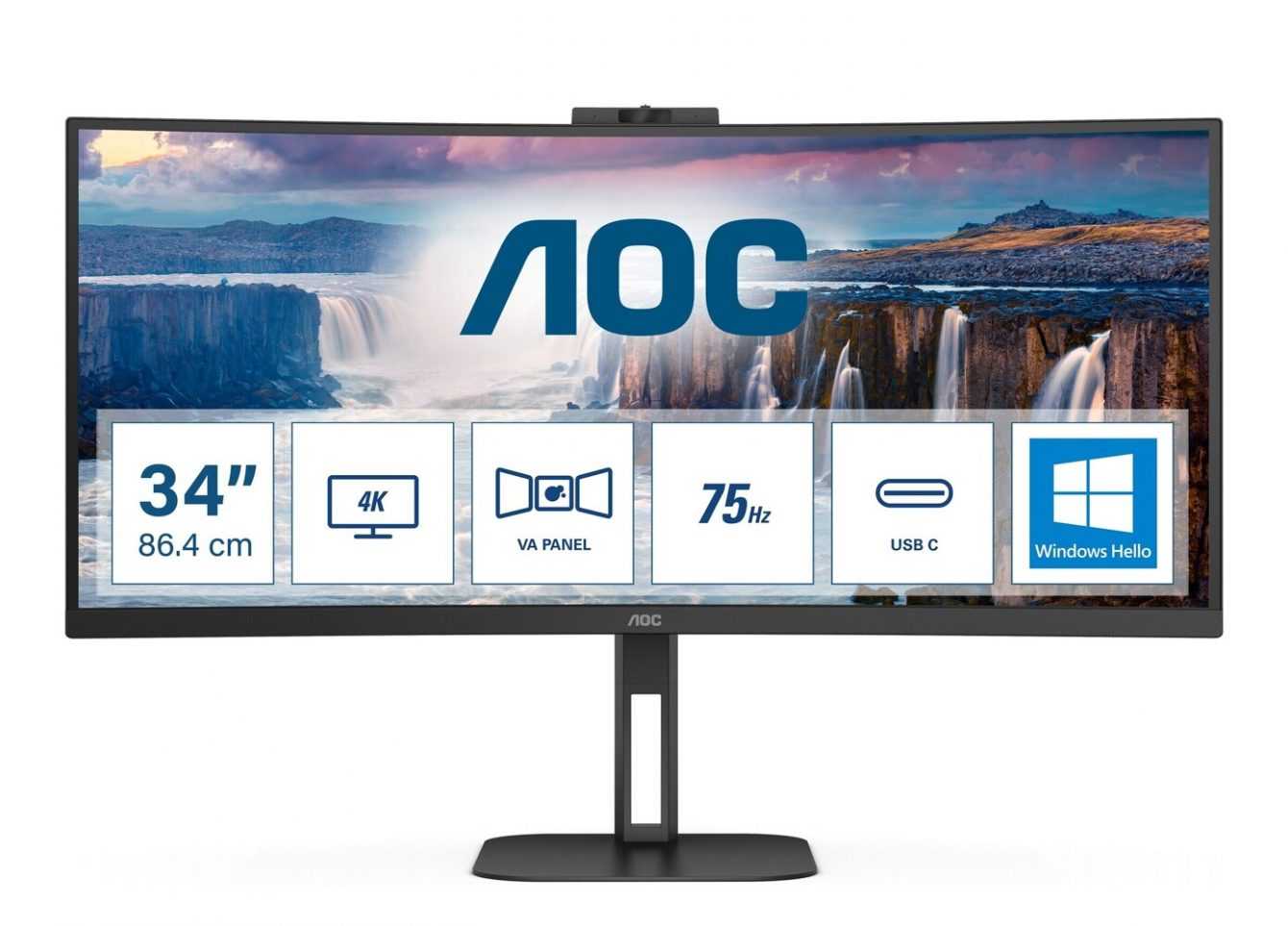 All three models adapt to everyone's needs
All and three the models are equipped with ergonomic supports and adjustable in heightinclination and rotation as well as in the orientation (90 ° vertical) for models from 24″ e 27″ to be able to adapt to everyone's needs. The option VESA, possible in all three models, it offers greater versatility in situations with multiple monitors.
All three models are equipped with a hub USB 3.2 to 4 port which provides high speed to connected devices, such as USB drives, or additional USB ports for connecting other peripherals such as keyboard and mouse. Endowed of 2 x 5W speakersall three models can be used immediately for any videoconference.
Prices and availability
The AOC models 24V5CW, Q27V5CW e CU34V5CW will be available starting from August 2022 at the prices indicated below:
24V5CW: € 319
Q27V5CW: € 429
CU34V5CW: € 609
What do you think of these new monitors featuring AOC's USB-C connectivity and webcam? Let us know below in the comments. Don't forget to follow us on our Instagram page, on all our other social networks and to stay connected on TechGameWorld.com.
The article AOC series V5: is enriched with new versatile monitors comes from TechGameWorld.com.