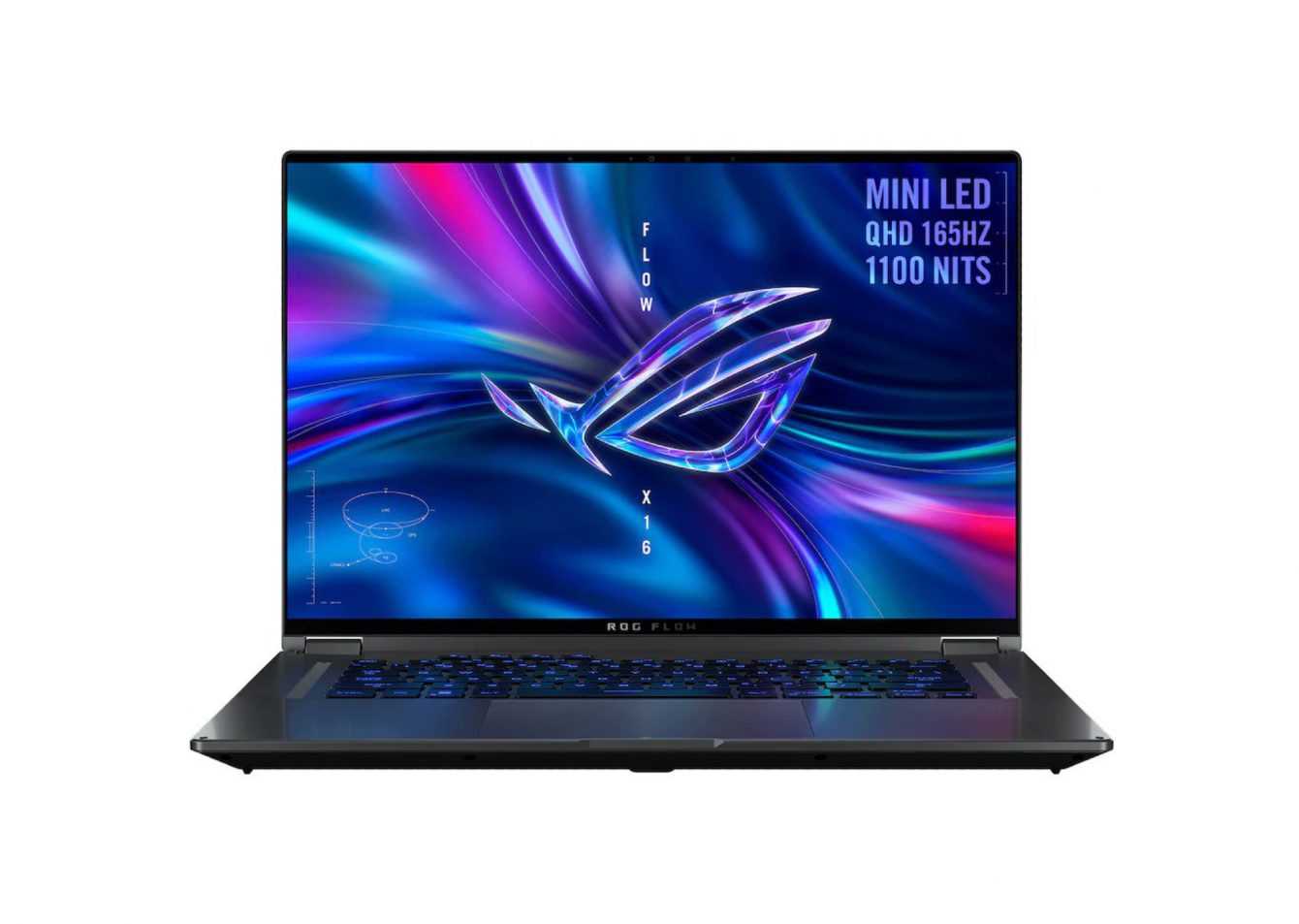 ASUS 'slim and light ROG Flow X16 convertible laptop with stunning Nebula HDR display features the best components and a new high-efficiency cooling system
ASUS Republic of Gamershe announced today the Italian availability of brand new gaming laptop ROG Flow X16. It is a 16-inch thin and light notebook formatted 2-in-1 and processor AMD Ryzen 7 6800HS and from one GPU NVIDIA GeForce RTX.
ROG Flow X16, pesa solo 2,1 kg and it comes in one chassis about the size of a 15 "notebook, with a screen ROG Nebula HDR Display da 16": a performing panel 165 Hz with 500 nits peak brightness, 512 zone local adjustment and color gamut coverage DCI-P3 al 100%.
These premium components are complemented by the brand new F cooling systemrost Force Technology e Pulsar Heatsinkcon three fans and a heatsink high density to maintain high performance and low temperatures in a compact body.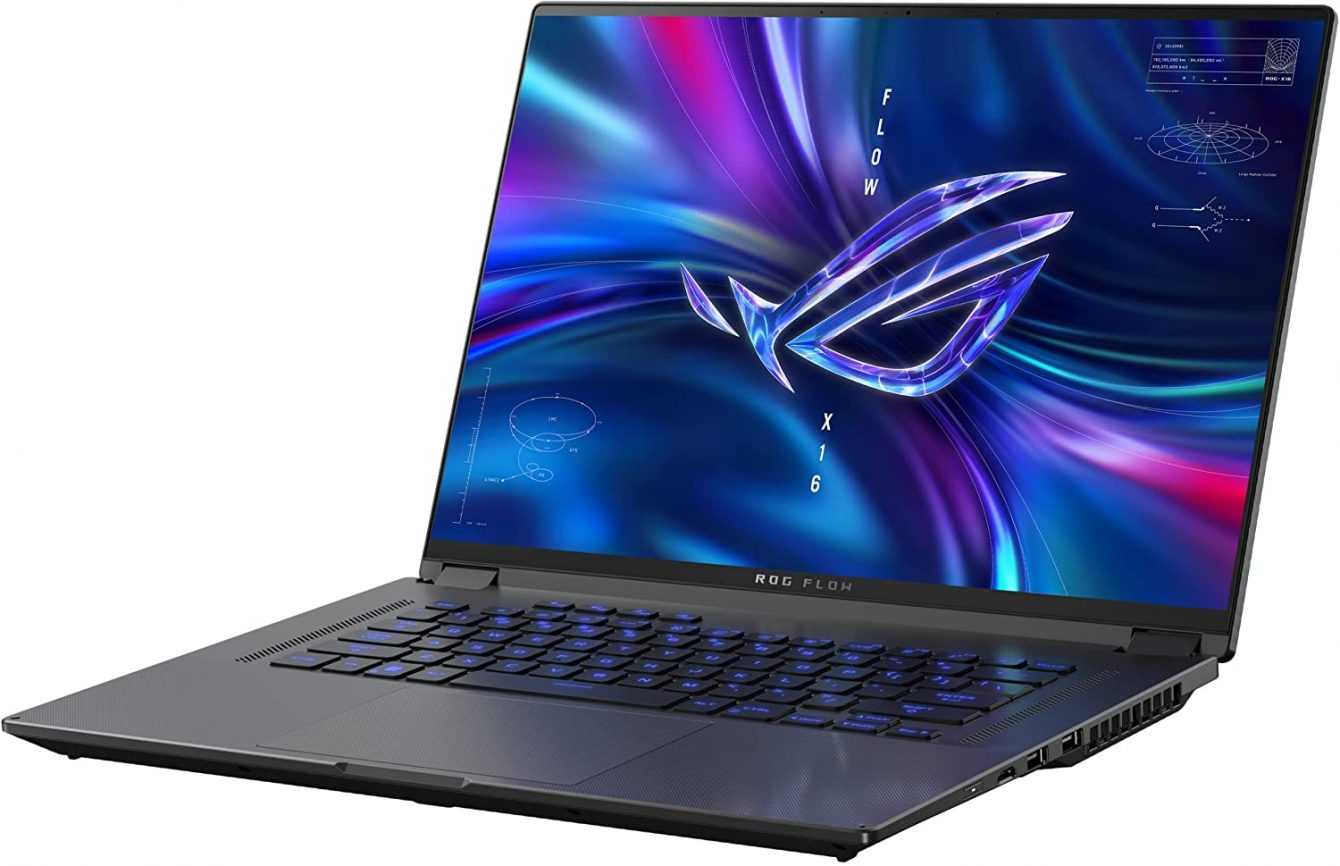 A thin and light laptop with exceptional performance
Equipped with a processor AMD Ryzen 7 6800HS and one GPU NVIDIA GeForce RTX 3060, with switch MUXthis laptop can render game frames much faster than its would suggest 19.4mm thick chassis. With the RTX 3060 operating at a TGP maximum of 125 watt con Dynamic Boostthe Flow X16 redefines the concept of gaming and content creation ultraportable.
Despite the thin and light design, ROG didn't sacrifice usability and versatility. Be the lightning-fast memory DDR5 4800 MHz, that the PCIe 4.0 SSD, are accessible for any upgrades. The Flow X16 supports up to 6 GB in RAMand with a maximum of 1 TB of SSD memory, it also has a second slot M.2 freemaking it easy to insert a hard drive or a second SSD to house an even larger library of games.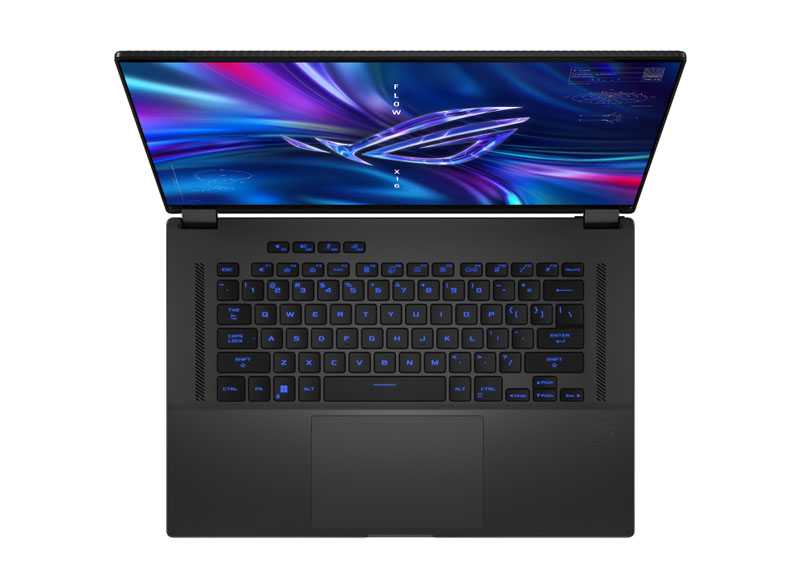 Convertible and versatile design
As a member of the family Flow, portability and versatility were key in the design and design of this new gaming laptop. Thanks to the equipment of a 360 ° hingegamers can turn their device to use it in tent mode, maximizing airflow when using one external keyboard or gamepad. Alternatively, you can flip the display over to tablet mode to make full use of the touch functionality.
Display Nebula HDR
The new certification for displays ROG Nebula, requires the 100% color space coverage DCI-P3at least 500 nits of peak brightness, and a maximum response time 3 milliseconds. The display Nebula HDR, meets all of these requirements while delivering thrilling HDR performance.
This display touchscreen QHD, 16:10, 165 Hz Nebula HDR is certified VESA DisplayHDR 1000 and, boasts 512 zone from dimming for excellent contrast and a truly unique HDR experience. Powered by technology AMLED di AUO and from ROG Nebula HDR Enginethe display uses incredibly precise backlighting for local adjustment that produces stunning contrast.
This combination of adaptive image processing software, coupled with adaptive dimming and backlight boosting, helps deliver incredibly accurate images with minimal halos.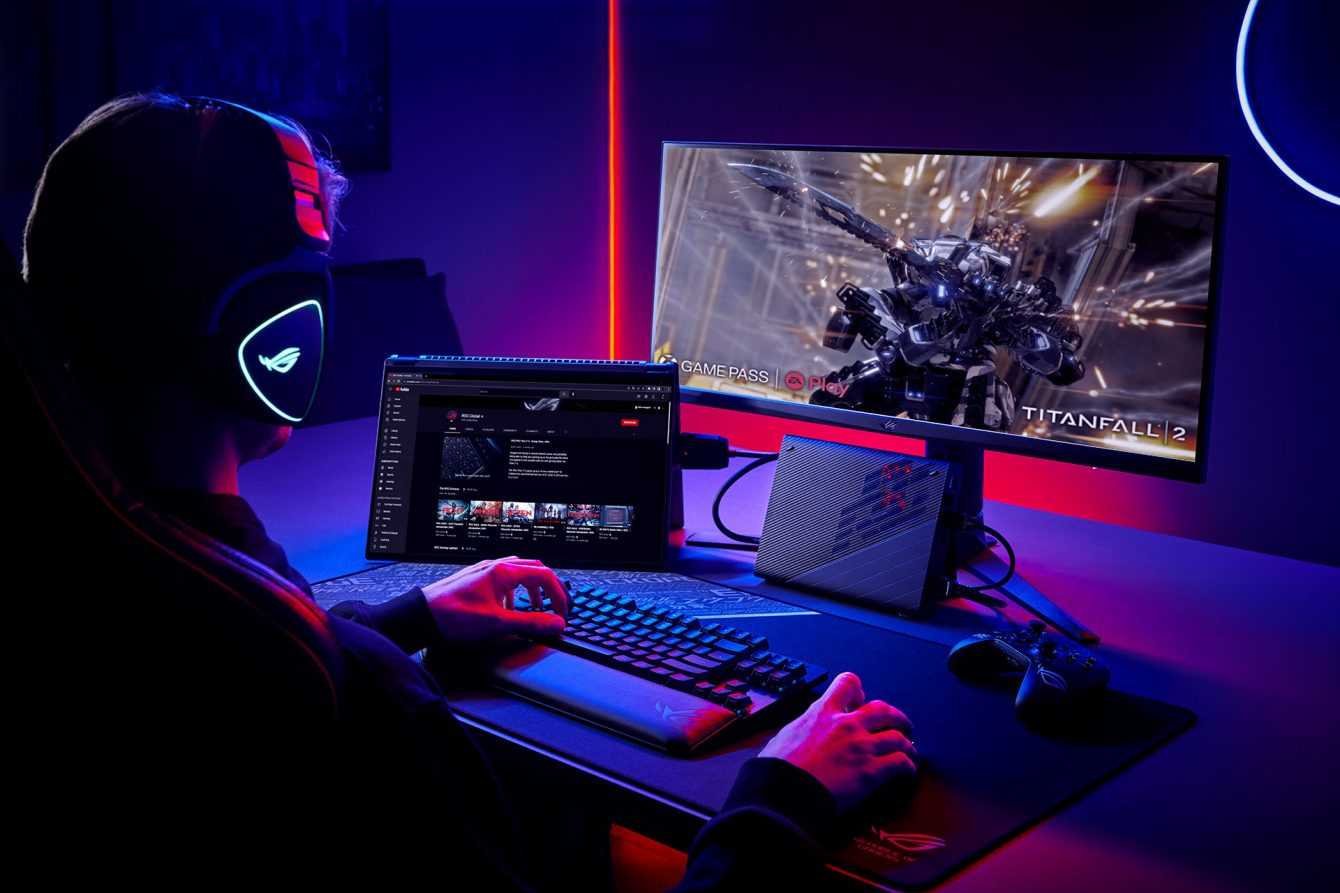 Superior cooling system and AI noise cancellation technology
Ensure all the game power and skills of multitasking of the ROG Flow X16, in a chassis that is less than 20 mm it was not an easy feat. For maximum heat dissipation capacity, the CPU it is covered with liquid metal Thermal Grizzly and, the chassis integrates the brand new Frost Force Technology.
Con two fans which direct the air flow through cuts whose position is calculated with millimeter precision. A third auxiliary fan helps move heat away from the GPU, directly to the new Pulsar Heatsink, covering the entire back of the notebook. Designed with just flaps 0,1 mm thick, the ROG Flow X16 can count on a total of 110.902 mm² of dissipation surface.
Four speakers with Dolby Atmos technology
Adding a third fan auxiliary maintains GPU temperatures Tuesday 7°C colder than traditional solutions, which allows the Flow X16 to maintain high frame-rates even during longer gaming sessions long and intensein any of his four modes of use.
I four speakers with technology Dolby Atmos, finally, they put the user at the center of the action. By turning up the volume you can enjoy more audio strong and dynamic thanks to the speakers Smart Amp. Noise cancellation AI Two-way cleans up incoming and outgoing audio, making streams, chats and recordings clearer than ever.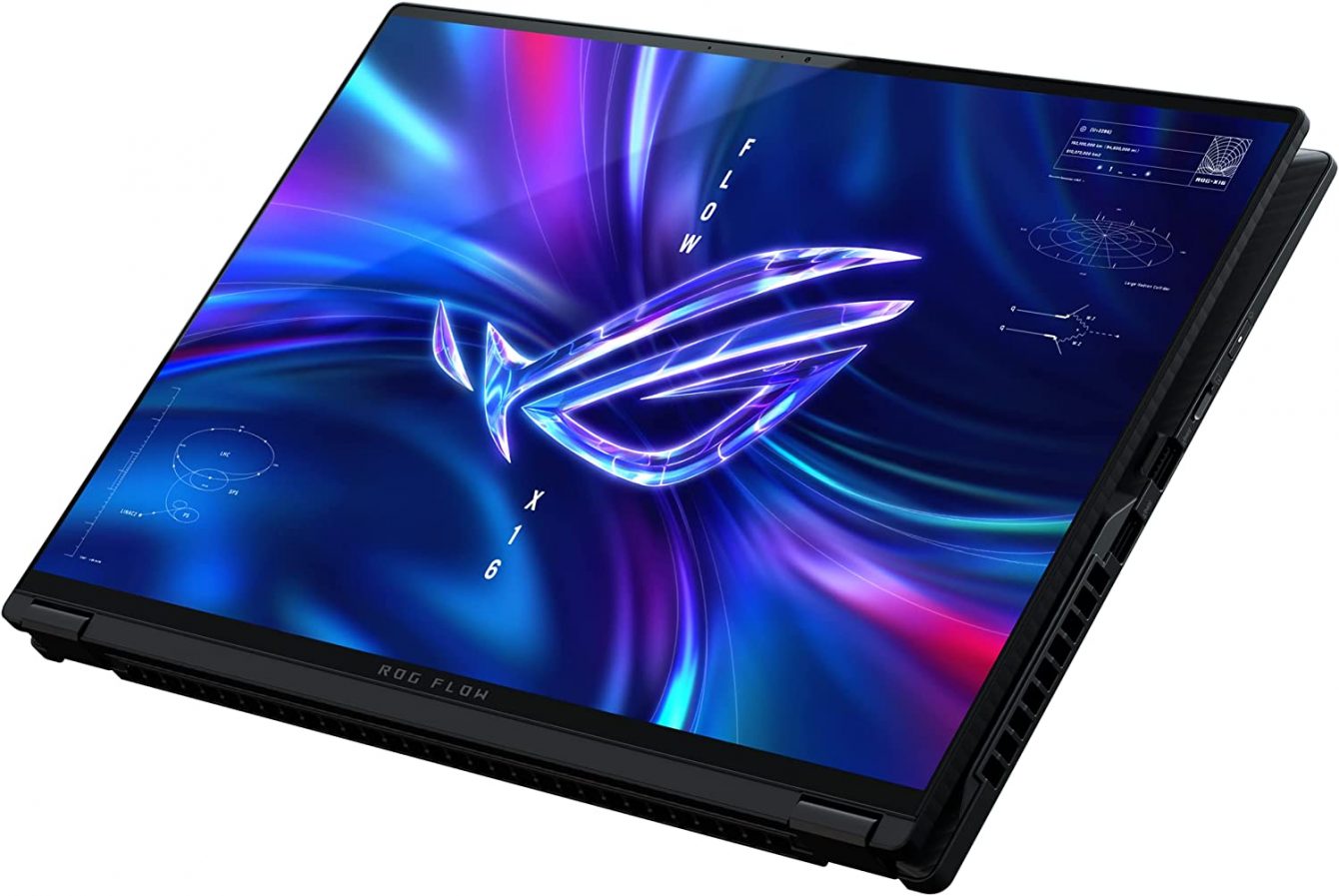 Availability and prices
ROG Flow X16 is available at the recommended retail price of 2.549€, at thee-shop official ASUS and, a selection of specialty electronics stores. What do you think of this Italian availability of the brand new ROG Flow X16 gaming laptop from ASUS? Let us know below in the comments. Don't forget to follow us on our Instagram page, on all our other social networks and to stay connected on TechGameWorld.com.
The ASUS article: announces the arrival in Italy of the ROG Flow X16 comes from TechGameWorld.com.