Let's find out together which are the 10 best hybrid cars of 2021 currently on the market and which of these are the most suitable to meet our needs and specific requests!
Whenever you buy a new car it is worth considering numerous and different needs, such as quick response to driving, comfort, boot capacity and certainly the type of fuel. Consequently, meeting all these specifications leads in most cases to a rather high price range, which is why it is increasingly difficult to choose the car model that best suits us. Furthermore, nowadays, if on the one hand internal combustion engines are real workhorses and guarantee high reliability and high performance, on the other hand hybrid cars are becoming more and more optimized, allowing at the same time both to considerably reduce polluting emissions to respect the environment and to reduce fuel consumption by using an electric motor. So let's find out which are the 10 best hybrid cars of 2021 so as to carefully and correctly choose the most convenient model for a purchase in the near future!
Best hybrid cars to buy
Also for this month, our selection of cars is reconfirmed as a valid guide, which will direct you to the best choice for your needs, allowing you to take home a good quality car without spending too much money.
Before proceeding, we remind you that, following the final approval of the Budget Law 2020, the so-called Auto Incentives 2021, intended to offer a Ecobonus to all those who intend to buy a car characterized by low polluting emissions. To be more precise, two categories of vehicles have been defined according to CO2 emissions:
From 0 to 20 g / km of CO2, the bonus will vary between 6,000 and 4,000 euros, depending on whether the purchase is made with or without scrapping;
From 21 to 70 g / km of CO2, the Ecobonus will range from 2,500 euros in case of scrapping, and 1,500 euros without scrapping.
Having said that, let's see at this point the complete list of the 10 best hybrid cars.
1 – Toyota Yaris Hybrid | 10 best hybrid cars
At the top of our ranking of the 10 best hybrid cars is undoubtedly the Toyota Yaris Hybrid, which is the best-selling hybrid model in Italy and abroad. Characterized by a positive ignition engine powered by petrol and with power equal to 101 CV, also boasts a electric powertrain and their combined use makes it possible to travel 100 km with only 3.3 liters of fuel. The basic version is available at 19,500 euros, but you can get to a total of 23.300 euro for the "Red Edition", "Bronze Edition", "Blue Edition" and "White Edition" versions, that is the super-equipped ones.
With a displacement of 1,497 cubic dm, 4-cylinder in-line and available with both 3 and 5 doors, the Yaris Hybrid is a sedan that delivers high reliability and at the same time it is a lot convenient for those who use the car every day in the city, since it is possible recharge the battery by braking, obviously gradual, thanks to which the energy is recycled and converted into electricity.
2 – Toyota Prius Plug-in | 10 best hybrid cars
Continuing our ranking of the 10 best hybrid cars of 2021, at this point we specify that a hybrid car plug-in, unlike traditional hybrids (Full Hybrid and Mild Hybrid), allows you to recharge the batteries directly from the domestic power supply or from the columns just like a classic electric car, but can still use the internal combustion engine with excellent efficiency as a hybrid car, thus eliminating the problem of running out of charge in the case of long journeys.
With a displacement of 1.8 liters, maximum torque and power respectively equal to 142 Nm e 122 CV (90 kW), the Toyota Prius Plug-in undoubtedly represents a excellent model of 4-seater hybrid sedan, which guarantees a remarkable comfort for families not too numerous and at the same time allows you to savor the driving pleasure thanks to the low center of gravity and quality suspension. The beauty does not end there, because the car has a intelligent 4-wheel drive system, which contributes to a better road holding even in the most hostile situations due to rain, snow or rough terrain.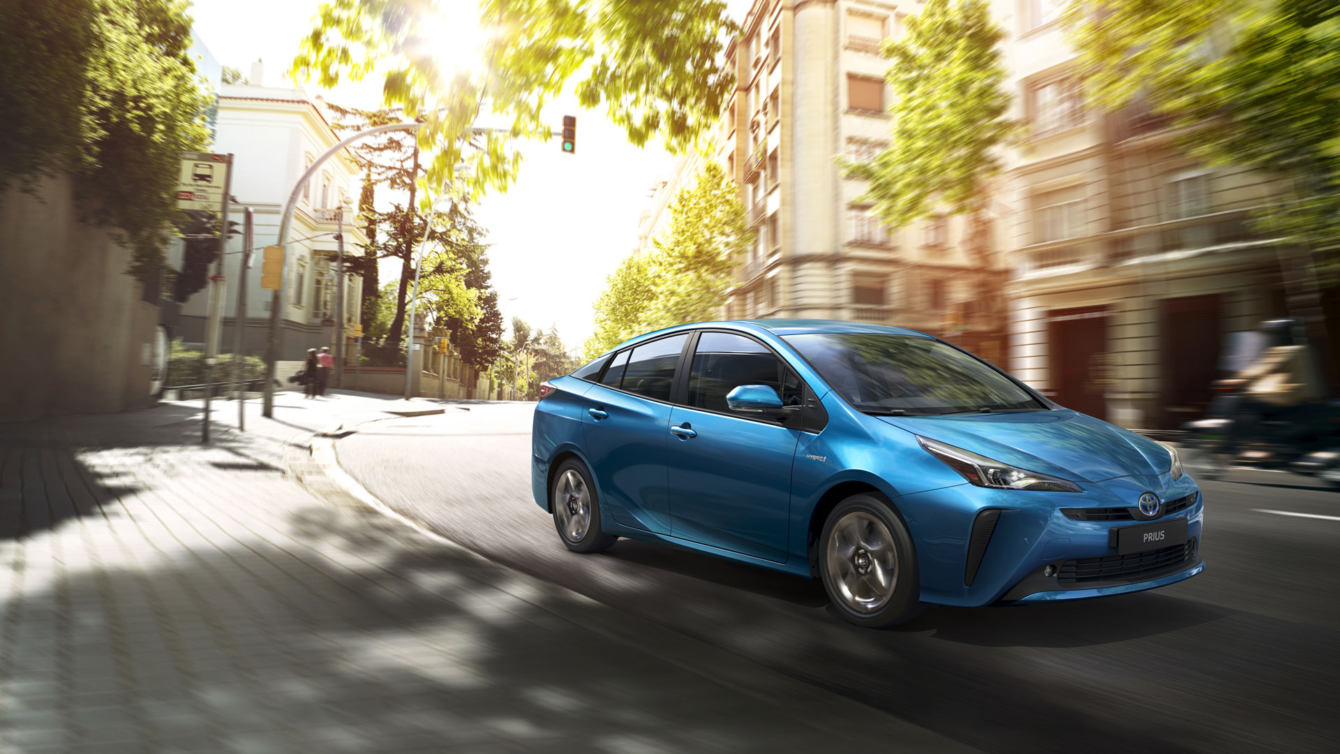 The Toyota Prius Plug-in is available starting from 35,750 euros even if, for a moderately equipped version, the price certainly rises to 40,000 euros.
3 – Toyota Prius | 10 best hybrid cars
Compared to the model analyzed previously, the Toyota Prius Hybrid it is available in both 5 and 7 seater versions. The engine is always a 1.8 liters of displacement, with a maximum torque of 142 Nm in both cases, except for the power which varies from 122 hp (90 kW) for the 5 seats to 134 hp (100 kW) for the 7 seats.
The version characterized by 5 places undoubtedly represents an excellent purchase, as it guarantees aexcellent aerodynamics, thanks to the arched roof and the short and sloping front, consequently managing to contain consumption. Comfort and road holding are also extremely worthy of the price, which fluctuates between 29,700 euros for the Active version e i 31,200 euros for the Style. For lovers of all-wheel drive (AWD) the model is also available Lounge at a cost of 34,900 euros.
Model 7 places, available in Active, Lounge and Style versions exclusively a front-wheel drive, certainly boasts a greater comfort for larger families and costs around 4,000 euros more.
4 – Toyota C-HR | 10 best hybrid cars
Model C-HR of the Toyota, based on the Prius system, falls with flying colors in the ranking of the 10 best hybrid cars of 2021, as it represents one of the best hybrid SUVs currently available on the market. It is a vehicle with numerous Hi-Tech functionality, low consumption and very smooth handling on the road, mainly due to the chassis and suspension. In addition, it is characterized by a truly innovative and attractive design. The spark ignition engine, fueled by gasoline, features a displacement from 1.8 liters with 4 cylinders in line, one maximum power of 122 hp (90 kW) it's a maximum torque of 142 Nm.
It is available in different versions such as Active, Lounge, Style, Trend and Dynamic with a maximum price of 36,100 euros and all a front-wheel drive. The Japanese manufacturer has declared that it also intends to make the all-electric version.
5 – Hyundai Ioniq | 10 best hybrid cars
The Hyundai Ioniq Hybrid is the Korean alternative to the Toyota hybrid. He likes to drive, as it is a lot fluid in the maneuver, and offers a good comfort, which is why it is recommended for long journeys, but not for too large families. The trunk has a capacity of approximately 350 liters, therefore able to satisfy the common needs of a family. Also available in version plug-in and electric with a 28 kWh battery, the Ioniq is equipped with numerous technological features, such as the multimedia system with an 8 ″ screen, wireless charging and connecting to the web via smartphone.
As for the engine, the Ioniq offers a 1.6 of displacement, capable of delivering a maximum power of 141 hp (104 kW) and one maximum torque of 147 Nm, while also limiting consumption. The price fluctuates between 26,400 euros and 30,650 euros, but for the Plug-in versions you have to consider at least 5,000 euros more.
6 – Suzuki Ignis | 10 best hybrid cars
If you are looking for a hybrid car with excellent value for money, the Suzuki Ignis is the one for you. It is in fact a not very large, compact vehicle, a sort of mini crossover and at the same time a city car, with a length of 3.7 meters that is very reminiscent of the Panda Cross. The interior is not bad at all, as is the luggage compartment capacity, which starts from a minimum volume of 260 dm3. In addition, it is equipped with the automatic braking system and thewarning of involuntary lane departure. It is not suitable for very large families, as the set-up includes only 4 seats, but on the other hand the two rear seats can slide independently of each other.
The heat engine is a 1.2 with 4 cylinders online and power of 90 CV (66 kW), which provides for a maximum torque of 120 Nm. As for traction, the "Cool" and "Top" versions are available with the front one, while the "All Grip Top" model features AWD all-wheel drive.
The only negative note concerns the suspensions, in particular the rear ones, since they do not absorb the irregularities of the road at their best. Finally, the stopping spaces are not the best, but it is always a vehicle that was created mainly for use in the city and not for the Formula 1 tracks.
Prices are the lowest compared to other hybrid cars in circulation: it starts from 15,700 euros for the basic "Cool" version, up to 16,950 euros for the more equipped "Top" version. The "All Grip Top" model instead costs more, exactly 18,450 euros. We also point out the Suzuki Swift Hybrid, which represents a very interesting 3/5-door sedan model to take into consideration with a starting price of 17,990 euros.
7 – Mazda 3 | 10 best hybrid cars
If you are looking for a hybrid car with sporty, agile and fast driving, the new Mazda 3 is the most suitable. This vehicle offers indeed good stability, really top notch, as well as l'Esp, that it intervenes quickly when it detects that the adhesion limit has been exceeded. With an overall length of 4.46 meters, too comfort is not bad, as there is space on board, but not a lot as regards the rear seats, which is why it is better to seat the tallest ones in front. Regarding the trunk, it is slightly smaller than the previous series, with a capacity of 319 liters against 363, but still quite roomy.
Wanting to find a defect, it could be said that the stopping distances are very long in the wet test and consequently the control is not the best. Despite this, the Mazda 3 remains a very safe car.
The heat engine is a 2000 cm3 of displacement, available in versions of 122 CV (90 kW) with a base price of 23.200 euro and of 179 CV (132 kW) at a cost of 33.000 euro also considering the super-equipped version.
8 – BMW 3 Series and 5 Series | 10 best hybrid cars
With the BMW 3 Series hybrid there is talk of a high-profile sedan, characterized by the new infotainment that can be managed in various ways: intelligent voice assistant, touchscreen gesture controls, iDrive knob and physical buttons. It is a'agile car with quick response to driving, but don't overdo it otherwise oversteer behavior comes into play. The comfort is good, are expected 5 places standard, but the central one on the back is almost unusable due to the bulky tunnel. Here too the engine is a …