If you are passionate about cars and video games, you cannot stay away from driving simulators. Obviously, every self-respecting simulator gives its best only if accompanied by a steering wheel capable of returning the best driving sensations. Let's discover the best racing wheels for PC, PlayStation 4 and Xbox One to buy
That you play ad Race trim, Project Cars 2 oa Forza Motorsport it matters little. Of course, if you want the best of diving, you have to ditch your joypad and embrace the philosophy of the steering wheel! Obviously there are many of these on the market: there are steering wheels with or without gearbox, more and less "performing" steering wheels and obviously there are various price ranges.
In this ranking I will list the best solutions and best steering wheels to compete in a virtual way to the best of your ability! Obviously taking into account the price, this guide will in fact be divided by price ranges.
Best steering wheels? Several "situations" to consider before choosing
To get positive feedback and to fully enjoy your favorite driving simulator, you have to take into account several elements. There are flying with the system Force Feedback, others that boast an H gearbox, some with the possibility of having the pedal board equipped with a clutch. Without neglecting the steering angle, which is always a fundamental element to take into consideration.
In short, there are PC steering wheels really for every taste and every pocket! Needless to say, the more you go up with the price, the closer the feelings that are returned to reality. But even without spending astronomical sums, you can enjoy a good steering wheel on a PC.
A good simulation without pretensions but with huge savings | Best PC, PlayStation 4 and Xbox One steering wheels – 80/200 euro range
The Thrustmaster Ferrari F45 boasts a diameter of about 28 centimeters, with rubber coating to increase grip with your hands. 8 easily accessible action buttons and an 8-way D-pad in the shape of an "Engine Start" button. A steering angle of 2702 degrees and pedal set with long travel pedals, featuring realistic resistance and angle. It works on PC e Xbox.
The Thrustmaster T80 it is without the entry level steering wheel par excellence. Even if modest in size and without Force Feedback, this wheel remains a valid choice for those who approach the world of simulators and do not want to spend a lot to get started. Surely it is one of the least performing models in the category but thanks to its locking system and the possibility of being able to use it also on your PlayStation 4 it could be a valid purchase (attention on PC can only be used on some simulators).
By raising the price a little, you gain Force Feedback
Excellent choice among the best steering wheels of this range. Brother of the T80 the Thrustmaster T150 boasts the characteristic of being able to be used on PlayStation 4 come on PC. It has a steering angle of 270 degrees, an ergonomic rubber grip and a metal steering axle with ball bearings. Obviously, although more expensive, this model is more recommended as the resistance system is a great incentive to spend.
The Thrustmaster TMX it is very similar to the model mentioned above, with the feature that it can be used on either PC simulators that Xbox One. Rotation angle adjustable from 270 ° to 900 ° which guarantees players unprecedented realism, racing with any vehicle. A smooth, precise and quiet steering wheel featuring a mixed belt and gear system.
If you want to have a better simulation you can't miss these fantastic steering wheels | Best PC, PlayStation 4 and Xbox One steering wheels – 200/350 euro range
Obviously, if you want a more precise simulation, better materials and a high level of comfort, you have to put your hand to your wallet and choose the best steering wheel for you among those suggested below!
(currently on offer)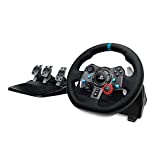 Logitech G29 Driving Force Racing Steering Wheel with Adjustable Pedals, Real Force Return, Stainless Steel Shifters, Leather Steering Wheel, EU Plug, PS5, PS4, PC, Mac – Black
Immersive Gaming Experience: For Sony PlayStation 5, PS4, PS3 and PC, Driving Force simulates the feeling of driving a real car with precision steering and pressure-sensitive pedals
Comparing the expense to be faced and the performance of this steering wheel, we could say that we are in front of one of the best steering wheels currently on the market! G29 Driving Force is the racing wheel worthy of a simulator for the latest games for PlayStation 4, PlayStation 3 e PC. Equipped with dual motor force feedback and helical gears for smooth, quiet steering action. Stainless steel steering wheel levers and RPM / gear LEDs allow you to shift gears smoothly and clearly, without taking your eyes off the track. The separate pedal unit offers natural and responsive control with a non-linear brake pedal. Driving Force is designed for comfort and durability and is crafted from hand-stitched leather and stainless steel components.
Thrustmater continues to make us dream
The Thrustmaster T3oo is a 28 cm diameter steering wheel equipped with silk-screened metal central spokes with reinforced treated rubber coating along the entire circumference of the steering wheel. Approximately 1.2 kg in weight, ultra-realistic Force Feedback and 2 large gearshift levers fixed on the 13 cm high all-metal steering wheel. 8 action buttons plus a D-pad. We are facing one of the best models for this price range. For PlayStation 4, PlayStation 3 e PC.
Designed for the latest titles for Xbox One e PC, Logitech G920 Driving Force features dual motor force feedback and silent helical gears. Easy-to-access steering wheel controls and levers allow for smooth and precise shifting, while the separate pedal unit offers natural, responsive control. Driving Force is designed for comfort and durability and is made from hand-stitched leather and stainless steel components.
We now go up to the paradise of simulators | Best steering wheels for PC, PlayStation 4 and Xbox One – 300 euro range and beyond
Thrustmaster TS Racer – PC
TS-PC Racer is a concentrate of technologies created to improve gaming performance and offer a driving experience closer to reality Removable open wheel with metal plate
TS-PC Racer is the definitive signed driving simulator Thrustmaster dedicated to PC pilots. Faithfully reproduces the car's response and track conditions. 270 ° –1080 ° rotation and 2nd generation industrial class brushless motor. The TS-PC Racer's motor delivers a powerful 40 watt brushless FFB. Integrated system for cooling the motor with algorithm for field-oriented control. Suede for comfort on long gaming sessions. Two metal gear levers with polished-brushed die-cast aluminum. Six buttons for convenient access to the navigation menu and for controlling other additional progressive settings.
This Fanatec boasts a powerful brushless servo motor, in combination with the Single Belt drive, it offers incredible and detailed Force Feedback with an absolutely soft feel. Large ball bearings for minimal drag. DirectSensorTM technology with a sensor directly on the steering axle avoids the effects of belt drive on steering precision. Ultra powerful brushless servo motor with a torque that reaches 6Nm on the steering axle and a steering angle of 1080 °, which can be quickly adjusted to the most different steering angles of all cars using the tuning menu on the applied menu.
If you have no budget problems, this steering wheel is for you | Best PC, PlayStation 4 and Xbox One steering wheels
One of the best steering wheels ever! The crown of the Fanatec Forza Motorsport Racing Wheel it is made in anodized aluminum, brushed and covered in real smooth leather with white stitching. The diameter is 33 cm, like in a real racing car. There ClubSport Wheel Base V2.5 is a German engineering masterpiece that sets new standards of performance and reliability. The ClubSport Wheel Base V2.5 is a careful and precise evolution of V.2. The V2.5 features more advanced electronics and a new motor for improved feel, functionality and durability. The custom load cell is extremely durable and much more accurate than that of the CSP V2. You can apply realistic and strong pressure and control the brake exactly with muscle tension like in a real car.
The ranking of the best steering wheels for PC, PlayStation 4 and Xbox One ends here
These were our recommendations on choosing the best steering wheel for your driving simulators. Let us know in the comments if you are using one of these models or if you would like to try one out.
Personally, on this list of the best wheels, I own a Thrustmaster T8o, a T100 and a Logitech G27. Before moving on to the steering wheel, I tried to drive with a joypad for many years, but I can assure you that, once you have experienced the sensation of the pedal and steering in your hands, you will never be able to go back.
To complete your simulation experience, I recommend reading the guides for purchasing the best monitors and the best PC speakers.