What are the best true wireless headphones of the moment? Which ones to buy? How do they differ? If you're here, you've probably asked yourself at least one of these questions. In fact, in the last two years, wireless and completely independent Bluetooth headsets have conquered the market. The reasons are quite obvious: they are comfortable, futuristic and simple to use. However, there are several, of all kinds, shapes and price ranges, so choosing becomes complicated. Don't panic though: we're here to help.
Best true wireless headphones: our guide
We have decided to approach this guide following two parameters. On the one hand we have enhanced experience, inserting only earphones that we have had the opportunity to personally test, on the other hand we have decided to don't limit ourselves to those released in 2020. There are in fact great true wireless headphones that were launched last year that can still give users a really cool acoustic experience.
We have also divided our list by price range. We will therefore have the best true wireless earphones under 50 euros, under 100 euros, under 200 euros and finally the most expensive ones.
The price, for clarity, refers to the official price list. During promotional periods such as Black Friday and Cyber ​​Monday, as well as in the days before Christmas, you may find a number of interesting offers online that could help you take home the most expensive products without spending a fortune.
Our video comparison
Do you want to see them at work? You can see our video comparison.
Best true wireless headphones under 50 euros
As always, let's start from the lowest end of the market, that is the cheap earphones, the ones that allow you to spend less than 50 euros.
Realme Buds Q
The Realme Buds Q show up with a compact and very light case, a low weight – only 3.6 grams one – and a design that makes them comfortable and discreet.
The connection is stable, the battery guarantees about 20 hours of use and in addition you have the possibility to customize the double and triple touch using theRealme Link app.
Good then the audio quality with a clear and balanced sound while the calls are less satisfactory. Listen to an example here with the first part recorded in a quiet environment and the second part with background noise.
You can find them on the market a 29,99 euro and are ideal for primarily wanting to listen to music, podcasts or audiobooks. Would you like to know more? Find our review here.
Honor Choice True Wireless Stereo Earbuds
We still remain at the low end of the market with Honor Choice True Wireless Stereo Earbuds. A very long but certainly explanatory name. But don't be fooled by the first word. In fact, these earphones are not from Honor but from moecen, a sub-brand of the Chinese company. In reality this makes no difference to the end user. In our hands, however, we have a solid case, equipped with a USB-C connector for charging and magnetic closure.
Aesthetically, perhaps it remains a little anonymous while the design of the earphones is not very original and a bit bulky. In everyday life, however, they result comfortable, resistant to splashing water and sweat and equipped with very basic suppur reactive soft touch controls.
The audio is of decent quality while on call they perform quite well for this price range.
Le Honor Choice True Wireless Stereo Earbuds costano about 30 euros, you can find them on Amazon and are perfect for those who want to spend little but find themselves managing several calls a day. To find out more, we refer you to our review.
Best true wireless headphones under 100 euros
Let's raise the bar a bit by switching to headphones under 100 euros.
Fresh 'n Rebel Twins Tip
If you are looking to stand out from the crowd le Twins Tip of Fresh 'n Rebel they are perfect. The design is classic but the 6 colors available they are truly original.
The product is then solid and well finished, autonomy is well 24 ore it is even there ricarica wireless, a real rarity in this segment of the market.
Good then sound quality with high volume and deep bass, while we lose something on call: microphones perform well only in quiet environments while communication becomes more difficult when noise increases.
A 79,99 euro they are a really good deal. Too bad the application is missing.
If you want to know more, find our review here.
OnePlus Buds
the OnePlus Buds they have a small limit: they work with any smartphone but at the moment the application is only available on OnePlus smartphones. A bizarre choice that will likely prevent a massive spread of the product.
However, this does not mean that they are not valid. We have a semi-in-ear design, so without the classic rubber tip, the Fast Pair di Google for quick coupling, 30 hours of autonomy and simple and intuitive controls. However, don't expect to fully control the experience: to date you can only use the double tap to go to the next track or the long press to switch from one device to another.
The sound quality is pretty good as well as that on call. In fact, you can manage phone calls in every situation.
The OnePlus Buds are on sale at 89 euro and we recommend it especially if you have a smartphone from the same company.
Huawei FreeBuds 4i
the Huawei FreeBuds 4i have taken the place of the already popular 3i. However, they offer a slightly different design, more similar to that of the FreeBuds Pro than the previous model. A choice that we are not sorry at all and that does not compromise the weight – only 5 grams each – and comfort, as long as you like in-ear headphones.
To animate the FreeBuds 4i we find decent audio quality and good active noise cancellation. You won't cry out for a miracle, mind you, but it still does its job, especially in particularly noisy environments. Instead, the microphones convince that make them perfect for managing phone calls, especially considering the 10 hours of autonomy they can reach with a single charge.
And the app? Of course it is inevitable. Let's talk about AI Life, available for both Android and iOS. But be careful: on iOS it is not yet compatible with headphones. Our suggestion is therefore to opt for these headphones if you own a smartphone from the Chinese giant or in any case a device with a Google operating system. In fact, the app is vital for checking the battery level, managing noise cancellation and customizing the action associated with the double tap.
The Huawei FreeBuds 4i are available at the price of 89 euro.
Nothing ear 1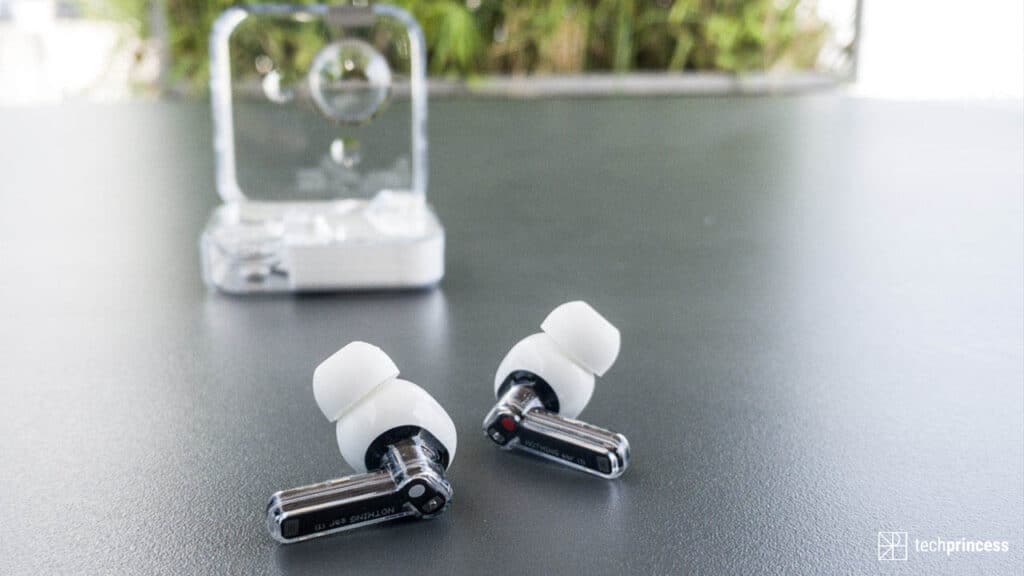 the Nothing ear (1) are the first product of Nothing, the new company of former OnePlus founder Carl Pei.
The result is truly amazing. These earphones are original, light, resistant to water and sweat and very comfortable to be used also for long periods.
The controls, strictly touch, are intuitive and reactive while the battery gives us about 5/6 hours of autonomy which become over 30 with the case.
Equipped with 11.6mm drivers, Nothing ears (1) return a rich and full sound, distortion-free and with a rather high volume. At your disposal then you have 4 preset, included in the ear 1 application, which act on highs, lows and voices to find the right combination for you.
Good call handling thanks to the three microphones on each earphone e promoted noise cancellation that manages to eliminate much of what surrounds you. Alternatively you can opt for the transparency mode which amplifies external sounds.
A 99€ Nothing ear (1) is a really good product. But be careful: they are selling like hot cakes and finding them is not easy.
Best true wireless headphones under 200 euros
We now move to another highly populated band, the one dedicated to best true wireless headphones under 200 euros.
LG Free Tone FN6
the LG Free Tone FN6 they are definitely original compared to the others. The case uses UV rays to disinfect the headphones, eliminating 99% of bacteria. A nice convenience not only in this period of Covid emergency. In fact, numerous studies have shown how earphones can cause ear infections and this solution could really keep our ears safe.
Of course this isn't the only feature of LG's true wireless headphones. The earphones are comfortable and light and the case is the smallest in its category, without however losing anything in terms of autonomy: in fact, we reach the 18 ore.
The controls are touch but not very easy to use: the available area is tiny and you don't always center it on the first try.
The connection is lightning fast, while the audio is made in collaboration with Meridian, an English company that has been dealing with high quality audio products for years. The result is absolutely convincing and can be customized thanks to 4 preset available in the app or the convenient equalizer that allows you to create your own.
Then there is theAmbient Sound that amplifies the external sounds so as not to get lost, for example, the notices at the airport, in the station or in the subway.
Finally, the quality of the call is not bad. Hear it here.
In summary: with 149 euro you take home a pair of self-sanitizing headphones, with good general audio quality and a decent autonomy. Really a great option.
OnePlus Buds Pro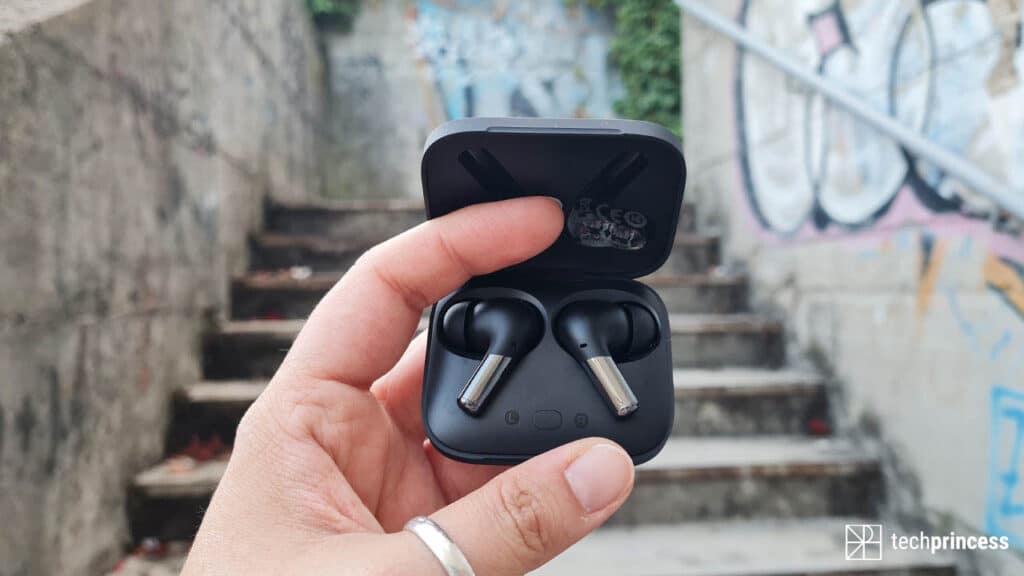 OnePlus has also thought about the most demanding consumers. Next to the already mentioned OnePlus Buds there are the Buds Pro, recently launched on the market.
Design inspired by Apple, controls that require you to hit the bar and two colors for the newcomers of the Chinese company that stand out above all for the technology on board.
The audio quality is entrusted to driver da 11 mm and is meant for exalt first the low and the high tones, sacrificing a little bit on the mid frequencies.
At your disposal, however, you have a test that allows you to create a sort of custom preset that goes a little to rebalance and adapt the sound performance.
On the front of …