Meta has just announced that it will be launching a new feature on Facebook e Messengerwhich will allow users to start group chats directly within the App. The option will take the name of Community Chat, and will be tested for the first time on Messenger, and then be expanded to Facebook groups as well. So let's find out how it works.
Community Chat, the new feature of Facebook and Messenger
"Community Chats allow people to connect more deeply with communities in real time on the topics they care about in multiple formats, including text, audio and video. The experience seamlessly combines Messenger and Facebook Groups to allow people to connect when, where and how they want. " So Meta presented the new function made available to users. "Admins can now start a conversation on a topic and get instant replies instead of waiting for people to comment on a post. And, instead of browsing multiple topics in a single Messenger group chat, the person who creates the Community Chat can organize the chats into categories so that group members can easily find what is most interesting to them. "
Credits: Meta
But how does this new option really work? First, admins can choose how they want to connect with the community: start a chat for group members on a specific topic, a chat dedicated to a specific event, or a view-only chat for admins to announce level updates. group. In addition, "Administrators can also create audio channels so that group members can share live commentary or receive real-time support. Participants also have the option to enable video once they are in the audio channel ". Considering the public nature of Community Chats, Meta has "developed a robust suite of tools to help administrators easily manage both chat and audio experiences".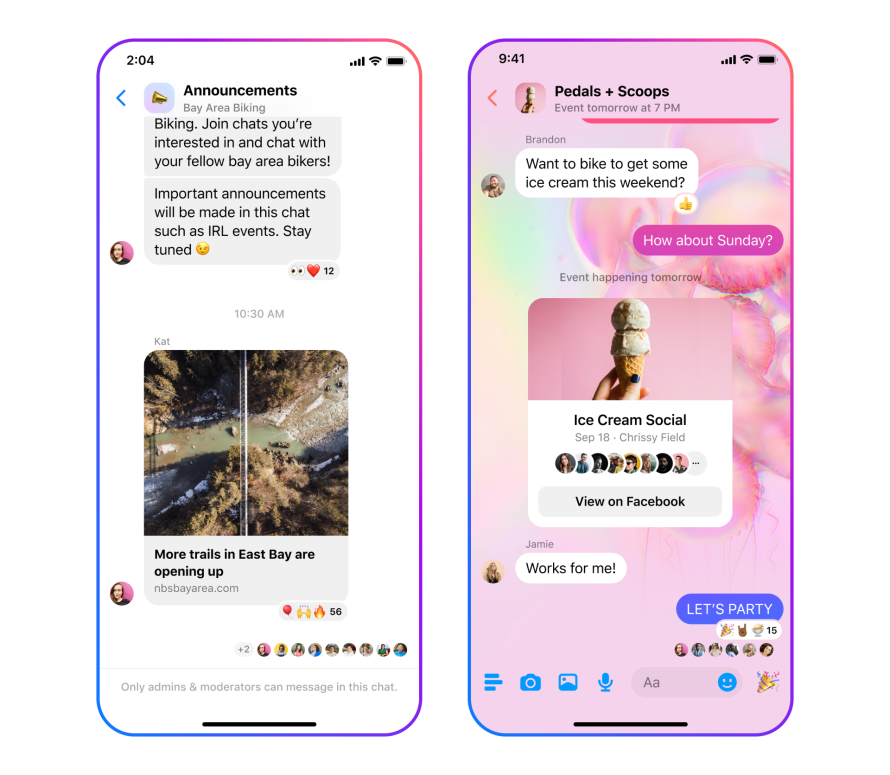 Credits: Meta
Among these there are also moderation functionality such as "blocking, silencing or suspending group members. And removal of members or messages, as well as Admin Assist, which allows administrators to set custom policies that will automatically suspend users ". In short, many options that will guarantee the safety of users. And that will allow you to get in touch with the community quickly and easily. Starting in the next few weeks.