In this article we will see the Corsair HS70 BLUETOOTH gaming headset review. A new Corsair headset that does not betray the tradition of the brand but points to some important news
With its new headphones, Corsair aims to provide a truly complete headset. Not just the ability to use headphones on PlayStation (4 and 5), on Xbox (One, Series S e Series X) e PC but also on mobile devices. In a nutshell, with just one pair of headphones we can take advantage of every device in our possession. The ability to exploit also a Bluetooth connection, in addition to the classic jack da 3,5mm, is another plus much more than welcome.
The improved battery also offers the possibility of having headphones ready for use for 30 hours before having to recharge them. We are faced with headphones that are going to settle in the premium range of the market. Obviously there is the possibility of exploiting the7.1 audio your PC.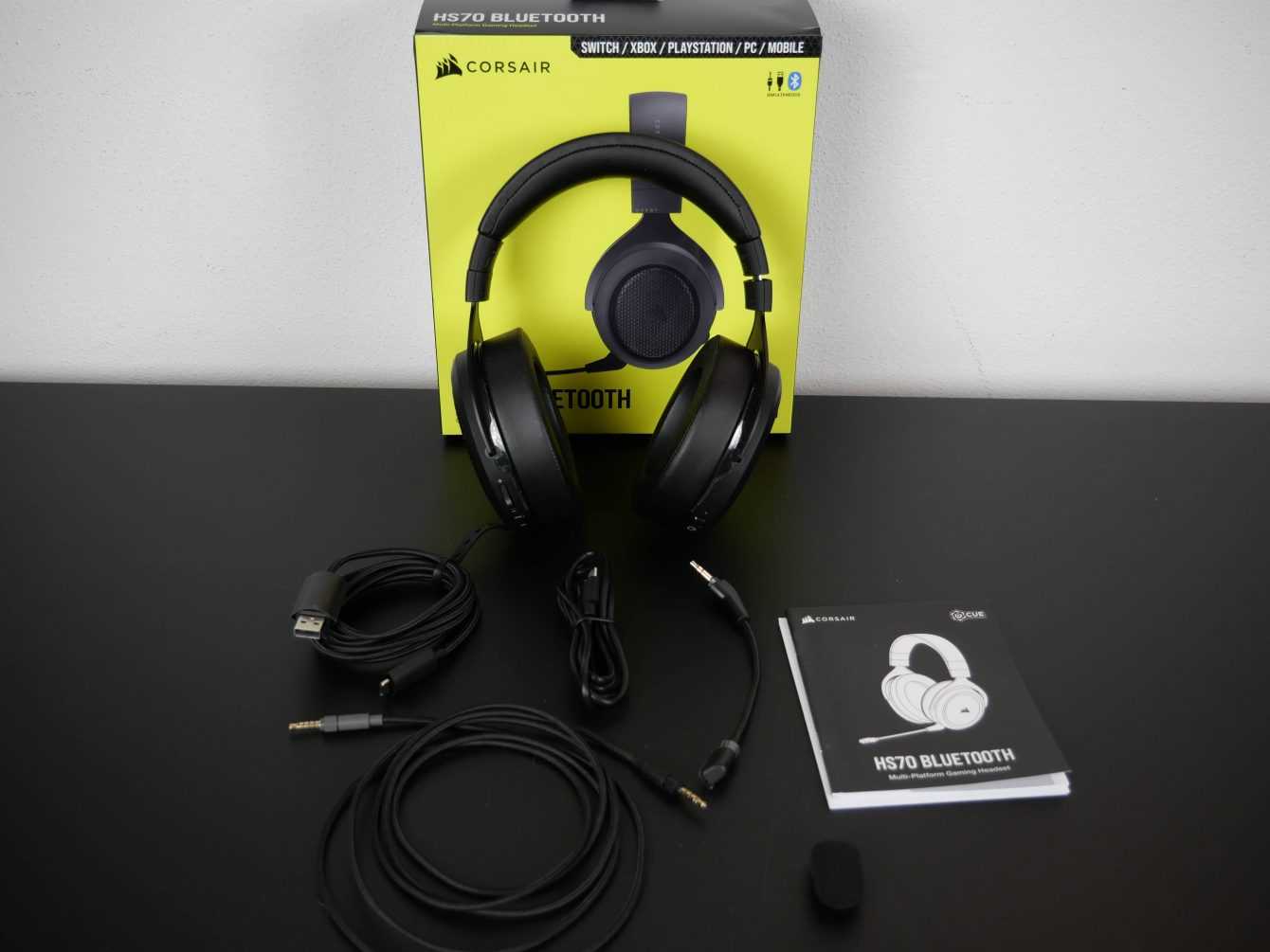 Box contents and design | Corsair HS70 BLUETOOTH Review
A very rich packaging and a design as minimal as it is complex, make us understand immediately that we are facing an excellent product.
Inside the package we find theand our HS 70 BLUETOOTH, a USB-USB Type C charging cable, a 3.5 mm jack cable, a microphone (noise cancellation support) with pop filter attached and of course instruction manual with attached warranty.
The materials chosen by the American house are as always of best quality. The adjustable aluminum headband is flexible but resistant. The same is covered with a layer of leatherette material that also hides a soft padding. The same material is found in the pavilions.
The earpads are soft and comfortable. It's just a pity that the part covering them cannot be removed for a thorough cleaning or in the future to replace it if it gets damaged. In the outermost part we find a (harder) plastic fiber that draws a mesh texture. The headphones come in a totally black color that we particularly liked. The total black is broken only by a couple of acronyms and by the inner part where the bow extends. In these small situations we find the classic yellow chosen by Corsair for its products.
Plastics, like fabrics, convinced us even if we reiterate that we did not like the impossibility of removing the covers of the pavilions. On the contrary, we appreciated the fact of finding the hooks that allow the pavilions to adapt to the head of those who use them. Thanks to this system, even those who wear glasses can use them without feeling the rods tighten on the temples.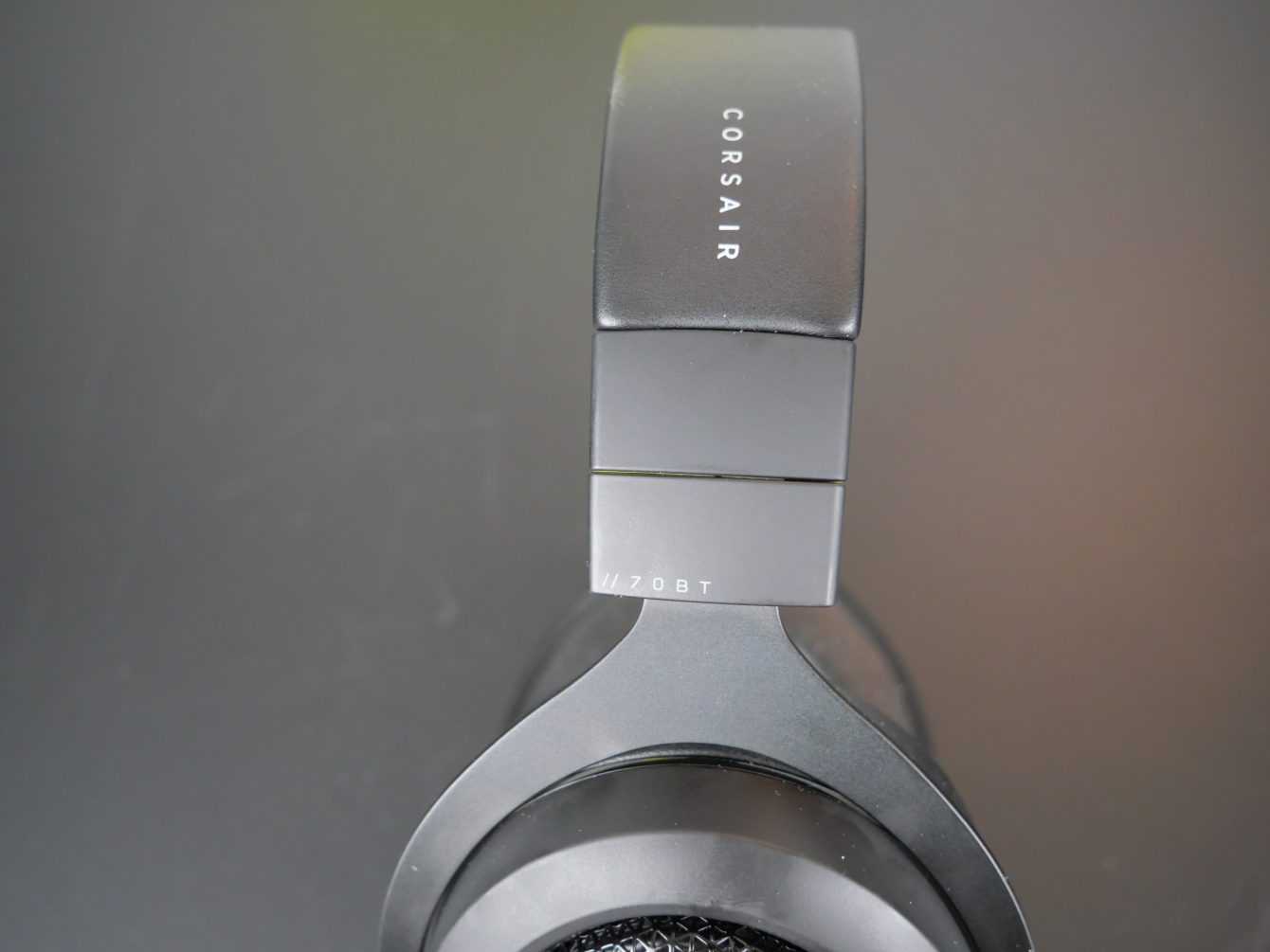 Technical specifications
Driver Audio: Custom 50mm Neodymium
Frequency response (headphones): 20Hz – 20 kHz
Impedance: 32 Ohms @ 1kHz
Sensitivity: 109 dB (± 3 dB)
Connection type Wireless: Bluetooth 5.0
Battery life: up to 30 hours
Weight: 352 grams
Audio and microphone quality | Corsair HS70 BLUETOOTH Review
The audio quality is really great. As expected from headphones designed for gaming these Corsair HS70 BLUETOOTH emphasize the bass to make every game session even more immersive. Even the highs and mids have their say but, the best of these headphones, you have it playing titles devoted to big explosions, shots and the most excited moments.
7.1 audio is immersive at the right point and never annoying. We tried these headphones on shooter titles like Warzone or Call of Duty Black Ops: Cold War. In these titles it was easy to appreciate the footsteps of the opponents, the shootings and all the contours offered by the game.
We obviously also tested these headphones in areas far from gaming. In total honesty we were pleasantly surprised that there are no large smudges even in shades very far from the hemisphere for which they were conceived.
The possibility of using Bluetooth has opened up a world for us and we have decided to exploit them even while watching some TV series or to use them to listen to music.
Obviously we are not in front of a pair of headphones that give their best on these frequencies but, as mentioned, if you do not have audiophile claims, they can easily be exploited for these uses too.
We also found the ability to turn the headphones on and off with the press of a button away from all other management systems very convenient. In fact we find this button in the right headphone with attached LED. If this button had been incorporated on the left earphone where it resides, a button almost identical to the touch, with the function of changing the microphone I am sure that sooner or later we would have made confusion.
In the left headphone we also find the classic wheel for adjusting the volume, the connectors for charging and for audio connection and the possibility of inserting the microphone.
Also in this model as for example in the Corsair HS60 Pro the microphone is removable. This gives us the possibility of not always having this appendix inserted. The ability to use the microphone only on required occasions is very welcome. The microphone audio is very good and we have not encountered any problems during game chats or during sessions on Discord, which has released the wording "Discord Certified" to these headphones.
However, there is a flaw in this microphone. As already found in other models also in this case the rubber cap that hides the insert is not anchored to the headphones in any way and losing it is not that difficult.
Who should buy these Corsair HS70 BLUETOOTH?
In conclusion, these Corsair headphones really lend themselves to many uses. The possibility of being able to use them even without cable, the increased battery and audio devoted to deep bass, but with some nuances that don't hurt, they make them versatile and satisfying.
There are some small flaws but, overall, we would like to recommend them to all gamers. Especially for those players who like to play on different platforms. The ability to leverage these headphones on PlayStation 5, Xbox Series X and S as well as on Switch and PC make them a great buy for the discerning gamer.
Note: All photos in this review were taken with a Panasonic Lumix Dc-G90M.
Wired or Wireless? This was the dilemma
Points in favor
Excellent materials
Excellent sound quality
Flexible and resistant headband
Points against
Inability to remove the roofing of the pavilions
Rubber cap for non-anchored microphone