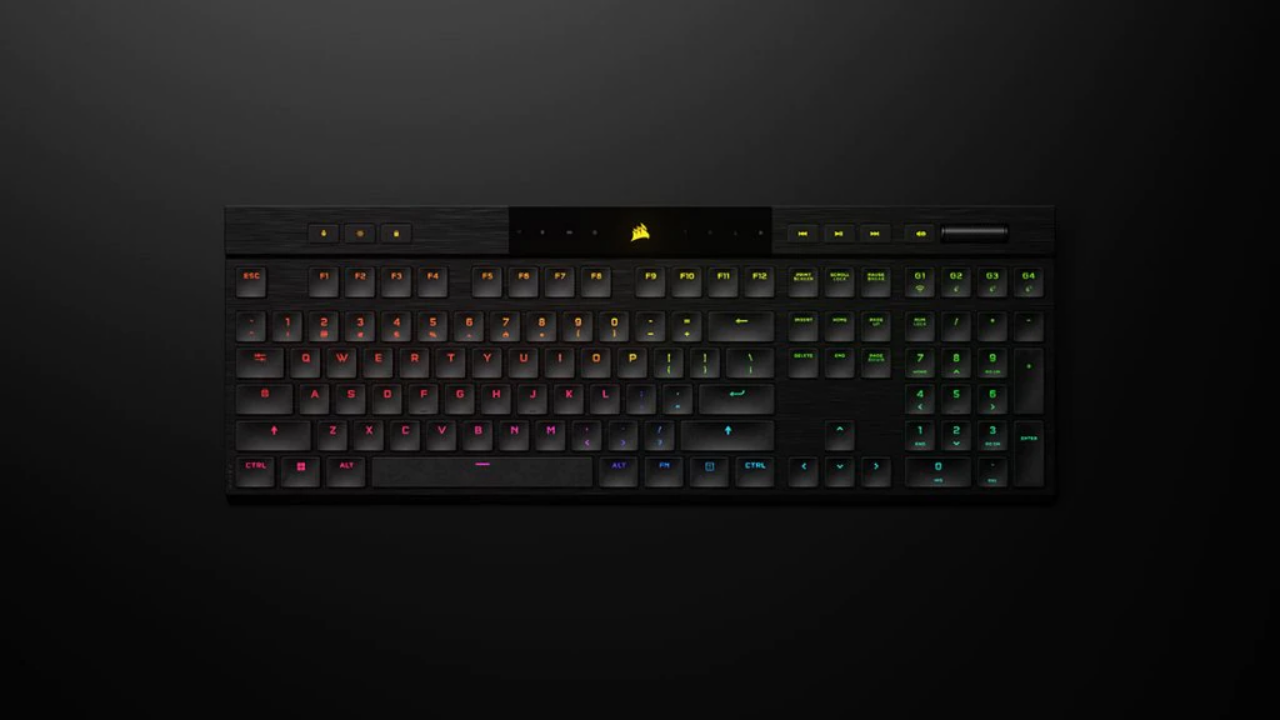 Discover K100 AIR, CORSAIR's extraordinary ultra-thin wireless mechanical keyboard, let's find out in detail in this article
CORSAIRa leading company in the production of high-level accessories for gamers and content creators, has announced the imminent release, scheduled for October 4thmechanical gaming keyboard K100 AIR Wirelessthe keyboard thinner and high performance ever. From the elegant chassis in brushed aluminum to the versatile connection modes on multiple devices, K100 AIR offers a cutting-edge and first-rate experience, in line with the needs of gamers and fans more attentive to productivity.

Incredibly thin frame
Thanks to a chassis incredibly subtle, with parts of solos 11 mm thick and, to a design essential and minimalistK100 AIR fits perfectly into any sistema o workstation. Mechanical switches Hyper-responsive CHERRY MX and extremely low profile offer a satisfying and reliable tactile feedbackto meet the needs of users and at the same time offer a much smaller thickness than switches full-size.
Three different ways of connecting
The K100 AIR keyboard delivers three different connection modes, supporting them up to cinque different devices: SLIPSTREAM WIRELESS ultraveloce, Bluetooth low latency on three host devices, or connection Wired USB are PC e MAC con hyper-polling a 8.000 Hz, thus ensuring for a more responsive gaming experience than ever. The long-lasting battery of the keyboard ensures up to 50 ore of autonomy with the lively backlight RGB active, or until 200 ore of autonomy without RGB backlighting, thus guaranteeing over a week of charge.

8MB of onboard storage
To optimize the workflow, the K100 AIR is able to switch quickly from one wireless connection to another on PC, laptop, tablet and much more with the press of a single key, to always allow you to perform complex tasks with the security of encryption AES a 128 bit.
Quattro Fully programmable dedicated keys allow you to perform complex macros, actions and starting applicationswhile the dedicated multimedia keys and a wheel of volume adjustment in aluminum allow you to comfortably have everything under control. While connecting the K100 AIR keyboard to other devices, the 8MB built-in storage allow you to save up to 50 different profilesto keep predefined macros and lighting effects always at hand.
20 profiles of complex RGB lighting
K100 AIR offers possibilities of unlimited customization, and simultaneously runs wirelessly up to 20 profiles of complex RGB lighting, thanks to technology hyper-processing CORSAIR AXON. The powerful software CORSAIR iCUE it allows you to take advantage of the wireless control of dynamic RGB lighting, the options for remapping the keys, the programming of macros and the personalization of the entire RGB system through a single intuitive interface.

Competitive advantage and a touch of style
Thanks to splendido designat superior performance and to advanced connectivitythe K100 AIR keyboard ensures a competitive advantage and a touch of style undeniable to bring your work and your gaming sessions to a upper level.
Availability, warranty, pricing and further information
The data mechanical gaming keyboard output CORSAIR K100 AIR Wireless is scheduled for October 4, 2022. For up-to-date information on availability and costscheck the website or contact your local PR or sales representatives.
CORSAIR K100 AIR is covered by a two-year warranty, and is backed by customer service and technical support available around the world. While for a complete list of other keyboards visit the following link.
What do you think of this new ultra-thin wireless mechanical keyboard, the CORSAIR K100 AIR Wireless? Let us know below in the comments. Don't forget to follow us on our Instagram page, on all our other social networks and to stay connected on TechGameWorld.com.
CORSAIR article: here is the amazing K100 AIR keyboard comes from TechGameWorld.com.