In this article we will see the review of the Corsair MP600 a truly surprising NVMe from many points of view but not without flaws. Let's find out all in the Corsair MP600 review
The performance for this Corsair SSD is a certainty. But as we well know, power is nothing without control, so for this reason, it would perhaps be appropriate to start making a small comment on the structure, conceived for keep temperatures at bay, and always guarantee stable performance, as we will see in the tests.
The heatsink is made of aluminum, with a structure that is not accidental. The fins extend in height. A considerable height compared to other products on the market, and with a "T" design for the central part and vertical for the neighboring ones. A design studied to try to dissipate heat more effectively, but above all to ensure an optimal flow of air inside the same, for greater dissipation. The heatsink mounting system has been designed for one quick removal, so as to quickly reach the beating heart of this product.
In fact, the heatsink has a base that we can define as a support, in which the SSD is housed. This base has two central blocks, and four placed at the end, these joints allow the central heat sink block to fit perfectly with it, creating a whole. Obviously, between the Drive and the aluminum block there is a Thermal pad, in particular of 0,5 mm. In short, a feature that will certainly be useful on certain occasions.
What is this SSD hiding? | Corsair MP600 review
Before jumping to performance though, a look at the engine that resides under the body. Because here Corsair guarantees well 4,950 MB / s in sequential read. He is not wrong at all. Under the body we find a Phiso PS5016-E16, the first controller in the world to be built following the standards PCIe Gen4 x4. Too bad we didn't find a more recent one inside this Corsair Force Phiso PS5018-E18 which at this link you can find our dedicated article. But in any case, we are faced with a controller of absolute respect, a true Top of the range. Controller installed on a drive M.2 2280, double-sided.
Therefore a 8-channel controller, made at 28nm, equipped with a dedicated processor to the elaborations produced by ARM, it is a Cortex R5 dual-core a 32-bit, flanked by a co-processor of the X family. The theoretical support for this controller is up to 8 Tera, for memoirs NAND with band up to 800MT / s per single channel. A real beast. Logically we also find the classic data protection systems that are expected from such a product, so the ECC and LDPC algorithms for data protection, and End-to-End data protection (ETEP). Finally it has a duration indicated for 1,800 TBW.
With a indicated consumption of 6.4W, is able to operate even at lower power, up to 1.1W in idle. Corsair's chosen memories are an old acquaintance with some of their products, they are BiCS4 3D TLC NAND, produced by Toshiba, or the 96-layer. Side by side with 1GB of type cache memory DDR4 a 2400 MHz prodotta da SKhynix. After this long dutiful promise Corsair officially declares 4,950MB / s and 4,250MB / s for sequential read / write respectively, will it really be like this in everyday use? Let's find out.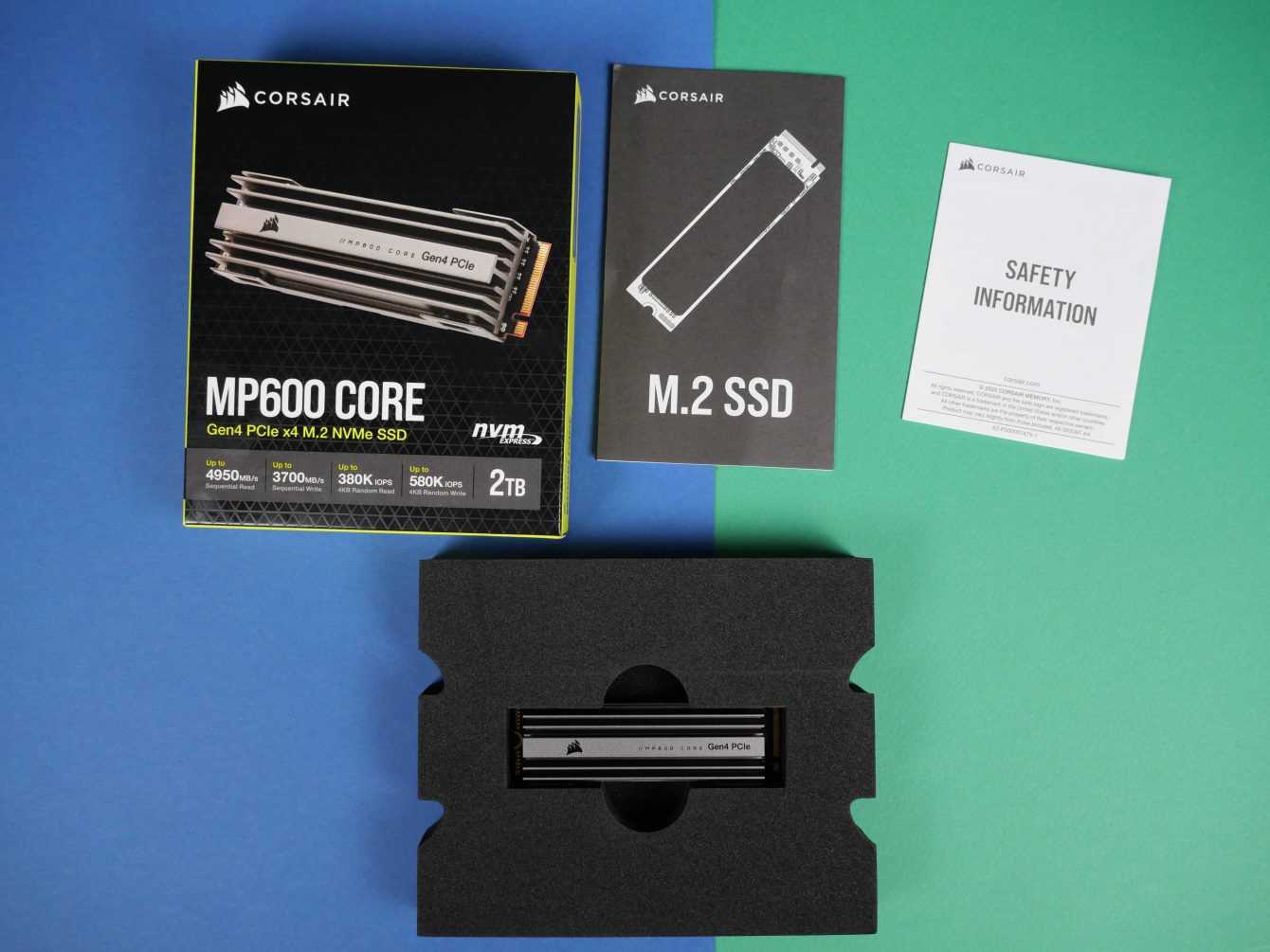 Here are our tests | Corsair MP600 review
Our tests were carried out with the following configuration:
Let's start with the first test for this Corsair MP600 review, same benchmarks, two different tests. Are we in line with what has been declared? While we are slightly subdued with the value inherent in writing, we are quite in line with what concerns the reading, where we are also above what is stated by Corsair. With 1 GiB files, it registered 4958 MB / s in reading and 3642 MHz in writing. Instead, in the more demanding 5 GiB test we find even a higher value, 4994 MB / s in reading and always 3642 MHz in writing. The discrepancy in writing is present, but we are still talking about impressive values.
But let's move on to the famous benchmark Act. In which we can observe the behavior with different types of files, and its stability.
Respectable performance with both demanding 1 Mb files and 64 Mb files. We even touch 5.26 GB / s with 512 Kb files. The stability is also exceptional, and we have never seen performance drops, both with cuts up to 4 Gb and with cuts from 256 Mb.
Finally for completeness we can also observe an excellent behavior with 1 Gb files with the software AS SSD Benchmark. The random sequential read and write test without using the cache returned very good values, nothing to complain. Here too, however, the slightly lower write behavior, equal to 3337.10 MB / s, compared to the higher value of 4125.60 MB / s obtained in reading.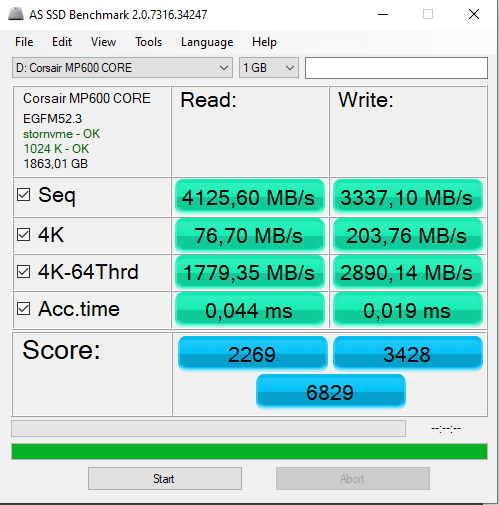 Good data, but how does it go in daily use? A splinter. The data translates into real use with impressive responsiveness, in all those small operations, as well as in the most demanding ones. The loading of the operating system is lightning fast obviously, as is that of the games, and productivity programs. A considerable leap in quality to exploit all the power of our CPU / Motherboard, if it were equipped with support for PCI-e 4.0.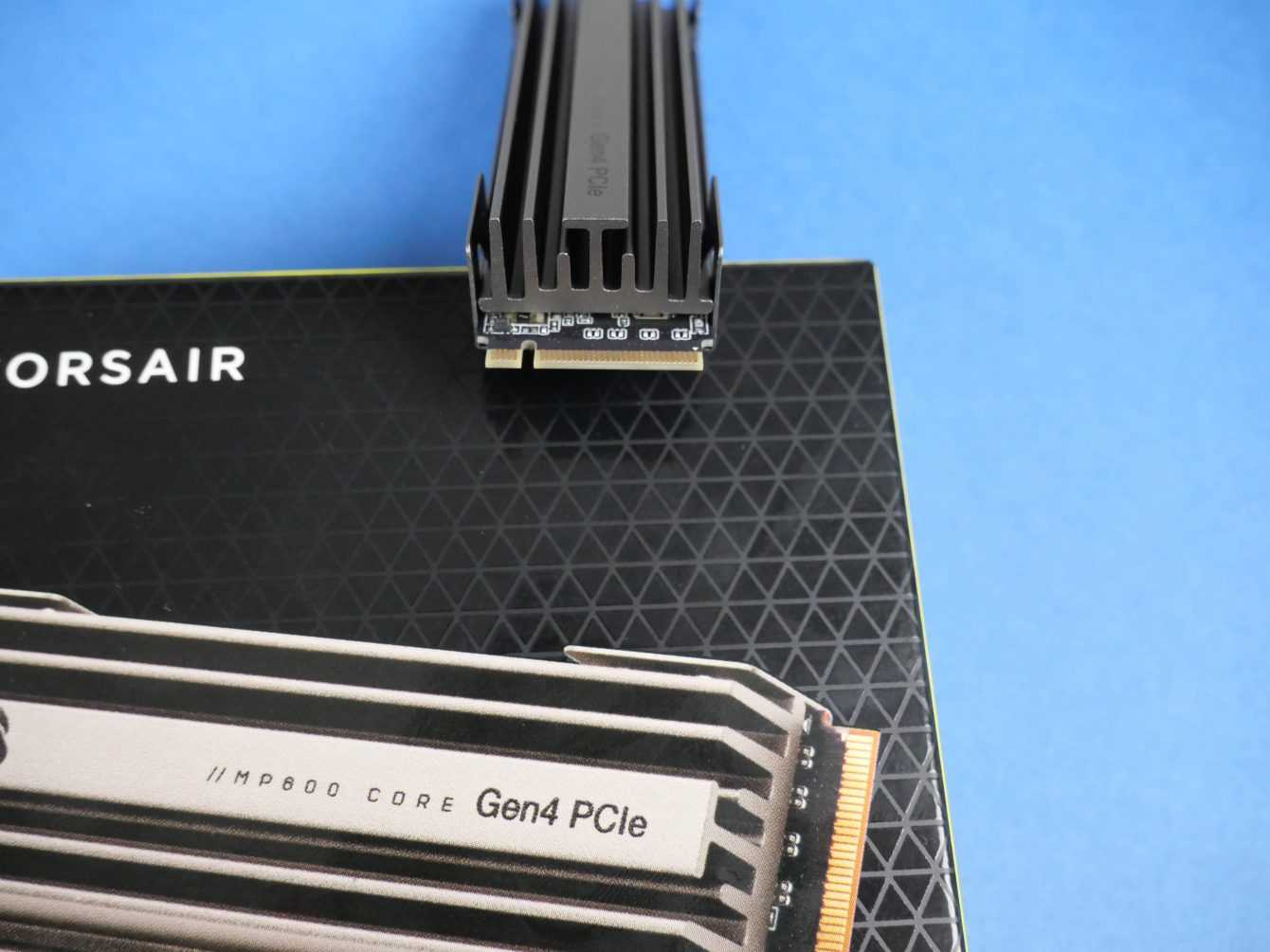 Who should buy this SSD?
To want to find the slightest flaw, the Corsair MP600 is a absolute sprinter, but we would have liked to have seen more consistent data in writing, despite being excellent nonetheless. The price is 114,99 Euro for the version from 500 GB, 199,99 Euro for the version from 1 TBe i 319 Euro for the version from 2 TB. A very high cost, which makes it not suitable for everyone, and this is one of its main negative notes.
If you want to continue to know the latest news from the hardware world, keep following us. Greetings from TechGameWorld.com.
Note: All photos in this review were taken with a Panasonic Lumix Dc-G90M.
Points in favor
Excellent performance
Excellent dissipation system
A nice design
Points against
A bit high price
Not flawless in writing