The power of the workstation you use in the office in a compact and lightweight laptop to hold on your lap while traveling. Dell Precision 14 5470 it offers exciting performances albeit with some limitations. We are in fact facing a product that has the style and skills that professionals are looking for. But not everyone will be able to fully enjoy this high-quality notebook, also due to a significant price. We therefore help you to understand if Dell Precision 14 5470 is for you in this review.
Our Dell Precision 14 5470 review
The category of "professionals" is increasingly courted by laptop manufacturers. Companies such as Apple have put the term "Pro" directly in the name of laptops for those who work, while Dell has chosen a more discreet "Precision". The truth is that i professionals are not a specific category. There are executives who require an infinite battery and small size to travel smoothly, designers and graphic designers who demand maximum power. And then who wants a keyboard that doesn't miss a beat, who wants a perfect screen for consuming and working on the media… In short, the list is quite long and complex.
The Dell Precision 14 5470 tries to do everything itogether and for the most part it succeeds. But remember that there is no perfect laptop, only the perfect one for you.
Our (sumptuous) test setup and ports
To understand if this notebook is the right one, let's start by telling you about the technical specifications. This is our configuration:
Processor Intel Core i7-12800 12-generation 2.40Ghz
32 GB of RAM at 5200 MHz
Graphic card NVIDIA RTX A1000 (with 4GB of GDDR6)
512GB of memory SSD PCIe xa NVMe M.2
14 inch 1920 × 1200 screen, at 60Hz and 500 nits brightness, non-touch (the touch version is also QHD +)
72 Wh 4-cell battery
WIndows 11 Pro
As for the ports, we have:
4 porte Thunderbolt 4.0 Type-C (2 with power supply)
Padlock slot
Jack da 3,5 mm
SD card reader
Smart card reader
Left side doors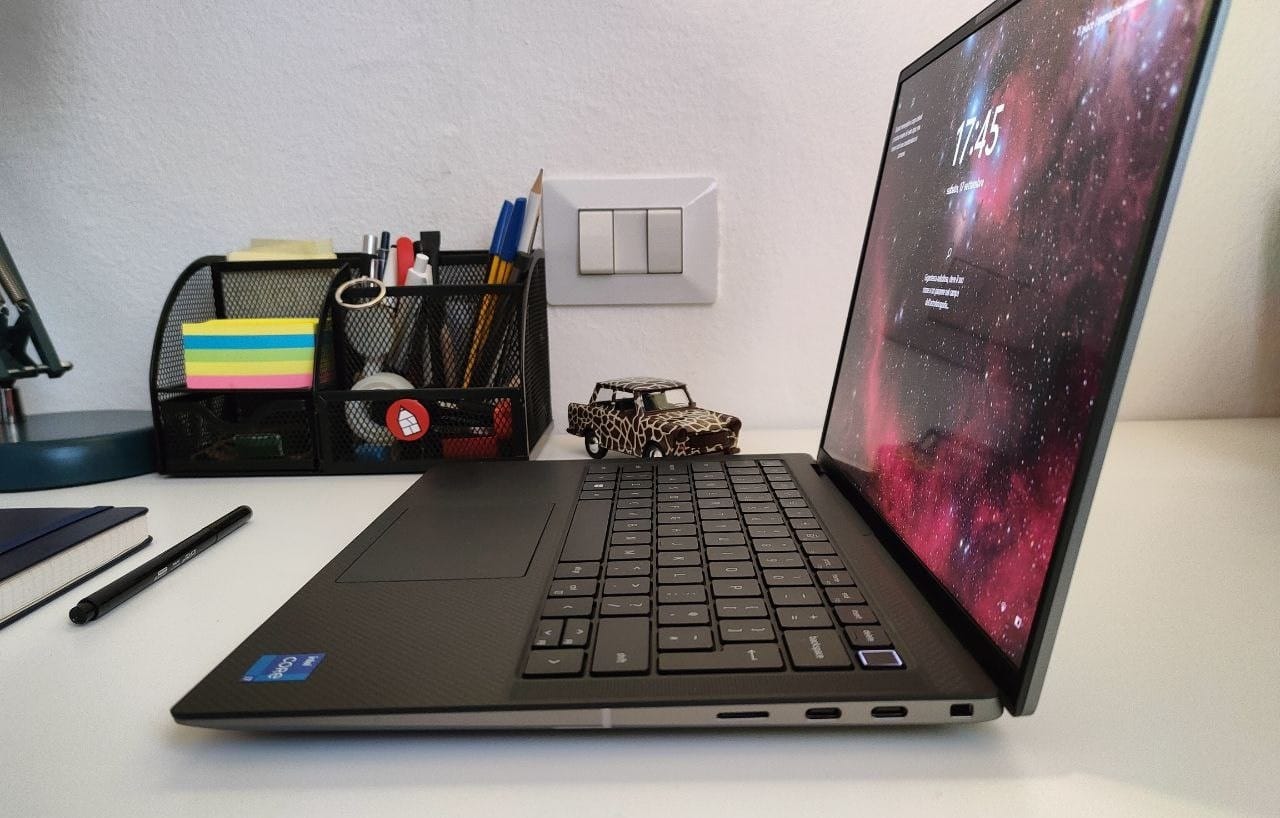 Right side doors
Going to the Dell website, this configuration costs 3.560,41 euro (without VAT it costs 2,918.37 euros). To make a comparison, the basic version with i5 chip costs 2,426.82 euros (1,989.22 without VAT, there is also the Ubuntu version for 143 euros less), while the most powerful with i9-12900H, with 1TB SSD and touch screen costs € 4,447.74 (€ 3,645.69 without VAT).
If the category of 'professionals' is difficult to define, this type of hardware, software and price is certainly meant for those who work. And also the design looks very professional to us.
A discreet but elegant design
Over the years Dell has developed a sober and elegant style that, we confess, we love.
Our review unit has a panel upper exterior in metal that does not retain fingerprints; the Dell logo shines in the center.
You can also find the metal underneath, with plenty of space for the vents dedicated to cooling the laptop. We point out the presence of the military certification MIL-STD 810H, so it should be very resistant to shocks and sudden changes in temperature. "He should" because we took pity on him and avoided shocks of any kind.
Inside you will find a display with really small frames, taking advantage of the design InfinityEdgewith a very thin strip for webcam and facial recognition at the top. The palm rest and the entire dashboard on which the keyboard rests are in black fiber, which is comfortable and beautiful to look at.
The only criticism we could make to the design of this notebook is that, seen from a distance, it looks a bit too "classic". But if you look closely, you will notice in a second the difference in the quality of the materials and the accuracy of the invoices. The price can be seen in the details.
Dell Precision 14 5470 review: audio and video
Speaking of screen, the 14-inch panel has a look at the account of God 16:10 which allows you to have a little more vertical space, great for those who work and want more pixels.
The screen, however, is also excellent for the use of the media, with the QHD + resolution of the IPS panel which allowed us to enjoy some TV series without difficulty; the refresh rate instead stops at 60 Hz so it is not the best solution for gamers.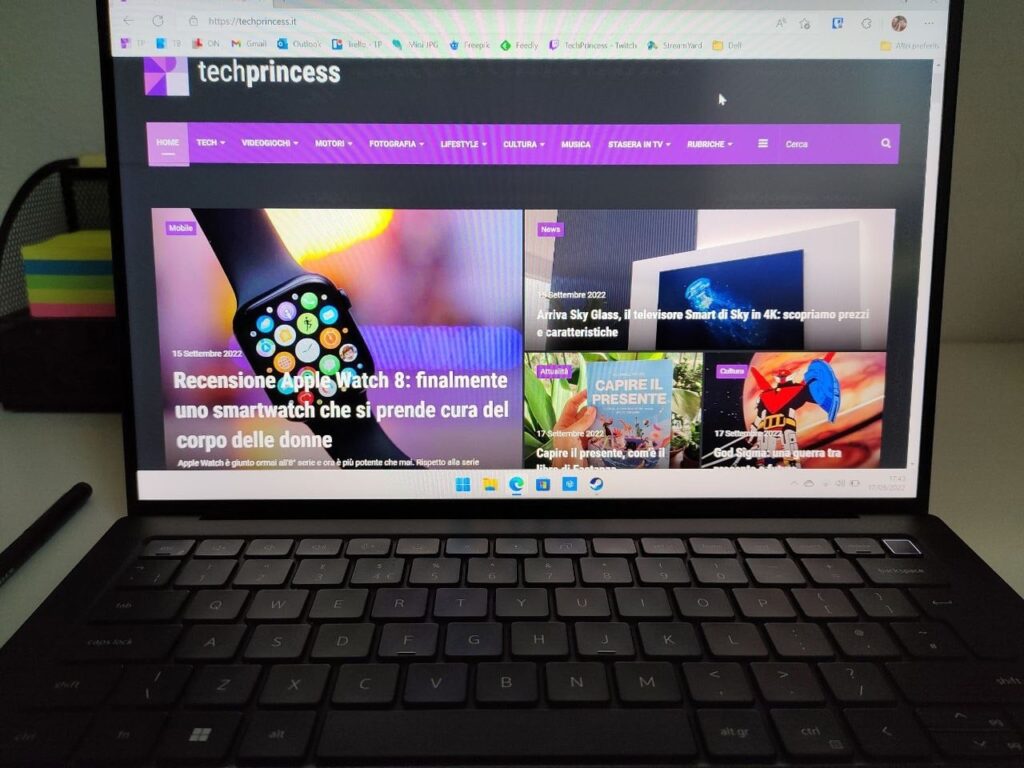 The brightness of 549 nights has allowed it to be used outdoors and on public transport, although viewing in direct sunlight is not entirely comfortable. But it is better than many rivals. In addition, the colors are well accurate and the contrast is very high.
From the audio point of view we have a dual microphone and four speakers with Intelligent Audio. The surrender? Excellent, without half measures: to get better on a Windows notebook you have to attach dedicated speakers. These speakers are powerful, detailed and also great for watching movies and TV series when you're on a break from work.
The 720p webcam unfortunately does not stand out above other notebook cameras, and it's a shame: Dell Precision 14 5470 is a product for professionals and more and more professionals are perpetually on video calling. In addition to the webcam you will also find the infrared reader for face recognition, that you can enable using Windows Hello.
Write on the Dell Precision 14 5470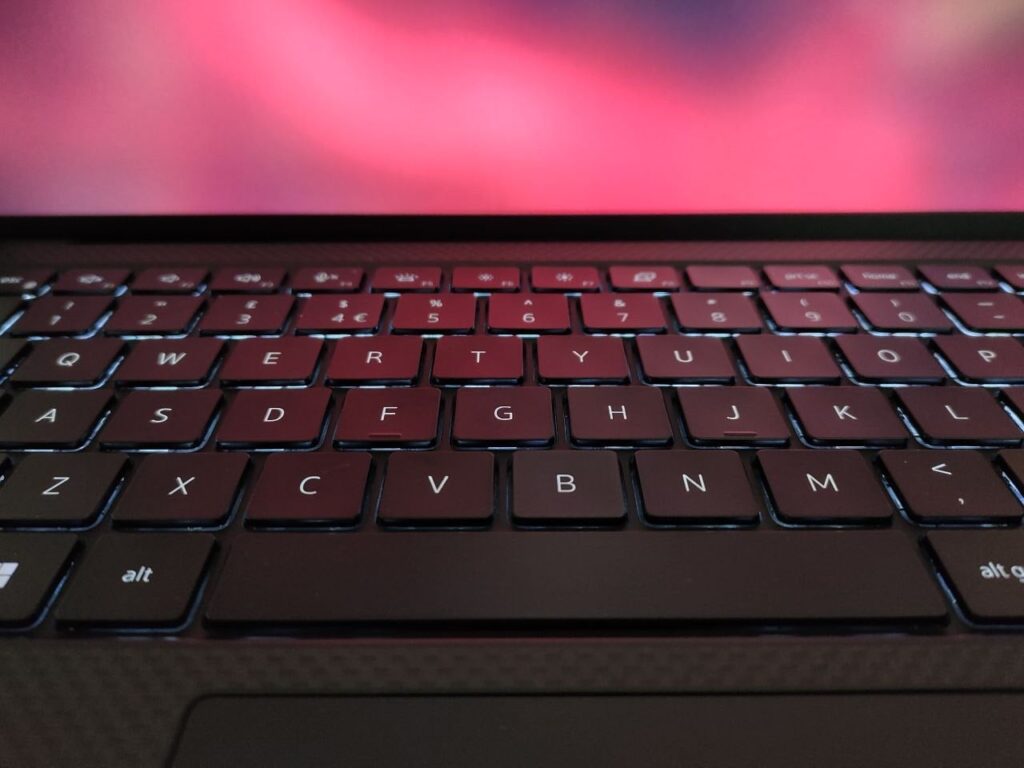 Alternatively you have the fingerprint reader, which you find in the power buttonat the top right of the keyboard. Very accurate, as indeed the whole keyboard itself. As you can imagine, we write thousands of words every day for work and there is nothing more important to us than a good keyboard. And we just loved the one in this notebook.
The Dell Precision 14 5470 we tested for this review has the interaction keyboard instead of the Italian one (which you can order on the website instead). Yet we also never had a problem finding the 'special' keys while entering passwords.
I frets are well divided, large and have enough travel to give a simply perfect typing. We usually always end up attaching a mechanical keyboard via USB to laptops, because we prefer their feedback. But in testing with the Dell Precision 14 5470 we never felt the need. Dell confirms that it knows how to do it like no other in this area: the keyboard is a real top product.
Even the palmrest is very comfortable to use. And the touchpad, while smaller than we had hoped for, it is actually smooth, easy to use and accurate like very few others on the market. All the gestures of Windows 11 Pro work great and after a few minutes of use, navigating the screen with the touchpad was second nature.
As for the keyboard and touchpad, impossible to do better (it is difficult to find equally valid ones).
Dell Precision 14 5470 review: "portable office" performance
After being thrilled with the build quality of the Dell Precision 14 5470, we wanted to test the computational capabilities of this PC designed for different types of professionals. The processor Intel Core i7-12800H combined with 32GB di RAM 5200 MHz guarantees a computing power capable of satisfying the demands of any "office" application not only with ease, but really flying.
Switching from one app to another is really simple, also thanks to the features to organize the screen of Windows 11 Pro. We only encountered one problem: while we were watching an episode of a show that we had to review streaming on Edge and the updates continued in backgroup, the notebook got very hot and at one point he is arrested. The problem never occurred, but we tend to think it was a software issue.
We report below the results of the Geekbench benchmarks, but from a computational point of view we can say that the Precision 14 5470 is performed great during our review.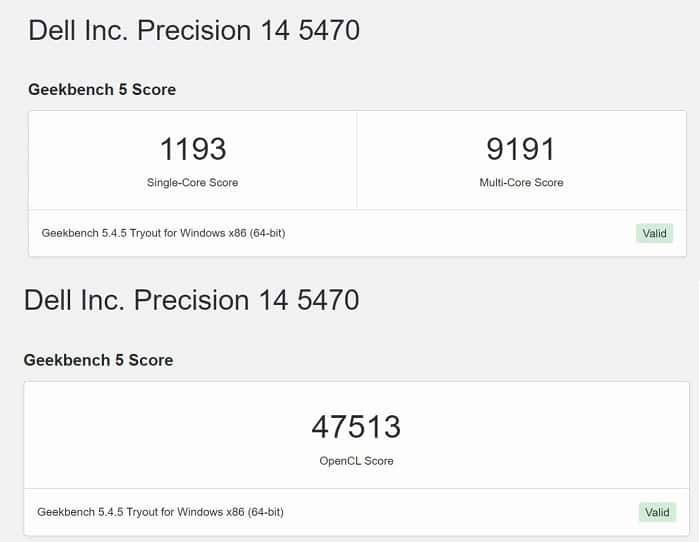 Let's move on to the graphics part, where the graphics card is the protagonist Nvidia RTX A1000 (con 4GB di GDDR6). This is a card designed for professional use, but it is based on the RTX 3050 GeForce. We tried the 3DMark Time Spy test, with good but not record-breaking results.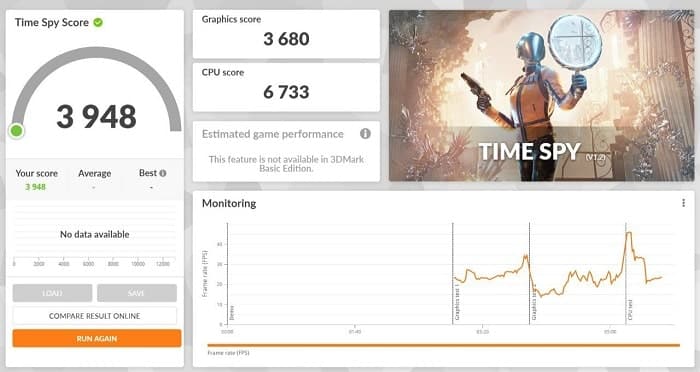 In everyday use it seems to us that it performs quite well in the use of graphics performance: you can use the entire Adobe package without problems. However, it does not seem the best solution for those who do 3D renderings or export particularly thoughtful videos. With this size, it becomes difficult to ask for more from this device: it has limitations, as is normal.
Il fan noise never gets to really bother us, although in heavier loads they increase the volume of air moved noticeably. However, the heat remains quite controlled, never reaching the level of annoyance (except in the one incident we have told you about).
The workstation performance they are all there, but mobility poses some reasonable limits.
Excellent autonomy
The battery from 72WHr by Dell Precision 14 5470 is truly excellent. The tests show an autonomy that approaches 15 hours, although in real use cases using WiFi it is more contained: but always greater than ten hours. Loading the laptop in the morning there was no situation where we needed to recharge it before the evening or the next morning. It guarantees a full working day, even if you are on the go all day.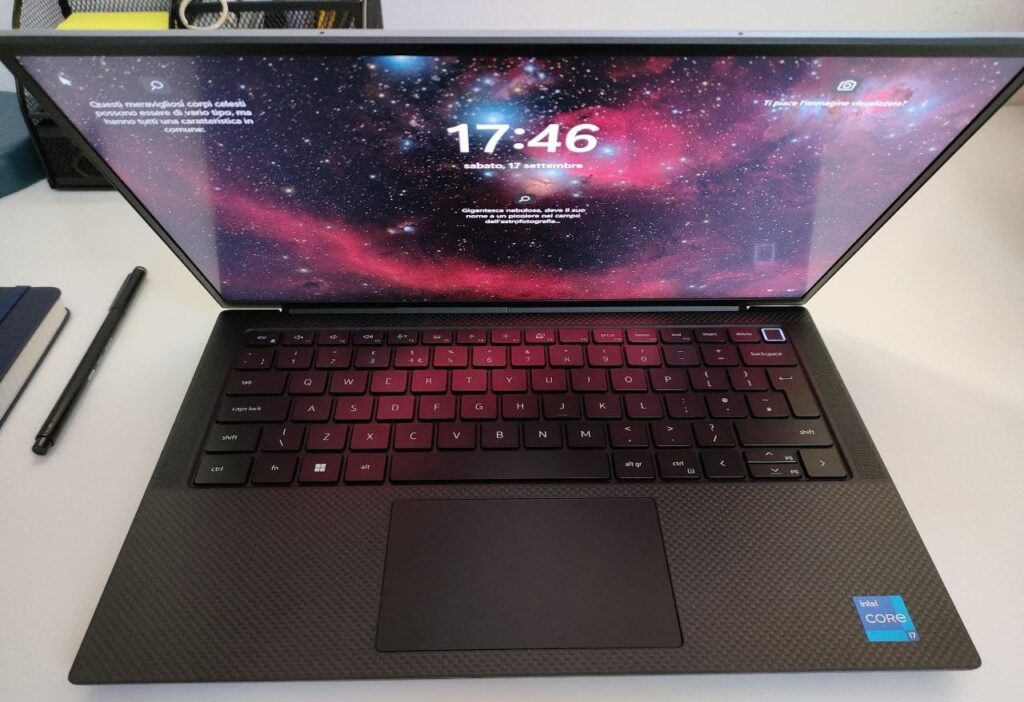 If, on the other hand, you are using your PC at home, perhaps by connecting …