DJI Open is the new FPV drone of the Chinese company.
But what the heck does FPV mean?
It is an acronym that stands First Person Viewwhich we could translate as "first person view".
Applied to the world of drones, this abbreviation implies compatibility with a viewer that allows you to have the same view of the drone in front of your eyes. Basically you see in real time what the drone sees, thus being able to take advantage of a unique point of view both for observation and for the production of videos and photos.
Let's be clear, the presence of the viewer does not imply the use of virtual or augmented reality. In this case it is like being in a dark room with the screen in front of your eyes, so as to focus only on the images that are transmitted by the drone in real time.
All this following local regulations and with the presence of an observer, that is a person who, without viewers, checks where and what your flying gadget is doing.
"DJI Avata was created to awaken that desire to fly present in all of us, with immersive flight technology that allows anyone to explore that almost out-of-body experience that is FPV flight – he said. Ferdinand Wolf, Creative Director of DJI. – DJI Avata is amazing to fly even for a novice pilot and offers advanced safety features that will give anyone the freedom to try all kinds of creative stunts. Paired with DJI Goggles 2 and DJI Motion Controller, DJI Avata looks as fast as the wind. Whether you're flying for pure fun, making great clips for social media or wowing viewers in the production studio, DJI Avata will show you how its thrilling flying experience takes you into a new world of jaw-dropping possibilities. "
The features of DJI Avata
DJI Unlock many a 1 / 1.7 inch 48MP CMOS sensor with f / 2.8 aperture and an ultra wide angle lens with a viewing angle of up to 155 °. Stabilization is entrusted to two technologies: DJI RockSteady, which eliminates overall image shake, e DJI HorizonSteady, which keeps the image oriented on a real level.
All this for take picturesto record video fino a 4K/60 fps and take home movies in slow motion a 2.7K/100 fps. The new Chinese drone also integrates the D-Cinelike mode, with the possibility therefore to record in Log and then intervene a posteriori with color correction.
This data is saved on the 20 GB internal memorywith the ability to add a microSD to expand storage.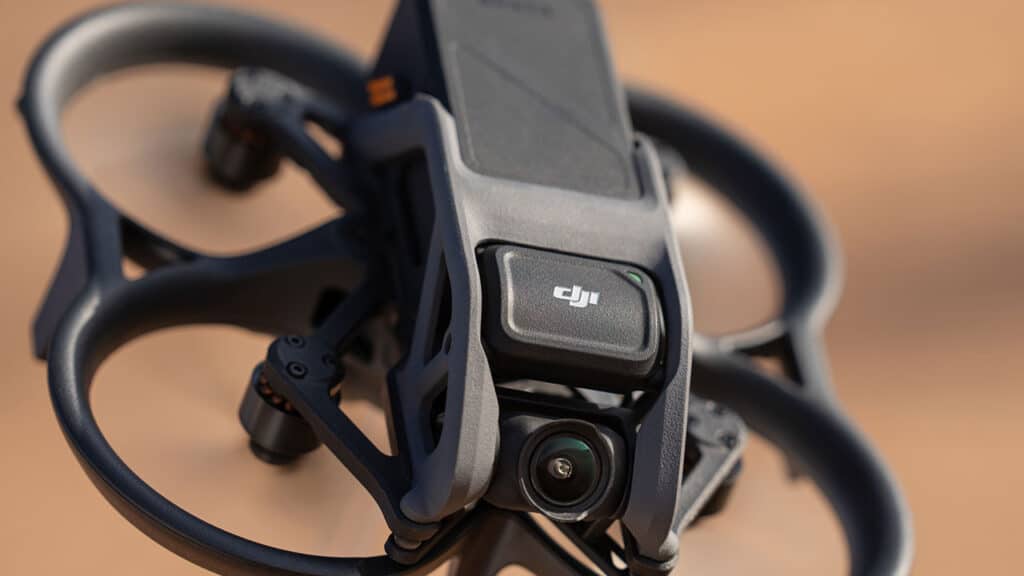 Great attention is also paid to resistance and safety. THE paraeliche integrati allow to bear small collesioni while the Turtle mode allow Avata to straighten up after a capsize.
Then we have the function Emergency brake and stationary flightavailable in all flight modes, to stop the drone and park in position at any time, and Failsafe Return to Homewhich instead will bring the drone back to the starting point with the push of a button or in case of signal loss.
The latest addition to the house DJI also uses DJI's GEO 2.0 geofencing system to alert pilots of surrounding airspace restrictions, potential hazards, and to automatically prevent drones from flying near certain high-risk locations, such as airports.
The AirSense ADS-B reception system Instead, it alerts users when airplanes or helicopters are nearby and broadcasts DJI's AeroScope signal to help authorities monitor flying drones in sensitive locations.
We also have on board an infrared detection system and a two-camera downward vision system, designed to maintain position, park more accurately, fly indoors (or in other environments where satellite navigation is not available) and identify areas unsuitable for landing.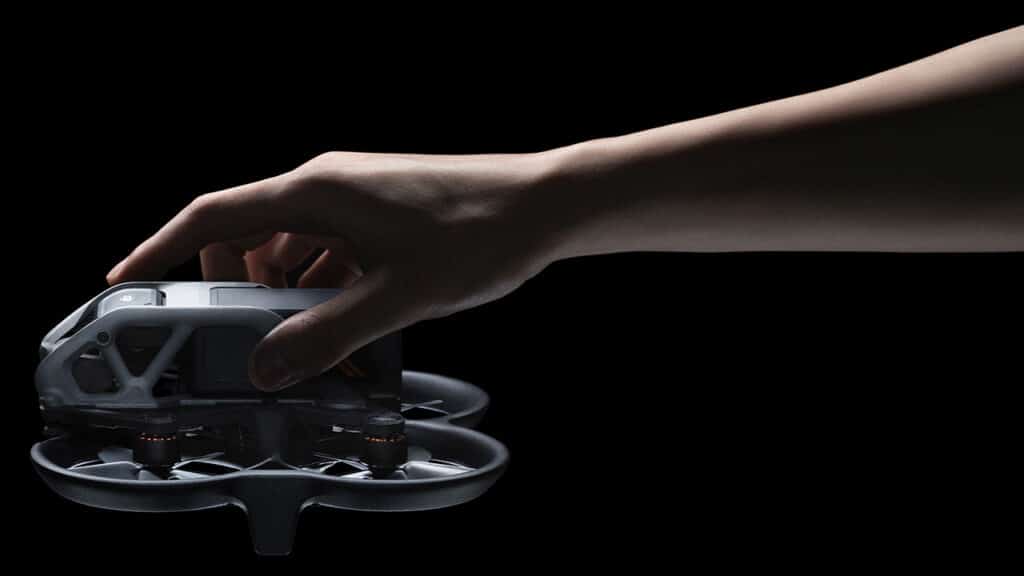 Three le flight mode available:
Normal (N), with operation similar to that of other DJI drones;
Manuals (M), which requires the DJI FPV Remote Controller 2 but guarantees complete and unlimited control over the drone, even in FPV:
Sport (S), a hybrid between M and N that offers some of the dynamic movement capabilities that come with the M mode along with some of the main safety features of the N mode. The S mode is the intermediate step between the three modes and has been developed to give riders more room to explore your skills as you become familiar with the drone.
To help you master DJI Avata you can use l'app DJI Fly, which includes detailed tutorials, and DJI Virtual Flight, a free simulation application that helps you familiarize yourself with the flight movements of drones in easy, fun and risk-free scenarios.
DJI Goggles 2 and DJI Motion Controller: the ideal companions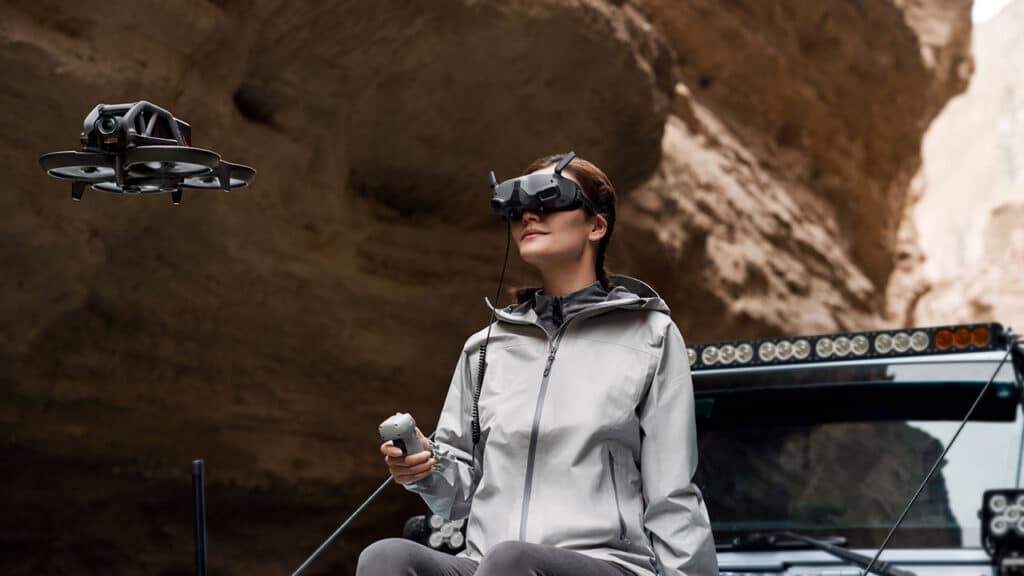 To accompany DJI Avata we find two exceptional companions: i Goggles 2 e il Motion Controller.
DJI Googles 2 is a new generation viewer smaller, lighter and more comfortable, equipped with a clearer micro OLED screen with adjustable diopters, which allows users who wear glasses not to wear them when using the viewer. Then there is a touch panel, located on the side, which allows you to easily control the settings of DJI Avata.
Drone and headset connect to each other using the DJI O3 + broadcast standard, which guarantees ultra low latency, detailed video at 1080p / 100fps with decoding in H.265 and a maximum distance that exceeds 10km. Then we have the double frequency with automatic selection, a high bit-rate of 50 Mb / s and state-of-the-art anti-interference methods to guarantee a feed that is always reliable.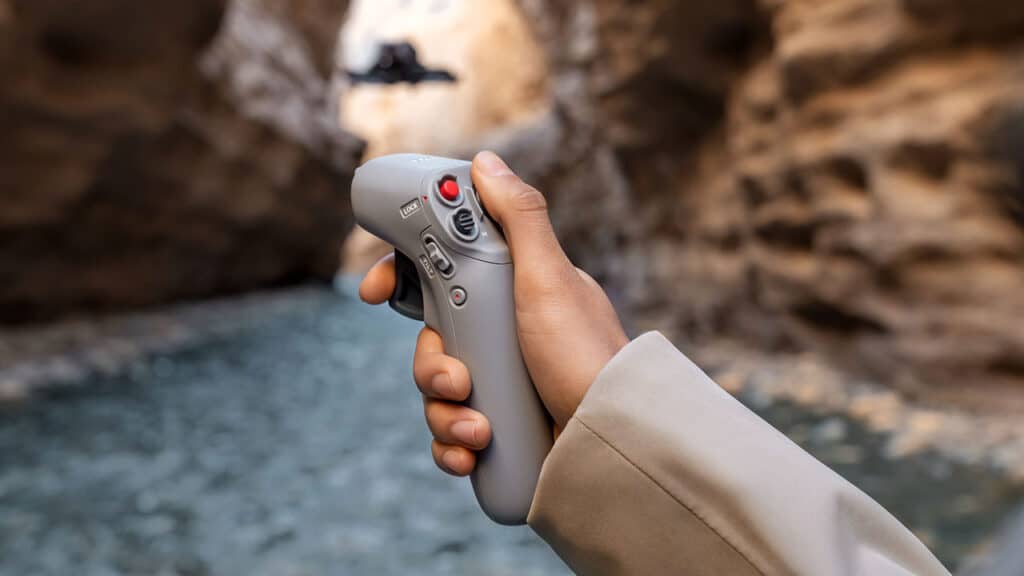 Il DJI Motion Controller instead it is a completely reinvented flight control device and allows you to precisely pilot the drone and perform complex maneuvers based on natural hand movements. The system is designed to be very intuitive and also suitable for beginners that with a little practice will be able to fly close to the ground, avoid obstacles and pass through narrow fences or open spaces.
Together with DJI Avata, the Goggles 2 and the Motion Controller, a series of accessories designed to get the most out of every flight make their debut:
Intelligent Flight Battery for DJI Avata
DJI Avata battery charging station
Propellers for DJI Avata
Upper frame for DJI Avata
Propeller guards for DJI Avata
ND filter set for DJI Avata (ND8 / 16/32)
65W DJI Portable Charger
65W DJI Car Charger
Carry More backpack for DJI Goggles viewer
DJI Avata: price and availability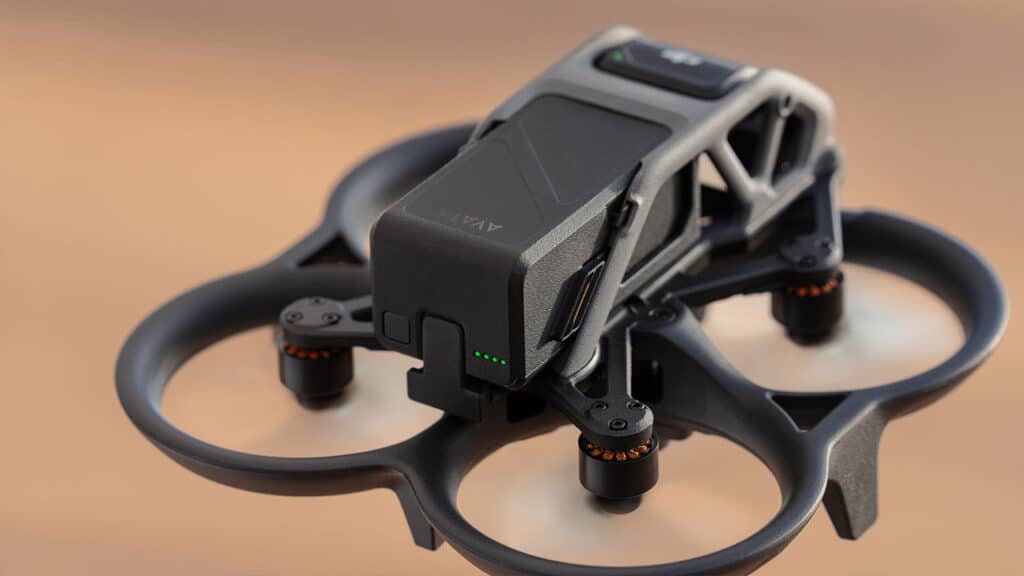 DJI Avata is available from today, for pre-order, on store.dji.com and at authorized resellers.
The available versions will be the following:
DJI Openin standalone version, a 579 €;
DJI Avata Pro-View Combo, with the Goggles 2 and the Motion Controller, a 1.439 €;
DJI Avata Fly Smart Combo, con FPV Goggles V2 e Motion Controller, a 1.159 €;
DJI Avata Fly More Kit a 249 €, with two Intelligent Flight Batteries and a Battery Charging Station.