Review of the Fritz! Box 7590. A router that acts as a modem and vice versa, for always excellent stability, flanked by new standards such as support for 300 Mbit / s in theoretical downloads. Let's find out together!
There is only one key to understanding this AVM product: quality and performance. There is no shortage of multimedia and relevant specifications on board Fritz!Box 7590, all seasoned with that new design formula by now consolidated and which differs so much from the past. Tastes are tastes some would say but, net of personal preferences, the new AVM product boasts a technical data sheet that can make us completely forget the aesthetic side.
Fritz! Box 7590 has all it takes to be a top of the range product, Wi-Fi 5 up to 1,733 and 800 Mbit / s, DSL up to 300 Mbit / s for all DSL connections, 4 Gigabit LAN ports, 1 Gigabit WAN port, 2 USB 3.0 ports, support for up to 6 cordless phones, and last but not least, software support for applications such as: Media server, NAS, MyFRITZ !, Smart Home. A mature product, which shows all its experience in the practical field thanks also to theexcellent FRITZ! OS.
Without going too far, let's get to the heart of the review.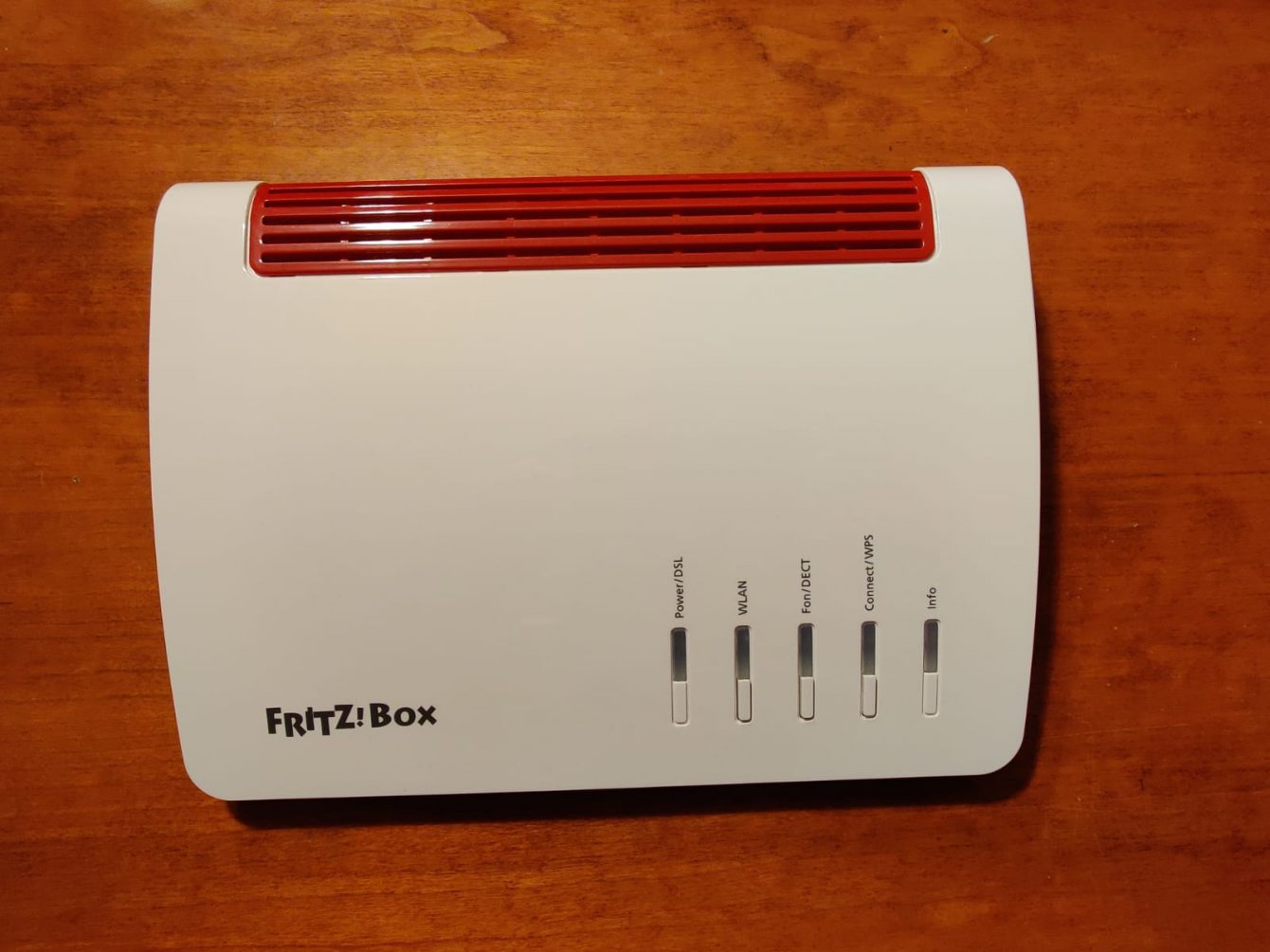 The technical sheet of Fritz! Box 7590
VDSL or ADSL connection up to 300 Mbit / s and FTTH with the operator's external ONT (up to 1000 Mbit / s)
Analogue connection or ISDN fixed network according to 1TR112 / U-R2, compatible with Annex J
4 porte Gigabit Ethernet (10/100/1000 Base-T)
1 Gigabit WAN port for connecting to a cable / DSL / fiber optic modem or a network
Wi-Fi 5 (fino a 1.733 Mbit/s lordi; 5 GHz) e 4 (fino a 800 Mbit/s lordi; 2,4 GHz)
An IEEE 802.11ac, n, g, b, a wireless access point
2 USB 3.0 ports for memory and printer
DECT base for 6 cordless telephones, with internal S0 bus to use ISDN telephones or telephone exchanges even on the IP-based connection
2 a / b ports for connecting analog telephones, answering machine and fax
We can't really complain about the quantity and quality possible thanks to this product. Obviously there is still a lot to say, so follow us in this one Fritz! Box 7590 review.
Materials and design | Fritz! Box 7590 review
The model protagonist of today's review it does not differ much, if not for small things, from the design of its younger brother Fritz! Box 7530, of which you can find the review at the following link.
The change of style is very beneficial to this product that can finally be put in plain sight, setting the scene. Without forgetting, however, that Fritz! Box 7590 is a product that looks to the point. Few frills, lots of quality.
The materials are in fact premium, even if in hard plastic for the most part, and return the feeling of a solid and robust product, really well made. There color is the classic red and white which, it must be said, does not always blend with the surrounding environment.
I five LEDs in the upper part of the modem router are used to signal the status of Power / DSL, WLAN, Fon / DECT, Connect / WPS and Info. Below the three central LEDs there are also physical buttons that allow you to use different functions depending on the circumstances, such as the WPS connection.
The Fritz! Box 7590 is a design that we especially appreciated because of its small size. The product is therefore compact, but despite this its power in terms of performance (WiFi and not) is truly excellent. Dimensions which are 250 x 48 x 185 mm.
AVM engineers have not compromised with the possibility of connectivity. In fact, as we reported at the beginning, there is no lack of the multimedia aspect, the possibility of connecting different devices and the voice support.

At the rear of the product, we find the entrance for the DSL / VDSL cable, two ports for telephone / fax / answering machine, an ISDN port, a Gigabit WAN port, four Gigabit LAN ports (10/100/1000 Base-T) , a USB 3.0 port and the power input. On the left side we find another USB 3.0 port, while on the right there is an analog FON socket.
What's in the box besides the Fritz! Box 7590?
Fritz! Box 7590 is well packaged in a box where the celestine is king, in pure FRITZ! Style. Inside the package, in addition to the inevitable user guide, we have a generous 1.5 m LAN cable, 060 and 058 adapter, a 4 m DSL cable and obviously the power supply with 1.5 m cable . A complete and sufficient equipment.
Uncompromising connections | Fritz! Box 7590 review
It is useless to go around it, we are faced with a product top range in terms of performance.
AVM's experience in this field is palpable. As accustomed by the German brand, this product complies perfectly with what we can read in the technical specifications.
Excellent Wi-Fi coverage
To start, with this router we can access an extremely satisfying Wi-Fi connection. Thanks to modulo 4 x 4 Wi-Fi 5, Multi-user MIMO, we have support for Wi-Fi 5 (up to 1,733 Mbit / s gross; 5 GHz) and Wi-Fi 4 (up to 800 Mbit / s gross; 2.4 GHz).
An endowment that, if desired, will allow us to access an easy one expansion of our network via Wi-Fi Mesh, thanks to the versatile nature of this product and the Fritz! ecosystem. There is also compatibility with Wi-Fi 802.11g, b and a.
Despite the lack of external antennas, the range is still more than valid. We encountered no problems connecting multiple devices anywhere in the building, despite being spread over three floors. The connection remains stable and there are no significant packet losses. Coverage is excellent even up to 8 meters away e automatic channel management is excellent, no performance degradation was felt during use in saturated environments (unlike other products).
The only drawback? There lack of support for Wi-Fi 6, however, a standard still not widespread among devices.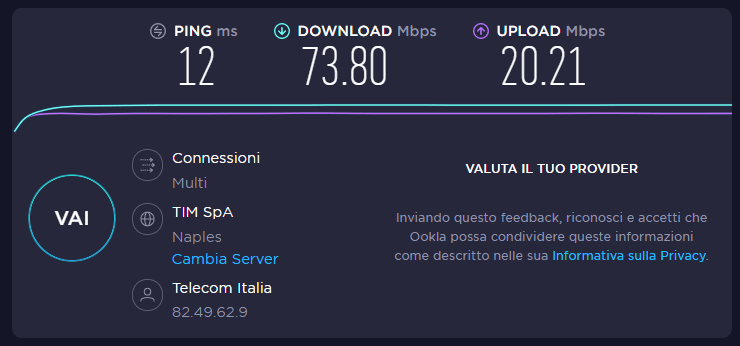 Fritz! Box 7590 is also a modem
Fritz! Box 7590 really adapts to multiple uses. In fact, in addition to the router section, which we have already learned to appreciate thanks to the review of the younger brother Fritz! Box 7530, we find the possibility to use it as a modem. This possibility really changes the cards on the table.
Where a simple router must necessarily be connected to a modem to work, having the ability to replace the old device provided by the provider (TIM in our case) is really a godsend. With a single object we would have in fact all the improvements guaranteed by AVM by reducing the overall dimensions to a minimum, cables and so on.
Also the modem part does not disappoint, in our case the performance proved to be in line with the replaced TIM Hub Plus modem. Furthermore, Fritz! Box 7590, thanks to the AGCOM 2018 resolution, allows you to manage, in addition to the internet connection, the voice of any operator on Italian soil. The ping in the gaming sessions has instead improved (especially in Wi-Fi) by a few ms. In principle, we can say that the connection has improved (where more and where less) in all its aspects with this modem compared to the one proposed in our provider's offer.
A connection we stress will always be secure, thanks to the security sector that AVM has reserved for its FRITZ! products. In fact, we will be able to take advantage of IPv6 connections for the Internet, with firewall / NAT, DHCP server, DynDNS client, UPnP AV. And secure remote access via the Internet with VPN. Without forgetting the support for the new WPA3 standard for Wi-Fi security.

FritzOS! is the key
Finally, let's not forget an element that makes the difference in qualitative terms, namely the dedicated management software. We are talking about FRITZ! OS, a simple and optimized user interface for smartphones and tablets via App and browser. Thanks to the AVM software we will be able to manage all the setting options or activate all the Smart Home and Media Center functions, in a few steps. All for an always stable and powerful connection, both in Wi-Fi and in wired mode, regardless of which provider is our.
The possibility of configuring your connection in a complete and intuitive page is also not to be underestimated. Even an unfamiliar person can safely access this service and be able to configure mesh networks, cascaded connections or the like. For the more experienced, however, it will be a pleasure for the eyes to be able to change every single parameter of your connection without the known limits imposed by your provider.
Who should buy it? | Fritz! Box 7590 review
At the end of this review, it is clear that we are dealing with a top-of-the-range product. A product that allows excellent Wi-Fi coverage, thanks to the antennas that support MU-MIMO technology, ensuring the stability of all devices connected to it on both the 2.4 GHz and 5 GHz bands, reaching a total speed of 2,533 Mbit / s.
The strength of the Fritz! Box 7590 is the very experience of the German company in the software field: quick and intuitive management and guaranteed support over time thanks to constant updates aimed at improving the service offered.
Not only ADSL and VDSL performance up to 300 Mbit / s but also security, VPN support, and low power consumption. In short, an uncompromising product. All without forgetting the excellent modem part with voice support included.
If you are looking for a modem that can improve your connection and is more accessible in its configurable parts, you have found it. Of course you have to deal with the price but, considering that with a single object you will have both a modem and a router probably able to replace and improve that of your provider, the purchase remains recommended.
Note: All photos in this review were taken with a Panasonic Lumix Dc-G90M.
Absolutely recommended
Points in favor
Excellent Wi-Fi coverage and management
High-potential Mesh WiFi thanks to FRITZ!
Modem, router and voice in a single solution
Integrated Media Server functionality
Compatibility with DECT phones
Superb and always up-to-date operating system
Attention to safety
Points against
Lacks support for Wi-Fi 6
Design may not appeal to everyone
Price