Let's find out how to get Netflix for free to be able to stream all your favorite movies and TV series!
Until recently, Netflix, an on-demand streaming company, allowed all new users to be able to take advantage of a one-month free trial for streaming movies and TV series, and then decide whether to subscribe or not. Starting from April 2019, however, the American public company has decided to officially remove this option in Italy, making available only the possibility of subscribing to the service through three tariff plans: Basic, Standard and Premium. The Basic subscription has a monthly cost of € 7.99, the Standard one of € 11.99, while the Premium version costs € 15.99 / month. What differentiates these three types of subscriptions is the possibility of using Netflix simultaneously on multiple monitors and also obtaining a higher quality of the images.
However, in doing so, there is no longer a direct and official method to be able to watch Netflix for free, but despite this, some services are available, offered by collaborative external companies, which still allow you to benefit from a short or moderate trial period. At this point, let's try to understand how to get Netflix for free!
Attention: TuttooteK and the author of this article do not assume any responsibility for the use of the sites present in this guide, which is for informational purposes only. We emphasize that downloading copyrighted content is illegal, as is free streaming of on demand sites that require a subscription: piracy is a crime.
How to get Netflix for free
Now let's see in detail how to get Netflix for free and what are the procedures currently available.
How to get Netflix for free: promotions from telephone operators
A first mode, which allows you to have Netflix for free, is offered by national telephone operators, like Vodafone and Tim. These organizations, in fact, give one or more months free to all new customers. Currently, Vodafone itself offers well 6 months Netflix to all those who purchase the Giga Network Fibra offer: to take advantage of this promotion, after making the purchase, just connect to This Page and click on the "Enable Netflix".
In addition, there is the possibility that new convenient offers come out every week, so we suggest to all interested parties to monitor the homepages of the numerous telephone operators, paying particular attention to the sections concerning internet subscriptions, such as fiber or ADSL.
How to get Netflix for free: account sharing
After analyzing the methods offered by telephone operators, let's see how to get Netflix for free, or rather almost free, by subscribing and sharing it with friends. First, let's better distinguish the three options available:
Basic subscription: 1 SD screen (view on 1 device at a time, in standard definition) at a cost of € 7.99 / month;
Standard subscription: 2 HD screens (viewing on 2 devices at a time, in high definition if available) at a cost of € 11.99 / month;
Premium Membership: 4 HD / Ultra HD 4K screens (view on 4 devices at a time, in high definition and ultra high definition, if available) at a cost of € 15.99 / month.
Attention: once you have chosen your preferred plan, you can change it at any time from the Account page, located in the Personal Area of ​​your Netflix profile.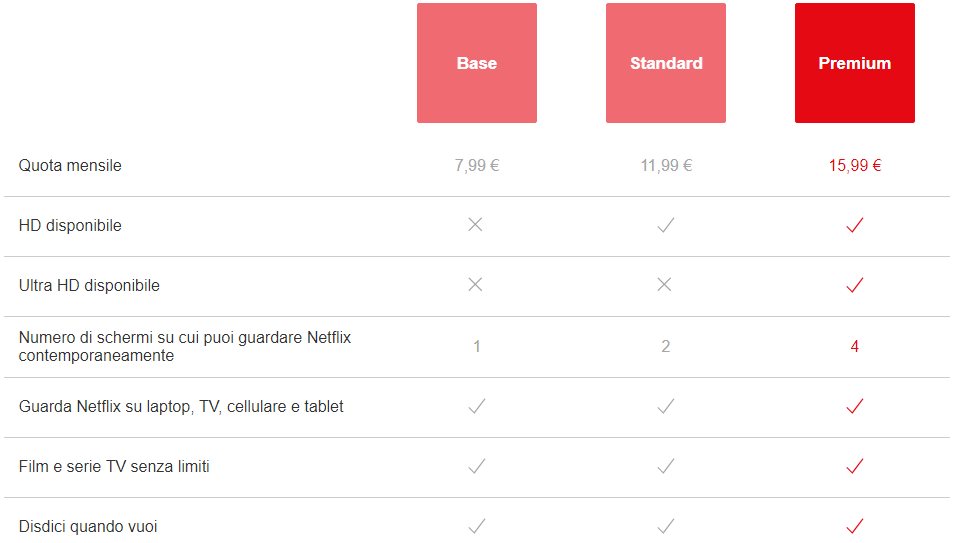 Based on all this, let's now understand what the benefits related to subscription activation under account sharing conditions, that is when several people access with the same data. For sure the Basic version is the most inconvenient, given that only one at a time can access the streaming platform and moreover you have to give up high definition, so our advice is to change your choices on subscriptions Standard and especially Premium: in the first case, in fact, having the possibility to log in simultaneously on two different screens, it is possible to share the account with another person and therefore pay 6 € each, for a total of 11.99 € provided, and consequently save compared to the Basic version. Furthermore, these prices can be halved if divided into four users, as long as they always access a maximum of two at a time.
Ma the real benefit is offered by the Premium subscription, as there is the possibility of watching movies and TV series by taking advantage of up to four screens simultaneously: this means that the € 15.99 would be split between four people, each of whom would pay around € 4 per month, having in addition the possibility to take advantage of 4K and therefore the image with the best quality.
Exist some services that allow you to share your account with other people, such as TogheterPrice. In the case of TogheterPrice the share of the founder of the sharing group is reimbursed by the service, so you have the possibility to have a free shared subscription.
How to get Netflix for free: VPN network
As mentioned above, the free trial month has been removed in Italy, so it's still possible illegally, bypass the problem and get free Netflix by simply changing the VPN and then the IP address. In other words, changing this address means simulating a connection from another point on the planet. This allows you to solve the problem by choosing one of the countries where the free month is available. By clicking here, you can view the list of these states.
But be careful, because often the best VPN networks are paid, even if at low cost, so at this point we must consider whether it is actually convenient to go ahead with this procedure. In addition, Netflix is ​​aware of the use of VPN networks and as a result the blocks put in place by the US company to combat illegalities in the world are clearly increasing.
However, if you are interested, you can take a look at our guide to the best free VPNs.
Netflix has come holding free Telegram
Also Telegram, although illegally, can be considered a useful tool to get Netflix for free. Here, in fact, numerous links are often available that allow you to access many streaming sites for movies and TV series. These links are released on some channels by account owners.
How to get Netflix for free: streaming sites and torrents
Illegally, you can also find the entire Netflix catalog on the best streaming sites or by searching among the best torrent sites.
How to get Netflix for free: working APK
There is currently no APK file for Android that allows you to watch Netflix for free. Beware of rip-offs!
Good fun!
For this guide on how to get free Netflix that's all. Furthermore, we remind you that wandering around websites can be very dangerous, especially if you are not very familiar with the Internet or if you venture to unknown pages, which is why we recommend that you take a look at our guide to best free and paid antivirus.
Stay connected on our pages for other precious guides on the world of the Web and on the latest news on the world of movies, TV series and video games!