Are there any effective and working methods to keep a WhatsApp number under control? Sure! Let's find out how to spy on WhatsApp with different solutions
Most of us often wish we could keep an eye on our partner's WhatsApp account that is behaving suspiciously. The same is true for parents who are concerned that they would give anything for the safety of their children. Well, with theWhatsApp spy app, now everyone can track conversations on another person's device anytime, anywhere.
What is a spy app for WhatsApp?
A spy app for WhatsApp lets people know everything that is being done on their smartphone.
Once the spy app is installed, you can have remote access to WhatsApp data on Android or iPhone.
Using a spy app for WhatsApp will allow you to access any information coming from the app. The demand for this service is exceptionally high, especially with worried parents or jealous partners.
Can i spy on WhatsApp?
Statistically speaking, the 2.0 world population is constantly chatting with the popular app called WhatsApp. About 1.2 billion users around the world communicate with each other every day via this app and share everything from the intimate details of their personal life to business matters or secrets.
And more often than not, they do it without any problems since the app guarantees end-to-end encryption.
However, despite these protections provided by WhatsApp, there is still a silent danger.
There are many ways where you can easily spy on others' WhatsApp chats without having any hacking knowledge.
Here we will provide you with many ways to keep an eye on your victim's WhatsApp account.
How to spy on WhatsApp
According to tech experts keen on different hacking techniques, they have helped people dig into personal chats on WhatsApp, especially those conversations involving the significant other.
For many WhatsApp users who want to understand if your partner is in a relationship, this article will help you monitor their conversations or even those worried parents who want to watch their children's cell phones.
WhatsApp spying is not only possible, but also extremely easy. All you have to do is learn the best way.
Generally, we have mentioned three different ways you can browse WhatsApp.
How to spy on WhatsApp with WhatsApp Web, one of the simplest methods
People eager to know everything that is happening in the life of their partner or their children can spy on their activity on WhatsApp. There are many ways to do this.
You can use spy app for WhatsApp or you can use WhatsApp Web, where users use this messaging application directly from their PC.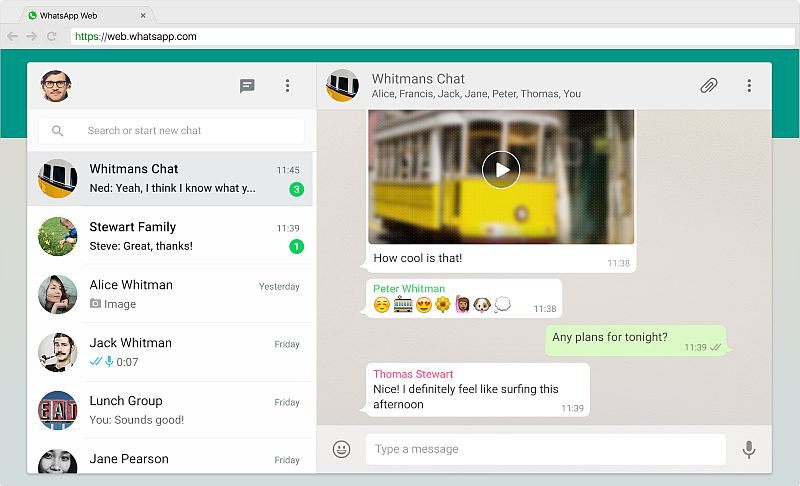 This method is by far the most convenient, but unfortunately it comes with trade-offs. You will need the QR code to use it for the first time, and the victim's smartphone will need to be connected to the same network as your device.
Once done, you can view it all chat history and data on your device (PC) from browser, and the juicy details will continue as the chats are updated every time the victim's smartphone connects to the home WIFI network.
How to spy on WhatsApp with your phone backups
Using WhatsApp Web is the simplest method to spy on account data, but you can also use the victim's phone backups. WhatsApp apps save every conversation or chat every day to iCloud if you are using an iPhone or to Google Drive if you are using an Android.
Undeniably, if someone has access to your iCloud or Google Drive account, they automatically have direct access to the backups of your chats or conversations on WhatsApp. All necessary data can be extracted thanks to these backups.
How to spy on WhatsApp with spyware for mobile phones (Snoopza.com)
There are several spyware apps on the market nowadays that allow you to monitor WhatsApp activities.
The best spyware it should be free. The app should work, i.e. it must be real and it should work on any device.
Choosing the best spyware can be a herculean task for you, so we've provided the best free spyware apps: Snoopza, the best spy app, followed by Hoverwatch, mSpy, TheTruthSpy and AppSpy.
Snoopza is one of the most popular free WhatsApp spy apps
If you are looking for the most powerful app with the most innovative features, Snoopza is the ideal spyware app for you.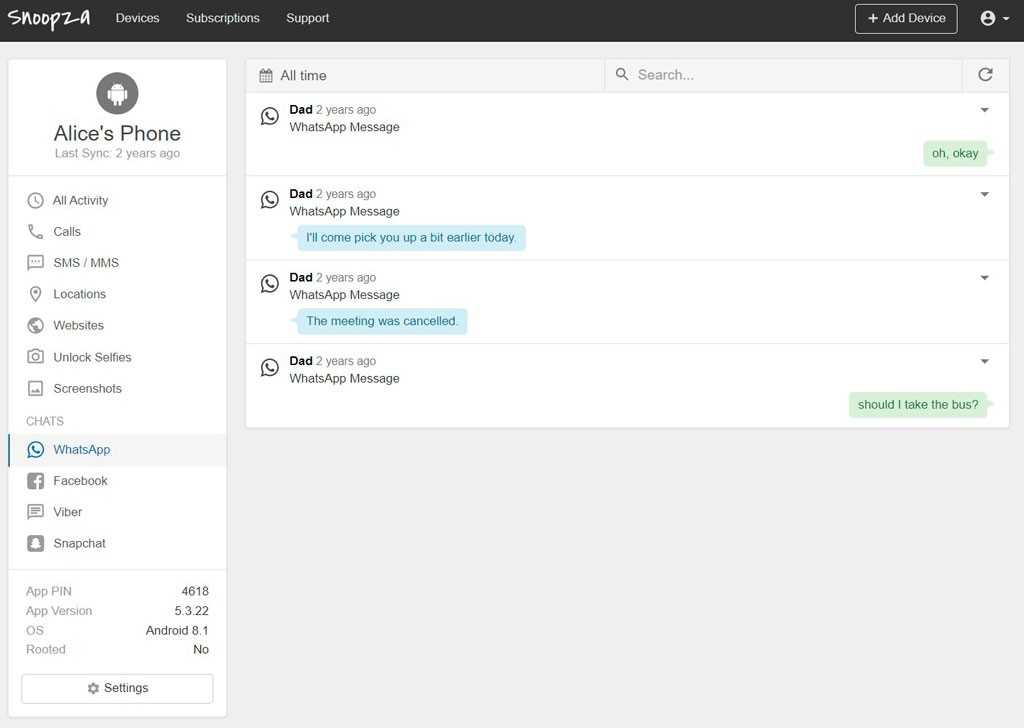 Snoopza is used by many and helps solve various problems both at work and at home. Many parents and business people use this app which is why it is gaining such popularity.
With Snoopza you can invisibly monitor any system or device. Nothing appears on the tracked device. If you have access to Snoopza, you have access to its great features that will cost you less than your morning coffee.
The app works efficiently on every smartphone and also on every network. It is simple to install and everyone can use the app.
Snoopza sends all data to the web account, data such as location or calls. Using this GPS enabled spy app, you can access someone else's device and make the most of it.
The main features of Snoopza
If you are planning to install and use the fantastic and popular spyware app called Snoopza, you must be aware of functionality it provides:
With the Snoopza app you can record calls.
You will be able to read the messages sent by popular messengers like Skype, WhatsApp, etc.
Monitor various Facebook activities.
Track or save different files sent and received, be it videos, audio recordings or photos.
Track the location of the device.
Take photos and screenshots of the camera.
Get data or information when you change your SIM.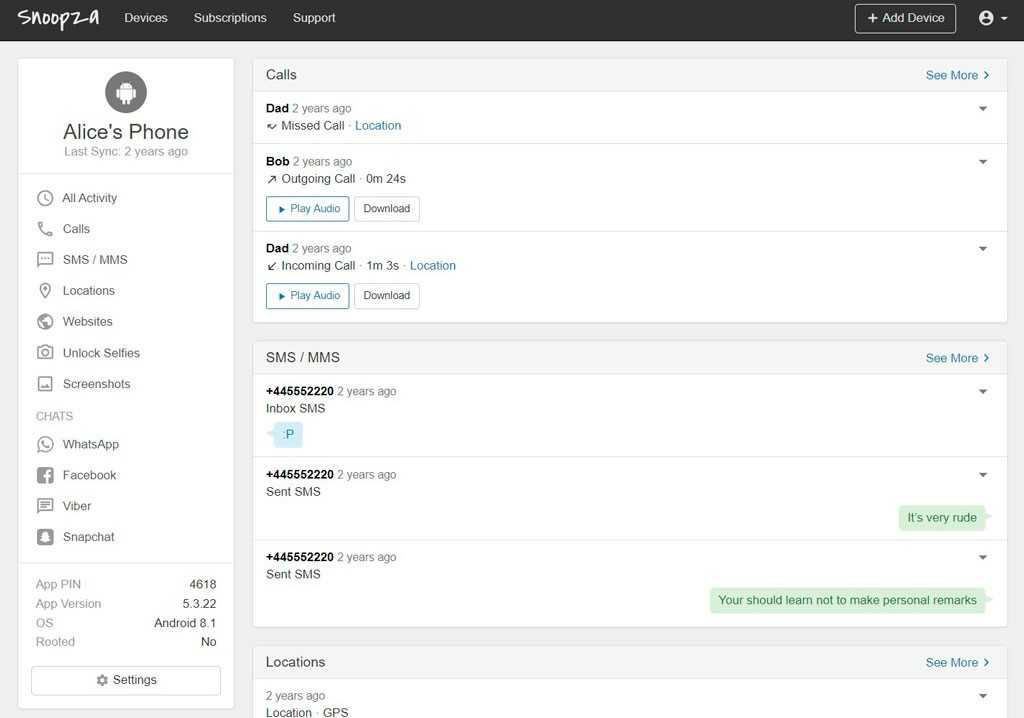 How to spy on WhatsApp, the conclusions
In summary, it's always nice to try all the spyware apps for WhatsApp chats and then decide for yourself which one is the most ideal for you.
But if you don't have time to install and try them all, go for Snoopza. It is the most popular WhatsApp spy app and the most efficient and intuitive with a range of innovative features and tools.
The article How to spy on WhatsApp comes from TechGameWorld.com.