Huawei dedicated a mural to the new smartphone of the nova series, HUAWEI nova 9, which interprets some of its main features in a creative way, inspired by the world of the youngest. The street art work is made by the illustrator and designer But Giorgini and until the end of the month it will be possible to admire at Columns of San Lorenzo, one of the most central and lively areas of Milan.
Huawei: a mural for Nova 9
HUAWEI nova 9 is ultra slim, has display YOU ARE curved to display all kinds of content, including gaming, a powerful camera system with 50MP Ultra Vision Camera and high-end video capabilities, including Dual View mode. The true source of inspiration for the work is the character of the user for whom nova 9 was created: young, very dynamic, with a strong-colored personality.
Colors and geometric lines give life to human figures who listen to music, use the smartphone for selfies and content creation just like the new generations do in everyday life. This is the protagonist world of the mural, the world in which nova 9 is placed as an innovative and trendy device.
The sketch was made all digitally with HUAWEI MatePad 11, the tablet with display that supports a refresh rate of 120Hz and a DCI-P3 color gamut. Thanks to HUAWEI M-Pencil, the highly responsive second generation stylus with an input latency of just 2ms, it allows you to write and draw in a very natural way.
"This initiative is part of a wider Out of Home campaign of billboards dedicated to nova 9 and other products of the Huawei ecosystem. We wanted to add a new mode of communication to traditional planning, that of the mural and street art which, in addition to giving visibility to a new product, could also enrich the city and give a work of art to its inhabitants ", comments Alessandro Sironi, Head of Marketing and Communication Huawei CBG Italia.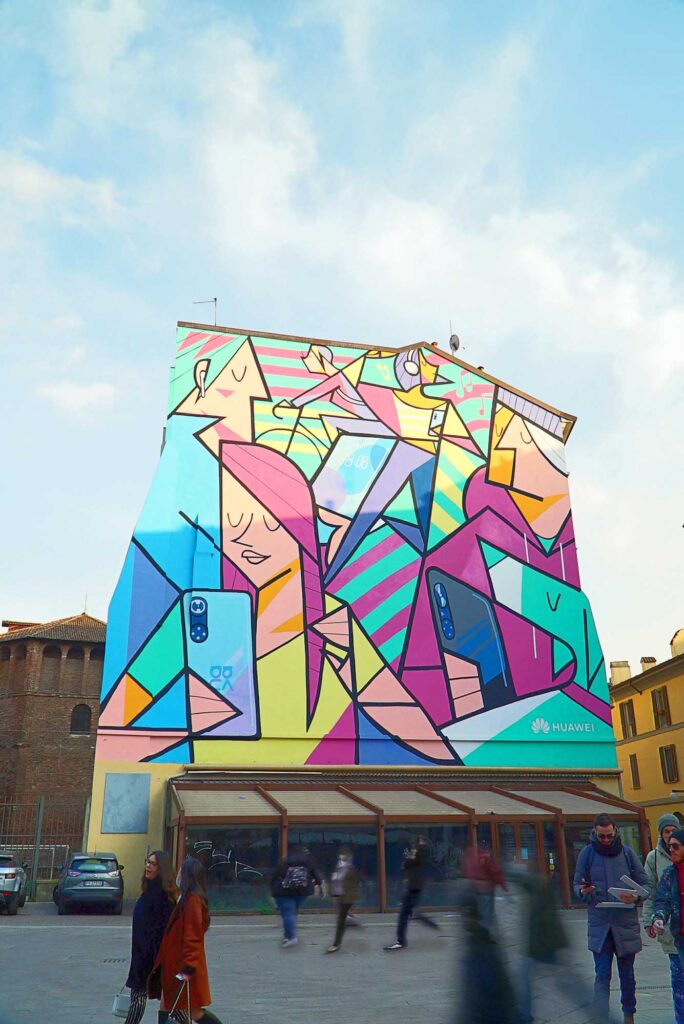 "Huawei guided me in the project of the mural, providing me with the mood for the launch of the new nova 9. It is a smartphone with state-of-the-art cameras and video features designed for those who love to tell their life on social media", he explains But Giorgini. "This is why I have included details that recall a world of creativity with references to fashion, but also to music and dance, all elements that represent a young audience attentive to fashion and new trends. As I usually do for illustrations, I use shapes, colors and geometric lines to create a single composition, a large mosaic of the story I want to tell. "