Promotions begin on the Huawei Store for many products and AppGallery celebrates 120,000 apps integrated into HMS Core. Let's find out all the offers
Today begins the new season with many offers on the Huawei Store: protagonists are the brand new earphones TWS FreeBuds 4i that insure ten hours of use with a single recharge, now available for purchase a 89,00€ with in gift HUAWEI Band 4 plus three months of Huawei Music included and a colored case, and HUAWEI WatchFit Elegant, the version with clock face in steel of the beloved HUAWEI WatchFit, for sale with Smart Body stairs only 109,00€.
Huawei Store promotions: offers
Available in colors Ceramic White, Carbon Black and, exclusively on the Huawei Store, in the version in Honey Red, the in-ear headphones with active cancellation of noise (ANC), powerful battery and super fast charging are perfect for those looking for an audio product withprolonged autonomy for the management of phone calls and for listening to the music. And to test the battery life of the Huawei FreeBuds 4i, it is available on HUAWEI Music – Huawei's proprietary music player – an exclusive playlist of 10 hours of duration, composed by two hundred songs selected among the over 50 million present on the app.
But Huawei's spring offers don't end there: HUAWEI Mate 40 Pro, the latest addition to the Mate family, is available until March 26 with the speaker included HUAWEI Sound X a 1.149,00€, while for the P40 family, HUAWEI P40 Pro Plus, with Huawei FreeBuds Pro e HUAWEI SuperCharge Wireless Charger, is available at the price of 1.199,00€ e HUAWEI P40 Pro a 699,00€ instead of 1.049,90€. In addition, for all those who buy one of the smartphones in promotion, Huawei makes more available € 50.00 discount using the code A50EOFF. By entering the code at check-out, smartphones will be available with the following prices: HUAWEI Mate 40 Pro a 1.099,00€; HUAWEI P40 Pro Plus a 1.149,00€; HAUWEI P40 Pro a 649€.
Lot of others are i products of the Huawei ecosystem in promotion on the occasion of the arrival of the new season and to discover them just connect to the following link.
Furthermore, anyone who purchases on the Huawei Store will be entitled to the service of fast delivery (in one / two working days), to free shipping for products throughout the national territory, al free return within 14 days of purchase, as well as a assistance service dedicated 7 days a week.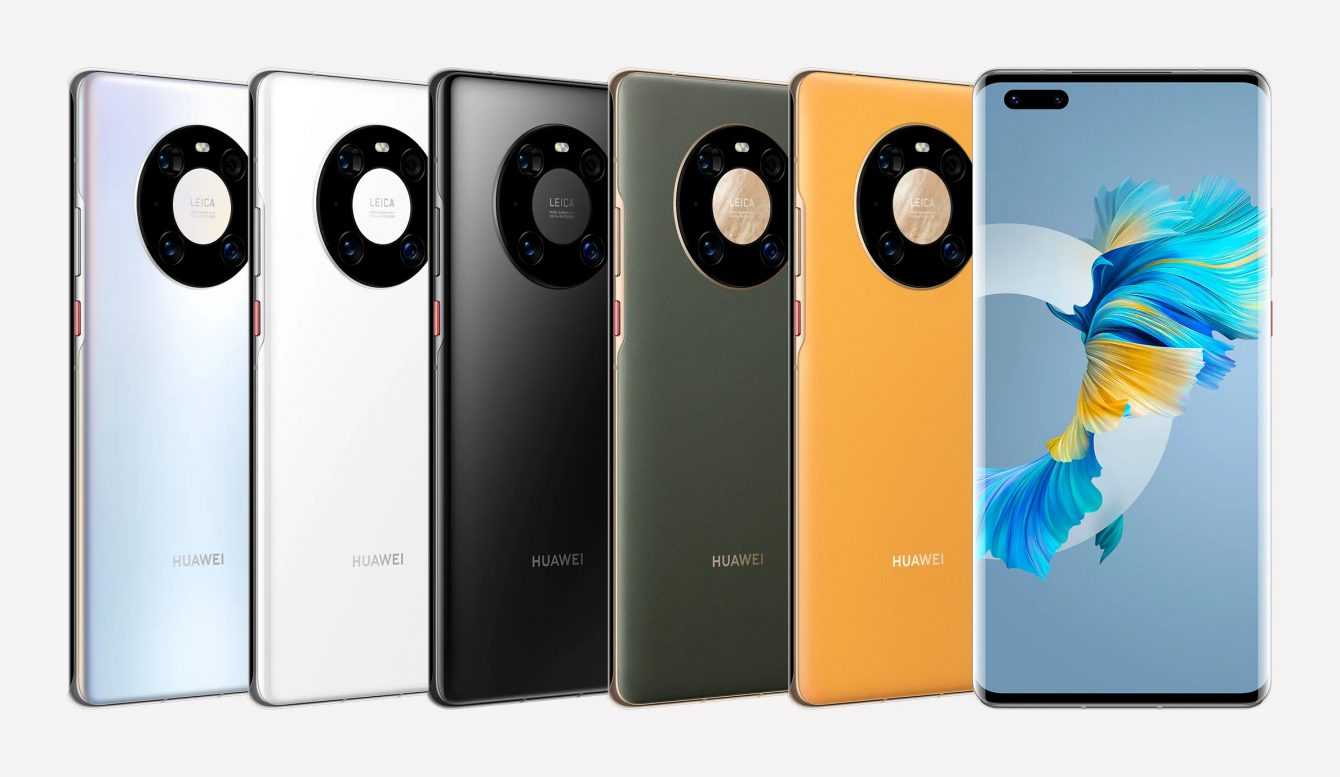 Huawei Store Promotions: A Successful Year
The smartphones on offer as part of the spring promotion use the interface EMUI and come with Huawei Mobile Service with pre-installed HUAWEI AppGallery. Huawei's own marketplace, the third largest app store globally, has cut numerous achievements. The first was a year after the announcement at the Mobile World Congress in 2020, coming to count 120.000 app integrated into HMS Core. They are also present 2.3 million registered developers, an 83% increase in app distribution and a growth in 33% of active users monthly.
Only in 2020 i download on HUAWEI AppGallery have achieved i 384.4 billion around the world and beyond 42 million only in Europe. The offer of available applications followed one development in parallel overall and local to bring the app more relevant to users of all countries.
"Over the last year we have all had the opportunity to realize how much having performing and practical products available can make a difference in everyday life, for the management of work and in moments of relaxation and how important it is to have always at hand a wide range of services and applications that are always accessible in a practical and fast way. "
"In Huawei we have concentrated our efforts on building a user-friendly store, constantly enriching our offer of apps, thanks to the work with numerous partners, to become a reference point in the market"
I comments of Stephen Duan, General Manager Consumer Business Group Huawei Italia.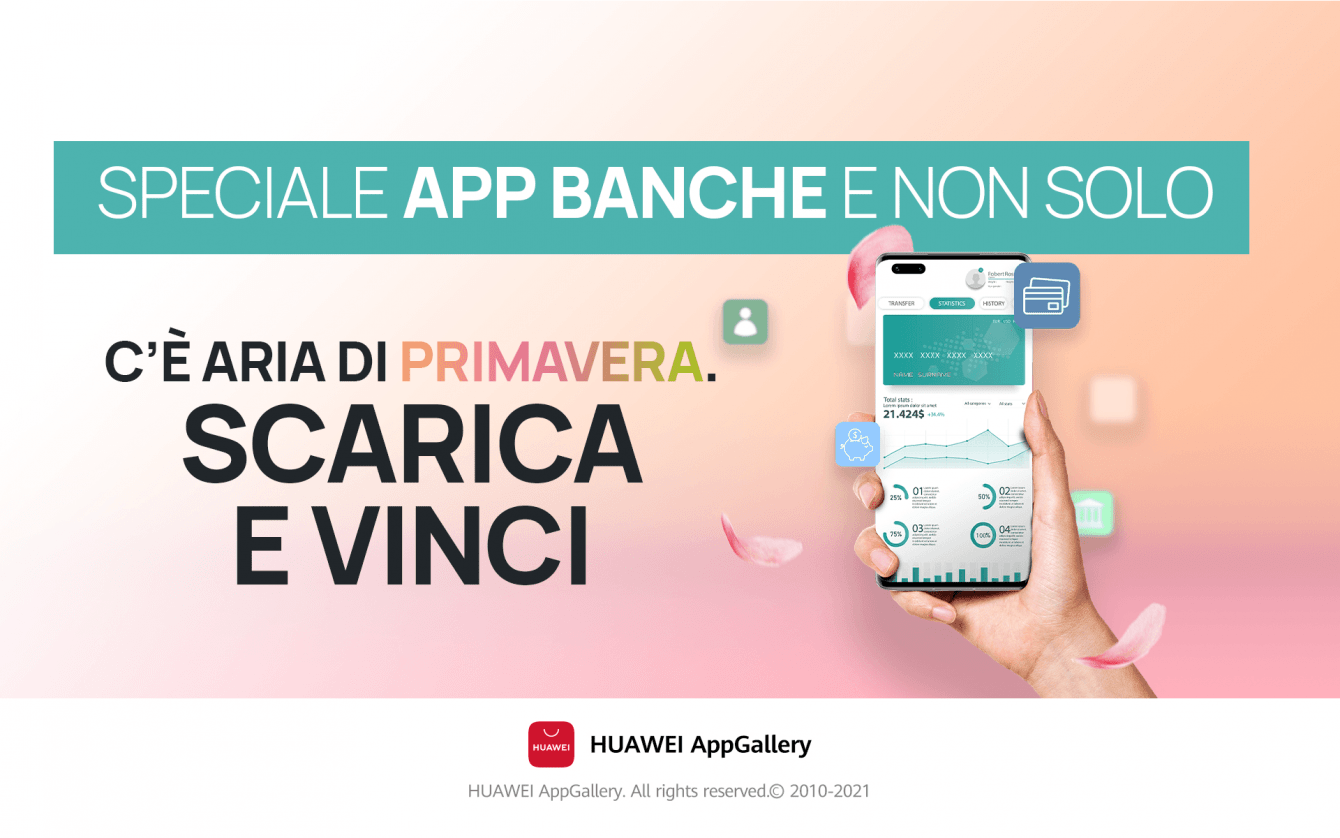 Collaboration with banks
Partners who choose to make their apps available on the HUAWEI AppGallery enjoy the full support of dedicated Huawei teams. The apps available on the HUAWEI AppGallery are verified and have passed four levels of security before being published on the platform. This demonstrates thecommitment in wanting to build one platform which aims at to protect the privacy and the safety of users offering a unique experience.
AppGallery currently offers 18 app categories, including service apps, games, shopping, navigation and transportation tools, news, social media, and more. The banking sector is at the forefront of the expansion of the HUAWEI AppGallery in Italy:
"Intesa Sanpaolo and Widiba are among the most recent banking partners that made their debut on the HUAWEI AppGallery in 2021. We are constantly working to offer our consumers an ever-increasing number of apps that are useful in everyday life, with a special focus on banking apps, considered fundamental today. Our commitment to increasing the number of apps available on the HUAWEI AppGallery continues with great determination with the aim of making the user experience of the Huawei ecosystem ever more complete, efficient and secure for all our users "
comments Pier Giorgio Furcas, Deputy General Manager Huawei Consumer Business Group Italia.
The banking services available to date on the Huawei app ecosystem include, in addition to Intesa Sanpaolo and Widiba: Mediolanum, Fineco, UBI Banca, Webank, Satispay, Bancomat Pay, Hype, Nexi Pay, Banca Sella, YouApp, Smart Mobile Banking BPER , MyCartaBCC, RelaxBanking Mobile, YAP, Illimity, IW Bank. And for grant access banking services also to customers of financial institutions less common or to whoever is a current account holder at banks that non they have yet to develop an app for HMS devices, it is available from today on HUAWEI AppGallery Connecta Open.
Huawei Store promotions: the Connecta Open initiative
Connect Open is an app from Popular Bank of Puglia and Basilicata, created by LINKS Management and Technology, which allows you to handle a digital wallet extended to every current account, independently from bank of which you are a customer. Users thus have the option of log into to all services offered by own institution credit from Connecta Open, with the advantage of controlling multiple accounts, independently from the bank of membership, from a single app.
The arrival of Connecta Open and the decided increase of banking apps available on the HUAWEI AppGallery represent a important piece of Huawei's commitment to a concrete innovation path that currently sees over 12,000 apps released on the AppGallery in Italy alone. Beyond al banking sector HUAWEI AppGallery has seen a big one increase of app available in gaming, in services and inentertainment.
The goal for the future is to increase further the offer of applications available. For this purpose, and with the will to bring together all Italian developers which have as a common interest the passion for the new ones technology, Huawei announces the birth of HDG Italia, the first official HUAWEI Community Dev in Europe. HDG Italia is a group part of the non-profit Community network HUAWEI Developer Groups (HDG) that unites the Italian developers who want to grow up e form to share experiences and collaborate with each other.
Download and win with HUAWEI AppGallery
To celebrate the achievements with the most recent release of banking applications HUAWEI AppGallery puts numerous products to be won and Huawei premium services including HUAWEI Mate 40 Pro, HUAWEI WatchFit, voucher per HUAWEI Video and coupons worth 50,00€. All users who they will download one of banking apps associated with the spring campaign will be able to to attempt the Fortune and try to win one of the prizes up for grabs until April 7.
Will you take advantage of Huawei Store promotions? Let us know yours in the comments section, then I invite you to follow our mobile section so as not to miss any news or video-reviews.