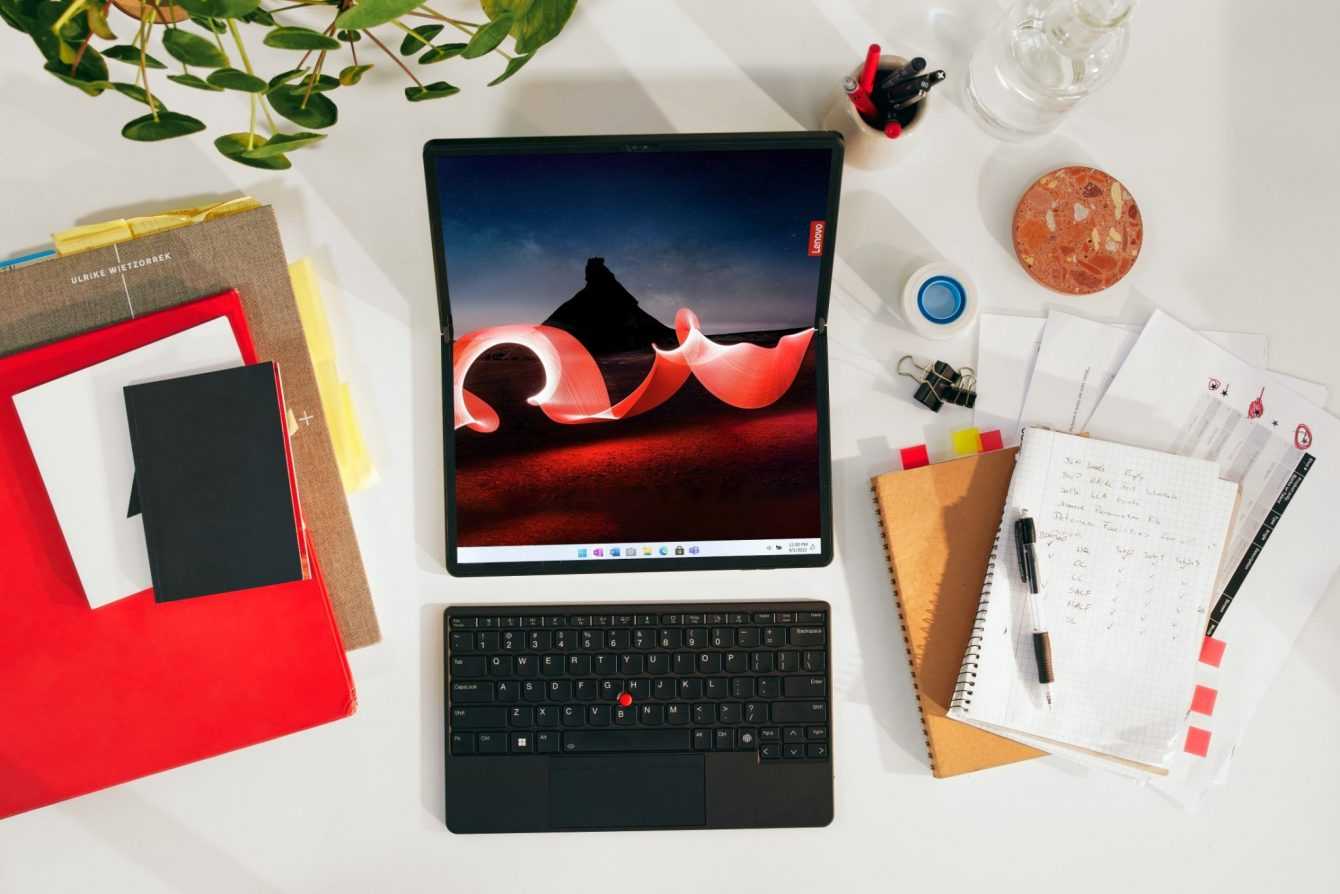 The technology of the future arrives today with Lenovo's new generation 16 "ThinkPad X1 Fold
The company Lenovo announced ThinkPad X1 Fold new generation that redefines the category of Foldable PCs created by Lenovo in 2020. The new ThinkPad X1 Fold is designed to offer full PC performance with a larger screen area, while retaining the ultra-portability that the innovative first generation of the device offered. ThinkPad X1 Fold is the The world's lightest 16-inch portable business device.
This new generation is versatile, powerful and portable, with an even slimmer design that can be conveniently used as a primary PC. Improving a PC that defines a new category hasn't been easy, but Lenovo has done just that. Through a combination of customer feedback and end-user research. The innovative design features compared to the previous generation a 16-inch foldable OLED display larger than 22%. In addition, it has a chassis 25% thinner and thinner bezels all around to produce a more streamlined and elegant look. Appearance that stretches with an aluminum frame and a high-performance 100% recycled fabric back cover.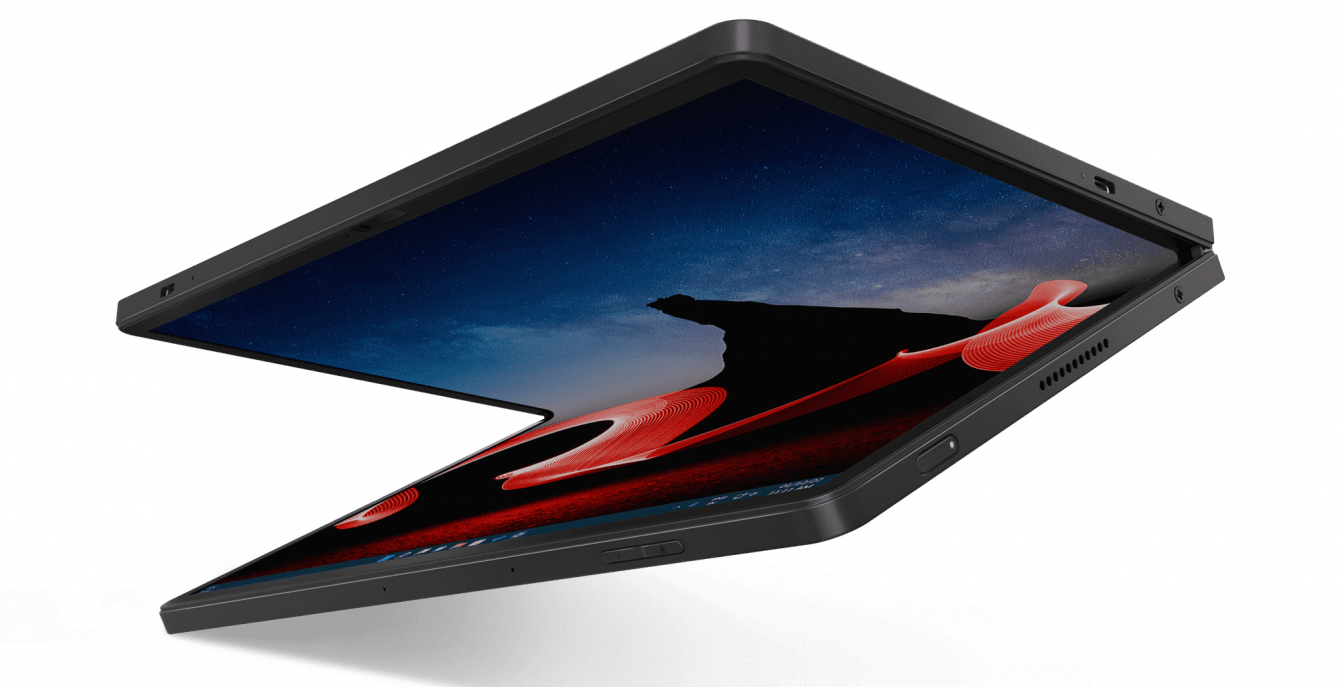 Details of the new Lenovo ThinkPad X1 Fold
The ThinkPad X1 Fold is the best Intel vPro e Intel Evo Design with processors Intel Core i7 up to the twelfth generation and graphics Intel Iris Xe. The next generation ThinkPad X1 Fold offers superlative performance in a foldable form factor. Adding storage space SSD up to 1 TB and memory options up to 32GB LPDDR5 mean Windows 11 Home or Pro will perform brilliantly no matter what mode of use you choose.
A smooth and comfortable typing experience on a device designed to be a primary PC is key. The new generation ThinkPad X1 Fold features an optional ThinkPad keyboard backlit standard size. With TrackPoint and a broad touchpad aptico, which works connected or disconnected from the PC depending on the mode. The keyboard can be magnetically attached to the lower half of the display in laptop mode giving you the experience of a full-featured 12-inch laptop.
Display
More screen space means more productivity, and hybrid work styles have only further highlighted a greater need for screen space. The new ThinkPad X1 Fold delivers much more space and the display fits how users want to use it. The ultra-bright foldable OLED panel is 16.3 inches with a 4: 3 aspect ratio that offers maximum space in a lightweight format. With the versatility to be oriented in portrait or landscape mode and, of course, folded.
It can be configured with an optional magnetic attachment pen that uses the protocol Wacom. In addition, the new ThinkPad X1 Fold can stream programs, movies and sports with a brightness HDR up to 600 nits e in Dolby Vision where supported.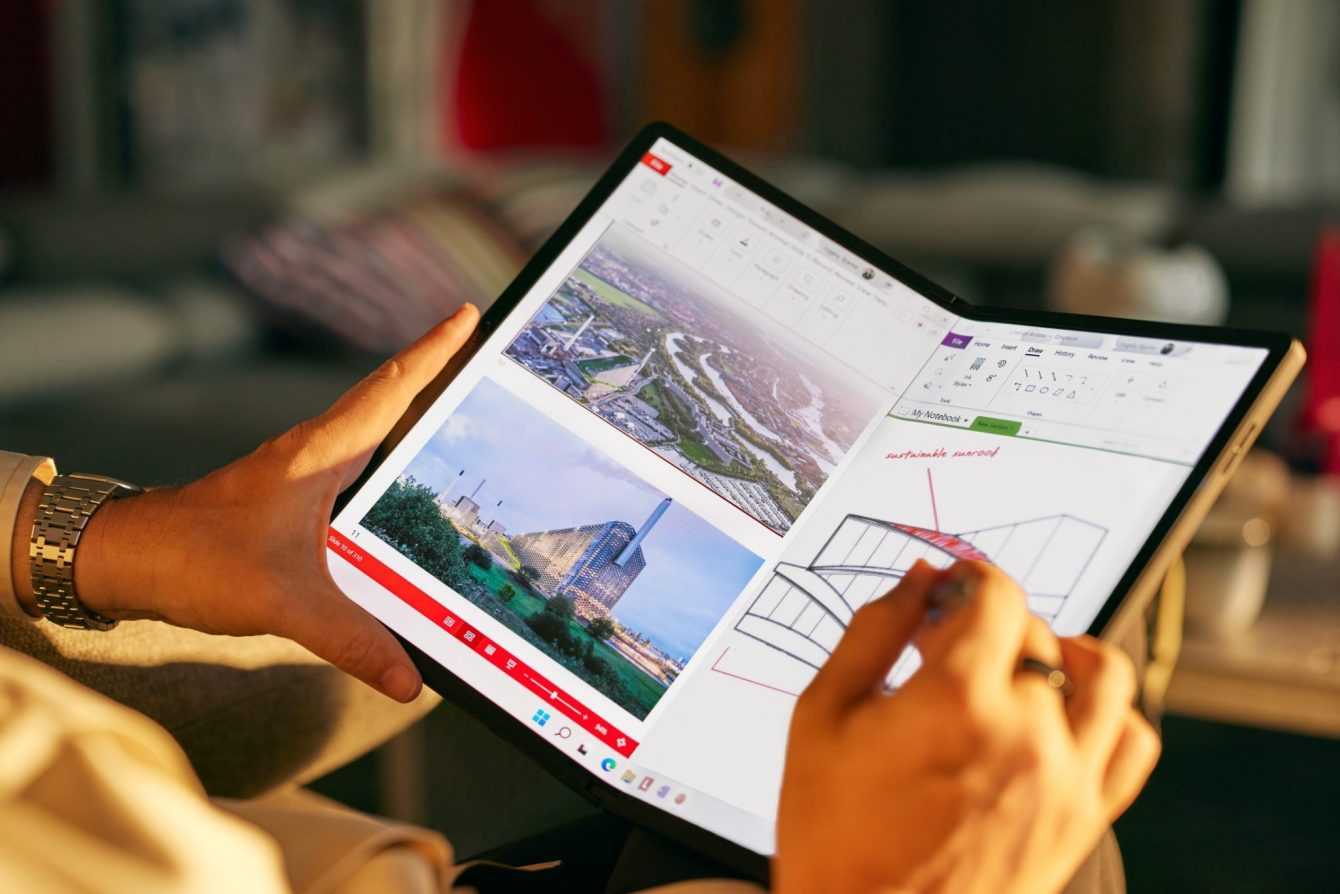 Design
The appearance of devices is becoming more and more important as users seek out personality designs. Design capable of generating a more emotional connection with technology which is increasingly the connector of everyday life. Designing a foldable PC with thinner edges, a larger display and a thinner overall thickness without compromising durability is not without its engineering challenges.
The new ThinkPad X1 Fold presents narrow frames which measure no more than 10mm and only 8.6mm thick when opened for a total thickness from folded only 17.4 mm. Come tutti i laptop ThinkPad, ThinkPad X1 Fold ha passed Lenovo's rigorous tests beyond the standards MIL-STD-810H to maximize device life and reliability. Even the 100% recycled fabric cover high performance has undergone numerous durability and reliability tests.
Maximum versatility with minimum effort
Lenovo continues its path of innovation by adding new methods of use and this is where folding PC technology comes into play. The next-generation ThinkPad X1 Fold truly shapes the future by offering the display and viewing experience of a 16-inch laptop with half the footprint of classic clamshell laptops. Conveniently folds down to the size of a 13-inch laptop resulting compact and easy to carry.
Such an innovative design offers exceptional versatility to adapt to user needs and deliver one of the most compelling personal computing experiences ever. Productivity, collaboration, content consumption, reading, writing, editing and much more become simple tasks to perform in any mode you choose.
How to use
The modes are managed by an intuitive one Mode interface Switcher and I'm:
the classic clamshell mode, or laptop, offers a 12-inch main display with an on-screen keyboard in the lower half or the optional full-size ThinkPad Bluetooth TrackPoint keyboard. This mode is ideal for full productivity in confined spaces such as airplanes, trains and cars.
The landscape mode, or all-in-one mode, offers a remarkable transformation. At their destination, users can open the device in landscape format with the holder and associate the keyboard, connected or detached from the holder. So as to create a phenomenal 16 inch laptop for an experience of multitasking efficient or extraordinary presentations.
The Portrait mode it's a new feature that wowed users in early tests. Rotate the ThinkPad X1 Fold vertically with support for the 16-inch screen, and the PC proves extremely effective for reading and editing long documents, simultaneous social feeds, websites and more.
The book mode It needs no introduction in foldable technology, but remains equally remarkable when reading the latest bestseller on a partially folded 16-inch display.
It's also a very productive way to proofread articles or browse digital publications.
Finally, the tablet mode it can be used vertically or horizontally for more immediate interaction during creative sessions, together with colleagues or family with the help of the magnetic pen and consumption of content on the Dolby Vision-enabled display.
Designed to shape the future
Lenovo designers and engineers have been working on the next generation ThinkPad X1 Fold for create a device that once again transforms the folding category. The larger display required a redesign for both the hinge and the panel itself, and the resulting bell hinge allows the OLED panel to be folded open and closed, resulting in thinner. Over two hundred parts move synchronously within the hinge to maximize display uniformity and durability.
Was developed a new interface, which folds the non-active area improving durability and offering thinner bezels. The shutter structure has also been redesigned to offer several advantages in terms of thinness, more space for the antennas and easier maintenance. Lenovo's engineers have also added a series of foldable graphite sheets that are patent pending and serve to dissipate heat and offer an exceptionally powerful fanless design.
User experience like never before
Design and engineering combine to create auser experience of absolute excellence. The keyboard includes the new app TrackPoint Communications Quick Menu, which offers quick access to camera and microphone functions, and which introduces multimodal use of the PC. Three ports are available USB type-Cincluding two doors Intel Thunderbolt 4so that at least two are always accessible in any mode.
The same principle applies to speakers and microphones with three Dolby speakers Atmos installed where two are always active while preserving stereo sound. There are dual arrays on dual microphones, one of which is active depending on the mode in use, with Dolby Voice which optimizes microphone and speaker performance.
Intel Visual Sensing Controller
To further take advantage of the unique form factor of the new ThinkPad X1 Fold, Lenovo is the first to launch an advanced version of theIntel Visual Sensing Controller (Intel VSC). A chip based on artificial intelligence that guarantees an optimal experience regardless of how the user is using the device. Whether the device is in portrait, landscape, or laptop mode, Intel's VSC automatically manages the camera using the horizontal field of view increased by 75 degrees using Windows 11's automatic framing.
Il intelligent detection makes the new ThinkPad X1 Fold incredibly perceptive and responsive. The "wake-on-approach" function automatically recognizes the user (and only the designated user) to reactivate the system instantly and be ready for use when the user approaches. And, when combined with Windows Hello, offers the simplicity of zero-touch access. For added security, "viewer detection" notifies the user of the prying eyes of anyone who wants to keep their information private. While the "walk-away lock" knows when the user leaves and locks their system to prevent unwanted access.
Smart detection
Il VSC chip from Intel it also uses intelligent detection to optimize display settings by reducing refresh rates based on the type of content. And it uses smart dimming to minimize power consumption when the user is not actively engaged with the display. These features combine to make interacting with the next generation ThinkPad X1 Fold more natural and immediate.
Intel VSC enables users to have a secure, responsive, engaging and energy efficient PC. Without compromising on performance, quality or battery life, using intelligent sensing solutions to smartly manage power consumption and deliver amazing user experiences.
Lenovo's idea
Lenovo ha combined customer feedback and engineering excellence to create one of the most innovative and futuristic computational experiences. Each technological innovation and each functionality of use has been implemented with the best user experience in mind. Lenovo is committed to the long-term evolution of the personal computer, and with the foldable technology of the new generation ThinkPad X1 Fold it has kept its promises. A new start towards the future of personal computing.
Statements regarding Lenovo's new ThinkPad X1 Fold
Creating the world's first foldable PC was a huge technological challenge. Improving the first generation was a great achievement. We want the ThinkPad X1 Fold from …