Welcome to our guide's pit stop – come back often for insights into Mario Kart 8 Deluxe (and DLC) tracks, tracks and circuits
You have probably already noticed, but we have kicked off a guide to Mario Kart 8 Deluxe tracks, tracks and circuits. This project, initially released in conjunction with the latest episodes of the "big brother" dedicated to Super Smash Bros. Ultimate, will keep you company from its writing (August 2022) to late autumn. Of course, the first twelve appointments will be more than valid even for those of you who only have the original su Wii U. From the thirteenth episode onwards, painfully or not, we will speak only and only of the Additional Paths Pass exclusive to the version for Nintendo Switch.
Plan of the work
Here's how we'll tackle the circuits in our Mario Kart 8 Deluxe track and track guide. We will deal with only one championship at a time, dedicating a short one to each of the four courses that compose them introductionand'image explanatory, one Description detailed and a vote to level design. That's right: each episode, in its small size, will partly be a review for the game in the overall picture. For reasons we (albeit vaguely) alluded to during our LIVE A LIVE review, each illustration was shot in portable mode (for the first 16 episodes), thus boasting a resolution that is not necessarily representative of the game. We hope you will understand.
Base game on Wii U and Nintendo Switch – guide to Mario Kart 8 Deluxe tracks, tracks and circuits
The first eight appointments of the guide will cover the contents already available in the base game on Wii U and also in the standard version on Nintendo Switch. The first three episodes will be available on Saturday to give the Smash time to end, while those from the fourth onwards will be released on Tuesday and Thursday replacing the other. We leave you at our index.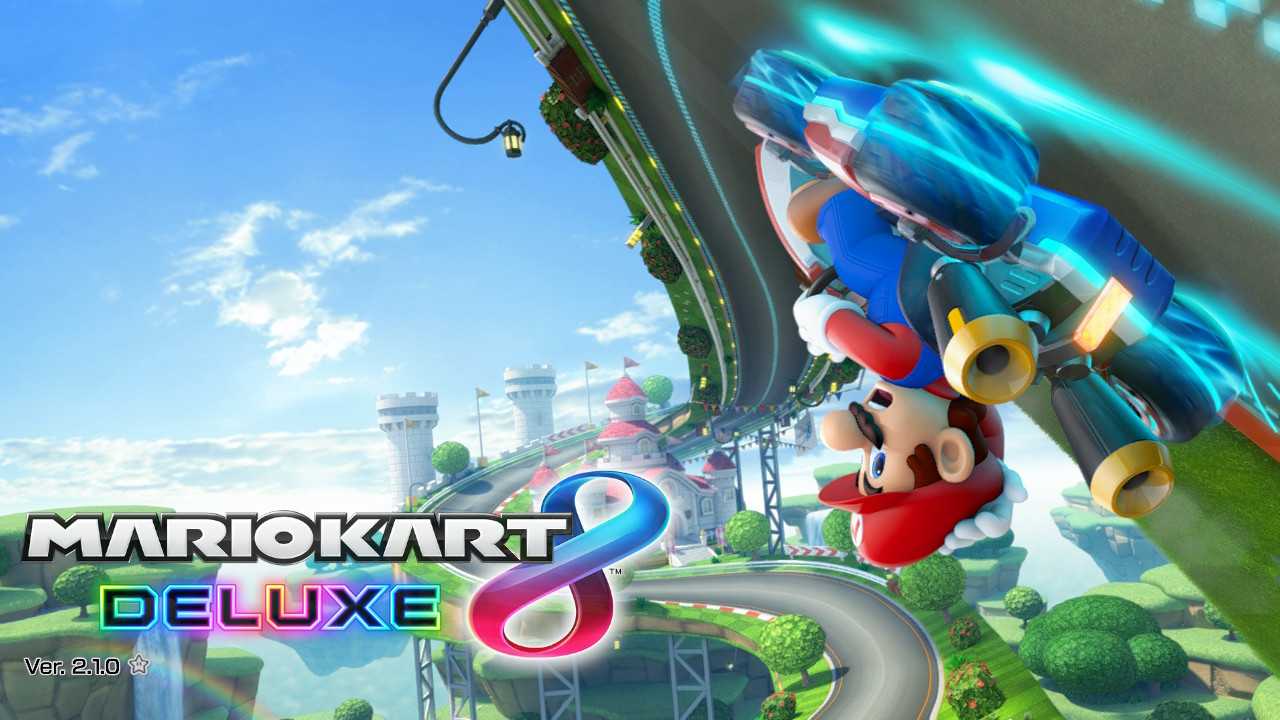 Mushroom Trophy: Mario Kart Stadium, Water Park, Dolce Dolce Canyon, Twomp Ruins. Now available.
Flower Trophy: Mario's Circuit, Toad's Riviera, Tremarella Citadel, Shy Type Waterfalls. September 3.
Star Trophy: Airport of the Sun, Laguna Delfino, Electrodrome, Mount Wario. September 10.
Special Trophy: Cloud Vessel, Tartosso Desert, Bowser Castle, Rainbow Trail. September 13.
Shell Trophy: Wii Green Prairie, GBA Mario Circuit, DS Smack Beach, N64 Toad Highway. September 15.
Banana Trophy: GCN Desert Desert, SNES Donut Plain 3, N64 Royal Track, 3DS Jungle DK. September 20.
Leaf Trophy: DS Wario Stadium, GCN Ice Cream Circuit, 3DS Melodiodromo, N64 Yoshi Valley. September 22.
Lightning Trophy: DS Pista Tic-tac, 3DS Tubirinto Piranha, Wii Volcano Grouch, N64 Pista Arcobaleno. September 27.
Wii U DLC and base game on Nintendo Switch – Mario Kart 8 Deluxe tracks, tracks and circuits guide
Now let's move on to the circuits included in Mario Kart 8 for Wii U such as DLCbut present in Deluxe on Switch by default. These are four championships, for a total of sixteen tracks. Number that, we remember, was the standard of an entire Mario Kart until the episode for the Nintendo DS!
Egg Trophy: GCN Yoshi Circuit, Excitebike Arena, Dragon Wall, Mute City. September 29.
Triforce Trophy: Wii Wario Gold Mine, SNES Rainbow Track, Polar Track, Hyrule Circuit. October 4th.
Trofeo Crossing: GCN Baby Park, GBA Land of Cheese, Boscodromo, Animal Crossing. 6 October.
Campanella Trophy: 3DS Koopa City, GBA Strada del Fiocco, Mariopsylvania, Big Blue. October 11th.
Additional Paths Pass (DLC on Nintendo Switch)
The second half of the entire track and circuit guide will consist of the Additional Paths Pass, that is, the tracks exclusive to Mario Kart 8 Deluxe only for Switch. The episodes up to the sixteenth are already in the pipeline, but those from 17 onwards are just waiting for Nintendo to publish them. Here is the list.
Golden Snap Trophy: Paris Promenade Tour, 3DS Toad Circuit, N64 Cioccocanyon, Wii Outlet Cocco. October 13.
Lucky Cat Trophy: Tokyo Neon Tour, DS Mushroom Hills, GBA Cloud Garden, Ninja Hideout. October 18.
Rapa Trophy: New York View Tour, SNES Mario 3 Circuit, N64 Kalimari Desert, Waluigi DS Flipper. October 20.
Propeller Trophy: Sprint Tour in Sydney, GBA Snow Land, Wii Mushroom Throat, Stracciatella Skies. October 25.
Now it's up to you to tell us yours: does the guide help you? Let us know below, and as always don't forget to stay on TechGameWorld.com for all the most important news for gamers and more. For your purely gaming needs, you can instead find the best discounts in digital format on Instant Gaming.