Samsung Electronics opens the doors of his Samsung Smart Home on the occasion of the Milan Games Week. In fact, this year there will be new ways and locations to enjoy the Milanese games fair. The Outside Milan Games Week brings the world of gaming out of the usual location of Rho Fiera, up to Samsung District. For truly unique events.
Samsung opens the doors of the Smart Home for Fuori Milan Games Week
Great events designed for players at the Milanese headquarters of the Korean multinational. It starts from Saturday 13 November, when 30 users will have a unique experience with the creators Turi e SaddyTech being able to challenge them with a selection of games and trying exceptional products.
From 6 to 9 pm, console stations will also be available with the TV Neo QLED and the projector The Premiere, challenging the host AJG a Fifa 22 on truly gorgeous screens. But the mobile world also has its space: after all, Samsung is the world's leading smartphone manufacturer. In fact, you can use the Galaxy S21 Ultra to play the timeless Clash Royale with Kyrenis. But there are also workstations with gaming monitors Odyssey G9 to play Fortnite. Finally, from 21 you can meet and play a unique quiz with Jumbo.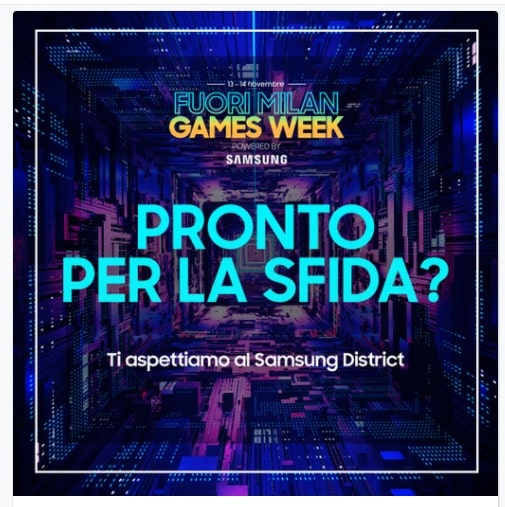 On Sunday 14th there will be 30 fans who will be able to challenge the hosts in different games Turi e True, in addition to the same gaming stations that we have described for Saturday. The creator will also arrive on Sunday evening MochiChuu, which will challenge users to Wild Rift its Galaxy S21 Ultra. Finally, at 9 pm a meeting with the Morning Stars, the Samsung eSport team that will entertain with an interactive themed quiz Fortnite.
In addition, the mascot Jaxon, the app for news on the world of gaming available on the Galaxy Store and Play Store, will entertain throughout the day. You can subscribe to the appointments at this link.