In this episode of the Monster Hunter Rise weapons guide we will tell you about the hunting horn, a powerful support tool
With the release of Monster Hunter: World, the popularity of historic branded hunting games Capcom it has increased dramatically. The landing of a Monster Hunter on fixed consoles and PC has allowed many players to approaching the series for the first time and, thanks to the excellent publicity made by the title, many others are planning to try the new one Monster Hunter Rise coming in a few days on Nintendo Switch.
To approach a new chapter of the series, however, it is necessary to overcome a great initial obstacle, that is the choice of equipment. Monster Hunter weapons really differ a lot from each other and to become skilled hunters it is essential that you find the one that suits you best. To help you with your research we have therefore decided to write one introductory guide for all Monster Hunter Rise weapons and in this new episode we will talk about the hunting horn.
Fight to the beat
The hunting horn is a fast and powerful tool capable of empower your team members through music. Each attack of this weapon is capable of emit musical notes which, when combined correctly, are capable of activating various bonus effects. Furthermore, the horn is classified as a blunt weapon and consequently is able to stun monsters (although not as effective as the hammer).
From this brief description an extremely strong and flashy weapon emerges, but be aware that this has not always been the case. Originally this it was one of the least used weapons by gamers but, as you will discover in the course of this guide, in Monster Hunter Rise the hunting horn it has become much more powerful and fun.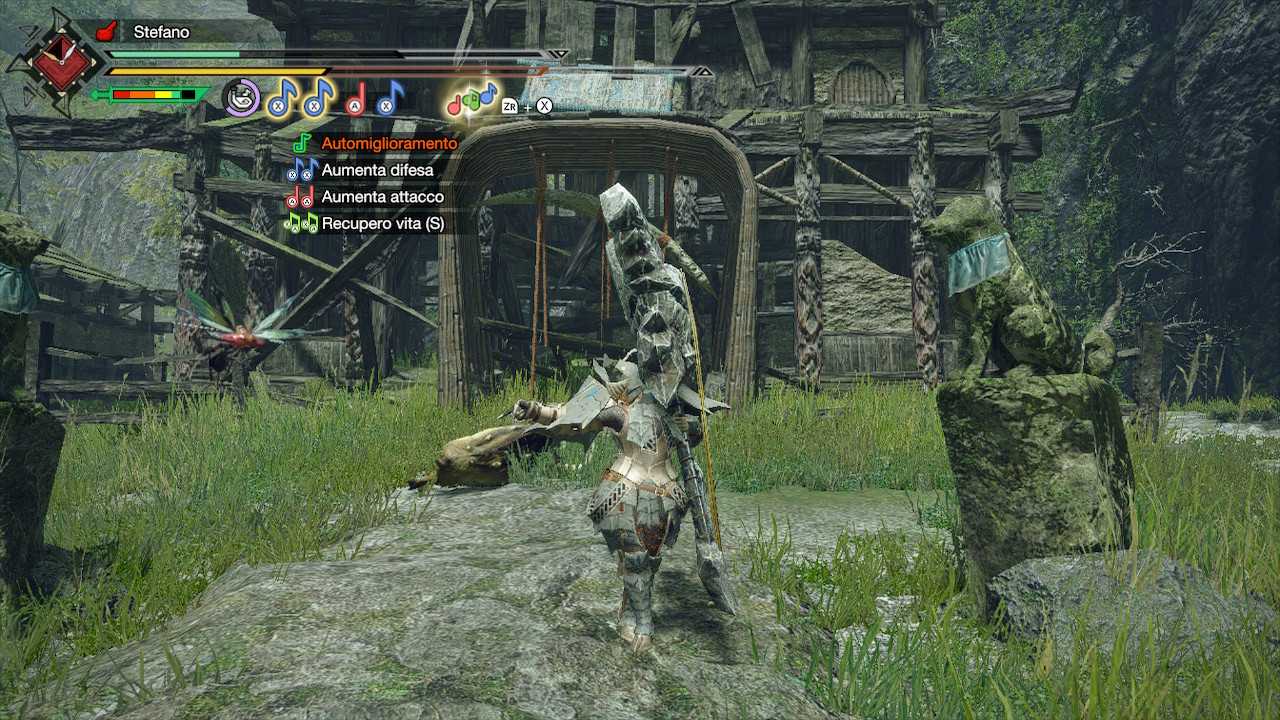 Beat Hard – Monster Hunter Rise Weapons Guide: Hunting Horn
The basic attacks of the hunting horn are quite simple and easy to remember. With "X"You will be able to perform chains of blows which tend slightly to the left, while with "A"You can use similar attacks but instead tend to the right. By pressing "X+AWhile standing still you can start a useful combo that it will initially make you back away a little bit and finally will allow you to unleash a mighty one crash down.
These attacks can be concatenated among them in many different ways and during the hunt it will be up to you to find the best order to be able to constantly damage your prey. But remember that, unlike the other weapons of Monster Hunter Rise, fighting with the hunting horn you will also need to keep in mind the musical notes you are generating (we'll talk more about this mechanic in the next paragraph of the guide).
In addition to the basic moves mentioned above, the horn allows you to perform a further technique by pressing "ZR". This attack doesn't deal much damage, but it is capable of immediately activate a specific buff musical. It also owns a large number of frame of invincibility and consequently it can also be used as a defensive technique. Using this move to avoid monster attacks is not easy, but if you practice enough, you will surely be able to figure out how. apply it while hunting in a natural way.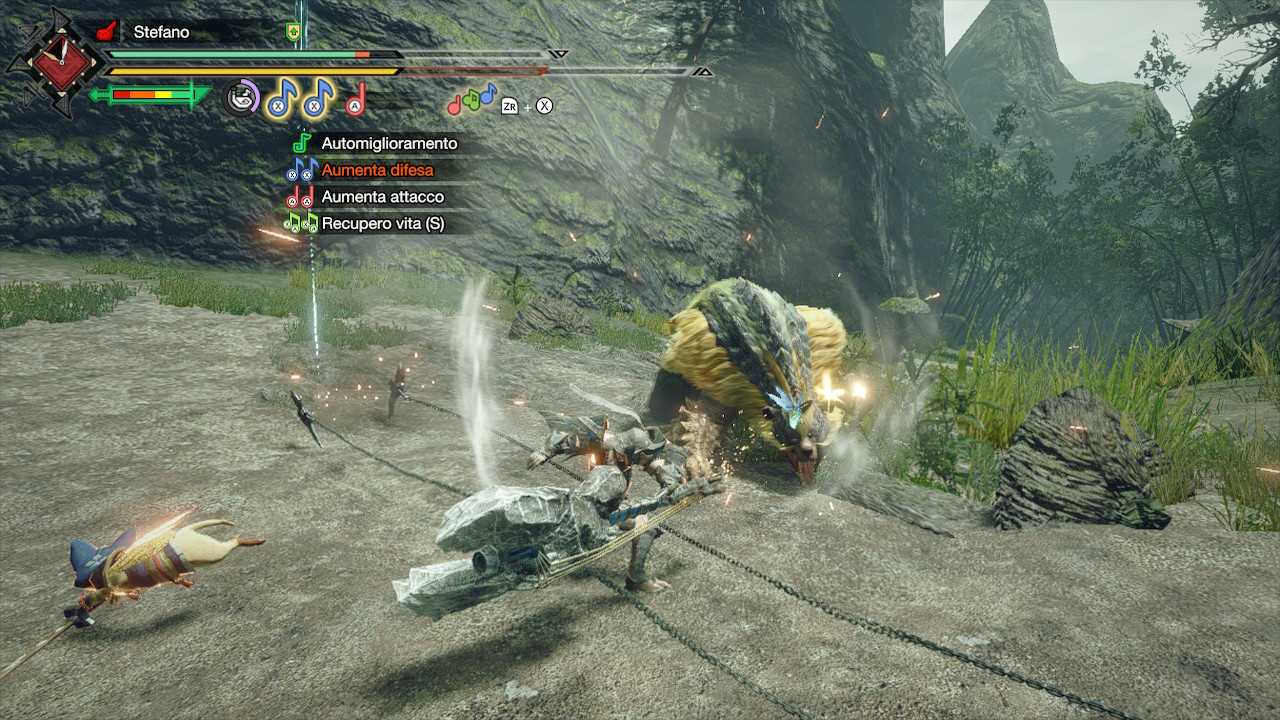 The sound of the hunt – Monster Hunter Rise, weapon guide: hunting horn
Now the point of our guide has finally arrived in which we will explain how to use the melodies, that is the mechanic that distinguishes the hunting horn from all the other weapons of Monster Hunter Rise. As we have already told you, each time you perform an attack you will activate at the same time a specific musical note. Consequently you will have available 3 note diverse applicable by pressing "X", "A" e "X+A".
Once activated, the notes they will go to position themselves on a score placed under your resistance bar and, according to their order, you can activate melodies. In the demo to activate the buffs it was enough to line up two notes of the same type, but this will likely change based on the type of hunting horn equipped.
After placing on the score at least one note per type you can press "ZR + X"To play an extra melody called harmonic trio. Once activated, this technique will allow your hunter to perform a long and powerful series of attacks that is also capable of instantly apply the effects of all your melodies.
On top of that, the hunting horn also has a powerful extra technique called infernal melody. To activate it you will first have to fill the bar located to the left of the score hitting monsters repeatedly, you will then have to unleash a harmonic trio and finally you will have to to press "ZR" at the end of the animation. This move allows you to land an extra attack that will trigger another one as well very powerful personal buff.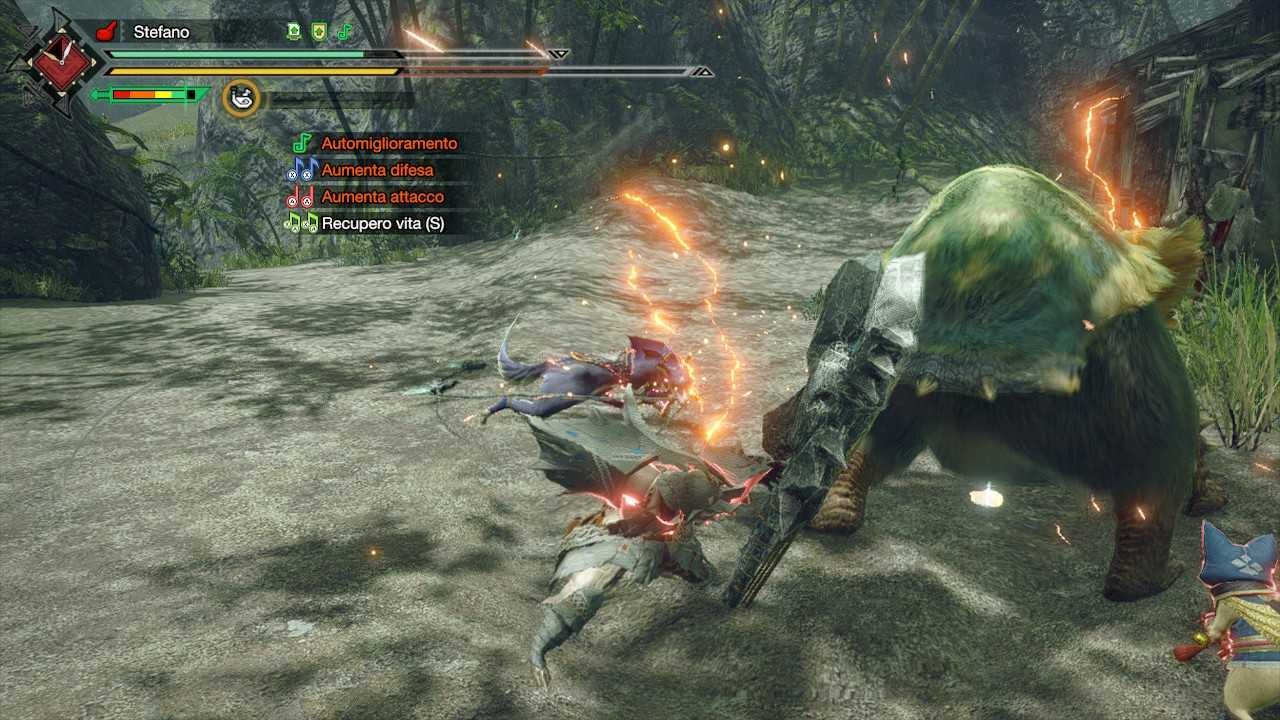 Wire Bug Attacks – Monster Hunter Rise, Weapons Guide: Hunting Horn
The biggest novelty introduced in this chapter of the series are the wire insects, creatures capable of helping hunters in both combat and exploration. In fact, thanks to the silk of these little creatures you will be able to move comfortably in mid-air and run powerful moves called silkworm attacks. Each weapon has two silk silk attacks that can be used by pressing "ZL + X / A"(Or"R+X/A"For ranged weapons) that will consume one or two charges from the Thread Bug Bar once activated.
Hunting horn wire insect attacks are: slip rhythm e earthquake. Rhythm Slide is a powerful attack that will allow you to dash forward and perform a long chain of attacks. This move deals a lot of damage and will also allow you to activate the buff of your attack with "ZR".
Earthquake on the other hand is a powerful move that allows you to skewer monsters with the e hit them with powerful sound waves. Despite the very small range, this attack is extremely powerful and is capable of devastating even the toughest monsters in an instant.
In this paragraph of the guide we have talked about the attacks with wire insect for the hunting horn present in the latest demo of Monster Hunter Rise, but before concluding we would like to remind you that in the full game these techniques may vary based on weapons or other factors. In the various videos shown by Capcom there are several attacks unusable in the demo, so it is likely that you can change them in some way.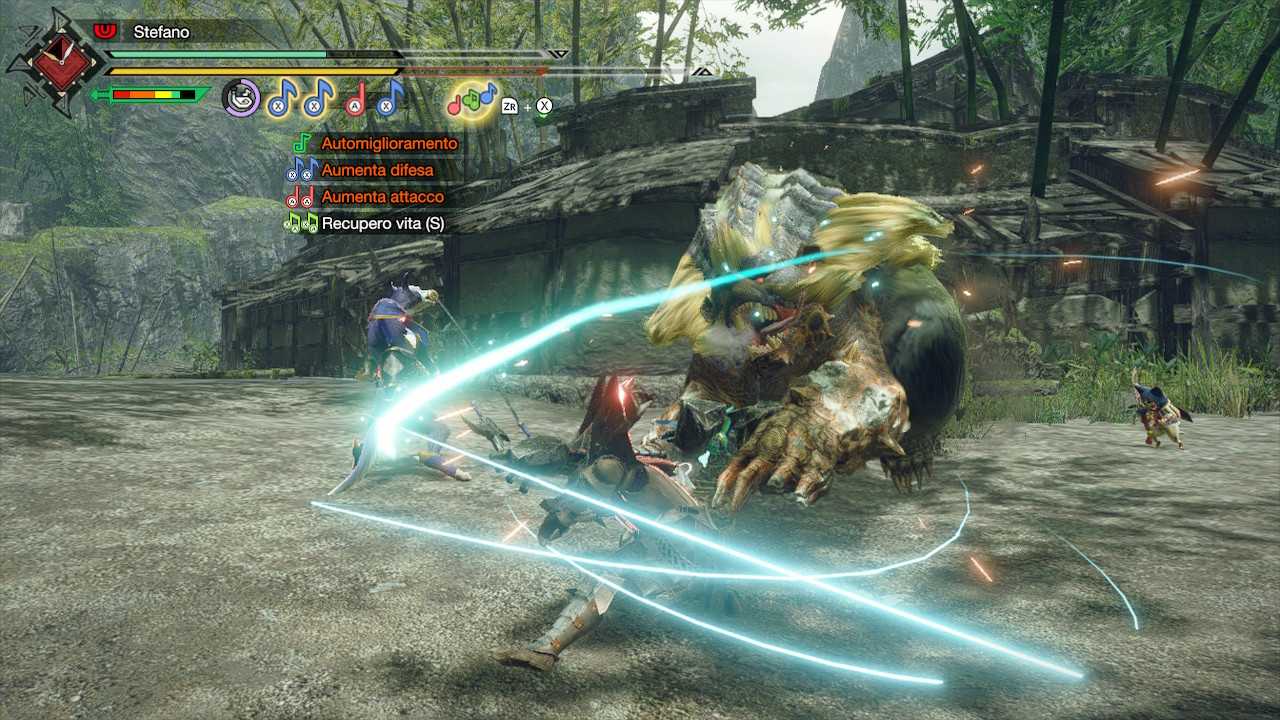 Music in the blood
This concludes the episode of our Monster Hunter Rise weapons guide dedicated to the hunting horn. Now you just have to wait for the game to come out for show everyone your skills as a musician.
In case you want to know more about the game, we invite you to read ours preview. Furthermore, if this guide dedicated to the hunting horn has been useful to you, we suggest you check out the other articles on Monster Hunter Rise weapons here on the site as well:
Monster Hunter Rise sarà available from March 26 for Nintendo Switch. If you are interested in staying up to date with all the news on the world of video games and much more, then continue to follow us here on TechGameWorld.com. Furthermore, in case you want to buy some games at an advantageous price, we suggest you take a look at the many offers on Instant Gaming.