If we talk about retrogaming, it is impossible not to talk about graphic adventures and it is equally impossible not to mention the Monkey Island saga which, under its "curse", has bewitched thousands of fans of the genre as evidenced by "The Curse of Monkey Island"
So continue our journey within the retrogaming column, started with the good old Super Mario 64, which today takes us to more Caribbean and pirate landscapes with "The Curse of Monkey Island." Before continuing I would like to point out that I have chosen the third chapter because, in addition to being the first one I have ever played, it is also the one that takes me back to much more peaceful days between the benches of elementary school or at my friends' house when we called it simply "Monkey Island 3".
I know that many have called it a swan song and that his sales they weren't the best, especially if we consider the first two, but I've been working on it lately and it's been like a pleasant blast from the past. Well, finished the amarcord moment, let's get back to us.
It was the year 1997
Except for the more "extreme" 3D started with the disappointing Escape from Monkey Island, (I still shiver today) "The Curse of Monkey IslandIs the third jewel in a treasure chest worthy of the best of pirates that proudly bears the logo of Ron Gilbert's SCUMM graphics engine.
The year was therefore running 1997 and, both for the market of console that gods PC, is a period of great ferment also given the rise of various titles and sagas. Alongside the various platformers, arcades, shooters, horror, sports, strategic, management and so on, the graphic adventures? The answer is absolutely not and "The Curse of Monkey Island" is a perfect example of this, just as it is a perfect example of retrogaming.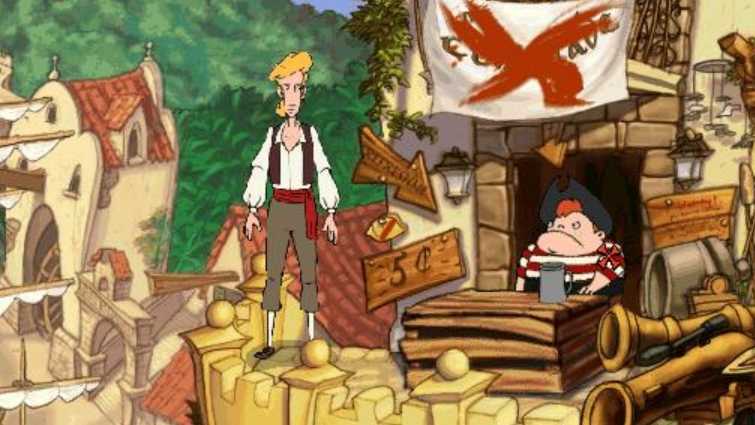 Let's go on a long journey – Retrogaming: "The Curse of Monkey Island"
"The Curse of Monkey Island" is one of the many goodies belonging to the famous, and sadly defunct, LucasArts (and to date retrogaming) which gave birth to other graphic adventures such as the Broken Sword series, Sam & Max, Maniac Mansion , Grim Fandango, Indiana Jones and the Fate of Atlantis and many others. A manufacturer whose funeral was celebrated on a sad day of spring 2013.
Thanks to its much more cartoon-style and colorful graphics, "The Curse of Monkey Island"Is now a real classic point and click genre (if you want you can also add "swear with the inventory") which will always guarantee hours of fun and carefree thanks to a particularly apt soundtrack.
In this regard, it should not be forgotten that it will always be possible select the difficulty of the pirate adventure at the beginning of the game. A sign in wood, in fact, it will make you choose between the standard mode and the more difficult one defined as "The Curse of Monkey Island: Mega – Monkey. A Story of Fanfaroni and Smargiassi Pirates (but with more enigmas) ".
Once we have chosen the modality that best suits us and our degree of patience, we will be ready to set sail for the Seven Three-Headed Monkeys, sorry I meant Seven Seas, the company of the down-and-out pirate captain Guybrush Threepwood!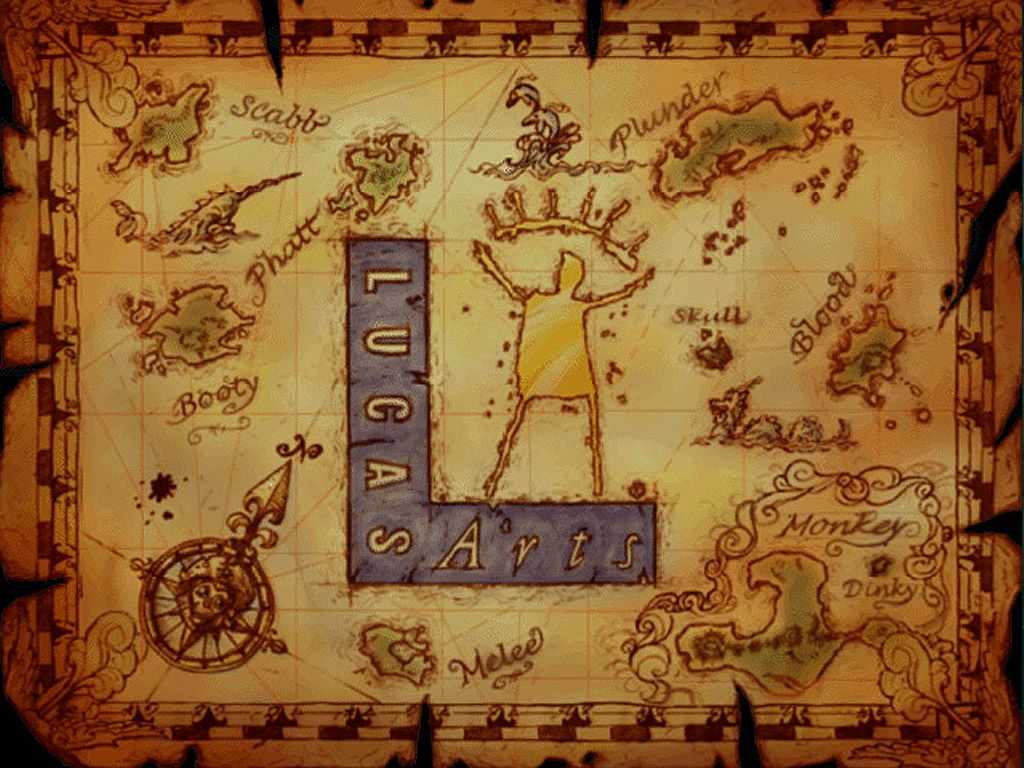 Una storia piratesca – Retrogaming: The Curse of Monkey Island
Set towards the end of the seventeenth century, as well as six years after the previous chapter, "The Curse of Monkey Island" opens with the "fearsome pirate" Guybrush Threepwood, adrift on a bumper car while, intent on writing in his logbook, he briefly tells us how he ended up there after the events narrated in Monkey Island 2: LeChuck's Revenge.
The game will start immediately at "Bombard us" with his irony and nonsense. In addition to being in a bumper car, poor Guybrush would really like some water, fruit, grog and roast chicken, but he doesn't notice how all of this floats next to him as he's too busy writing to realize it.
The bad luck (pass me the term) will want, that he ends up in Plunder Island in the midst of a battle between the ships full of skeletons led by LeChuck and a fort strenuously defended by beloved Elaine who will tease our favorite undead.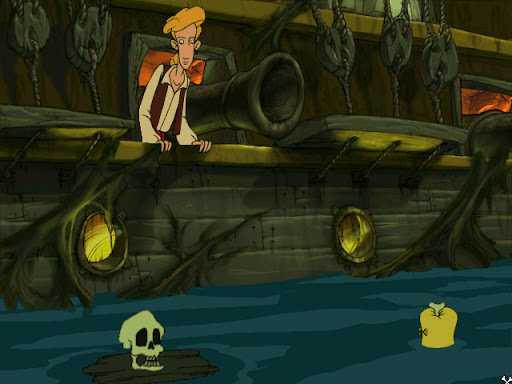 Guybrush will obviously end captured by LeChuck and thrown into the cannon room commanded by Wally. It is from there that our unfortunate protagonist will try to escape. Let's not forget that we will get to know the "scary" Murray talking skull which will even end up destroying the ship with one powerful voodoo cannon.
Fortunately, our hero will be able to escape it and offer a ring to his beloved Elaine which, after putting it on your finger, will turn into one gold statue because of a curse. And guess what: the ring had been stolen from LeChuck's own hold!
Guybrush Threepwood will therefore have to leave for mysterious islands, hallucinating pirates, impossible mysteries and tons of humor, to save his beloved and prevent LeChuck from continuing his work of destruction. Will he make it? First stop Plunder Island, where he will have to find a ship and a crew willing to follow him.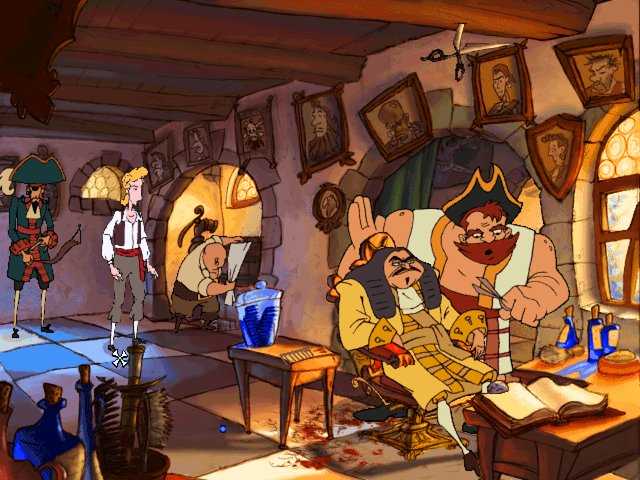 Game Modes and Iconic Characters – Retrogaming: "The Curse of Monkey Island"
Fully playable with the mouse, "The Curse of Monkey Island" takes up the pattern of many point and click graphic adventures. A gold doubloon will make us understand the three things that can be done with an object (take, examine and speak), theInventory it will allow us to transport and combine objects and irony will dominate.
Apart from a very small one moment "FPS" in the first part and the moments of navigation and combat, which will be followed by the famous insulting duels, you just need the mouse to set sail for the most absurd and piratical adventure ever.
When you want to be the Johnny Depp of Pirates of the Caribbean or the rubber band Monkey D. Luffy of One Piece, but in reality you are the "inept" described by Italo Svevo or, more simply, the dear old accountant Fantozzi of Paolo Villaggio, this it could be one good summary to describe our game and our dear protagonist.
Then add a fantastic mix of pirates, tech, devil chickens or not, voodoo and of course monkeys; the pinch of horror offered by Captain LeChuck and his hordes of undead and you will have obtained "The Curse of Monkey Island", a pearl of retrogaming and graphic adventures.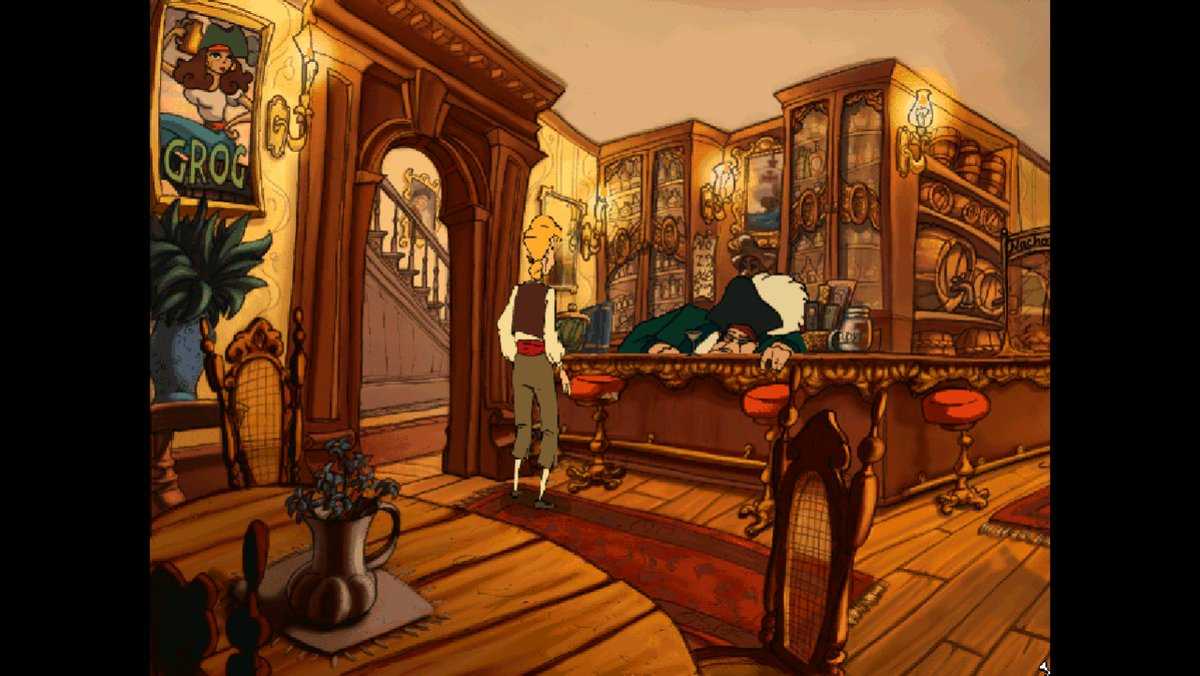 The icing on the cake will be represented by continuous quotes and references. Just to name a couple, I find it useful to mention some crew members such as the gentleman pirate Edward van Helgen and the strongman Haggis McMutton. Both recruited on Plunder Island, a little by deception and a little by cunning, both pirates hide references in their names.
The first is an ace of music, he will launch into a banjo solo which will then become a frenzied electric guitar, in fact it takes its name from the late guitarist Eddie Van Halen. The second is a Scotsman (his name comes from a typical meal of the place cooked in the stomach of sheep) with a lot of kilt and passion for throwing logs.
Another easter egg, this time we can call it that, it is then the discovery of a pirate skeleton which is practically the Grim Fandango previously mentioned inside an inn in Puerto Pollo. I don't know if I'll ever eat there.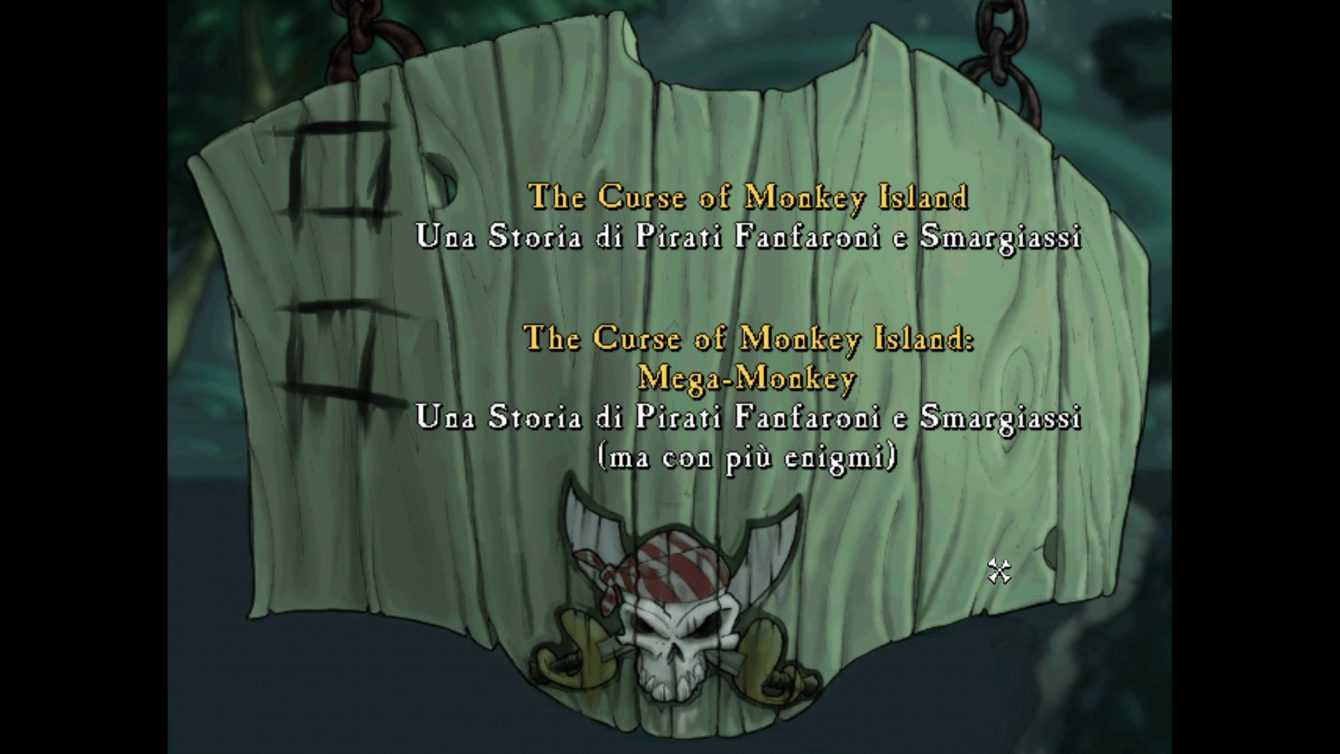 On boarding
"The Curse of Monkey Island" is therefore one of those titles that you cannot help but play and love when it comes to retrogaming. A game that cleverly mixes logic and humor for a unique and, decidedly, pirate result and which, in my opinion, is never talked about enough.
Together with the two previous chapters, "The Curse of Monkey Island" is a real one must for those who grew up on bread and graphic adventures without forgetting that he is still able to get a few laughs and streak his face with a tear or two of nostalgia. We then want to mention the soundtrack? Really well suited and, above all, very fun and upbeat!
That said, you can therefore find the title with some ease at a low price, the other two are available at this link, while on TechGameWorld.com you can stay up to date on everything related to video games of yesterday and today. See you next crew and, above all, watch out for the three-headed monkeys!