Today HMD Global announces six new Nokia smartphones, presenting the C, G and X series. Let's see together the features and prices
HMD Global, the home of Nokia phones and accessories, announces six new smartphones – Nokia X20, Nokia X10, Nokia G20, Nokia G10, Nokia C20 and Nokia C10 (not marketed in Italy) – which have been rationalized in three distinct lines.
The Serie X top of the range, the Serie G mid-range and the series C entry-level they offer all the quality that the consumers expect from the European mobile phone company. Products made for to last, thanks to industry-leading security, to a solidity of level higher e updates software continue e punctual.
"Today's is more important than a normal product launch"
— he claims Florian Seiche, CEO of HMD Global.
"The last 12 months have undoubtedly been challenging, but they have also allowed us to stop, think and prepare for the next big step in our journey that began as a start-up. As a Finnish company, our approach to technology and business is human-first and is reflected in this new range of smartphones. We want people to love their phones. The launch of HMD Mobile – a milestone in our journey towards becoming a 360 ° mobile provider – amplifies this concept, and is only the beginning. We want people to know that we put security at the heart of everything we do – Nokia smartphones come with security and software updates for added peace of mind. And we want people to keep their phones longer, thanks to our durability feature ".
New Nokia smartphones: The words of the CMO
"For our team, innovative thinking translates into making valuable experiences available to those who may not have previously accessed them"
— adds Stephen Taylor, CMO of HMD Global.
"Millions of people rely on a Nokia device for their daily needs, from basic connectivity to payments to creativity. We care about them trusting their phone. That's why our safety offering extends to the new X, G and C ranges – everyone deserves to feel safe. We care about people holding their phones longer. "

"These products are built to last inside and out, thanks to our upgrade promises and superior durability. And we want people to continue to love their device. The X Series allows us to deliver the benefits of our high-end partnerships with Qualcomm and ZEISS Optics. The G Series, on the other hand, represents the perfect balance between specs and affordability, while the C Series stands out in providing high-value technology to the smartphone market. I am proud of the niche we have created in this extremely competitive market ".
Nokia X20 e Nokia X10
Spearheads of the new portfolio, Nokia X20 and Nokia X10 go over the limits mid-range, offering experiences e quality ben above their price. Both are powered by the latest mobile platform Qualcomm Snapdragon 480 5G that offers top performance it's a Truly global 5G. The Nordic design that inspires all Nokia smartphones is matched a three years of security e updates software for added security. With clean interface of Android One, these phones are equipped with Android 11.
The renowned ZEISS optics and the innovative solutions of AI I am the soul of a photographic sector incredibly versatile. With a large display from 6,67″ FHD+ punch-hole, all your content will be displayed on one sharp screen e captivating. Nokia X20 and Nokia X10 are also gifted of case compostabile al 100% included in the box – designed to be resistant but sustainable, so you can keep your phone longer.
Nokia X20 is equipped with an impressive front camera gives 32MP and one quad camera gives 64MP on the back. The brand new feature Dual Sight will activate two cameras at the same time in order to capture more sides of history. Improved further with a series of options of watermarking.
Nokia X10 will satisfy those who have a budget around the 300€. The quad camera gives 48MP with Cinematic capture is completed by a complete suite of tools professional editing, in order to customize, stylize e to share contents of quality.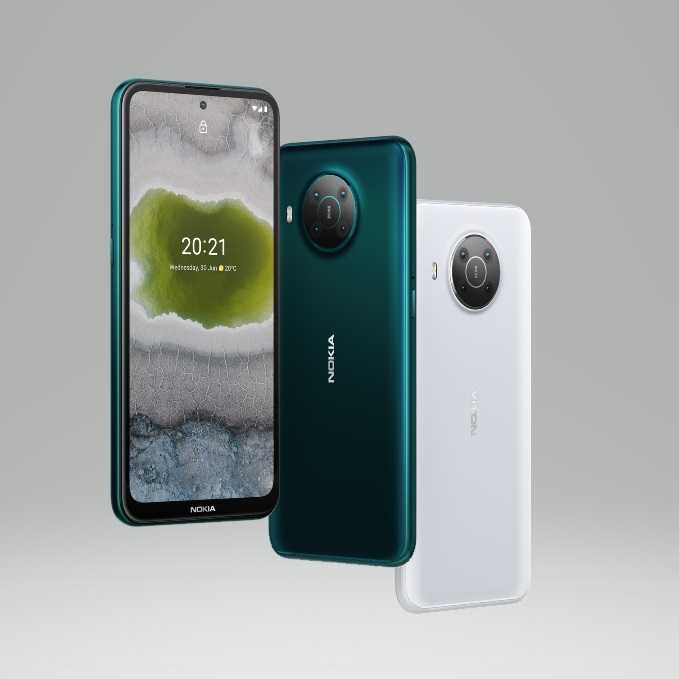 Nokia G20 and Nokia G10
The G series represents the perfect balance to satisfy all of yours daily needs. Both phones in the G range are characterized from a duration of three day battery, the longest on a Nokia smartphone. Nokia G20 is supported by the promise of Android available on Nokia smartphones. It is about three years of security updates monthly to help keep yours data safe e two years of updates operating system. The first devices of the G series bring in dowry longevity, a major safety thanks to face unlock and of side fingerprint and an awesome 6.5 drop display"With a practical brightness boost.
Nokia G20 is one creative studio "On-the-go" that fits in the palm of your hand. With a gorgeous camera gives 48MP, broad space of archiving e audio surround OZO engaging, it is possible to catch e relive yours moments memorable in all of them gloria.
Nokia G10 features triple rear camera and advanced imaging with AI-powered shot, so your memories are perfectly immortalized even in low light situations.
Nokia C20 and Nokia C10 (not marketed in Italy)
Ensuring incredible value, the C series pays off accessible a all the typical technology of smartphone of high quality. The new entries in the range have much-loved features such as the wide display HD+ da 6.5″, at surprising prices. They complete the whole Android 11 (Go edition), allowing the 20% more speed, functionality of improved safety, with updates of safety quarterly for two years.
Nokia C20 is a smartphone from exceptional value for money which comes with prominent features which include the front LED flash e rear to capture every special moment even in conditions of low light.
New Nokia smartphones: HMD Mobile builds on the success of HMD Connect
Also announced today new mobile network di HMD Global, HMD Mobile, which offers simplicity and value to customers. Entering the market as an independent virtual mobile network operator (MVNO), HMD Mobile follows the success of the brand's global roaming solution, HMD Connect. The new service comes launched in UK this month, with a gradual roll-out overall expected in the coming months.
"HMD Mobile is based on the concepts of trust, simplicity and flexibility, where you only pay for what you use every day, without fixed-term subscriptions or bonuses"
— declares Janne Lehtosalo, VPof Services of HMD Global.
"This momentous launch testifies to our ambition to become the one point of contact for all your mobile phone needs."
The range of audio accessories expands with the Nokia Lite Earbuds
With controls intuitive touch for music, voice assistant and calls, i Nokia Lite Earbuds are for sale from today on a global level. Echoing the design premium e the impressive duration of the Nokia phones battery, the pocket case will guarantee approx six refills to your trusted earphones. The equivalent of 36 ore playback, nearly double the industry standard.
New Nokia smartphones: prices and availability
Nokia X20 will be available at global level gives May in Midnight Sun and Nordic Blue colors with 6/128GB e 8/128GB starting from 379€. Prices, configurations and availability in Italy will be communicated in the coming weeks.
Nokia X10 will be available at global level gives June in the colors Forest and Snow with configuration from 6/64GB, 6/128 GB and 4/128GB starting from 329€. Prices, configurations and availability in Italy will be communicated in the coming weeks.
Nokia G20 will be available at global level starting from June in the colors Night and Glacier with configuration from 4/64GB e 4/128GB starting from 179€. Prices, configurations and availability in Italy will be communicated in the coming weeks.
Nokia G10 will be available at global level from the end of April in the colors Night and Dusk with configuration from 3/32GB e 4/64GB starting from 149€. Prices, configurations and availability in Italy will be communicated in the coming weeks
Nokia C20 will be available at global level gives June in the colors Sand and Dark Blue with configuration from 1/16GB, 2/32GB starting from 109€. Prices, configurations and availability in Italy will be communicated in the coming weeks
Nokia Lite Earbuds (BH205) sono available from now in select markets in Polar Sea and Charcoal colors for the price of 39€. Availability and price in Italy will be communicated in the coming weeks.
What do you think of the new Nokia smartphones? Let us know your opinion in the comments section, then I invite you to follow our mobile section so as not to miss any news.