In this review we will analyze Nuki Opener, a device capable of making your intercom or intercom smart to open doors and entrance gates remotely. The functionality appears particularly useful in a world where e-commerce and home deliveries are increasingly frequent
How many times have you missed the delivery of a package forcing you to go through a very long process to recover it? Unfortunately for those who work, study or otherwise do not have the possibility of always having someone at home, it becomes complex to manage home deliveries. Nuki Opener solves the problem brilliantly and without too much effort. But it can also be useful in many other contexts of daily life. Let's see how it works in our review!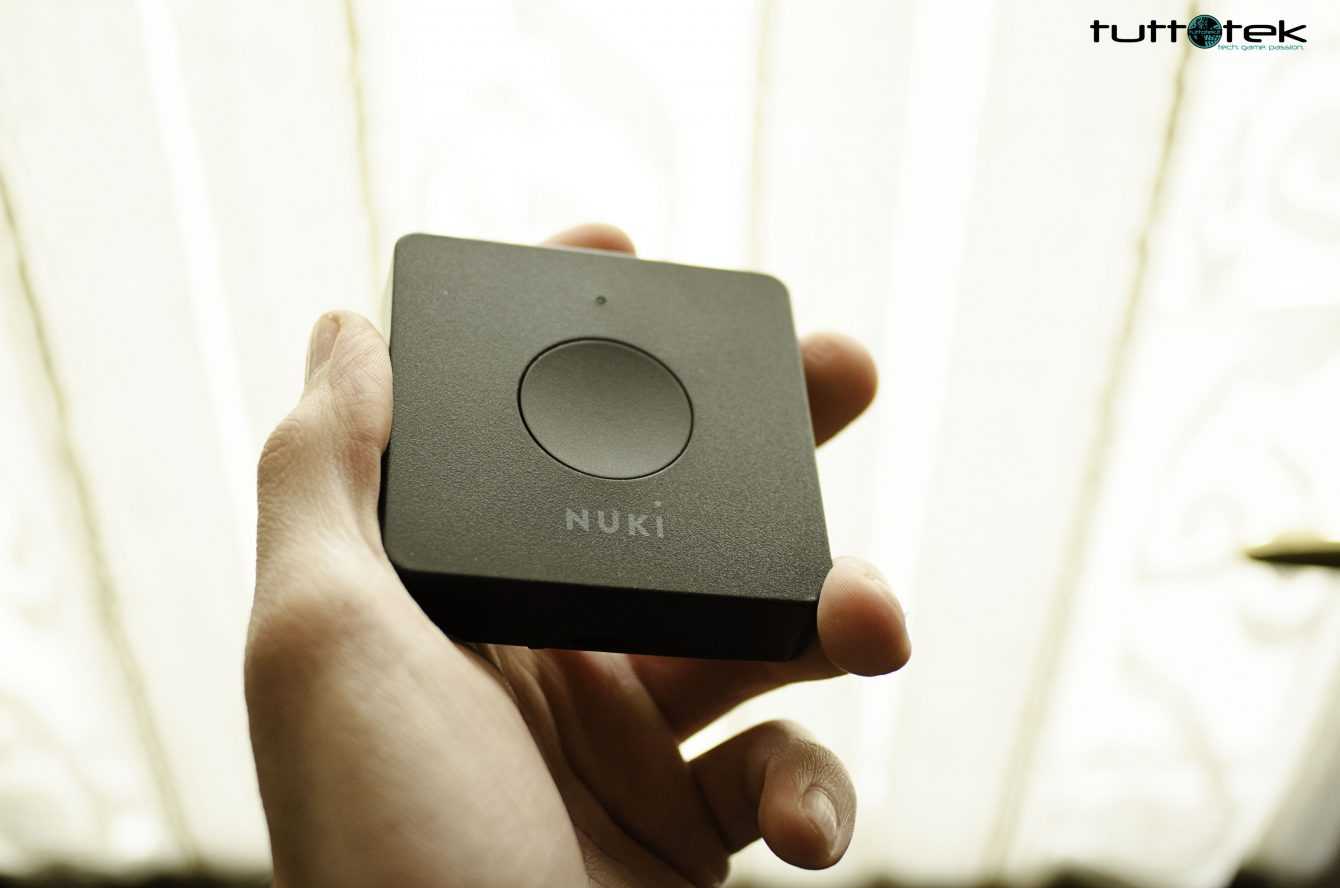 Build quality at installation | Nuki Opener Review
Let's start by describing the external appearance of the product. It is about a parallelepiped in semi-opaque black plastic with dimensions approximately 10 x 10 x 2 cm, a very minimal and discreet object. On the front there is a physical button of not excellent quality it must be said, while on the sides we find the connectors for the electrical cables that we will use to connect it to the intercom. However, the plastic is of excellent quality and the product is very resistant. The minimal design it will allow you to integrate it perfectly in any home, it also blends better with a modern decor. The product is powered by four AAA batteries, already installed.
Regarding the installation of Nuki Opener, everything you need is supplied (cables, adhesive, screwdriver, etc.), but maybe you will need an additional screwdriver to disassemble the intercom. The procedure is a bit cumbersome and delicate, but everything is perfectly documented within the app that will guide you step by step. The instructions are very clear and accompanied by images to facilitate understanding. However, you will need to inform yourself about your intercom model and compatibility. Although the instructions are really great, it will not be easy to manage the cables inside the intercom, in particular we found it difficult in our intercom model to insert them into the case as the orifice was very narrow. For the same reason it was not possible to hide them easily, even if with a little patience it is possible to obtain a good cable management. Nuki Opener also allows you to control garden gates or anything that is controlled by a switch. However, in this case the matter is a little more complex and even more dangerous! In fact, no potentially harmful currents or voltages circulate in the intercom and you can touch everything without danger. On the other hand, by connecting a switch directly, you expose yourself to the risk of ruining the product and also your health. If you are not an expert, in this case it is better to ask your electrician for help. It will take a professional moment to install it. Once the cables have been installed, you will need to verify correct operation via the app.
Functionality | Nuki Opener Review
Before talking about the features of Nuki Opener it is worth making a clarification. The box communicates with the smartphone app via Bluetooth therefore you can open and close the door or gate only if you are within a range of about 10 meters. This it is obviously very limiting, especially if you live in a high-rise building and it would make the purchase of Nuki Opener useless. Fortunately, the Nuki ecosystem is designed to be modular and expandable in a very simple way: by purchasing the Wi-Fi Bridge you can control the actions to be performed via the internet from anywhere and at any time, truly unlocking the potential of Nuki Opener.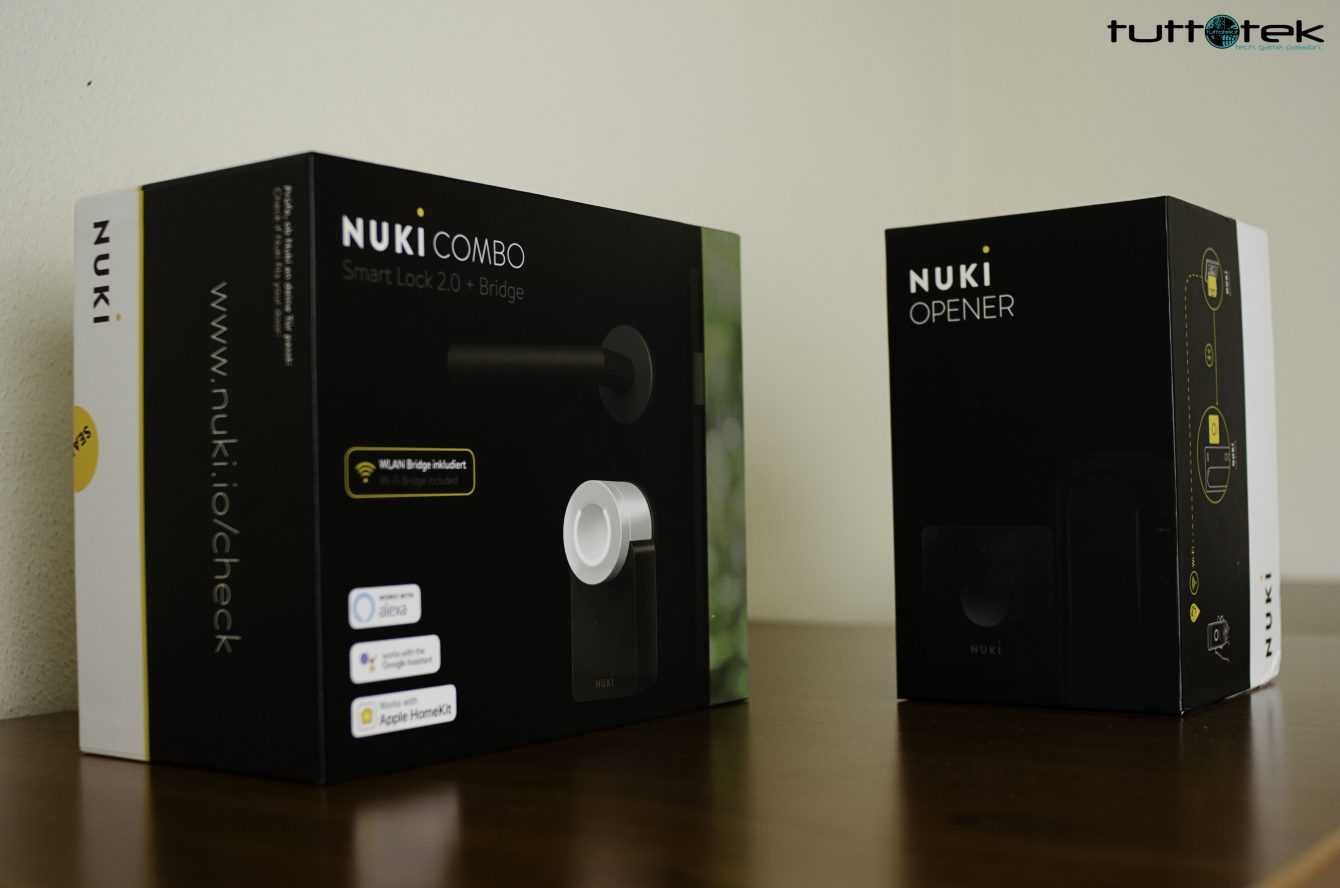 As anticipated, the main functionality implemented by this device is the possibility of opening gates and doors remotely, without having physical access to the intercom. This feature is very useful, for example, when a courier rings at the entrance of the condominium or the gardener arrives to give the plants a fix. This would probably have forced you to stay at home or ask for neighbors' support. With Nuki Opener, on the other hand, you can easily leave your home; when someone rings the doorbell you will receive a notification and you can proceed to open remotely. Or, if you know in advance the guest's arrival time, you can also use the "Ring to Open"Which will automatically open the door when the doorbell rings; simple, but a bit risky. If you are expecting several people for a private party, for example, the continuous mode instead, it allows you to open each time the doorbell is rang. It will also be possible timing these features in order to avoid unexpected "visits" at unscheduled times. Finally we find the Smart Action: thanks to the GPS of your smartphone, you can lock or unlock the door when you move away or approach home, without touching the phone and accessing the app.
Nuki Opener allows you to activate different user accounts who will be able to access the features, with some limitations. In fact, only those who have the PIN code registered at first use will be able to access the complete functions, especially as regards customizations. Accounts can only be enabled at certain times or for limited periods, an interesting feature if you rent your home or to let the cleaning lady in. The PIN prevents guests from getting their hands on sensitive features, such as user management. The Nuki app also provides an activity log to monitor the use of the Nuki Opener. From the security point of view we have communications protected by end-to-end encryption and Bluetooth pairing via Simple Secure Pairing.
Conclusions
Now that we have introduced you to Nuki Opener, let's try to sum up our experience of use. This product certainly is one of the most interesting on the market, not only for its features, but also because it integrates perfectly with all Nuki products and smartphones, creating a flexible and easily adaptable ecosystem. The high level of customization of the features combined with the possibility of interfacing via the web they are a great added value that very few competitors have on the market. Nuki Opener is certainly a very useful device for those who are often away from home and we highly recommend it if you are used to using e-commerce platforms often. It can also be an excellent solution for those who want to rent a house for a limited period of time, allowing users to be enabled remotely without the need to waste time exchanging keys.
But now to praise Nuki Opener, let's see some aspects that could be improved. Price is certainly important, also taking into account that it will be necessary to buy a Bridge to be able to fully exploit it. Sometimes the app isn't very responsive in loading and sending commands, but that's not a big deal. We want to highlight another problem. Sure it's super handy to be notified when someone rings the doorbell, but how do we verify its identity before opening? It could be anyone playing at the entrance. Of course, if we know that the delivery must take place at a certain time, things are simpler, but in any case there is not 100% security. We should have the courier call us, but that's not always possible. It would be interesting to be able to receive the audio of the intercom or even the video on your smartphone. This kind of innovation would make Nuki Opener practically perfect. However, it is a question of opening the external gate of the house, not of giving direct access to the inside of the house. The risk of falling into truly dangerous situations is therefore contained. That's all from the electronic section, keep following us!
For a smarter home
Points in favor
Lots of useful and smart features
Possibility of customizing users and schedules
Excellent and user-friendly application
Well detailed instructions
Points against
Costs
Inability to identify who is ringing the doorbell
Cable management is not always simple