In this review we will find out how Sound Blaster PLAY performed! 4, the new pocket USB DAC designed by Creative
I Dacian pocketbooks are a part of the hardware sector that is growing more and more in recent years. Theirs is an innovation that brings users multiple benefits, such as real-time noise cancellation for greater vocal clarity, but that's not all. In this review we are going to discover Sound Blaster PLAY! 4, the latest USB DAC designed by Creative and designed entirely for videoconferencing and smart working.
Technical specifications:
Dimensions: 138 x 16 x 8,2 mm

Adapter size: 23,5 x 13,5 x 6 mm

Weight: 8,3 g
Dynamic Range (DNR): 110 dB
Audio processor: BlasterX Acoustic Engine, SmartComms Kit, CrystalVoice
Signal to Noise Ratio (SNR): 110 dB
Max playback quality: PCM 16-bit, 44.1, 48.0, 77.2, 96.0. 192.0 kHz / PCM 24-bit, 44.1, 48.0, 77.2, 96.0. 192.0 kHz
Recording resolution: Mono, 16-bit, 44.1, 48.0 kHz / Mono, 24-bit, 44.1, 48.0 kHz
Headphone Impedance Supported: 16 – 150 Ω
Audio technology: CrystalVoice
Connectivity:

entrance: jack 3,5
Exit: USB type-C, adattatore da type-C a type-A

Supported Operating Systems: Windows 10 32/64-bit (Creative App support) – macOS 10.4 or later
Compatibility: PlayStation 4, PlayStation 5, Nintendo Switch, Android (version 8.0 or later), iPad (2018 and later models), iPadOS 13 or later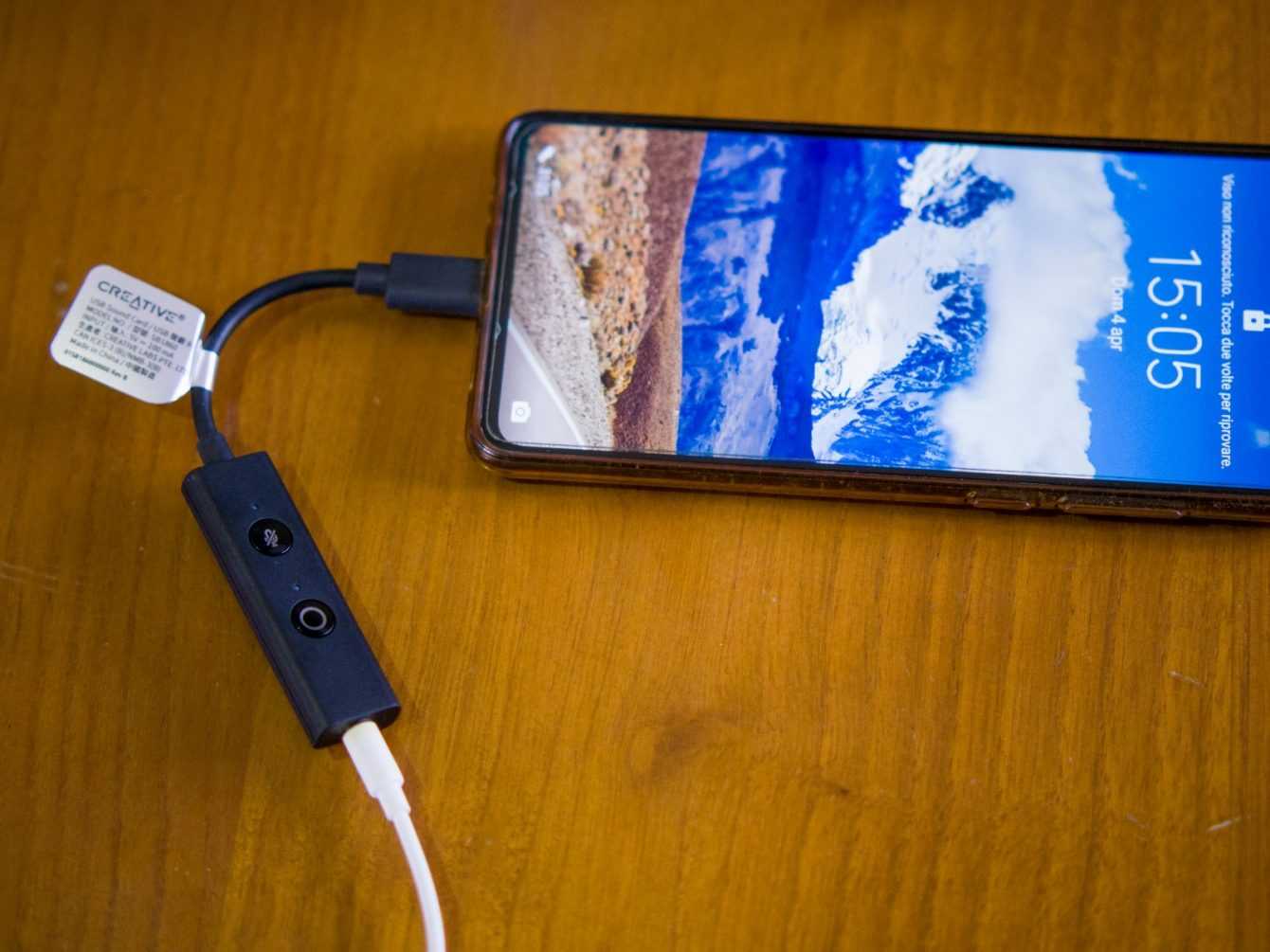 Simple Packaging – Creative Sound Blaster PLAY Review! 4
The packaging of this USB DAC is the simplest thing that can exist. In fact, the device is inserted, together with its USB type-C to USB type-A adapter, inside a fairly small box. Inside, therefore, we find our DAC meticulously placed inside the special housing together with the whole bundle of booklets and various certifications.
The design is very simple, featuring a really small central body. At both ends we can see the jack input that will allow you to connect our headphones and the small cable with the USB type-C socket at the end that we are going to insert into our device. The top is instead characterized by two very important keys for our job calls. The first will allow us to deactivate and reactivate the microphone to our liking, while with the second we will set one of the called equalization modes Bass Boost e Dynamic.
These two equalizations allow you to have a warmer sound with well-defined bass in the case of the Bass Boost or a slightly higher power with a more crystalline sound in the case of the Dynamic. obviously they can never reach the level of a sound card, such as the Sound Blaster Z SE, but for video calls or even to give a little boost to music reproduction it is a really good accessory.
Test Results – Creative Sound Blaster PLAY! Review 4
As mentioned earlier, the DAC will never be able to replace a real sound card, but in its small way it finds itself be a truly valuable device, especially in video calls where excessive quality is not required. I was really satisfied with both the Bass Boost EQ and the Dynamic EQ. In both cases I encountered a not indifferent gain which allows to obtain a more harmonious and refined sound.
Really important though it is integration with the Creative App which, thanks to its Audio Modes and the possibility of activating the Smart Volume, allows us to have an even greater gain in volume and quality. However, I will talk later about this spectacular software that makes the DAC truly complete. Very good is also there noise cancellation. Contrary to what happens with the usual microphones and apps with input-only noise cancellation, the Creative Sound Blaster PLAY! 4 is capable of also eliminate output noise.
This will allow us to have a cleaner call, making understandable not only our words, but also those of our interlocutor, removing that background noise due to the surrounding environment. I have tried this function with both Corsair HS60 Pro than with normal "mobile phone headphones". I was pleasantly surprised at how clean the interlocutor's audio was, although this reduction also led to a slight lowering of the overall volume.
From this point of view, an applause must also be made to VoiceDetect which allows you to activate the microphone only when we speak. This way we will not run into annoying background noises that could disturb other people participating in the discussion. Furthermore, it will be enough to hold down the microphone key to permanently deactivate it and reactivate it later at will. This will also allow us to exchange a few words with the person next to us without fear that the microphone will be reactivated.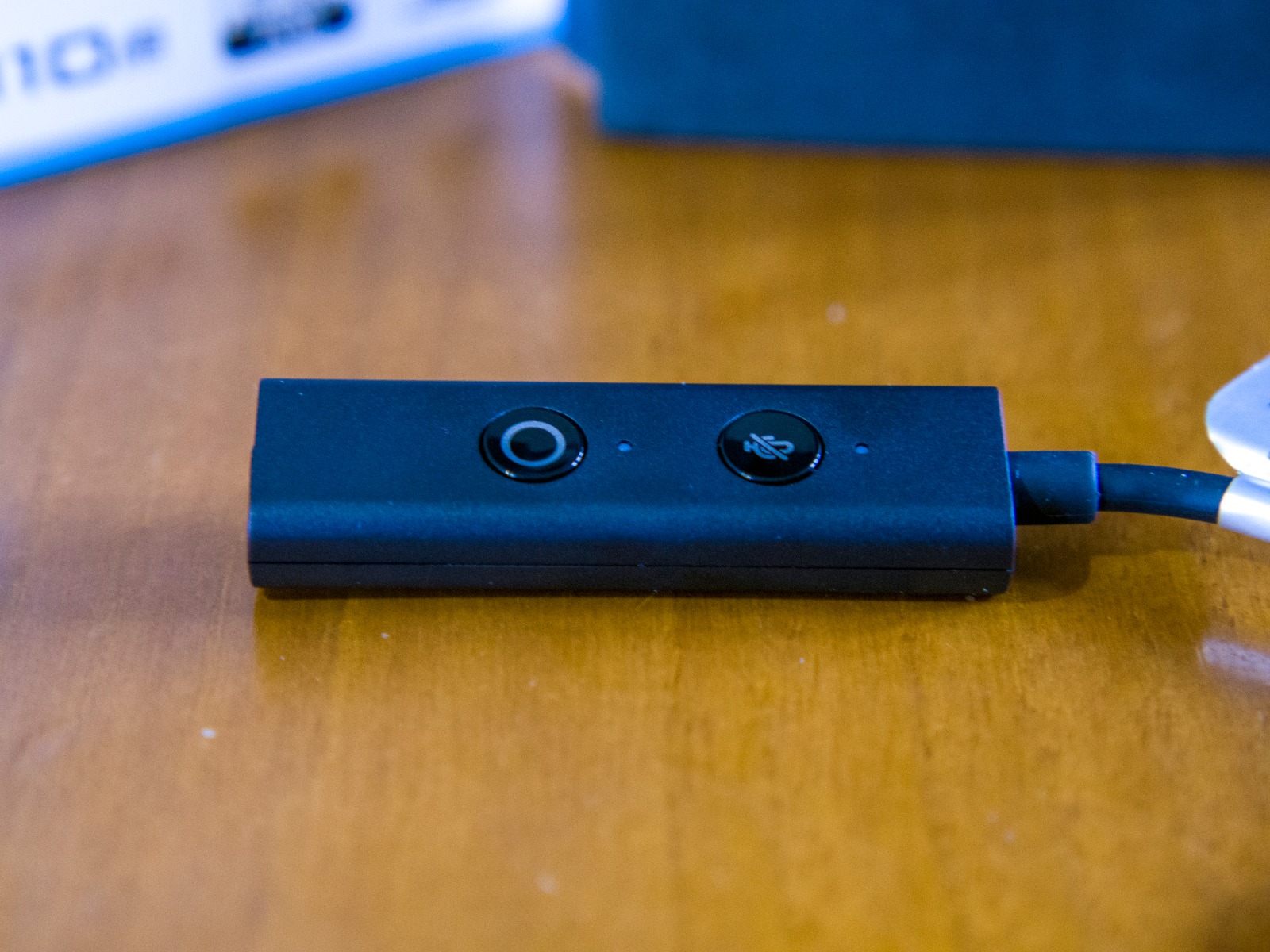 Software that acts as a pulsating soul – Creative Sound Blaster PLAY review! 4
However, the test of this DAC did not stop with just a pair of headphones. In fact, the device is compatible with almost everything: smartphone, tablet, PC, PlayStation, Nintendo Switch and so on. We can therefore be truly satisfied from this point of view as it allows us to use the Creative Sound Blaster PLAY! 4 with whatever device we want. However, the true completeness comes only when we connect the DAC to a PC that has Windows 10 as an operating system.
In fact, although it is compatible with practically everything, we have maximum performance only when we use the Creative App which, unfortunately, is only available for systems with Windows 10. Without this software, in fact, it is as if we had half a device.
In fact, through the software we will be able to choose not only the audio mode that best suits us, for example Music if we have to listen to our favorite song or film to watch movies and TV series; it will also be possible go to modify the arrival of the sound in our headphones preferring more one pavilion to another or activate the CrystalVoice or the SmartComms Kit, two very important functions during calls.
The Creative App in addition to having an importance in terms of performance, it is also important for updating the firmware of our DAC. Through the Creative App it will be possible to update the software of our device, improving its performance. In short, you just can't do without this software and it is really a problem that it is only available on Windows seeing the enormous compatibility of the device.
Conclusions
We are now at the end of this Creative Sound Blaster PLAY USB DAC review! 4 and it is therefore time to draw some conclusions. The product is very compact, with a truly modest packaging but that does not miss anything. Whether you have a device with USB type-C or not, the adapter will allow you to connect it to virtually any PC. There are no particular differences between the use of the adapter or the type-C port.
Compatibility is definitely a strong point that makes the DAC very versatile, although the Creative App is only available for PCs with Windows 10 as the operating system. This is really a shame because through this software it is able to reach really important performances and levels. You cannot expect high performance or audio equal to that of a sound card from this DAC, however even simple headphones can suffer from the effect of the same.
Listening to music or even playing on your PC will have a completely different flavor. Obviously, having been created for smart working and therefore for work calls, you will not have excellent audio quality, but it is certainly a fact that should not be underestimated. The noise cancellation left me pleasantly surprised both incoming, but especially outgoing. Trying it during the various university lessons she managed to eliminate a lot of background noise, making the explanations more understandable. However this also implies a lowering of the original volume and therefore you may be forced to increase the volume slightly.
For this review on the Creative Sound Blaster PLAY! 4 is now everything. I remind you that the DAC is available for purchase on the Creative website and on the Amazon store at the recommended price of € 29.99. What do you think about it? Have you already bought and used it? Let us know yours in the comments. In order not to miss further news from the technological world, continue to follow the pages of techgameworld.com!
A product not to be underestimated
Points in favor
Compactness
Compatibility
High performance with software …
Points against
… only available for Windows 10