In this review we will talk about the Styles for Capture One Pro, in particular the "Fujicolor Original" package produced by Mastin Labs. We will analyze what this software package offers and how it can be used in the development of your photographs
Capture One is a reference software in the world of photo editing. Famous above all for its color management, in the version 12 Pro (which we have reviewed for you) new creative heights have been reached thanks to the features and improvements introduced.
If you want to expand the functions of the software, several additional packages are available, which we have already reviewed in the past. Continuing on this line today we talk to you about Fujicolor Original by Mastin Labs.
Mastin Labs proposes the best film simulations also present on the market on Capture One 12 Pro. It is one of the best products we have had the opportunity to test recently: let's find out why.
Fujicolor Original by Mastin Labs: what does it offer? | Review
Thanks to Fujicolor Original by Mastin Labs it is possible to faithfully reproduce the tone tones of the Fujicolor main films of the past. Let's talk about Pro 400H (in the Neutral and Blue version), 160NS and Fujicolor 800Z. These names will immediately remind anyone who has used an analog camera, the characteristic yield that these emulsions were able to return. Although I have always been a user of silver emulsions with film, I have always appreciated the tones of these emulsions. Find one of them faithful reproduction to the original it is really surprising, especially nowadays where the rendering of the photos is more and more "digital" and less felt from an emotional point of view. But let's not go too far and let the images speak for themselves. Below you will find these presets applied to a photograph:
Fujicolor Original by Mastin Labs: dedicated workspace | Review
These presets are not like any others released by Phase One, they are similar only to the Kodak Everyday Original by Mastin Labs that we have reviewed here by conception. Again we find one dedicated work space to optimize the yield of the same. The fidelity from the Mastin Labs film simulations is truly remarkable, combined with the available options it is really possible to give an analogue look to the photos.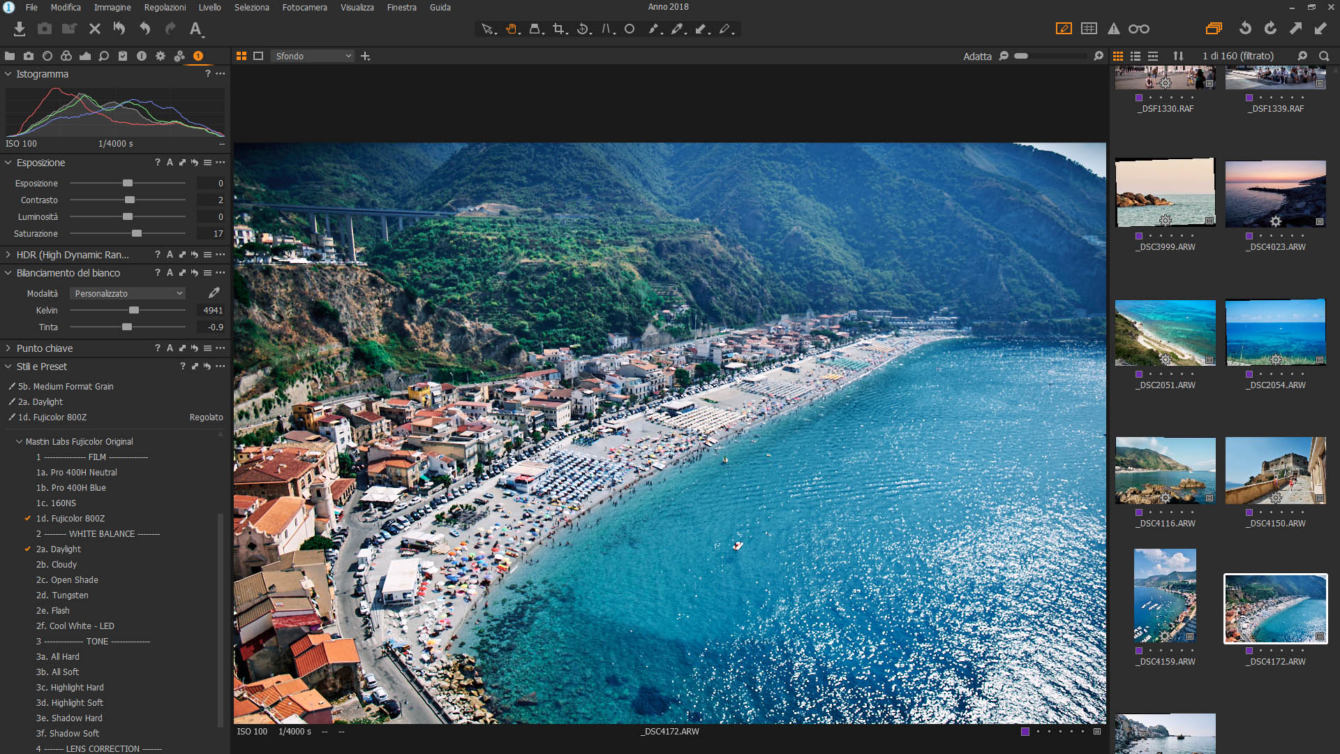 Using the dedicated workspace we have complete control over what are the parameters on which these styles act. We will then be able to work dynamically on exposure, dynamics management, white balance and key points. Also, unlike all the other presets we might notice the presence of 5 categories of settings in the dedicated tab. After selecting the film to simulate, we can choose a custom white balance, then a tone to give to the image, the lens correction and finally the type of grain to be displayed on the image. The result will be totally faithful to the original emulsions every time.
Fujicolor Original by Mastin Labs: a welcome return | Review
Fujicolor Original by Mastin Labs è un package that brings back in digital one of the most loved renditions by photographers of the analog era. As is well known, this operation is not at all simple as there are many variables to be taken into account. It is all too easy to expire in non-perfect products but the great experience of Mastin Labs, once again, has provided us with a practically perfect product. Yes, the emulsions are exactly reproduced, and there is an extreme care especially for the Pro 400H, notoriously one of the most particular emulsions. The two proposed styles react differently to some colors by finally providing one made faithful as never seen before. The 160NS returns to a new light together with the classic Fujicolor 800Z. These emulsions were the most used in the wedding and reportage industry, and even today these presets excel in these areas.
As we had seen on Kodak Everyday Original by Mastin Labs, here too grain reproduction turns out to be perfectly faithful to what was the yield on paper of the respective emulsions. Also this set manages to be on a higher level than what was offered to us with "Film Styles" which already managed to provide a valid simulation of an analog rendering. The happiest photographers, however, will be lovers of "Fujicolor". What is most surprising is the validity of these simulations with any camera. We took the liberty of comparing them with what Fujifilm offers on its machines, noting how, thanks to these presets it is possible to have a Fujifilm-like color rendering on any digital body. A surprising result don't you think?
Fujicolor Original by Mastin Labs: dreamy | Review
Mastin Labs does not miss the shot offering a perfect simulation of Fujicolor emulsions. In this case, in our opinion, the work was even more difficult than with the reproductions of Kodad emulsions as the light reading of the Fujicolor is extremely particular. It could be objected that we are talking about "only" 3 emulsions and 4 presets at a relatively high price, at least in absolute value. In our opinion the same could cost even more and still be a best buy for lovers of these colors. So if you love Fujicolor yield, this pack is absolutely inevitable in your collection of Styles for Capture One 12. The news will not stop there, in the coming months we will have the opportunity to see the arrival of more packages, so stay with us!
In giving you an appointment to the next articles we remind you that it is can buy the package to this address for 99 €.
Below we leave you one photo gallery developed on Capture One Pro 12 with Fujicolor Original by Mastin Labs. We have purposely applied only the default presets to show the effect of this software package on photographs.
Fujicolor Original by Mastin Labs: photo gallery | Review
Fujicolor colors for everyone
Points in favor
Fidelity of reproductions
Package quality
Speed ​​of use
Ability to stack multiple presets
Unmissable for lovers of Fujicolor yield
Points against
Cost perhaps a little high, but certainly justified