Ubisoft announced that Riders Republic, the next outdoor sports-based multiplayer, will offer a one-week, limited-time trial around the world from 21 to 27 October on Xbox One, Xbox Series X | S, PlayStation 4, PlayStation 5, Stadia, as well as Windows PC through the Ubisoft Connect PC and the Epic Games Store. During the Riders Republic test week, players will be able to play four hours of gameplay before the official launch on October 28th. Progress during the trial week will carry over to any edition of the game, so users can pick up right where they left off.
Riders Republic: The free trial week has begun
Additionally, players will be invited to participate in the Out of Mind Challenge – a multiplayer race that offers players the chance to win prizes. To participate, players must first finish onboarding and reach 20 stars to unlock the "exclusive multiplayer contest" of ShackDaddy to enter the mass competition. Those who finish in the top 10 in a mass competition will be entered in a random draw, where one player will win a Canyon x Riders Republic custom bike and a Riders Republic Gold Edition. The other winners will also receive a Riders Republic Gold Edition.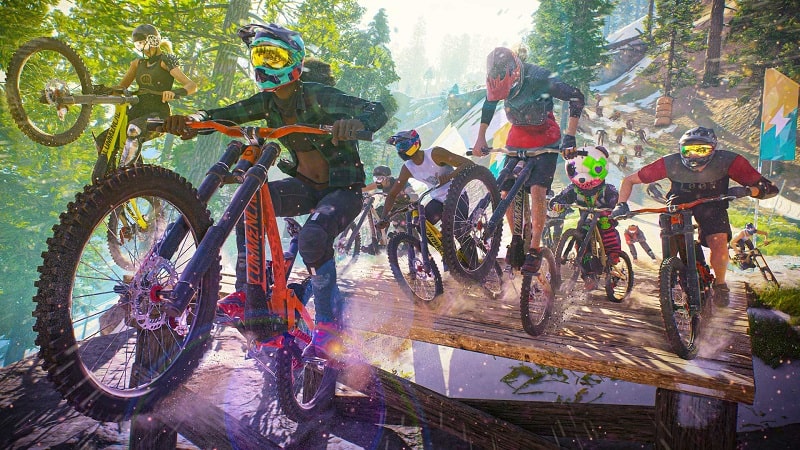 The limited-time Trial Week will include all five career progressions and multiplayer modes:
Gara in Massa: The craziest are the best in these epic multisport races with more than 50 players. During the test week only, to ensure that all Riders Republic's Crazy Outs Challenge participants have the same experience, the number of participants will be limited to 32 for better consistency between new and current console / PC generations. as crossplay will be enabled. New races appear randomly on the map, so participants must always keep ready to cover blind spots, protect their position and stay alert as they race to reach the finish line.
Trick Battle: Compete in 6v6 matches and try to show off as many tricks as possible to earn points. The team with the highest score wins.
All against all: Challenge up to 11 new opponents and show them how, through a list of exciting selected events.
Against: Play with up to 5 friends in any career event to see who is the best.
If you are looking for more Riders Republic content, you can pre-order the Gold e Ultimate Edition:
The Gold Edition includes the base game and the Year 1 Pass, including eight mystical kits that allow the player to modify the gameplay through constant equipment updates, the BMX Sport add-on and exclusive content added after launch. Rocket Bike and Rocket Ski kits will be available at launch.
The Ultimate Edition includes the base game and the Year 1 Pass as well as four exclusive cosmetic packs: the Cosmic, Rainbow, Neon, and Stylish Skull pack. The player will also have 20 helicopter tickets to reach their favorite peaks as fast as possible.