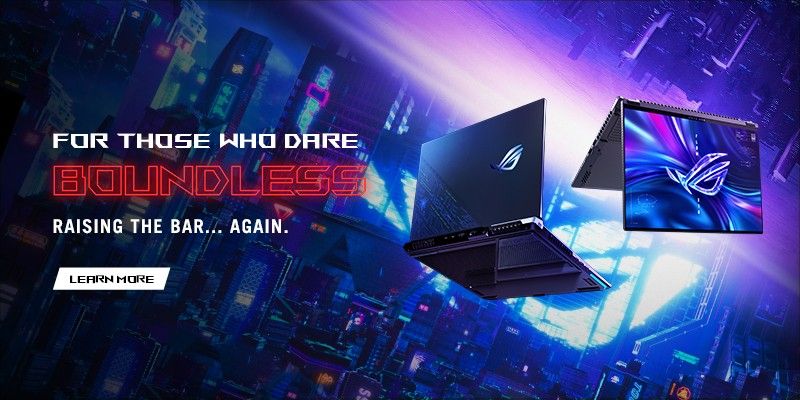 ROG ambassadors challenge their greatest fears in the ambitious new video project For Those Who Dare
Republic of Gamers (ROG) is the brand of ASUS (here for more info on the company) focused on the development of the most advanced solutions, hardware and software, for gaming. The ROG brand offers a complete range of innovative products, universally recognized and appreciated for performance and build quality.
ROG participates and sponsors the main gaming events internationally. ROG solutions have been used to set hundreds of records in overclocking and continue to be the preferred choice of gamers and enthusiasts around the world. In the last few hours, he presented his new video project 'For Those Who Dare'.
The key points of ROG 'For Those Who Dare'
The most ambitious film produced by ROG. The latest video from ROG combines real stunts with impacting visual effectsthanks to the participation of world-class talents.
The ROG world comes together. 'For Those Who Dare' follows five ROG ambassadors as they talk about theirs greatest fears and how they have overcome them.
A look behind the scenes. Future videos will show how the film was made and the lighter side of the influencers who take part in it.
ROG 'For Those Who Dare' details
Republic of Gamers (ROG) is proud to announce "For Those Who Dare". A new ambitious film starring the ROG ambassadors where they face the pursuit of excellence. Shot in London on video was made without stunts, despite including a real ring of fire and high-flying skateboarding numbers. ROG will also soon release a behind-the-scenes look at the filming of "For Those Who Dare".
The most ambitious film produced by ROG
Con cinque ambassador, Asa Butterfield, Nyjah Huston, Karl-Anthony Towns, Alan Walker and the new face of ROG, Son Heung-Min, "For Those Who Dare" explores the world of fears and how to overcome them. The anticipation, expectations, stage anxiety, and potential injuries arise every day when members of the ROG team commute to work. Additionally, this film uses unique imagery and stunts to examine how these All-Stars live with these emotions.
Shot in London with the assistance of the production company "The Mill", the film uses visual effects and dangerous stunts, including a gasoline-powered fire ring. In addition to skateboard jumps on a 3-meter barbed wire fence to illustrate how far ROG testimonials are willing to push themselves in the pursuit of excellence. These talents really are "Those who dare".
Statements regarding 'For Those Who Dare'
Below are the first emrito statements at ROG 'For Those Who Dare'.
We are incredibly proud to unveil a project that has been in the works for several months. ROG has always been committed to embodying our 'For Those Who Dare' tagline, both through our products and through the talents that represent us,
he has declared Victor Fu, ROG's Global Consumer Marketing Director. Fu then continued his statements, stating that:
With the launch of this film, we hope to invite our viewers to step into the world of ROG and discover what it means to dare and push your limits.
The ROG world comes together
ROG designs machines for gamers, but not all of them are made the same. The movie features Karl Anthony Towns with the Strix SCARNyjah Huston con lo Strix G. And again Asa Butterfield with the Flow Z13Alan Walker with him Zephyrus G14 and Son Heung-Min with the Flow X16.
Regardless of how gamers approach gaming, ROG has a laptop to suit their style.
I am always looking for new technologies and innovations and ROG has always been very cutting edge,
he has declared Butterfield.
With a global team and ambassadors across multiple time zones, it was a challenge to bring all the staff together to shoot in London. Son Heung-Min and Asa Butterfield reside in the UK and, thanks to a break between seasons for Nyjah Huston and Karl-Anthony Towns, ROG was able to bring in Alan Walker as well. The latter was struggling with a very intense music festival. Thereby, all five ambassadors shared the same set.
Fear is simply another obstacle for these legends to overcome. All the stunts were performed without the help of stunts. Including the ring of fire and the skateboard jump over a fence lined with barbed wire.
I like to shoot shots like this where I can really skate, like it happened today,
he said Hustonwho then went on to state that:
it's always fun to be able to combine what I do as a skateboarder with a brand like ROG.
As true spokespersons of the ROG spirit, these All-Stars have overcome all obstacles in their path with tremendous determination.
A look behind the scenes
Being the most ambitious cinematic project in ROG historythe brand was aware that it needed specific talents even behind the scenes. The Mill is a global creative partner for agencies, production companies and brands. As a specialist in Visual Effects, Creative Production and Experience design, ROG felt The Mill was perfect for the role to play in tackling this massive project. The Mill has also had previous experience working on feature films such as Gladiatorfor which he won an Academy Award.
Given the special nature of this collaboration, the team also captured a lot behind the scenes during filming. These videos will be released in the near future, allowing the community to see a lighter side of ROG team members. ROG also achieved exclusive interviews with each ambassadorallowing gamers to see the behind-the-scenes and play styles of their favorite talents.
I think this project is awesome and it gives everyone a chance to bring their fanbases together and show them just how great ROG is,
he has declared Towns.
And you? What do you think of this new ROG movie 'For Those Who Dare' ? Let us know with a comment below and always stay tuned to TechGameWorld.com for other news and reviews from the world of technology (and more!).
The ROG article: For Those Who Dare comes from TechGameWorld.com.