In this review we are going to get to know and analyze Speedlink's new subwoofer system, the Gravity RGB 2.1
Whether you are a music lover, enjoy watching movies and series comfortably on the sofa or want to fully enjoy the audio on your favorite video games, have a good device for playing sounds it is certainly the main point on which to dwell. Nowadays we have audio systems and peripherals that can provide a spatial sound that envelops each user. Speedlink moved in this direction by creating its subwoofer system, the Gravity RGB 2.1which we will analyze in this review.
Data sheet
Dimensions:

Subwoofer: 261 × 259 × 263 mm
Satellites: 108 × 182 × 119 mm

Weight: 4,5 kg
Frequency: 40-20.000 Hz
Power output: 60 W
Signal to noise ratio: ≥60 dB
Driver:

Satellites: 2 x 76mm, one for each satellite
Subwoofer: 165 mm

Connectivity: Bluetooth, cavo AUX
Table remote control for volume adjustment and AUX-in socket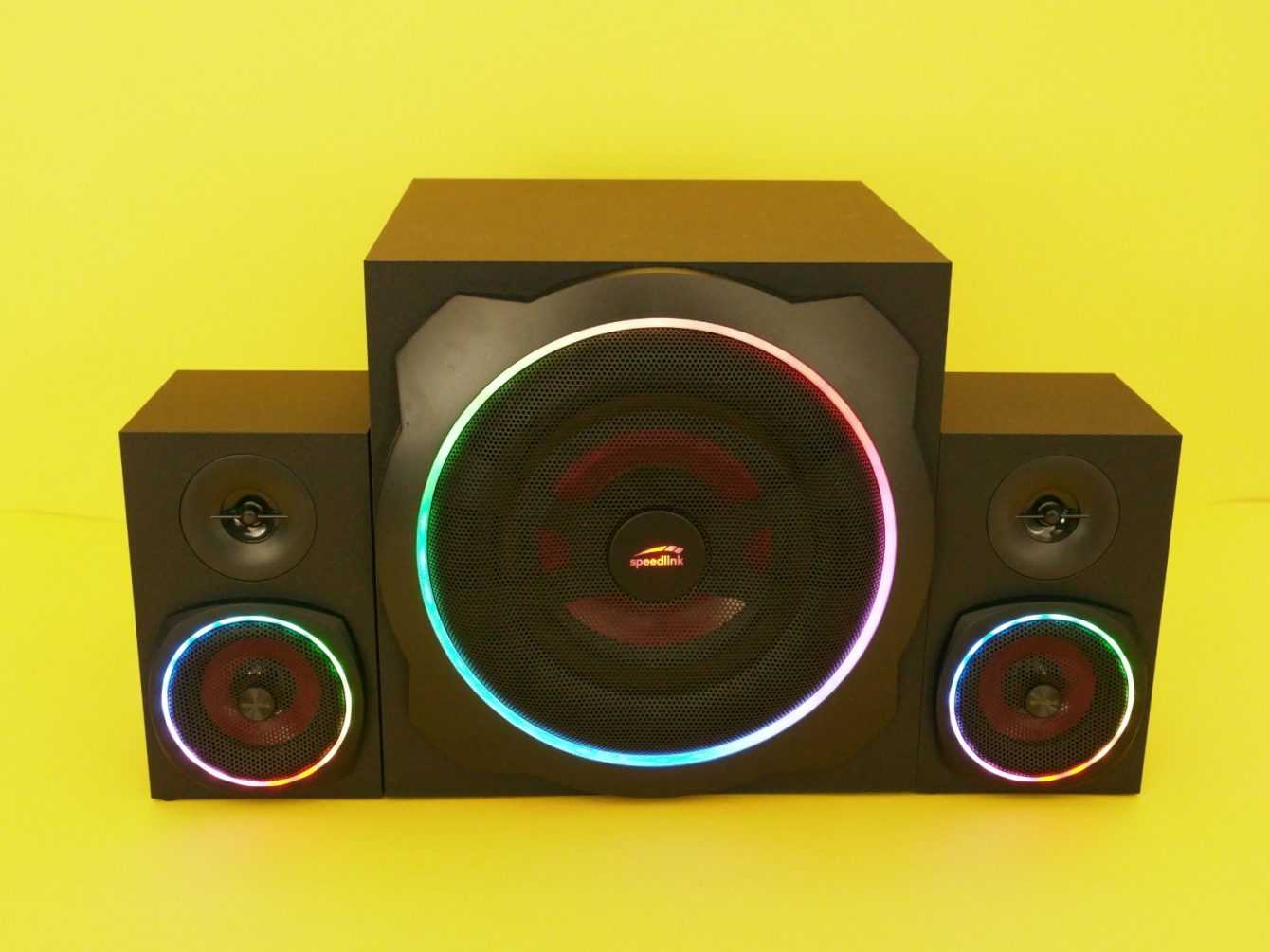 Packaging and design | Speedlink Gravity RGB 2.1 review
The subwoofer system comes in a fairly bulky package, although it is best adapted to make it solid and as compact as possible. On each side of the same we can find the image representing the product and various information relating to the same. In the upper part then one was obtained comfortable handle which allows the transport of the entire package with minimum effort.
Although the outer box is made entirely of cardboard, the packaging in general is not very eco-friendly. In fact, inside, in addition to the various plastic bags that contain the cables and the table remote control, we also find polystyrene protections. We are all familiar with the impact protective capability provided by this polymer and although it is not a strictly ecological choice, it can be understood. However, the interlocking system with which subwoofers and satellites are arranged does not allow remove them without breaking the various protections.
Leaving aside the slightly complex packaging, the system is equipped with a really simple design. Subwoofers and satellites are in fact characterized by completely smooth surfaces for most of their sides. Only the front part is an exception, in which we find the various driver da 165 mm e 76 mm characterized by a slightly raised structure that surrounds them. The subwoofer, however, also has other small details not just. In fact, along the side walls we find on one side the control system (volume, RGB lights, audio sockets, etc.) while on the other there is a forum made not to compress the sound too much inside.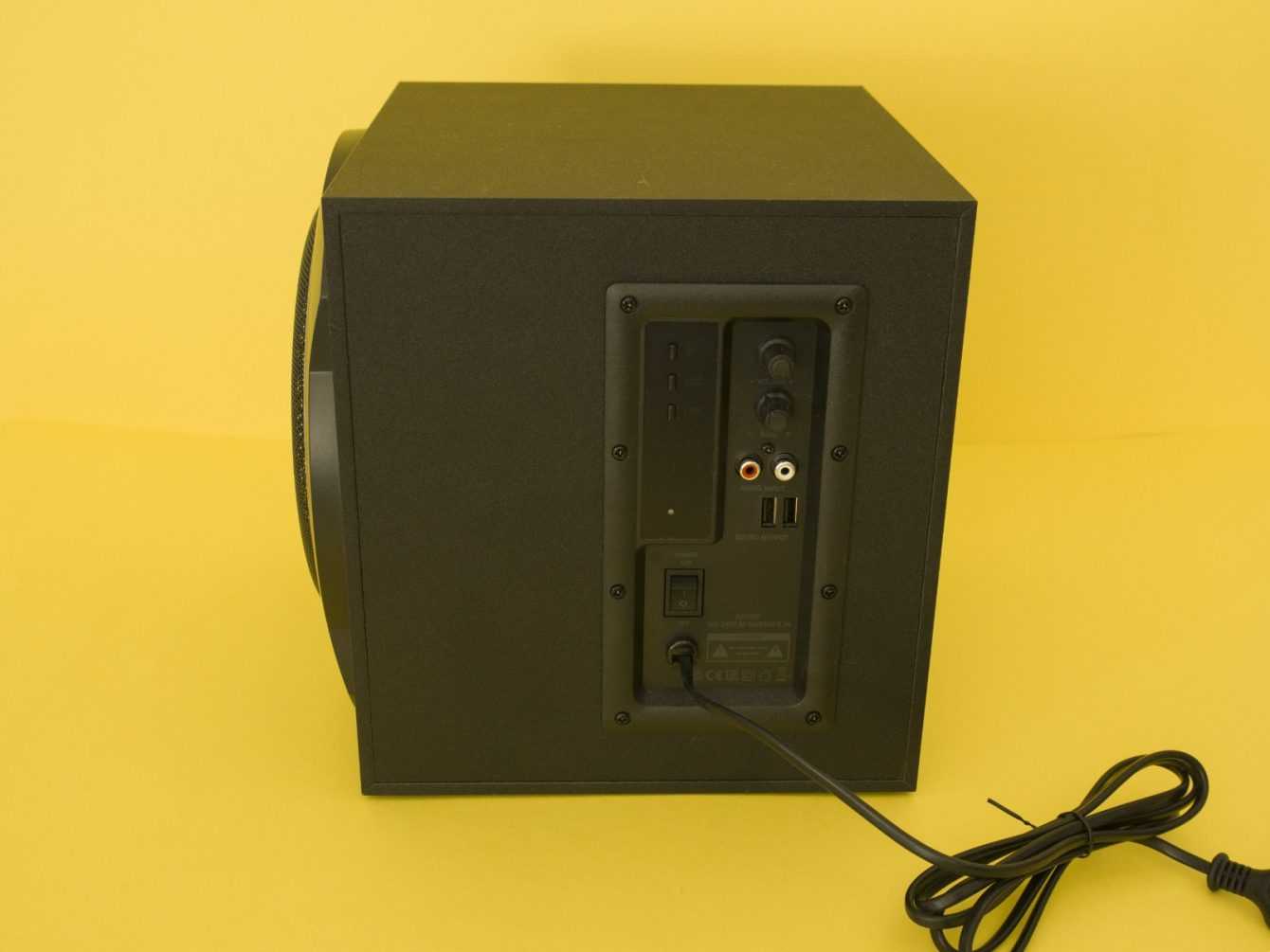 Colorful and multitasking | Speedlink Gravity RGB 2.1 review
the size of 261 × 259 × 263 mm for the subwoofer and of 108 × 182 × 119 mm for satellites they certainly don't make it the smallest around. However it will still be possible to insert it in rather tight spaces comfortably. Precisely in this regard, the company has seen fit to put the panel with various sockets and controls on the side. Surely it will not be stylistically beautiful to look atwith the various wires that connect the satellites and our device (computer or TV depending on our choices) on display.
In this way, however, it will be easier not only to connect the various cables, but also to adjust the general volume of the system or that of the bass using the appropriate knobs. Here we also find also a convenient switch to turn the whole thing on and off and three small buttons. Through the latter it will be possible change the input mode (Bluetooth or AUX), set the stand-by mode or change various lighting effects to enjoy a unique experience every time.
However, it will not be necessary to have the subwoofer at hand every time we want to increase or decrease the overall volume. Speedlink has in fact equipped this system with a convenient desktop remote control. This allows us, once we have set the parameters that we like best, to place the system on a shelf in case of little space on our table or on the TV cabinet. Also here it will also be possible connect headphones not to disturb those around us or even a input device via its AUX socket.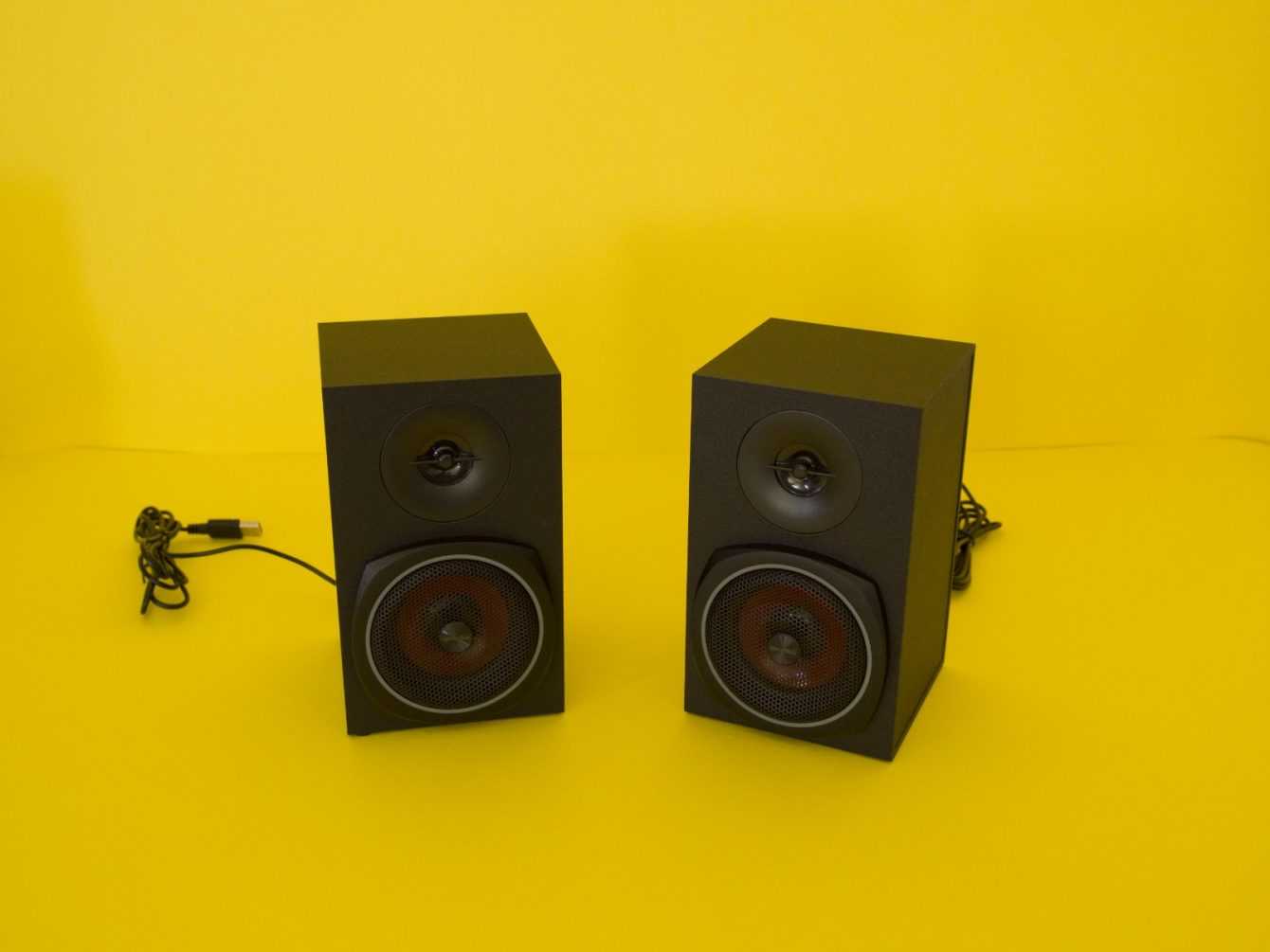 Good audio quality | Speedlink Gravity RGB 2.1 review
With a 165mm driver that covers the full range of sounds, but with a predilection for bass, and two 76mm drivers for the higher pitches, the quality could only be the best. Although the spatiality of a 7.1 system is not achieved, the sound however comes clear and precise to our ears, with almost non-existent distortions. Even at high volumes, the sound power unleashed by the subwoofer is not affected by particular "crushing".
This is due to the side hole with which it is equipped. Thanks to the latter the sound does not remain compressed in the case, but comes out. This prevents the creation of an unwanted return that could compromise quality. For lovers of powerful bass this guarantees excellent quality, especially a extreme volumes able to "vibrate" our whole being and the objects that surround us. Such a system is practically ideal for any occasionwhether you are talking about watching movies and TV series, or playing some video games.
In fast-paced games, such as FPS, the explosions of shots and grenades are well reproduced, making us dive even deeper into the battle. However, the sound of footsteps may be slightly obscured by these effects, causing us to lose a nearby enemy. Furthermore, it will also be difficult to understand the direction from which it is approaching. Although there is therefore a good quality, it is only with music reproduction that the system gives its best. Thanks to the knob that adjusts the volume of the bass it will be possible listen to any song at its best. We will be able to move from classical to techno music, and then return to rock or metal without losing any sound detail in any case.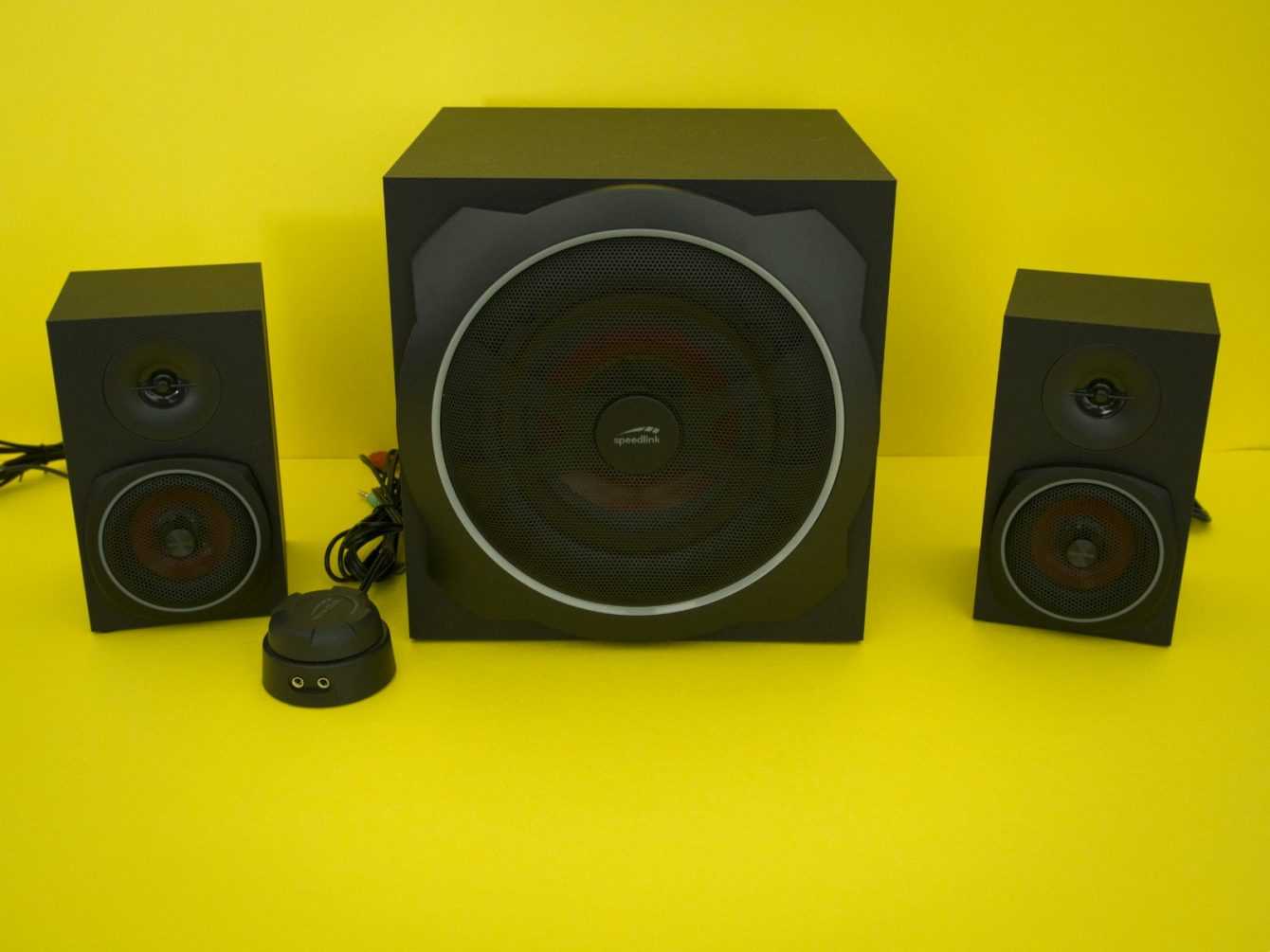 Who should buy it?
We have now reached the end of this review of the Speedlink Gravity RGB 2.1 and it is therefore time to take stock. The system consists of a subwoofer and two satellites and although it is not the smallest around, the design and dimensions allow us to insert it even in confined spaces. Thanks to the side control panel it will then be easy to intervene on any volumes, lighting effects or simply change the entrance, without having to move the whole system forward.
Thanks to the automatic stand-by system, the it will hibernate a few minutes after we turn off the TV or our PC. To avoid any consumption, the company has seen fit to provide a switch to turn off the device. The audio quality is of truly fine workmanship in any situation, but give the maximum when playing music.
So who should buy this system? Surely all those who want to enjoy a warmer and more defined sound, without however renouncing crystalline and well-defined treble, compared to what could derive from the speakers of a TV or a monitor. Watching a movie, playing a video game or just listening to music will never be the same again.
That's all for this review of the Speedlink Gravity RGB 2.1 system. We remind you it is on sale at recommended price of € 119.99while the version without RGB lights it can be purchased for only 99,99 €. In order not to miss future reviews related to the hardware universe, keep following the pages of techgameworld.com!
Points in favor
Good audio quality
Good quality / price ratio
Side panel…
Remote control with in and out sockets …
Points against
… although it sports the wiring
… with limited distance from the cable