TCL Electronics has won four awards at the EISA Awards 2022-2023convincing the jury of experts with the TV Mini LED 4K 65C835, il TV QLED TCL 55C735 and the Soundbar TCL 5.1.2ch C935U and finally also with tablets TCL NXTPAPER 10s, presented this year at CES 2022.
TCL wins four awards at the EISA Awards 2022-2023
The European association Expert Imaging and Sound Association (EISA) sees 60 experts from as many international technology magazines evaluate the best tech products on the market.
TV Mini LED 4K 65C835 (cover image), which won in the Premium Mini LED TV category. A product that combines the intelligence of Google TV to the quality audio of Dolby Atmos. That matches the 1,000 nit screen to a billion colors. And then technologies such as Dolby Vision and Dolby Atmos, Game Bar, ALLM, VRR and 144Hz support for gaming.
Marek Maciejewski, Product Development Director Europe explains: "We took a cue from the great success of the C825 series and thought about what could be further improved to take the user to an even higher level. We have significantly improved image performance, delivering high-impact HDR rendering thanks to the highest native contrast of LED LCDs> 7000: 1, 1500 nit brightness with no halo effect, and color volume. We approach players by introducing many game features, including the 144Hz technology, the VRR, the game bar and the control of the Mini LEDs which does not affect the game experience. We have introduced Google TV for unlimited entertainment, Airplay and support for the Apple Home Kit ".
TCL QLED TV 4K 55C735 e la Soundbar C935U sono dei "best buy"
In the "Best Buy LCD" category it won the model 55C735, demonstrating the great value for money of this line. Which has the technology WLED, il VRR a 144Hz e Google TV. In addition to support for all HDR standards and advanced AI functions.
"With the serie C735 we bring to the market all the latest technologies at unobtainable prices The TV is suitable for everyone: those who love sports have perfect movement with a native 120Hz display; those who love movies have access to all streaming services with QLED realistic colors and all HDR formats; those who love the game have everything available: 144Hzlow input lag, Dolby Vision gaming and advanced game bar, "he explains Marek Maciejewski.
Same goes for TCL Soundbar C935U 5.1.2ch, which proves to be exceptional in quality and price. With powerful bass and truly exceptional built-in speakers, also thanks to Ray-DANZ technology. You can also listen to content in Dolby Atmos e DTS:X, con Spotify Connect, Apple Airplay, Chromecast Built-in e il supporto DTS:Play-Fi. And there is no lack of AI Sonic-Adaptation, among all the functions also accessible with voice commands.
TCL executive explains, "We are back to technology Ray-Danz with more power thanks to the new subwoofer and new drivers, with dozens of new features, including DTS: X, environment calibration and Play-Fi support, plus a future-proof remote control with LCD display for a better experience of use. For the most demanding users we will also offer theX937Ua version 7.1.4 with two additional wireless rear speakers ".
TCL's NXTRPAPER 10s tablet is the best in innovation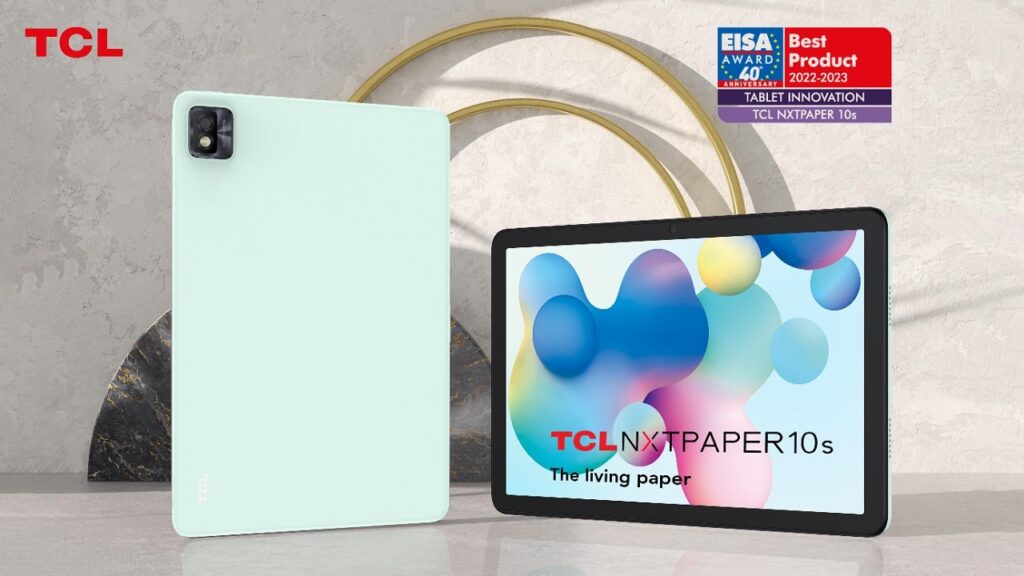 Finally, keep winning TCL NXTPAPER 10swhich won the award "Eye Protection Innovation Award of The Year" al CES 2022. Capable of filtering out over 73% of blue light and offering a "paper effect" on the screen, it is truly innovative. And with Android 11, 64GB ROM and 4GB RAM it allows you to work and study at your best: something that the EISA Awards 2022-2023 recognizes at TCL.
As the EISA judges explain: "At first glance, TCL's NXTPAPER 10s appears to be an Android tablet like any other. But when you turn it on, you will notice a completely different image quality, thanks to the "paper-like" display. TCL has created one 10-layer diffusion-effect LCD screen, which helps protect your eyes during long periods of use and to limit screen glare while maintaining vivid colors. Ideal for drawing and writing, the stylus is included in the scope of delivery. The 10.1-inch (256mm) screen, long-lasting 8000mAh battery and 490g weight make it an incredibly lightweight device for stress-free use. With the affordable price of the NXTPAPER 10s, TCL has managed to produce the ideal tablet for all generations ".
TCL will bring its own technology to IFA 2022from 2 September to 6 September at the HALL 21A, Messedamm Berlin, Germany. More details on the company website.