Thanks to a tweet from the famous leaker momomo_us, we learn several possible characteristics of the future family, here are the details
Soon the colossus of Santa Clara AMD should land on the market with APU solutions dedicated to the desktop world, codenamed "Cezanne", Such CPUs should guarantee a great deal value for money, and we believe that AMD will focus on this aspect to strategically position them in the market.
Returning to the CPUs in question, there are three models expected for the Ryzen 5000G family, from the screen posted by momomo_us, we can read; Ryzen 7 5700G, Ryzen 5 5600G e Ryzen 3 5300G. Let's see the details.
(´ ・ ω ・ `) pic.twitter.com/XfQebsPcxG

– 188 (@momomo_us) April 11, 2021
The alleged characteristics of the AMD Ryzen 5000G CPUs appear
The next CPUs of the Cezanne family AM4, Ryzen PRO 5000G and Ryzen 5000G series apparently will have nearly identical clock speeds. The screenshot from leaker @momomo_us with the Ryzen PRO 5000G spec reveals both base clock speeds, Core configurations and relative TDP.
Thanks also to several past leaks inherent to the hypothetical Ryzen 7 5700G, Ryzen 5000G processors are expected to be Core-based Zen 3 products at 7nm, and graphics department managed by an integrated chip Radeon Vega. Moving on to the configurations we should have from 4 to 8 Cores, for one TDP di 65W.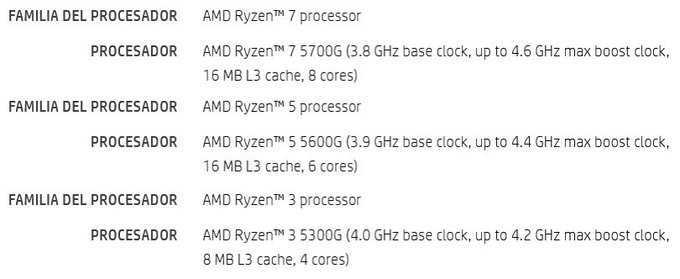 Ryzen 7 5800G is the name of the hypothetical top range of this family of APU processors, which however should not differ much from its younger brother Ryzen 7 5700G, which among other things should be the first to land on the market. Specifically we will have to have a difference in the order of 100/200 MHz, with the Ryzen 7 5700G able to push itself up to 4,6 GHz, and the Ryzen 7 5800G a 4,8 GHz.
At the moment we do not know the launch date and price, but we will keep you updated on this. If you want to continue to know the latest news from the hardware world, keep following us. Greetings from TechGameWorld.com.