Technology makes great strides every day: smartphones are increasingly advanced, laptops are no longer heavy and bulky products and wearable devices are now part of our life. Among the latter, in addition to the most famous smartwatches, we find the smart glasses – smart glasses – which allow you to add some features to everyday life.
When it comes to smart glasses we understand a truly extended universe: eyewear becomes intelligent when equipped with an out of the ordinary technology. These can be gods sensors capable of capturing some information; of the speakers and gods microphone to receive and make calls or listen to music; a pair of cameras to take back what is in front of you, or a real one superimposed display which shows some useful information to the user. But which models of smart glasses, past and present, they have helped to create a real sector populated by enthusiasts and onlookers?
Google Glass, the smart glasses that didn't believe it enough
Photo: Google.
Among the most ambitious, and less recent models, we find the Google Glass. More than glasses, they are a head-mouted display (HMD) positioned in front of the eye and supported by a structure that resembles a pair of glasses. The display simulates the augmented reality and allows you to view some information similar to that of a smartphone in your field of view, but without using your hands. Google released a version available to all US residents in 2014, and then expanded the sale to other countries. In 2016, then, Google has permanently closed the project for civil purposes, leaving only the professional project active.
The Google Glasses are equipped with a high-resolution display that projects an image equivalent to 25 inches from two meters away. They then have one 5MP camera, for 720p video recording, Wi-Fi and Bluetooth connectivity, 12GB of internal memory and bone conduction audio. Through the integrated screen you can view incoming notifications, news, recent photos and videos and other useful information. You can also view the settings menus and search history.
Unfortunately, when it came out – but perhaps even now that we are in 2021 -, this device appeared too avant-garde, almost coming from a science fiction movie. Google perhaps wanted to aim too high, then stopped believing in the project shortly after and withdrawing them from the market despite their great potential. The glasses, even looking at them today, are really flashy and futuristic, moreover they were not cheap at all: they cost $ 1500 + tax.
Spectacles, Snapchat's smart glasses
The Spectacles – which we reviewed – are Snapchat's smart glasses and are primarily designed for being able to shoot videos to be posted on the social network, but nothing prevents you from exporting the recorded content and using it elsewhere. These glasses look like classic sunglasses, but as you can see at the ends of the frame they are provided with a camera capable of capturing FullHD video (1080 × 1080, but when exported for other applications, the quality drops to 800 × 800). The thing that is a bit puzzling is that it captures them in a round format, and then includes them in a square with a white background.
Smart glasses are capable of record video up to 30 seconds – with options of 10 and 20 seconds too – and the quality is pretty good. To ensure the privacy of other people, the glasses are equipped with two indicator lights that warn that they are in recording mode.
The fourth generation Spectacles have recently been launched, introducing a kind of augmented reality. In fact, they allow you to add some virtual objects inside the scene that you are filming. If you are in a meadow, it will suggest you to insert virtual flowers, and so on: it will seem to be in a 3D virtual world.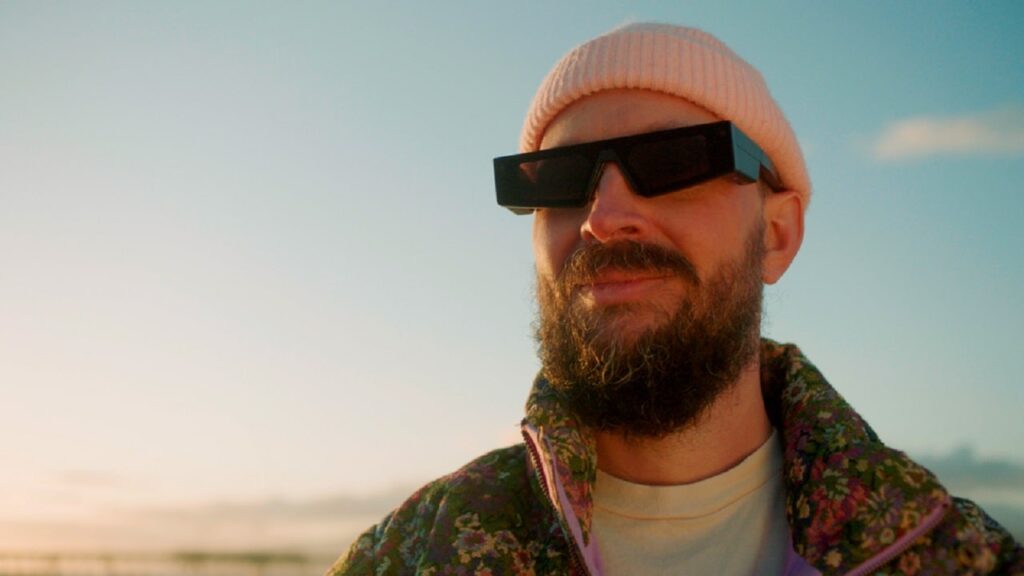 In any case, the smart features of these glasses stop at recording short videos and do not report smartphone notifications or other useful information.
Amazon Echo Frames
Amazon certainly could not give up launching its smart product in the eyewear sector. The Echo Frames are smart glasses equipped with speakers and microphones, to be able to communicate with the Alexa voice assistant. They do not have any additional displays, and are limited to the possibility of make and receive calls, listen to music and audible notifications, control smart devices by voice control. In short, they are any Echo device inserted in a frame.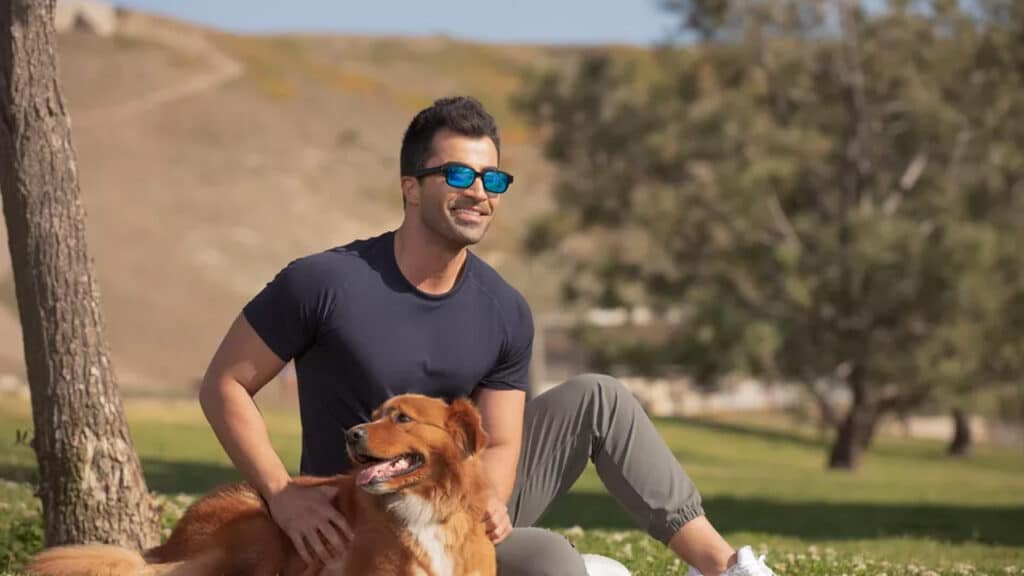 Photo Credits: Amazon.
In the United States, where they are currently available, they can be purchased with neutral or graduated lenses, or classic or blue mirrored sunglasses. Both of the latter are polarized and the glasses are resistant to rain.
Razer Anzu Smart Glasses
The smart glasses from Razer they have the shape of a pair of classic glasses, but are equipped with lenses that filter 35% of the blue light, wireless speakers, touch controls on the temples and compatibility with voice assistants. The battery has aautonomy of five hours, but folding the glasses the device will enter standby mode automatically, extending the duration to 14 days.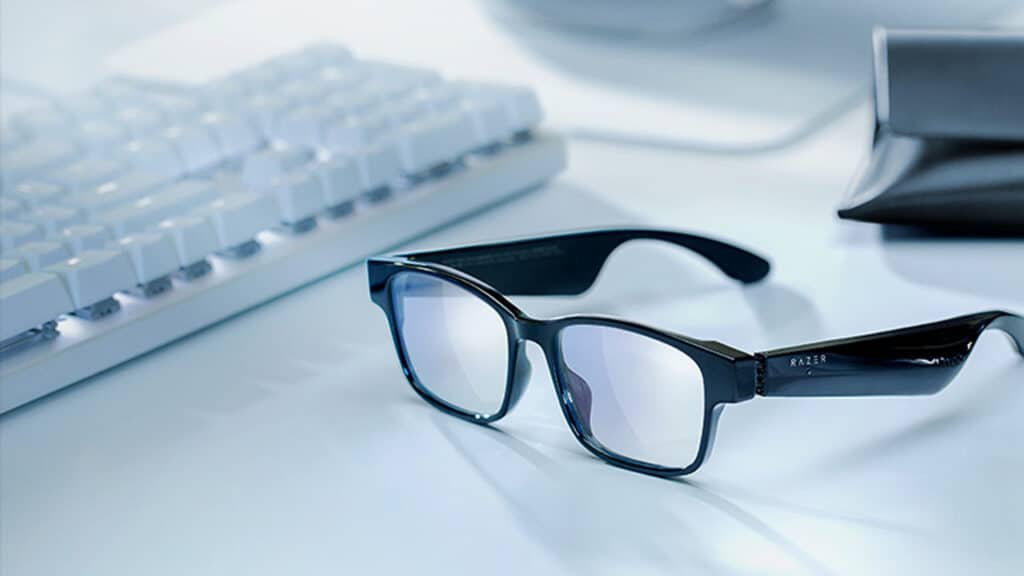 The glasses can be used while playing, to be able to enjoy smooth low-latency audio, or during smart working, thanks to the ability to answer calls with a simple touch on the frame. Always through and controls you can pause multimedia content or activate the voice assistant of your smartphone.
Huawei X Gentle Monster
These smart glasses – which we have reviewed – are, like those of Razer and Amazon, bluetooth earphones in the shape of glasses. In fact, the smart features stop at a classic true wireless headset, but leaving the ear cups free and at the same time protecting the eyes from the sun.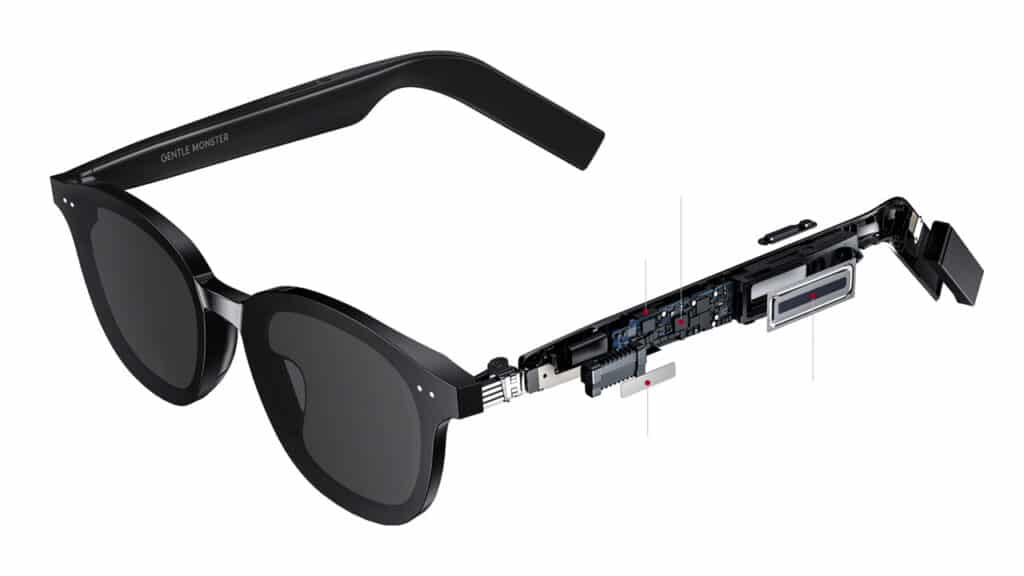 Huawei has arrived at the second generation of its smart glasses made with Gentle Monster and for 329€ you will take home some glasses – sunglasses or prescription glasses, at your choice – equipped with a half-open speaker, dual microphones on the rods, bluetooth 5.2 to communicate with the smartphone, and touch controls on the arms to start the voice assistant, pause audio playback and answer calls. The battery of the glasses is recharged by placing the product in the eco-leather case, and the latter can be recharged via USB-C cable.
Like Razer and Amazon, Huawei dedicates its product to those who want a pair of glasses with which to answer calls or listen to music, even if given the price it still remains a niche product.
Ray-Ban Stories
As you may have guessed, companies in recent years – perhaps also given the flop of too futuristic Google Glass – have preferred to focus on simpler smart glasses. This is also the case of Facebook, which together with Ray-Ban recently decided to launch its own Ray-Ban Stories, smart glasses with a classic look but with some smart features.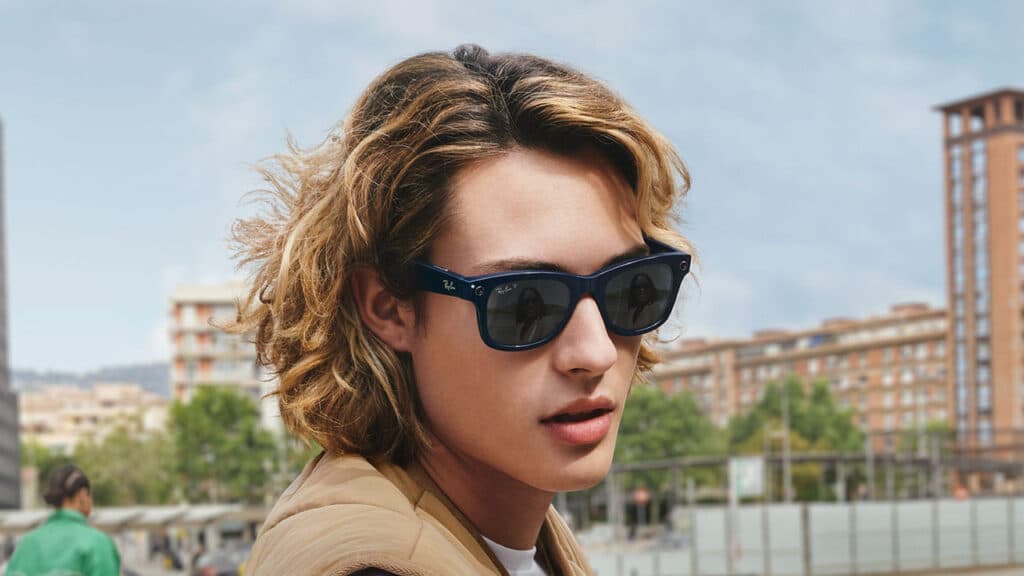 Photo: Facebook & Ray-Ban
Created with the classic frames that have made Ray-Ban history, such as Wayfarer and Wayfarer Large, they are equipped with a integrated Snapdragon processor which allows you to perform some functions during everyday life. Thanks to dual camera da 5MP, these smart glasses are capable of taking photos and videos – up to 30 seconds – in HD resolution and square format. They can play sounds, such as music or calls, thanks to the open-ear headphones, and are equipped with three microphones for clearer audio. Obviously they connect to the smartphone thanks to technology Bluetooth, both to be able to make calls and to transfer recorded files. It will then be possible to upload the contents to all the social apps installed on the smartphone: Facebook, Instagram, WhatsApp, Messenger, Twitter, TikTok, Snapchat and more.
These smart glasses are also quite niche, both because they meet the needs of a few users who want to record small clips without using the smartphone, and because of their price. The Ray-Ban Stories start from 329 euro and are available with various types of lenses: sunglasses, prescription, polarized, gradient, Transitions and neutral.
The smart glasses of the future
The smart eyewear sector, however, will certainly not stop in front of some abandoned projects and basic functionalities. Xiaomi, for example, has recently presented a concept of its future smart glasses which will be equipped with a display microLED capable of exploiting augmented reality. It will be possible to view writings and information in green, while continuing to see the world around the user in transparency.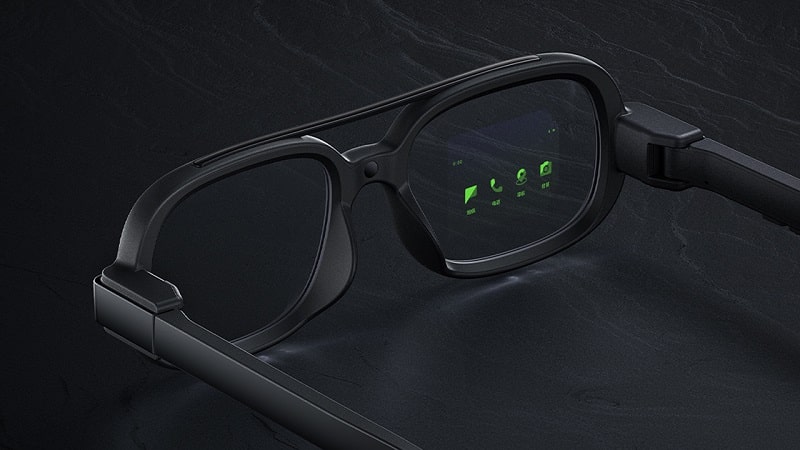 The MicroLED screen inserted in the Xiaomi Smart Glasses measures only 2.4 by 2.02mm. But it has a maximum brightness that comes up to 2 million nits to make the indications of the smart glasses visible even when you are in direct sunlight. Through the screen, in addition to the notifications, you will be able to view the driving directions, the simultaneous translation of what your foreign interlocutor says and much more. They will be equipped with Bluetooth connectivity, but Xiaomi aims to make glasses independent from their smartphone: they even would like them to work without pairing with a mobile phone. There will also be a 5MP camera to record videos and take photos and a large enough battery to power everything.
Also Samsung would be working on a pair of smart glasses that take advantage of augmented reality. They would call themselves Glasses Lite and allow you to watch movies, make video calls, play games and do much more, as if you had a big TV in front of you. They are currently just a concept, but the idea creates really high expectations.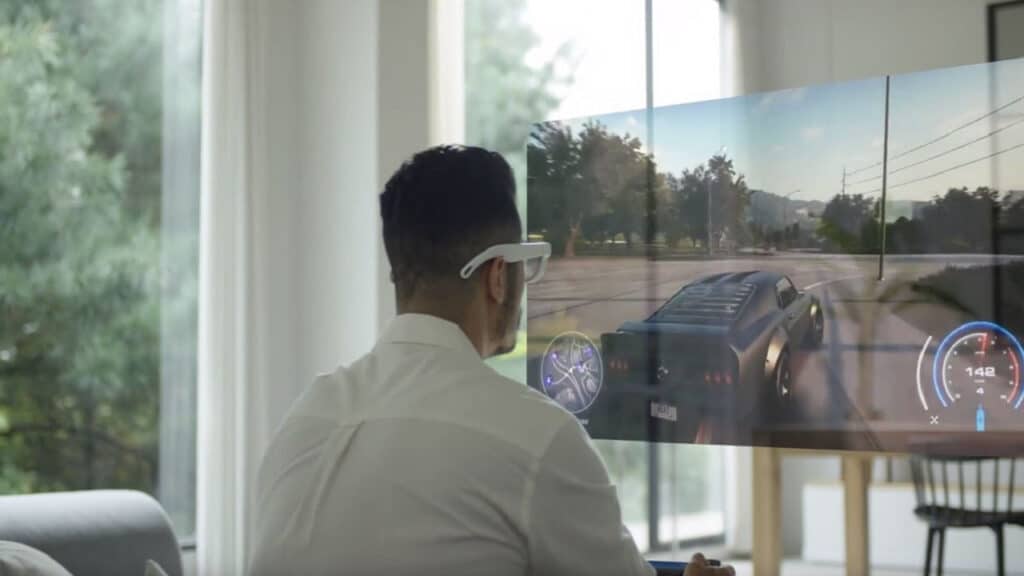 Photo credits: Samsung.
Facebook is no exception and for a few months he has been working on smart glasses that take advantage of the augmented reality, like its competitors. Also in this case the information is very little, but Mark Zuckerberg is very passionate about the subject and he can't wait to put on the market a device that allows you to view – with holograms – the colleagues who participate in …