The Elder Scrolls Online is updated with the Flames of Ambition expansion and in this article we will try to explain why it is worth checking out
Another year has come and that means a new cycle for what has now become one of the most famous MMORPGs ever. The game of Zenimax Online Studios e Bethesda Softworks, The Elder Scrolls Online o ESO, if you prefer, sees its first expansion of this 2021, called Flames of Ambition. This DLC is the first of the content expected to arrive this year that will have the theme as its center of gravity Gates of Oblivion and which will see its climax with the expansion The Elder Scrolls Online: Blackwood.
As has also happened for past cycles of Greymoor e Markarth, it all starts with a small expansion that introduce due dungeon and which act as a "prologue" to what will come later. Flames of Ambition in fact brings us back to what are the two main places where the Daedric cult takes ever more threatening forms. So let's go explore the two dungeons introduced a few days ago: Black Drake Villa e The Cauldron.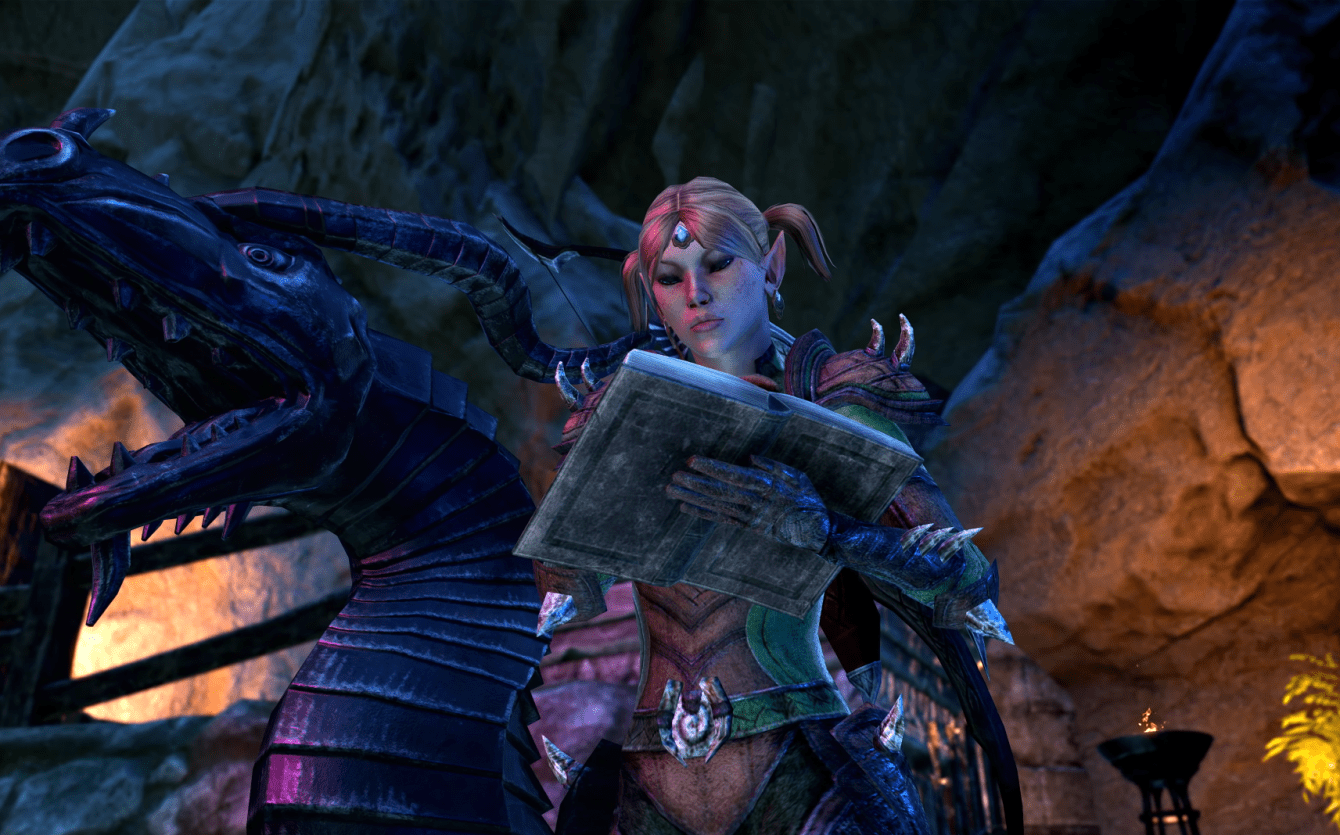 Esploriamo i dungeon di The Elder Scrolls Online: Flames of Ambition
Obviously, as was to be expected, these dungeons are designed for groups composed as always of a tank, two DPS and a healer. Going through them alone would obviously be impossible, but you can always try to see what you can do. Let's now see the two dungeons present in the DLC:
Black Drake Villa
The first place is in the region Gold Coast. Black Drake Villa is a sumptuous complex located in an almost heavenly place, in which it is difficult to believe that there are evil forces at work. However, so much opulence hides many secrets that we should discover in the course of our adventure. At the beginning, as always, we find an NPC ready to entrust us with quests to complete while we explore the dungeon. In this case we find the elf Eveli, already met in the past during our adventures, tasked with finding a book in particular from the huge library of Black Drake Villa.
The dungeon itself isn't as complex as you might expect. It turns out in fact to be very linear and with three bosses not exactly difficult to deal with. So far, therefore, nothing striking were it not for a small peculiarity. Inside Black Drake Villa there are tons of puzzles and mysteries to solve. By completing them you will be able to unlock various areas and three plus one optional bosses that will make your adventure even longer.
Obviously it takes time and you will have to search a lot before unlocking all the bosses. Put simply, trying to complete the adventure 100% with a random group search is next to impossible. You will have to then organize yourself with other friends or guildmates in order to proceed in this direction. Besides, I told you about three optional bosses plus one. No, I haven't lost my mind wandering around the map, don't worry!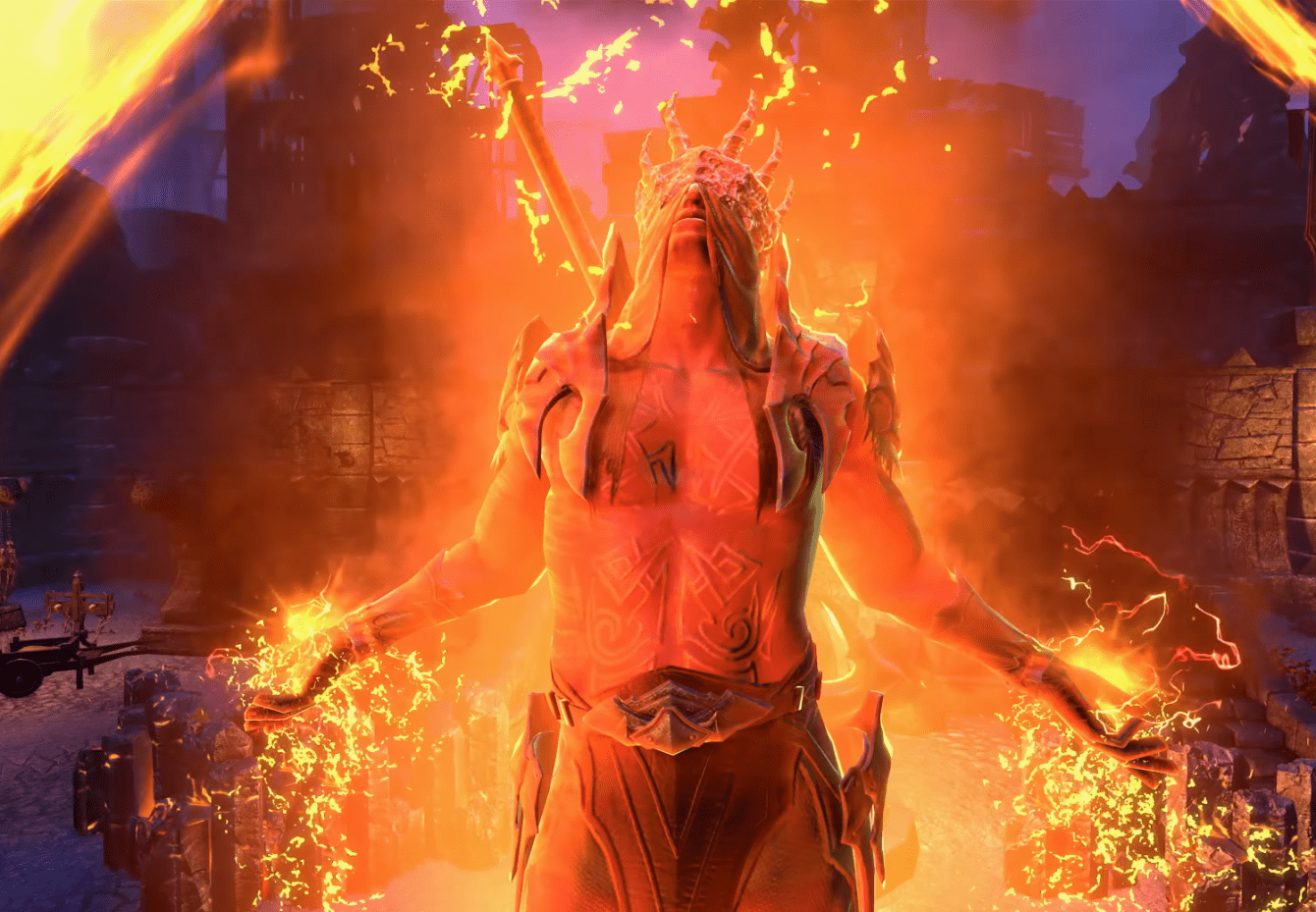 Although the "visible" bosses are in total six (three effective and three optional), there is another boss even more "hidden" than the optional ones. In fact, to unlock it it will be necessary defeat everyone else and collect 30 Avatar Fragments – new items introduced with the DLC mechanics – for each player in the group. These will in fact serve for the mechanism that will reveal the last boss in the area.
Black Drake Villa is therefore a short dungeon and not at all satisfying only if lived superficially. Digging deeper we can see a crescendo that brings us closer and closer to that theme so "demonic and gruesome" that appears in our minds when we think of Oblivion and everything related to it.
The Cauldron
Although the first dungeon of Flames of Ambition appears as a passage from what should be the "real" world of The Elder Scrolls Online, it is in The Cauldron that we can definitely admire what will be the main atmosphere of Gates of Oblivion. To be honest, in fact, venturing into this dungeon was almost like return to play TES IV: Oblivion in some ways.
The main setting is that of an abandoned mine in the Deshaan region and our companion on this adventure will be Lyranth. His mission, as well as ours, will be that of recover a box with something extremely precious inside. The "only" obstacle between you and the casket is a sect led by Mehrunes Dagon who will also have a Daedric lord in his presence.
This dungeon as well as the first is quite direct. However, contrary to Black Drake Villa, here there will be no secret areas with optional bosses. Although therefore in this sense it does not present any surprises, the peculiarity of this dungeon comes from interesting and well-structured mechanics that do not overly burden the adventure, nor make it banal.
In short, The Cauldron looks like a dungeon straight out of what was one of the most loved TES chapters ever and that on its own it could be worth the full purchase price of The Elder Scrolls Online: Flames of Ambition expansion. Not to mention that the linearity of the same also makes it suitable for groups generated with the random search tool. It is therefore also better suited to lone wolves who live from MMORPGs and do not necessarily feel the need for a guild.
The Elder Scrolls Online: Flames of Ambition, Oblivion gets closer and closer
The Elder Scrolls Online: Flames of Ambition expansion is the prelude to what will later be Blackwood. With two well-structured and very characteristic dungeons, the DLC presents itself as the entrance to that world that has so characterized the empire of Tamriel during the reign of Uriel Septim VII. As mentioned above, the dungeons present themselves very "direct" and on average long.
However, their intrinsic characteristics elevate them far above the average of other dungeons. The depth reached by Black Drake Villa and the intrinsic mechanics of The Cauldron make this expansion very unique and a must buy to better enjoy Gates of Oblivion. Also, what better time to do it than now that we are at the beginning of this new cycle?
For those interested, I refer you to the official page of Istant Gaming, where you will find The Elder Scrolls Online, the various DLCs and also the packages of discounted crowns. I remind you that you can get ESO e other Bethesda games also through the Game Pass. For more information, I invite you to read our article. To not miss further news from the videogame world, keep following the pages of tuttooteK!
(currently on offer) Don't miss it!