"How do you find yourself with iPhone 14?"
"What changes from 13?"
"What iPhone do I buy?" S
These are all questions that you have been asking yourself in the last few days, since the new smartphone from Apple arrived in our hands. And it is understandable. After all, this year too we have four new iPhone, paired two by two like last year. This time, however, there is no Mini. We have iPhone 14 e 14 Plus e iPhone 14 Pro e 14 Pro Max. The distinction is clear: the first two are a slight evolution of the iPhone 13, the older brothers instead point to the Pro-fessionals, with a new processor, a new photographic sector and a new display.
But we are interested, at least here, on the smallest and "cheapest" of the family: iPhone 14.
He kept us company for about ten days and now we are ready to tell you how it is, what it offers and to whom it is dedicated.
The iPhone 14 review
Before we dive into this iPhone 14 reviewlet's make a brief summary of the differences compared to the past model: we have a new internal architecture, the processor present in the 13 Pro Max, crash detection, satellite connection and a new photographic sector, which specifically includes a new main sensor, a new front camera and the Photonic Engine.
Aesthetically, nothing changes
Aesthetically, iPhone 14 and iPhone 13 are almost indistinguishable. We have the Ceramic Shield on the front, the back always in super resistant glass and the resistance to dust and water, up to 6 meters for up to 30 minutes. Apple also guarantees splash resistance from coffee, soda and more.
The only visible – but almost imperceptible – difference is the LED flashwhich on the iPhone 13 seems divided in half, on the 14 appear two concentric circles.
Change the weight, with iPhone 14 which is lighter than a gram. It seems very little but in everyday use the difference seems more marked. The weight distribution is probably different but we are not sure.
Finally, Apple has also changed the internal design, with an architecture designed to promote heat dissipation. Works? Well, actually hard to say. Or rather, during the test we never had overheating problems but we can say the same thing about the iPhone 13 so the benefits are, even in this case, difficult to perceive.
The new architecture, however, brings with it another advantage, perhaps more tangible: the rear glass is now no longer one with the skeleton of the phone therefore it is easier both to replace the glass and to access the internal components.
The return of the A15 Bionic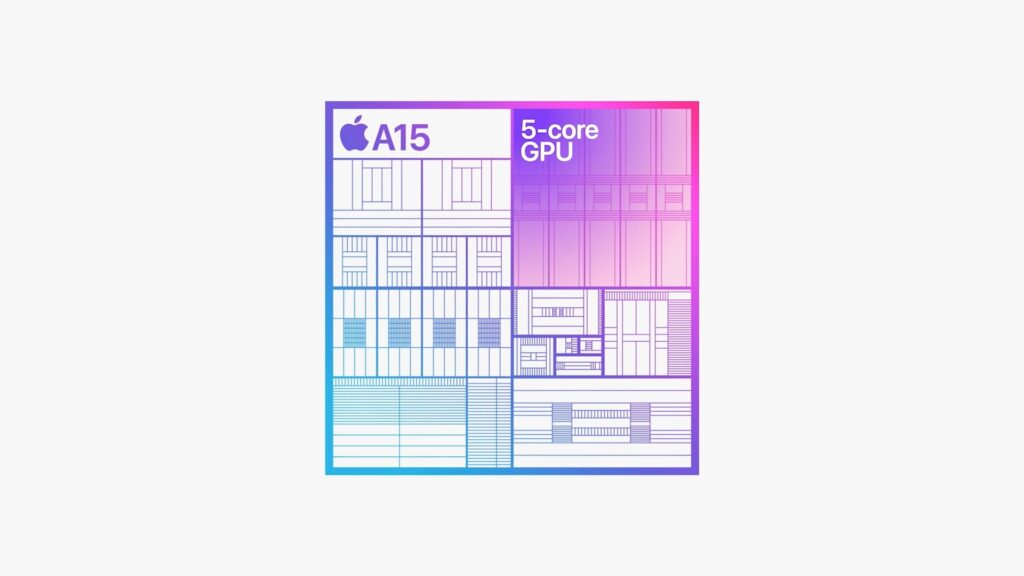 The processor of the iPhone 14 is and at the same time not the same as the iPhone 13.
Confused? Understandable. But don't panic, let's try to clarify.
All iPhone 13 are equipped with the A15 Bionic processor with Neural Engine. On the iPhone 13 Pro and Pro Max, however, the A15 Bionic had 5 cores dedicated to the GPU, against the 4 present on the 13 and 13 Mini.
iPhone 14 takes advantage of theA15 Bionic con CPU a 6 core e GPU a 5 core. The same as the iPhone 13 Pro.
Does performance change radically? Actually no.
Both iPhone 14 and iPhone 13 behave great in any situation from gaming to work, from social to web browsing.
The display? He is also the same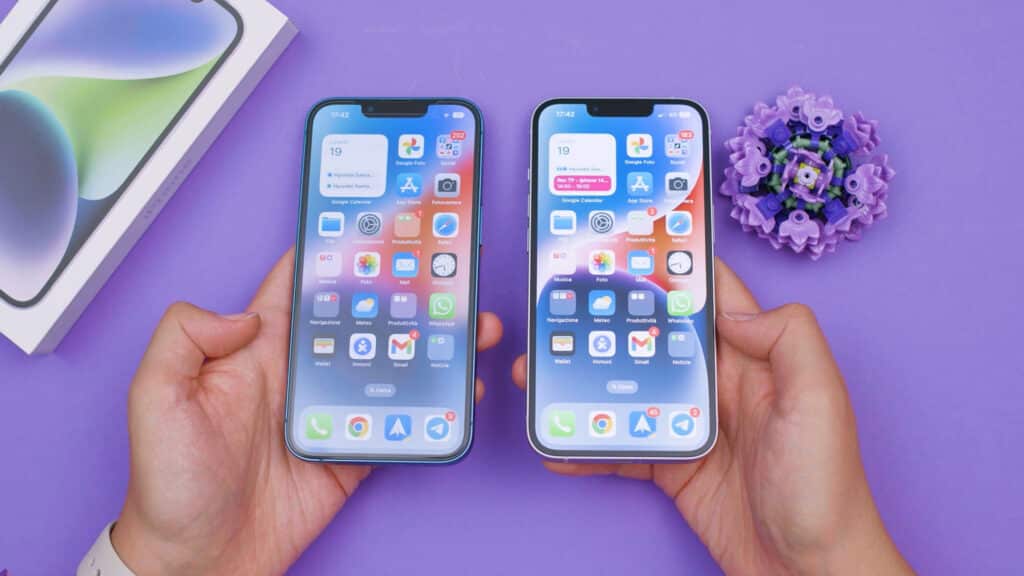 iPhone 14 and iPhone 13 share the same display, a Super Retina XDR with an average brightness of 800 nits and a maximum of 1200 nits.
The size is also unchanged – 6.1 in – but now you have the opportunity to have more space available by opting for the Plus model, which features a 6.7-inch panel as well as a larger battery.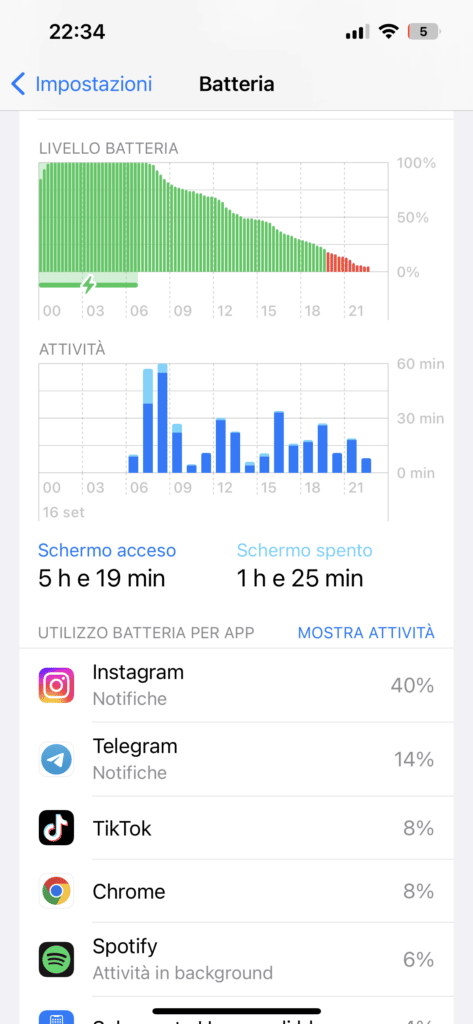 The autonomy of the iPhone 14
What if you want a smaller display? Bad news. The Mini is no longer there. Or rather, there is still iPhone 13 Mini, available for purchase on the official Apple website or on Amazon. Cupertino has therefore preferred to eliminate this format, perhaps due to the warm welcome reserved for it in these two years, proposing instead a model with unchanged characteristics compared to the iPhone 14 but with a more abundant screen. This means that if you want a larger display you don't have to fall back on the more expensive 14 Pro Max.
iPhone 14 review: autonomy
The battery of the iPhone 14 has the same capacity as that of the 13 but Apple has promised greater efficiency. In practice, however, we have not seen huge differences, with an average of 5 and a half hours of active screen on both devices. An excellent result considering that many other smartphones tend to settle on 3-4 hours, confirming the excellent optimization work that Apple continues to do for its devices.
A new sensor for the camera
The photographic sector of the latest arrival may seem the same to you. But no.
The ultra-wide-angle sensor, with its 12 megapixels, has actually remained unchanged but the main one has not: we still have 12 megapixels but a larger sensor, bigger pixels and a faster F / 1.5 aperture.
Both benefit from the Photonic Enginea new computational photography technology that combines hardware, software and machine learning to improve shots, especially in low light conditions.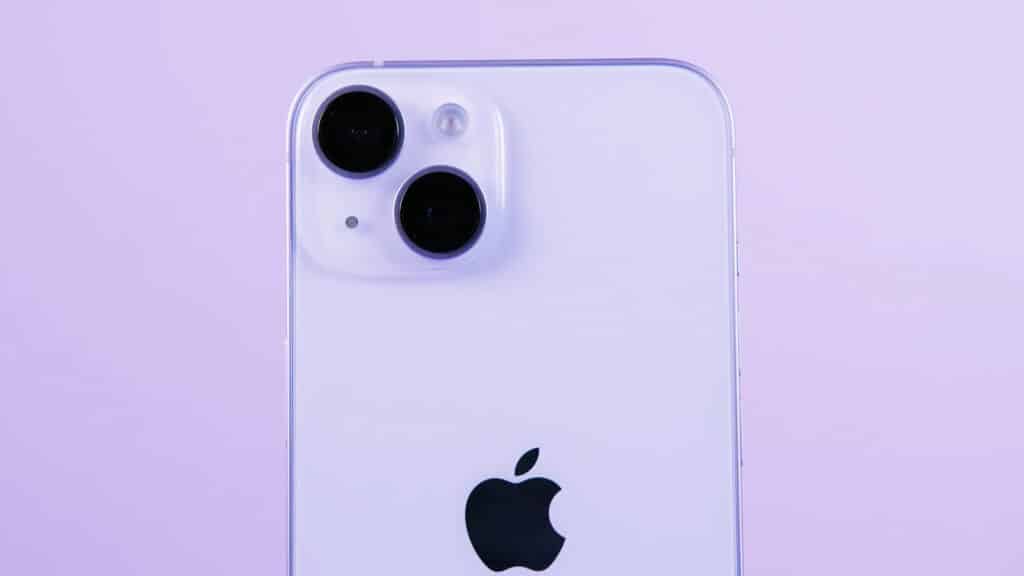 But this is the theory. What happens in practice?
In reality in most situations, photos taken with the iPhone 14 look very similar to those captured with the iPhone, especially during the day. You may notice some micro-differences in less lit environments but they are really small things, things that most people do not notice with the naked eye and above all that you do not notice without directly comparing the two devices.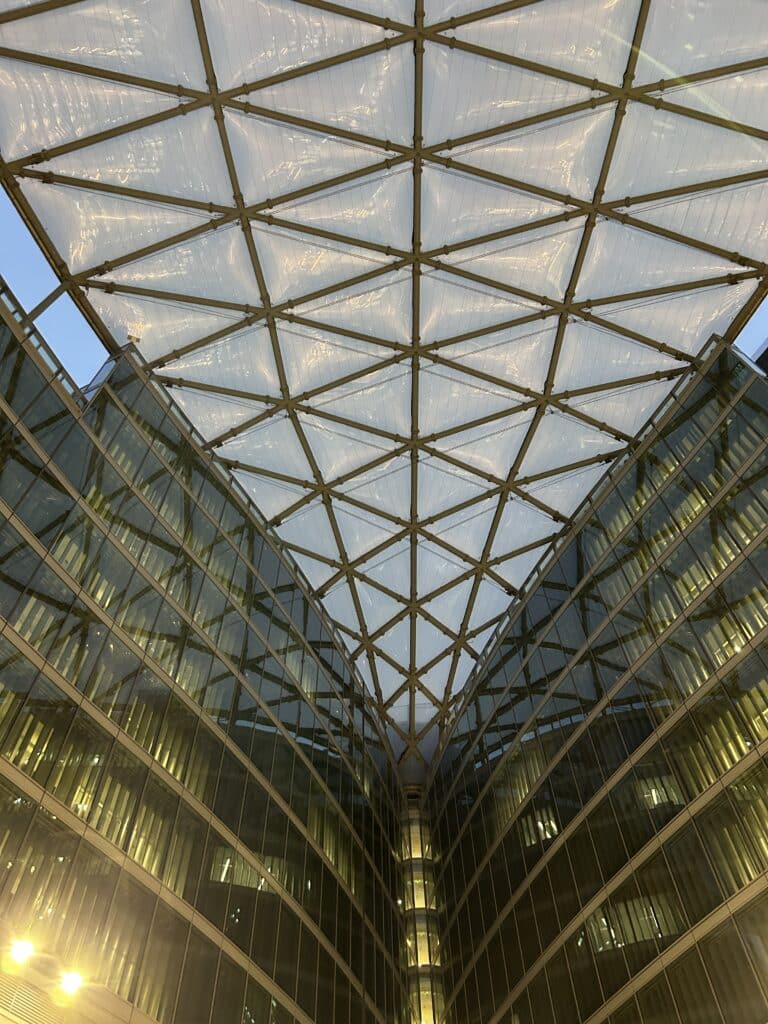 iPhone 14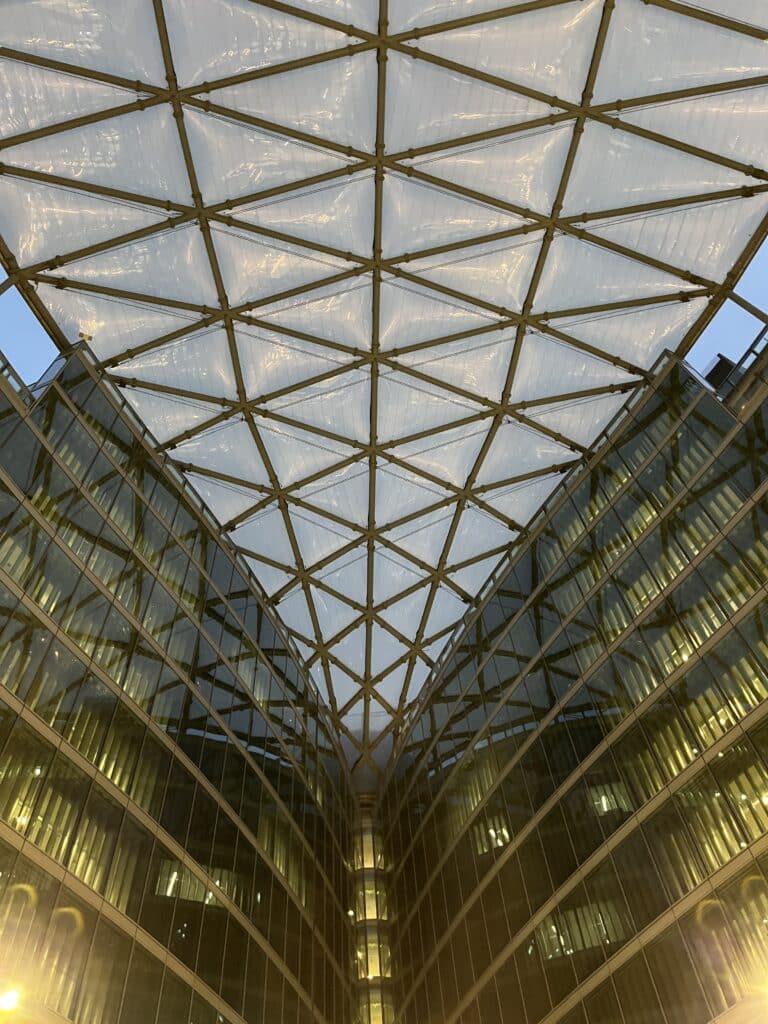 iPhone 13
The Photonic Engine also applies to the front camera, again from 12 megapixels, always TrueDepth but with a larger aperture which, even in this case, comes in handy for photos in low light conditions. In addition, however, we have theautofocusan absolute novelty for the front camera that allows you to keep everything in focus, even at different distances.
On the video front, the Action Mode, which adds stabilization to footage. Up to 2.8K and 60 fps. The target? Ensuring more stable clips even for recordings on the go, with truly convincing results.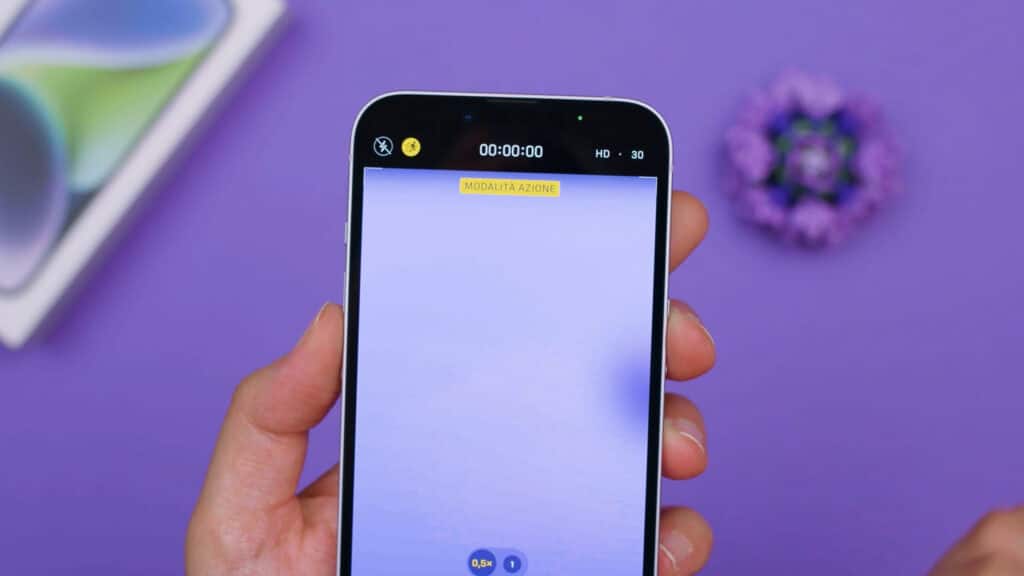 iPhone 14 review: safety first
With the new iPhone by their debut crash detection and emergency SOS via satellite.
Crash detection uses a new accelerometer to detect up to 256 g, as well as a new gyroscope and a dedicated algorithm. All this to detect serious accidents and eventually call for help.
So if – and let's do the begging – you were to be involved in a serious accident, iPhone 14 notices it, calls 112 for you and plays a message that also includes your location.
Theoretically we also have the satellite connection, which can be used when there is no signal, with the smartphone that lock on the satellite to help you call for help if needed.
Why "theoretically"? Because this feature will come in November but only in a handful of countries.
Il Lightning is not eSIM
Speaking of connectivity, we remind you that we still have the Lightning connector. No USB-C. And yes, that's normal because European legislation will make it mandatory starting in 2024. But this should be the last iPhone with Lightning.
There are also news on the SIM front. In the US the iPhones 14 are all with eSIM. Without trolley. Here, and in the rest of the world, it still exists but will probably disappear in the next few years. In short, for now you can continue to use your card but things may change in the future.
The iPhone 14 review: conclusions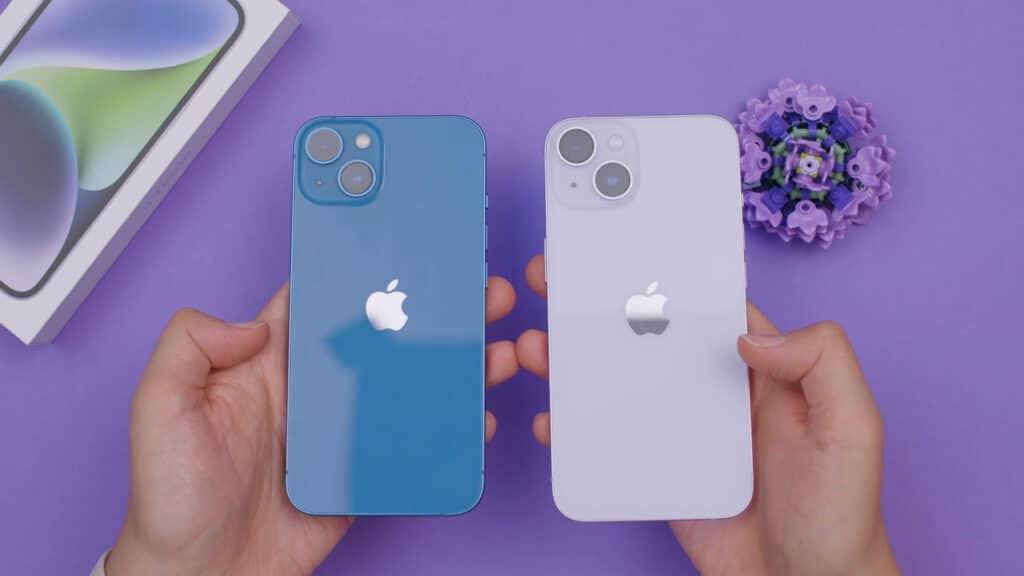 iPhone 14 is already available on the market starting from € 1,029in the cuts from 128, 256 or 512 GB and in five colors: Blue, Purple, Midnight, Galaxy and Product (RED).
On the Apple website, however, you can still find iPhone 13, which starts at 939 euros, which means 90 euros less. The question is which one do I buy?
The difference between iPhone 13 and iPhone 14 is not incredible. There is nothing revolutionary. Therefore, if you have 13, going to 14 doesn't seem to make much sense today. Of course, crash detection and satellite connection are an extra security, which you may prefer to have and which could therefore push you to change.
The speech is a bit different if you have to buy a new iPhone. Or upgrade from a much older model than 13, like an 11 or an X.
iPhone 13 is still a viable option. It gives you a lot and allows you to save, both on the Apple website and using other stores such as Amazon. But if the budget is not a problem, if 90 euros does not make a difference, then the 14 makes sense because you have a more up-to-date phone, with additional features and an extra year of updates.
Basically it is a bit like a 13s: the differences compared to the previous model are not very many but they add something more.