In this article we will get to know in detail the new Tonor Orca 001 microphone. Clean sound, ease of use and lots of quality at the right price
Tonor (here to visit site) is an expert audio equipment company providing optimal solutions for audiophiles around the world. In this article, we're going to review the Orca 001 USB microphoneand I'll show you all its features and functionality in detail.
Tonor's goal has always been to create devices capable of recording and transmitting the user's voice precisely and completely without noise or distractions. And Orca 001 does this job fully! Like most of the devices from Tonor, the Orca 001 is too plug-and-playso you can create content or broadcast live without worry.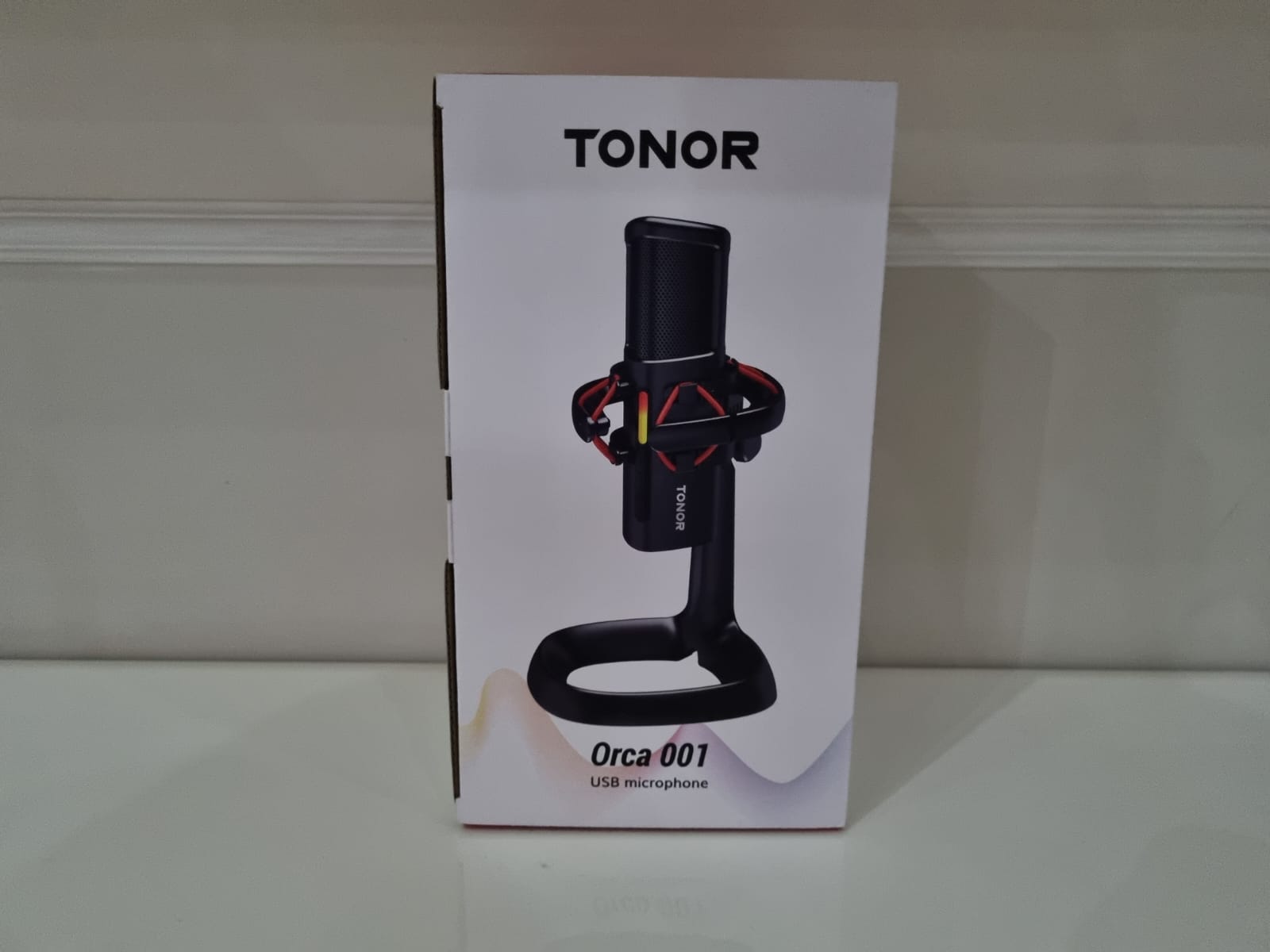 General overview | Tonor Orca 001 review
The Orca 001, is used to accompany gamers in many game sessions, being compatible with PC, Laptop, PS4, Mac, Android (negative note, not compatible with Xbox). But it doesn't stop there. In fact, it can also be used safely in the workplace or for simple calls between friends, being compatible with various software, such as Zoom, Discord, TeamSpeak, Skype, Twitch e Meet. It has a USB adapter to connect to the dual cable USB-C, plug and play e RGB volume indicator. No other accessories or installation of additional drivers are required, just connect it directly to your PC or smartphone to use it with complete peace of mind.
Among the strengths of the new Tonor Orca 001, we have the noise cancellation, activated with a single button, reducing ambient noise and always recording a clear sound. Suitable for streaming and group communication. Also it is possible mute it with a single touch. In fact, just touch the top of the microphone to immediately mute the sound (to reactivate it, do the same operation). Finally, thanks to the 3.5mm headphone jackyou can hear your voice in real time (no echo or background noise). In this way you can immediately evaluate the quality level of your recording. (Great for Youtuber and TikToker). Below, I'm going to show you in detail the Tonor Orca 001, a product that offers great quality at a good price.
Packaging and unboxing | Tonor Orca 001 review
The package looks good. White in color, it shows on its surface, in addition to the name, the brand and the image of the product, also its own better features. Let's talk about the "Touch mute", the "RGB color light" and the "volume control and noise cancellation" keys. On one of the sides there are both the website of the parent company and the email for customer support. On the other side of the package, we find the characteristics of the microphone in English, the various hardware and software compatibilities, and the product code.
Inside the package, all the components of the microphone are stored in a protective case. That is, we have a cable USB-C with USB adapter for connecting the device, the microphone, the desk stand and thearm adapter. Obviously, the instruction manual could not be missing.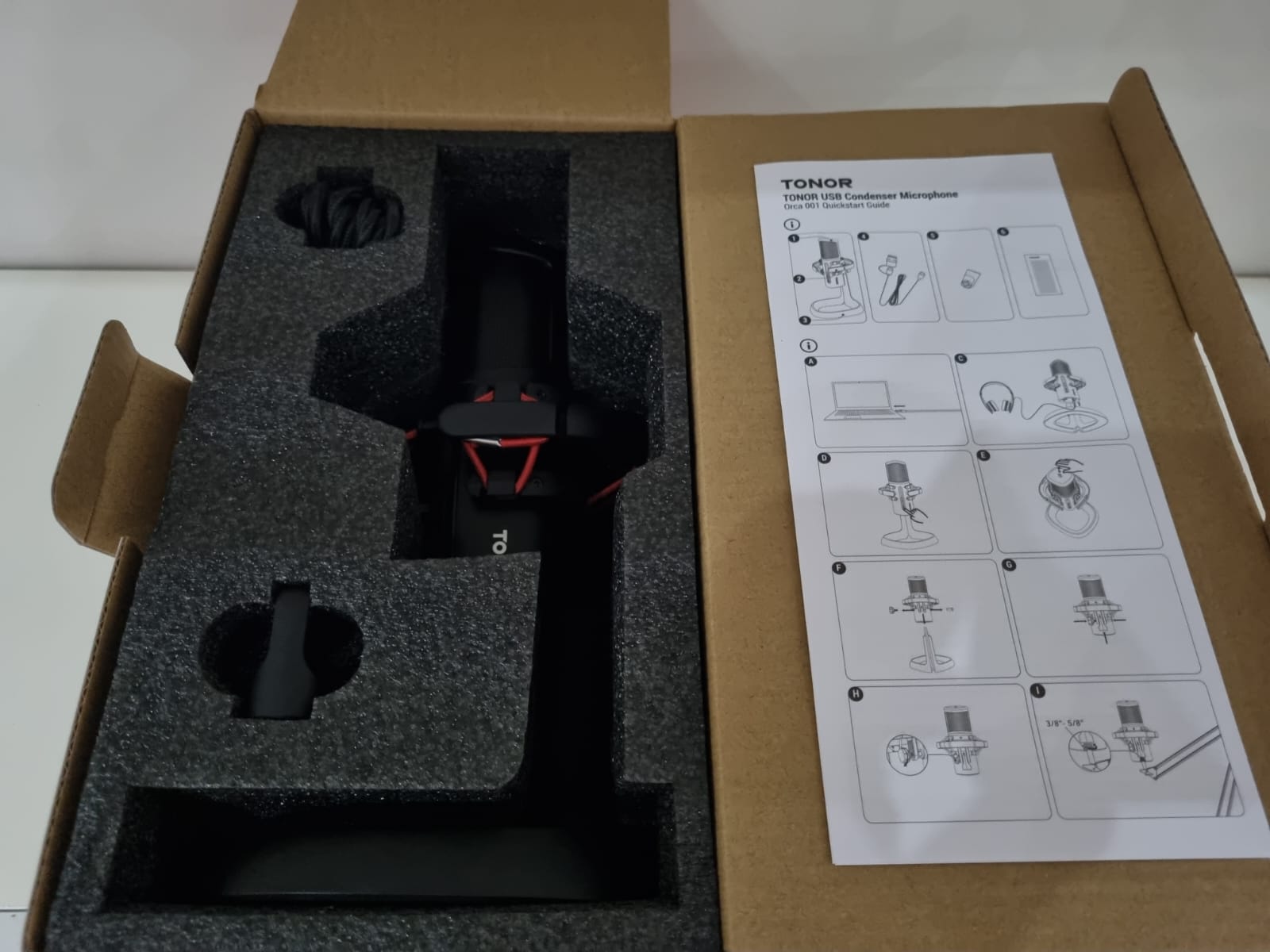 Technical characteristics and components
Product dimensions: 24x 13 x 13 cm
Color: black
Connector type: USB-C, USB
Platform: PC hardware, console, MAC, Android Mobile,
Power supply type: with cable
Item Weight: 650g
Plug and Play: nessun Driver Richiesto
Signal format: 90 dB
Plug and Play: With a USB-C data port you don't need any additional driver software or external devices.
Easy to install: no assembly required.
Materials, design and specifications | Tonor Orca 001 review
The Tonor Orca 001 is definitely compact, aesthetically beautiful, and it won't be annoying and bulky on your desk. If you don't want to leave it on its original support, you can alternatively clip it to classic arms (also available on Amazon at a low price). It is built entirely of high quality and durable materials (which surprised me, given that the microphone is fairly low priced). A microphone like this, mind you, will never work miracles or be compared to a top of the range. It's not a entry-level come il TC30 but I am convinced that it can be a great success for the quality / price ratio.
The support is very stable. It has a lot of care in the assembly, and I was positively surprised by the presence of one Shock Mount to dampen vibrations. Another positive side, is given by the possibility of being able to replace the original support with an arm (however, I recommend that you always check that you have taken the correct measurement). Another factor that makes the aesthetics irresistible are the keys with RGB LED light, from that of the volume that changes color according to the level set, to that for the reduction of external noise. The icing on the cake, the ability to set to "mute" and reactivate the microphone touching it with a finger at the top.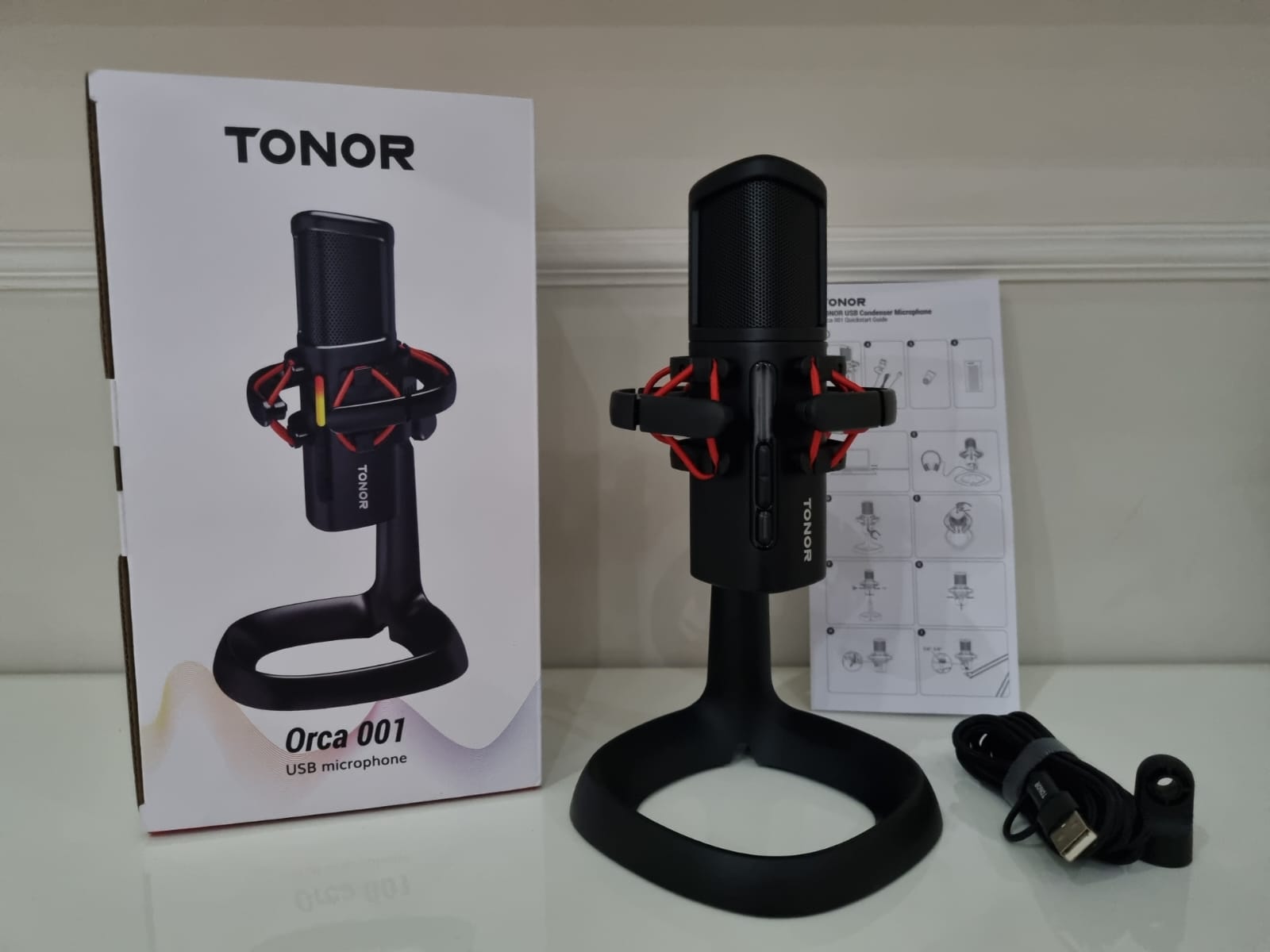 Audio quality
Il Tonor Orca 001, let's be clear, it's a low-end mic, so when I started my tests over the last few days my expectations weren't very high. I can tell you that, in the end, I changed my mind. After several recording tests, I noticed that the ideal distance of use is 30-35 cm from the microphone, so as to avoid annoying natural "peaks" due to the not always constant tone of voice. In any case, I can say that I am satisfied with the quality shown by this product. Especially if we think of other products in the same price range (or when compared to the integrated microphones of webcams or notebooks).
Furthermore, it must also be said that, testing the microphone at a distance of more than 50 cm, the voice held up well and the result of the recording remained at a good level.I really like the fact that it is Headphones can be inserted underneath the microphone to hear your voice in real time during use. A negative aspect, if we want to find it, is that when the "noise canceling button" is activated, the background noises are reduced a lotbut not completely erased.
Conclusions and price
After several tests and days of testing this microphone, I can say that I am quite satisfied with it. Tonor Orca 001 he has shown himself to be a really good "companion" both for work and for free time. A positive aspect is certainly the value for money. I remind you that the microphone can be purchased with an expense that is between 60/70 euro. In addition, the keys with light are very nice led RGB which changes according to the volume, and the "touch" button to set the microphone to "mute".
Negative note, in my opinion, is given by the incompatibility with Apple phones and with Xbox. Having said that, I absolutely feel like recommend it. Not only for those looking for an amateur or gaming microphone, but also for those who work in the live world.
And you? what do you think of this new desktop microphone Tonor Orca 001? tell us yours below in the comments and stay connected on TechGameWorld.com, for the latest news from the world of technology (and not only!).
EXCELLENT "COMPANION" FOR GAMER AND STREAMER
Points in favor
Value for money.
Attractive design.
Good audio quality.
Points against
Noise cancellation to improve.
Not compatible with some smartphones and Xbox.