Toshiba Canvio Slim review. Today we will see a hard disk that focuses on portability but above all on design, for a compact product
A warm welcome to the readers of TechGameWorld.com, in this review we will discover theHard disk in Toshiba casa intended for those looking for a compact product, we are talking about the Slim change, which, as the name suggests, boasts the peculiarity of an extremely minimal design.
The connection that uses this Canvio Slim is guaranteed by a USB 3.2 Gen 1 microUSB interface (Micro-B) therefore, unfortunately not Type-C. You will then use a connection with 5 GB / s USB-A cable, certainly not at the levels of a 10 GB / s USB-C connection, but which could still guarantee good performance for those who are not particularly demanding in conditions of daily transfers.
IS available in 1 TB and 2 TB variant, the latter in particular is the model that we have been able to test, and offers one 3-year limited warranty. It is present in two colors, the classic light gray given by aluminum, and in black color, also very elegant. That said, let's get to the heart of the review.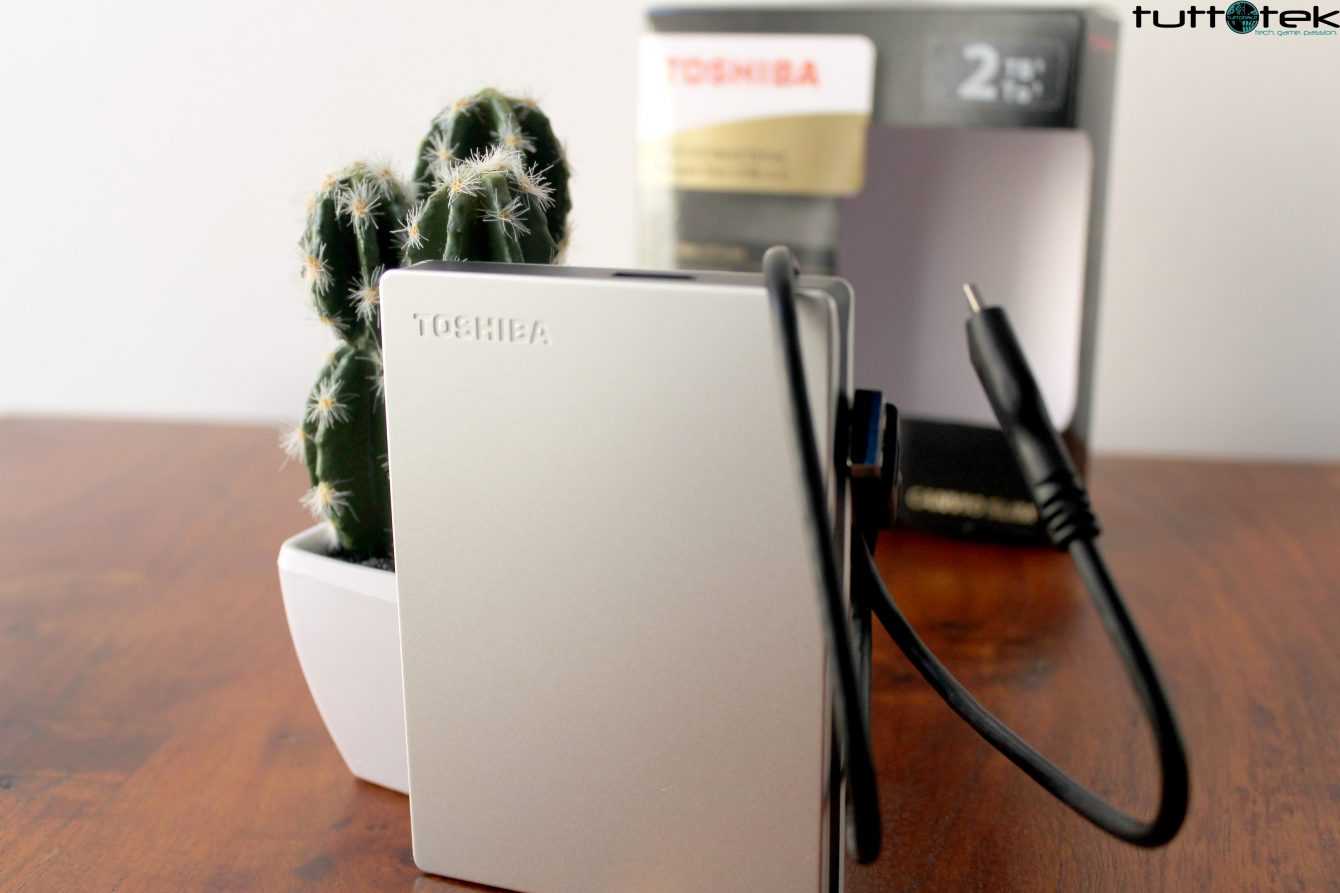 Materials and design | Toshiba Canvio Slim review
On the manufacturer's website we can read the following words: "Maximum space. Minimum weight ", and that's exactly how the Canvio Slim presents itself.
Made of aluminum, the sensation it immediately gives back is certainly that of extreme elegance, with a minimal design but complete with details. Like the thin black stripe that covers the edge of the drive. The finish as mentioned is in smooth aluminum, not satin.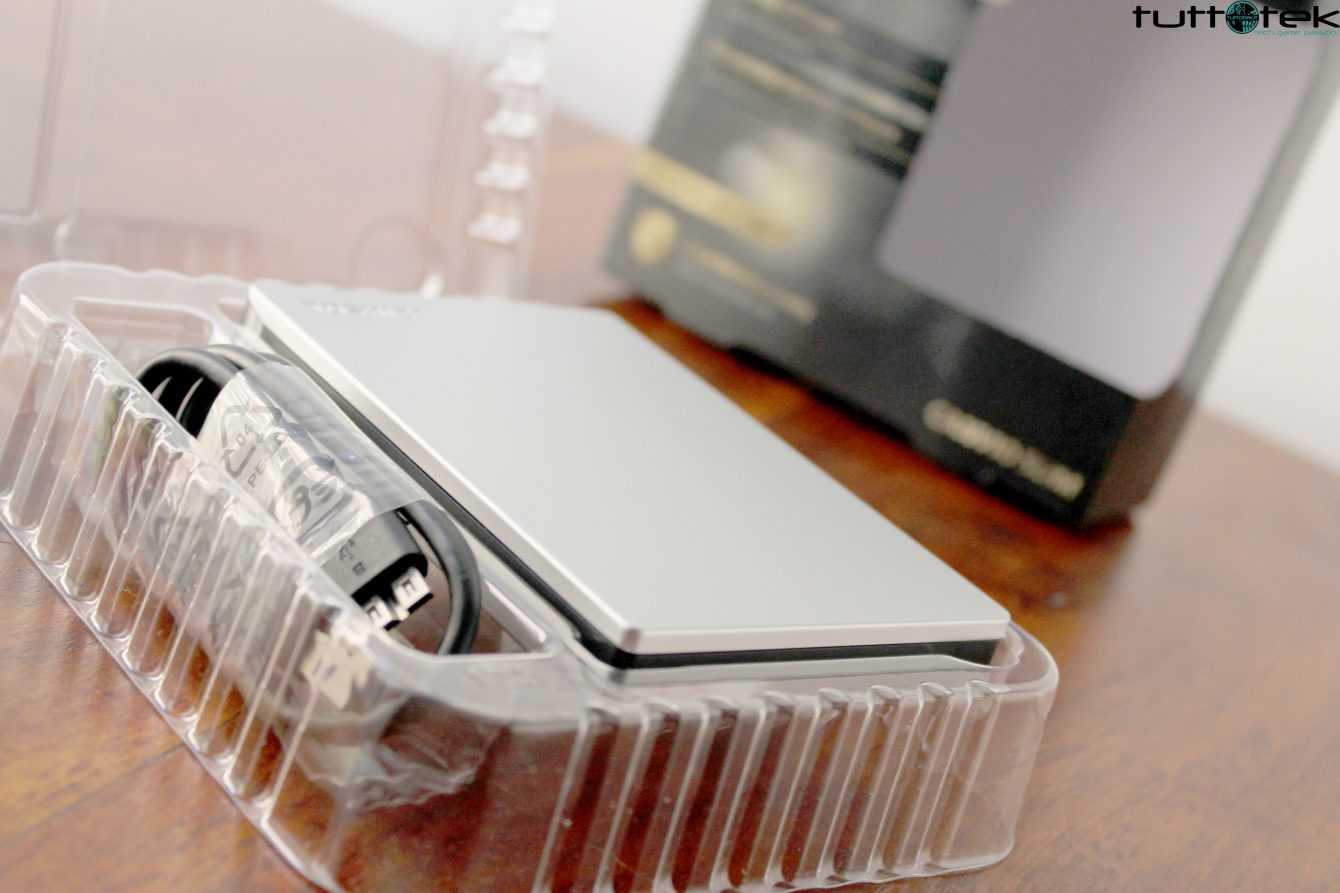 Featherweight with 149g, for the size of only 107 × 75 × 12.5 mm. Nothing is embossed on the front except the logo Toshiba inciso in the corresponding corner where there is a Lighting LED functional triangular shape. White indication LED that will indicate the writing status, and that of suspension or shutdown. In particular, we will have a steady light if active, a light that flashes to indicate the writing status, a light that flashes slowly for the stand-by status or removal of the drive. The unit mounts 5,400 RPM dishes.
There are no grommets or similar design elements for stability of support on surfaces, and this translates into greater noise during use on flat and non-flat surfaces.
Features and software | Toshiba Canvio Slim review
Toshiba Storage Diagnostic Tool
Before going into the usual technical and test part as in every review, where we evaluate the specifications and the performance in use, let's take a leap into the software equipment that Toshiba makes available.
Upon opening we will find ourselves in front of a hard disk formatted in Windows NTFS, which we can later format in the File System that interests us most, is obviously compatible with Mac OS systems.
At the following link you will find both software compatible with the Canvio Slim, and we're talking about Storage Backup Software e Storage Security Software. In addition to these, there is also a third software, universal and compatible with most Toshiba products, and it is the Toshiba Storage Diagnostic Tool, but let's see them in detail.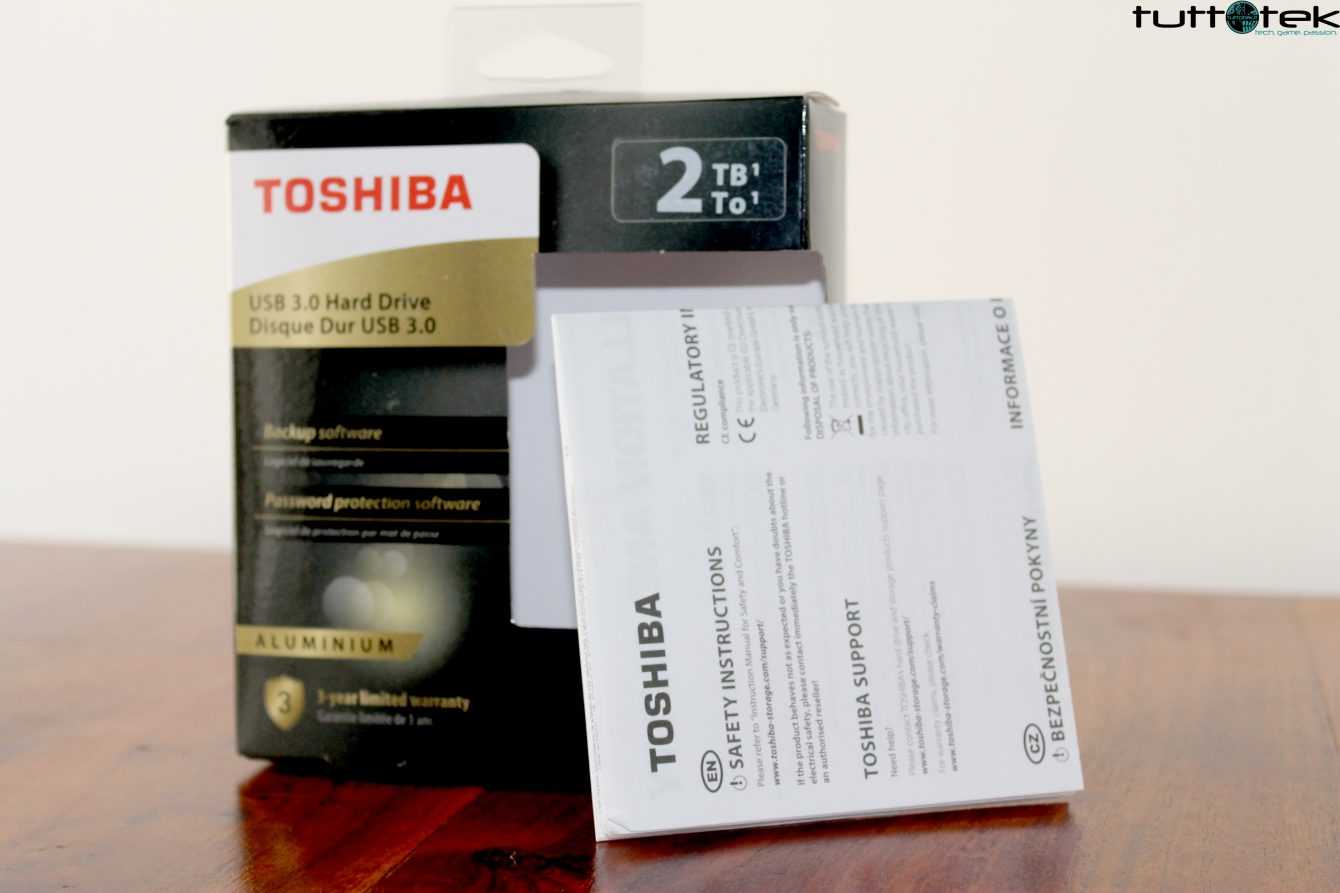 Starting right from Toshiba Diagnostic, it is basically a software that detects proprietary devices, and subsequently takes care of carrying out a check the health of the disk. It will therefore be able to indicate the type and model code of the connected device, the maximum capacity, the security status or whether it has been unlocked with a password or not.
In addition there is also the menu related to the disk health tests, which will be indicated as a percentage during execution, and which will then be notified of the status with a pop out, we will see "PASS" if the disc is in excellent health, "Error detected" in case of disk or file system malfunction. We will see the pop out ABORT in case of cancellation by the user.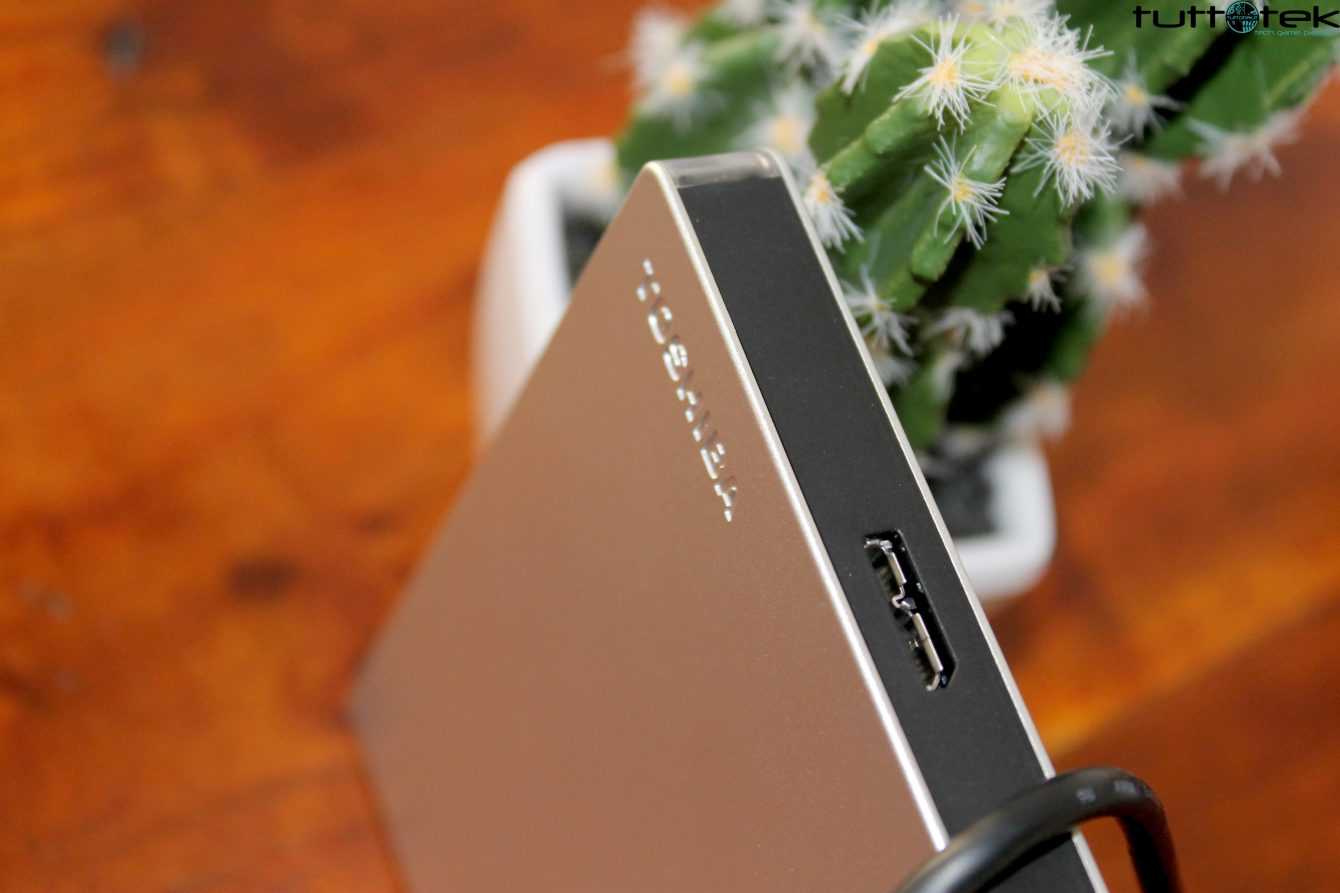 Storage Backup Software
This software basically takes care of making backups. In particular, they can be planned regular backup operations by setting different parameters. You can also set up to a maximum of five Toshiba devices for saving games.
Once the backup is set up, you can choose the time when the software will do i regular bailouts.
To be able to do this you will have to necessarily format the disk in the NTFS file system. If you want, you can also choose the specific location to perform the backup.
Storage Security Software
Before talking about this software, I think it is good to specify at the opening that the Canvio Slim hard disk it does not have hardware encryption.
This means that there is no encryption support with a controller installed (hardware) on the motherboard that manages all the encryption keys and also takes care of encrypting every single data written on the disk.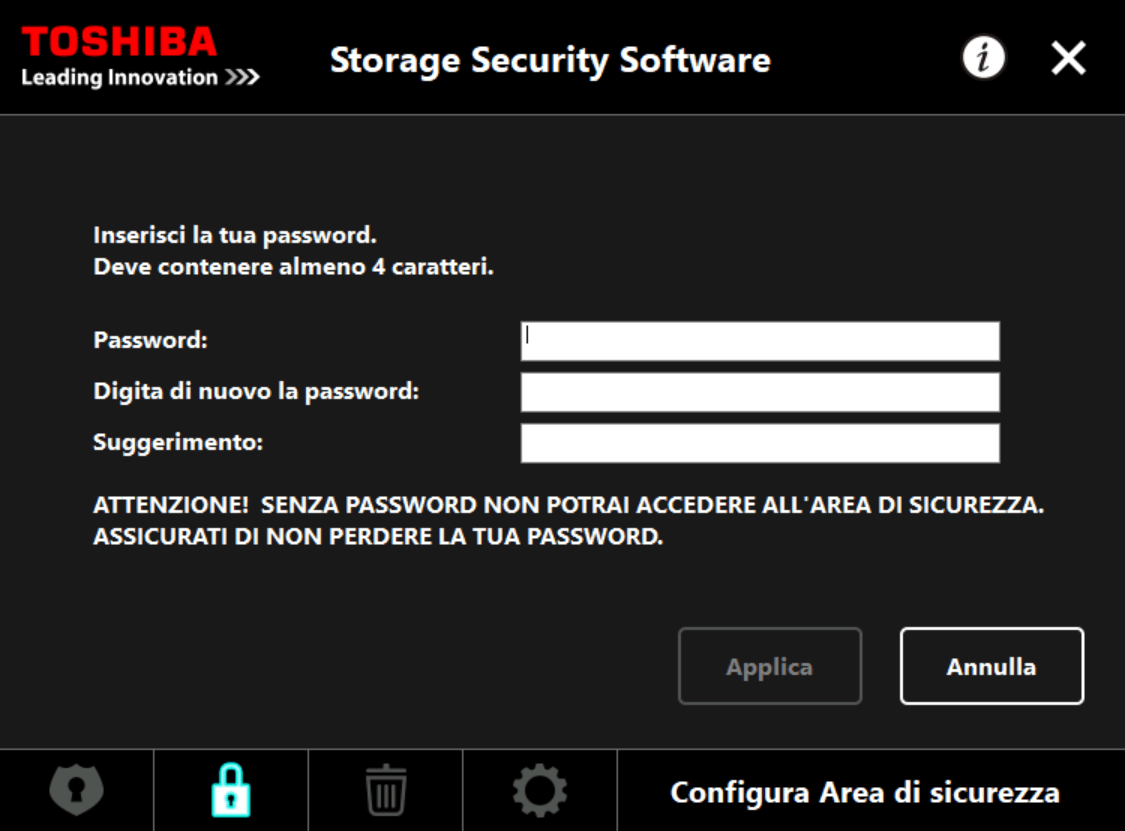 In fact, there is no daughterboard (with chip bridge) connected to the main motherboard or as mentioned a real processor with a lot of ROM and dedicated RAM, which deal with managing the work of the cryptographic processes and unlocking the drive once connected.
The protection, but above all the security in terms of any forcing of the software therefore, it will not be the same that we can obtain with hardware solutions that rely on an algorithm of AES encryption which could be 256 bit to quote the most common standard.
Coming to the software, however, it will be possible to isolate a disk partition, hiding it from the operating system, and apply a password to it. We will therefore be able to create a partition that will be accessible only by proprietary software, and only through a password. The same operation you could perform with third party software. By activating this system as a non-hardware encryption, the performance will suffer a decrease.
Drive performance | Toshiba Canvio Slim review
Before we dive into synthetic tests or the benchmarks, let's go to perform our usual real tests, simulating a situation of daily use.
I have prepared a compressed folder containing files for 30GB, between various documents (PDF, Word files, etc.), photos, videos and films, for about 6,000 files each with a different weight, from a few MB to many GB. Loading it inside the Toshiba Canvio Slim, the writing phase ends in 03:42 timed minutes. Definitely a good result on average, but not among the most excellent seen. Not so much for the single test, and even the first one, but in the following test days, with repeated tests at a short distance (a method that we often perform for a consistency of the tests themselves), we have noticed a progressive decrease in performance in conjunction with the increase in the request itself. In short, little stability, a fact that was then revealed numerically and objectively in the tests performed subsequently. Not among the fastest in the writing phase considering that by monitoring the passage I recorded one media tra i 120 MB / se 140 MB / s.
Let us remember that the performance of SSDs or Hard Disks are classified using two main and different parameters: the sequential speed, which indicates the theoretical maximum speed with which data is read or written to the disk sequentially e and IOPS (operations of input / output per second) which instead indicate the speed with which the data is read or written in a random way, using small files of 4KB. Sequential speed is expressed in MB / s (Megabyte per second) or GB / s (Gigabyte per second), while IOPS are expressed in numbers (ie the maximum number of input and output operations that the unit can "handle" every second). In the daily use of an SSD or Hard Disk the value of IOPS is very important both as a real performance indicator and as a drive life. Using these software returns very reliable values ​​in this field.
Toshiba Canvio Slim in action with CrystalDiskMark
The next test was performed with CrystalDiskMark, to measure maximum theoretical sequential read / write performance with random data of various sizes. The test highlights speed that certainly good and comparable to the best Hard Disks on the market, at least, and always, for the first tests, while they tend to decline in repeated tests, demonstrating inconsistency in performance.
Toshiba Canvio Slim in action with Atto Disk Benchmark
I then subjected the Toshiba Canvio Slim to the software Atto Disk Benchmark. One of the best tools available for measuring storage performance. Famous for being very reliable, it produces very accurate results. With ATTO we can test building block sizes. So we can test with a sequence of 32MB of 4KB files, but also 32MB in 1MB files. Which is the most important and difficult task for any storage drive, which is to write very small files quickly.
The data obtained once again actually show good results, comparable and comparable to the best Hard Disks on the market in terms of performance, On a 4 KB file though (which as I always say is a good indicator of reliability), we notice not very good performances.
Toshiba Canvio Slim in action with HD Tune Pro
The last test I did was with HD Tune Pro, a professional tool also used by companies in the sector. It allows you to scan hard drives for errors and thoroughly analyze various data and performance aspects from the storage drive under consideration.
My expectations and intuitions come to materialize thanks to Tune Pro, which has highlighted that strange anomalous behavior following prolonged use, and the relative decrease in performance.
The first test was carried out in the File Benchmark section, to measure the read and write performance of files with different block sizes ranging from 0.5KB to 8192KB (x-axis), a very demanding test for these drives. Readers of our reviews will now be able to interpret these values. What we can see is certainly a similar performance average in the performance seen in other benches and in real use, however, as soon as it starts to be used for a long time, performance drops significantly.
With 512 KB file we have in reading and writing respectively values ​​of approx 145 MB / s, and with 8192 KB file in reading and writing respectively values ​​of approx 130 MB / s and about 149 MB / s. We can then observe in the upper graph that the reading and writing phase, in relation to and given the low speeds, it could be more stable for sure.
The second test was carried out in the Random Access section, to measure the value IOPS. L'random access to memory areas, as we can see, it suffers from a lot of instability and, despite being relatively small files, the access latencies are really high. The graph is not "linear" as it should be understood. This technically confirms what, from daily use, was just an impression.
In this test we see that per…