For about two months now, Twitch has been witnessing an exponential increase in the hate raid phenomenon, which has led many streamers to protest against the platform's failure to intervene. For the uninitiated, hate raids consist of masses of users invading a stream, starting from another direct, spamming messages of insults and harassment of various kinds. To try to send a strong message to the platform, many streamers have been "on strike" for a whole day with the "ADayOffTwitch" initiative.
Twitch and the hate raid phenomenon
As you surely already know if you are a regular visitor to the streaming platform, raids are a system designed, in theory, to allow streamers to help each other. Their operation is very simple: at the end of a live broadcast you have the possibility to "send" all your viewers to another channel, in order to support each other.
This feature quickly became part of Twitch culture itself, but in recent months it is being abused more and more to spam hate comments and harassment of various kinds. This problem can be traced back to the introduction on the platform of tags relating to gender, sexual orientation, ethnicity and more. An initiative strongly desired by the community, but which has allowed some bad apples to organize themselves against streamers bearing these tags.
In this scenario, already heavy in itself, the position of the Amazon platform did not help, which has not yet included any functionality to somehow limit these hate raids, despite claiming to be hard at work creating a safe working environment for streamers.
"We support the right of our streamers to express themselves and focus users' attention on important issues within our service – explained a Twitch delegate – Nobody should be attacked on the basis of their ethnicity or gender, and we are working hard to improve the banning system and make Twitch a safer place for creators ".
#ADayOffTwitch
Although Twtich is working to resolve the situation, many users have considered the platform's official response too slow and generally ineffective. On the other hand we are still talking about human beings who receive insults regularly on the basis of elements intrinsic to their deepest nature, so there is no doubt that, with these assumptions, the situation can degenerate very quickly.
This is why the initiative was born #ADayOffTwitch, organized by LuciaEverblack, ShineyPen and RekItRaven, which took place on September 1st and which saw many streamers of the platform refrain from directing for a whole day, as a sign of protest, of which you can read the poster below.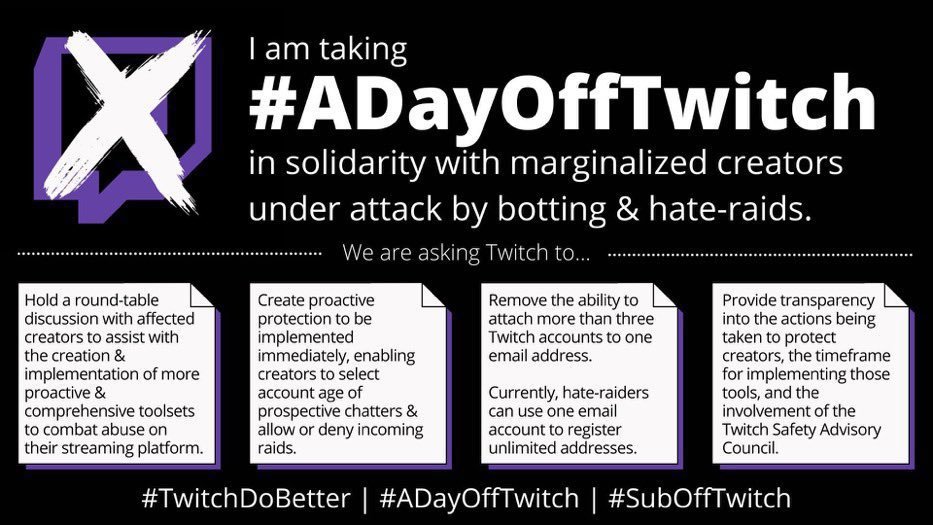 "The hate episodes on the platform are not new – explained Raven – I happened to have to do with people who entered my stream through bots. Usually it is one or two people who program a group of bots, evade the security measures put in place and just spam the chat with very provocative and derogatory language ".
As part of the protest content creators urged their followers not to support them on the streaming platform, but rather on third-party sites like Ko-Fi or Patreon which, among other things, offer much more advantageous percentages to their users.
The dawn of the next day
According to a report written by Gamesight, the #ADayOffTwitch initiative has had, at least in part, the desired effects. If we take a look at the average of active users on September 1st, in fact, we immediately discover that these are at their lowest peak from the previous nine days, which translated into approximately one million fewer hours of overall streams watched.
This data was then confirmed by another analytics team, CreatorHype, who explained how Twitch views have dropped, also taking into account the start of the school period and the end of Gamescom 2021.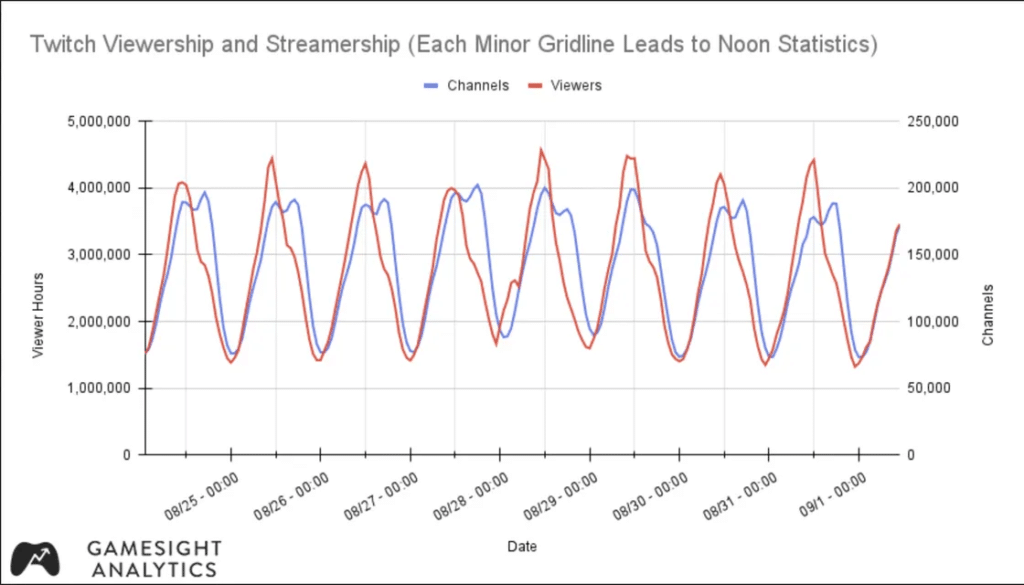 "Based on the data available to us, #ADayOffTwitch has had an impact on both the number of streamers and the audience on the platform – writes Zach Bussey by CreatorHype – Depending on how that data qualifies, the impact could have been 5% or potentially 15% ".
It is therefore not surprising to find that the organizers of the initiative said they were extremely satisfied with the result achieved and they hope that, despite everything, Twitch has received the message about the hate raid: "Even if we may not have significantly affected Twitch in a financial sense – explains Lucia Everblack – Our absence has been felt absolutely".
In short, what is missing now is only concrete action by the platform.