In this article we offer you a series of advice on purchasing Aukey TWS Bluetooth headphones that we have tested and that we hope will help you in choosing the product that best suits your needs.
Wired headphones have now become obsolete and the audio jack has disappeared in most of the latest generation smartphones. For products such as gaming or professional headsets still the cable continues to survive due to lower latencies and sound quality, however it is also true that Bluetooth technology has now evolved to such an extent that thanks to the new codecs and information transmission systems, it is now difficult for both average and expert users to distinguish between cable and TWS.
Consequently now TWS Bluetooth headphones have become a very popular accessory and Aukey is one of the main producers in the medium-low range of the market, which is the most interesting for the general public that is not willing to spend hundreds of euros for a pair of headphones. That's why we thought of summarize our experience with Aukey i Bluetooth TWS Headphonesn this article in order to help you choose.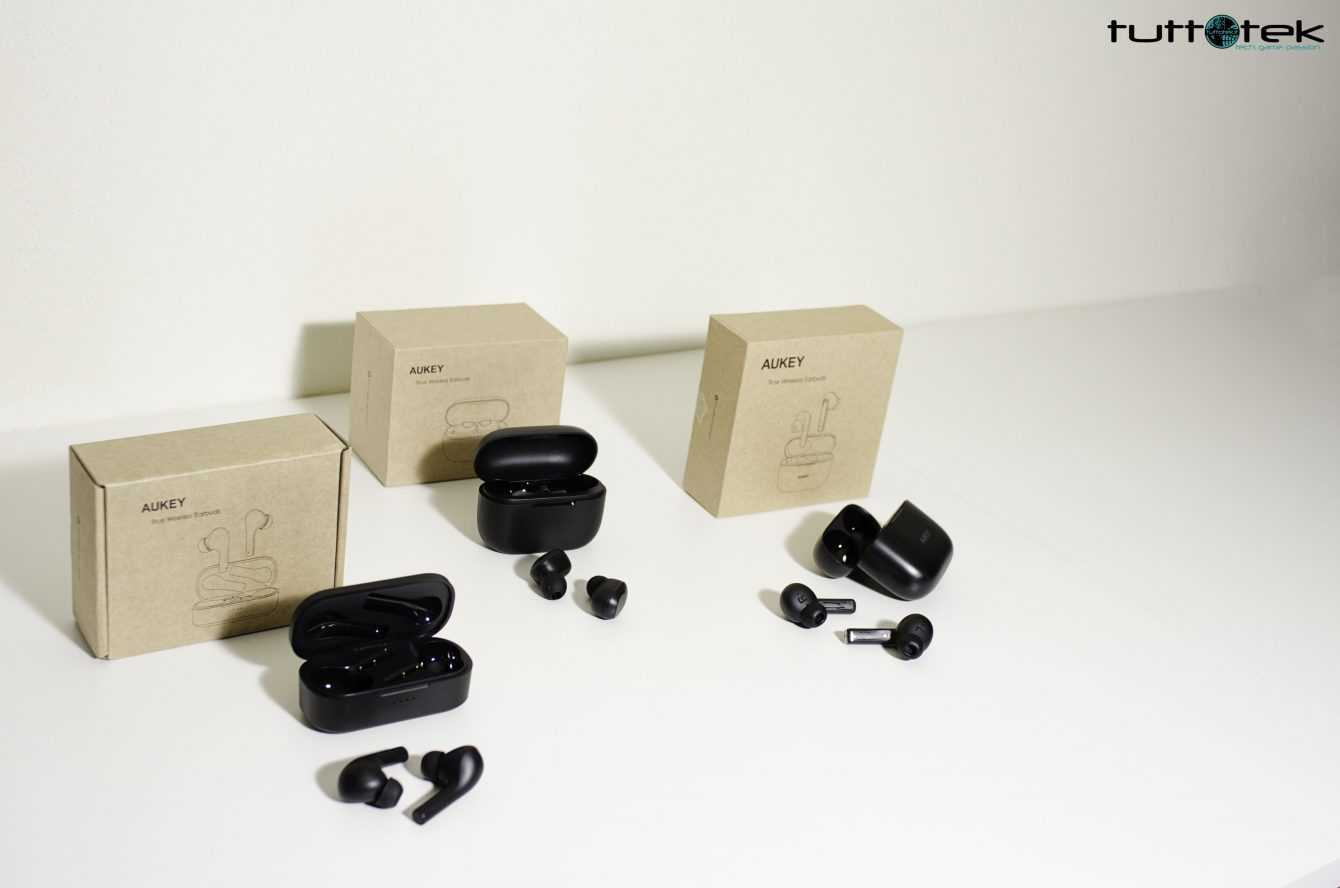 Aukey EP-T21S TWS Bluetooth headphones: low cost, good performance
This model is one of the cheapest among those offered by Aukey. It is therefore about a low-end model costing about 25 euros. The construction and solidity are excellent and fit very well. The case is very compact and guarantees good autonomy. The touch controls are also very sensitive.
The ideal target of these Aukey TWS Bluetooth headphones is an unpretentious user who it does not need to reproduce perfect and crystalline sounds, but who simply wants to enjoy some music or a TV series in peace. The headphones in fact work well, but they struggle with very complex sounds and mix a little (for example the catastrophic explosions in the movies). There is also a background hum when the sound is very soft (eg classical music). However, in most cases these defects are not noticeable. On call they work well thanks to the two microphones, however it will not be possible to use them if there is a lot of wind or in any case a high background noise. If you are interested in all the details, read the full review!
Aukey EP-T31 TWS Bluetooth headphones: super value for money
These are probably the best value headphones we've tried. Indeed they are resistant, light and comfortable with a large battery (About 2 half hours the earphones alone, extendable up to 30 hours. Charging is very fast in any case and wireless is also supported. The sound quality is really excellent, taking into account the price. We have a clean, balanced sound. The dynamic range of these Aukey TWS Bluetooth headphones manages to cover both highs and lows well. Also thanks to low latency mode they are also suitable for gaming or watching movies, with no loss of quality in the viewing experience. Also in this case we have various touch gestures to manage music or answer calls. Unfortunately, the ANC is missing, but i still the audio on call is excellent even if in very noisy environments you will have difficulty. A really great product as we also pointed out in our review!
TWS Aukey EP-N5 Bluetooth Headphones: The ANC at a Low Price?
One of the most interesting technologies in the high-end models is ANC (Active noise control). The idea is to "listen" to the ambient noise with a dedicated microphone, in order to generate an opposite sound that cancels it inside the ear canal. In this way we only perceive the audio output from the headphones and not the external noise. Easier said than done in reality. These Aukey TWS Bluetooth Headphones they offer only an immature taste of ANC technology, but for the price at which they are offered, it can fit. There sound quality is still good, with a good balance. The very low latency will be greatly appreciated for anyone who watches TV series or plays games.
Construction is good as with all Aukey e products autonomy is really good. The microphone in call works without infamy and without praise because it is affected by environmental noises if too accentuated. For all the details we advise you to read the full review.
See you next time!
Keep following us for many other news, reviews and tips!