In this review we will talk about Aukey's PC-LM3, Webcam for PC with excellent video and audio quality, and quite affordable price
In this period more than ever we find ourselves using the webcam of our PC, whether it is for smart-working, remote lessons, or of course video calls with friends and relatives. Often the webcams integrated into laptops or cheaper are of absolutely the lowest quality, especially as we have become accustomed to even lower-end smartphones. Today we bring you the review of the Aukey PC-LM3, PC webcam with Full HD resolution (1920 x 1080), autofocus, and dual microphone for noise suppression.
ATTENTION: at the end of the article you will find an update published a few weeks after the review, which explains the reasons why this specific model it is no longer available for purchase.
Package Contents and Design – Aukey PC-LM3 Webcam Review
Inside the package we will simply find the webcam itself, the instruction manual, and the warranty sheet. The cable connected to the webcam is 1.75 m, certainly more than enough in case you want to use it with a laptop or desktop held above the desk. In some cases, you may need a USB extension cable, but the integrated cable was enough for us even keeping the PC on the ground under the desk.
The device is extremely robust and well built, and the adjustable clip allows you to keep it perfectly stable even on curved monitors (where other webcams can often give problems). In addition to the clip, the webcam is of course also adjustable up and down, in the latter case even up to 90 degrees. The only flaw of the design is the LED, which in addition to lighting up blue to signal the use of the webcam, remains permanently lit in red even when the webcam is not in use, which can be quite annoying in the evening. We would certainly have appreciated some software to adjust the webcam settings, such as the behavior of the LED, as well as perhaps the field of view, white balance and so on.
An important detail to add is that the webcam can be mounted on a tripod, thanks to the 1/4 "thread on the clip. The same adjustable clip can also be closed completely, allowing the device to be stably positioned even directly on a desk or other flat surface.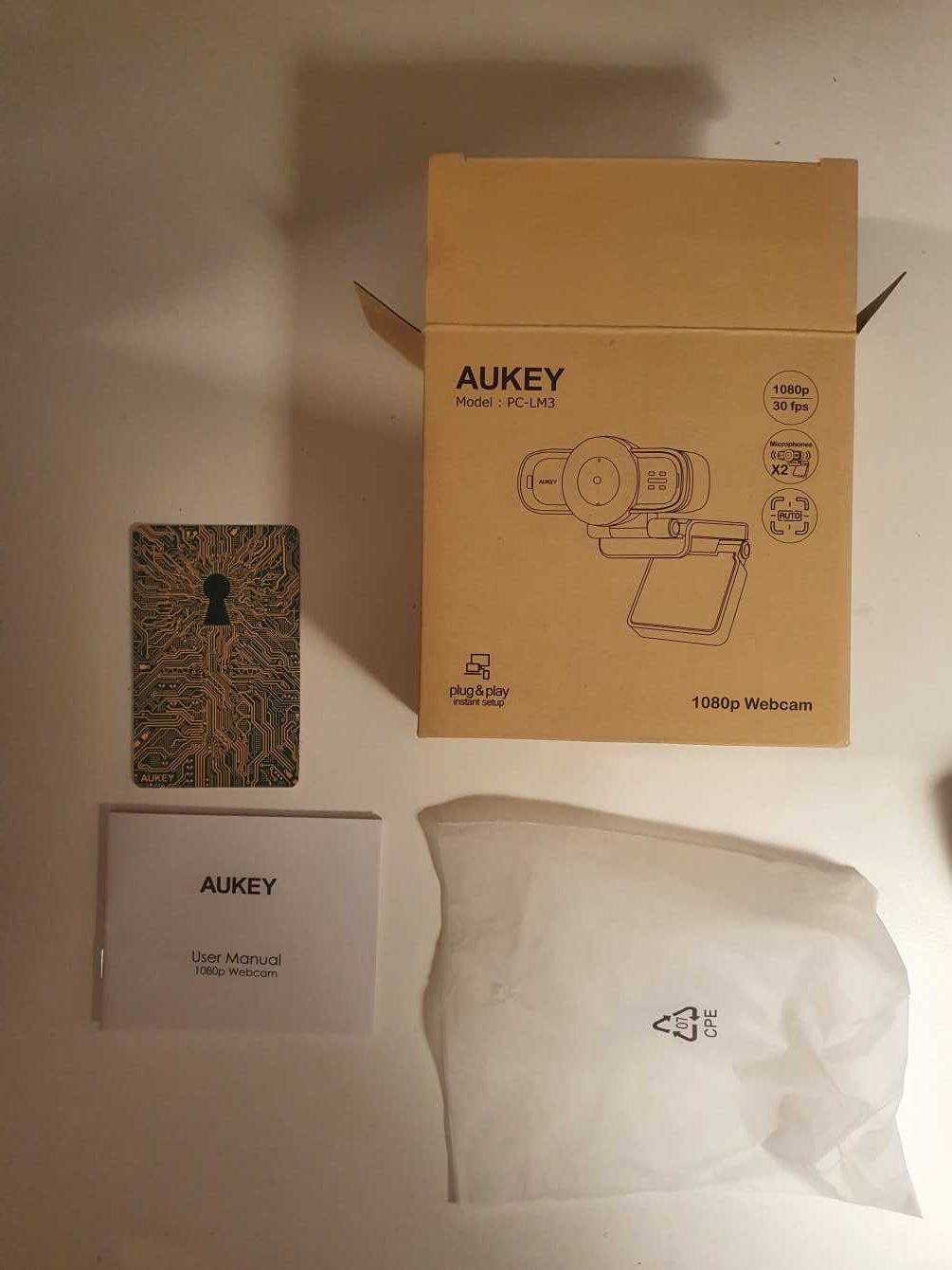 Configuration and use – Aukey PC-LM3 webcam review
Being a plug-and-play device, the webcam it does not require any configuration or installing drivers for use. In fact, just connect it via the USB cable to your PC or Mac and the webcam will be automatically recognized by the operating system.
At this point, if it is not done automatically, just select it then as video capture device in the program you want to use it with, such as Zoom, Discord, Skype or Microsoft Teams.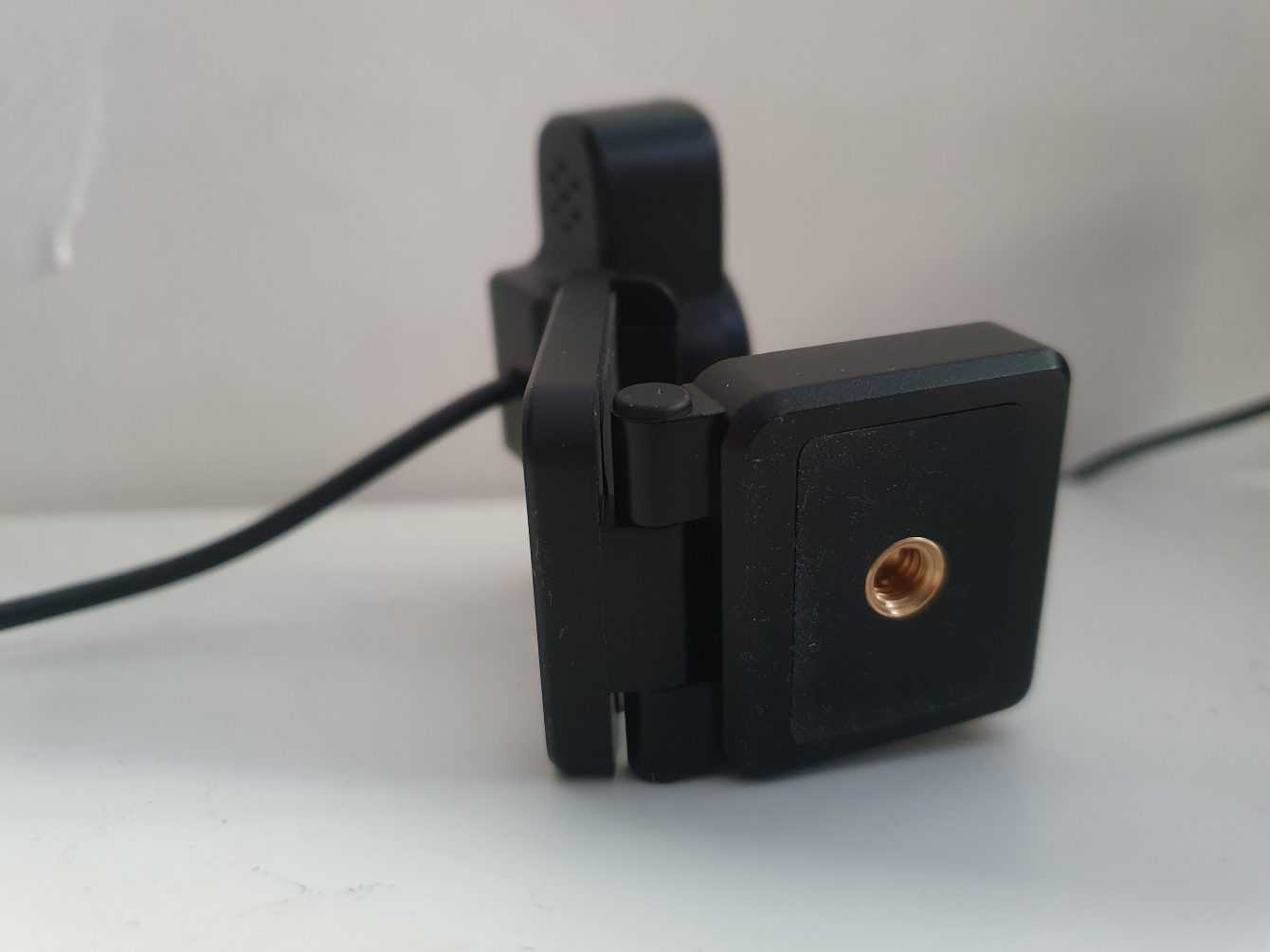 Video Quality – Aukey PC-LM3 Webcam Review
So we come to the most important aspect of the webcam, the video quality. Here we were pleasantly surprised by the LM3, which keeps a recording clean and well defined even in suboptimal lighting conditions. The step up from integrated or even slightly cheaper webcams is definitely enormous, and it can also be an excellent starting point for live streaming or videos on Youtube.
Another positive aspect of video quality is the field of view, which a 90 degrees it represents a great compromise, with good width and almost no distortion or fish-eye effect. The webcam allows you to shoot photographs up to 2K resolution (2560 x 1440) and by record up to 1080p resolution (1920 x 1080).
A small negative note, however, concerns the autofocus, which in poorer light conditions can give some problems. It should also be noted that the webcam does not allow you to record at more than 30 FPS, even lowering the resolution. Below we will leave you several images taken in various light conditions:
Audio Quality – Aukey PC-LM3 Webcam Review
This is certainly an important aspect in a webcam too, and again we were pleased with Aukey's LM3. In fact, thanks to the two microphones (one front and one rear), the webcam captures the voice quite well clear and clean, and also the reduction of external noise is as good as possible.
Since it is always a device positioned in most cases quite distant from the user, in fact, inevitably noisy keyboards or even mouse clicks will be caught by the microphones, but the audio quality is more than enough for video calls and conferences. In any case, several programs such as Zoom or Discord already integrate their own noise suppression system, and NVIDIA this year released RTX Voice, software that uses artificial intelligence to reduce background noise with impressive results.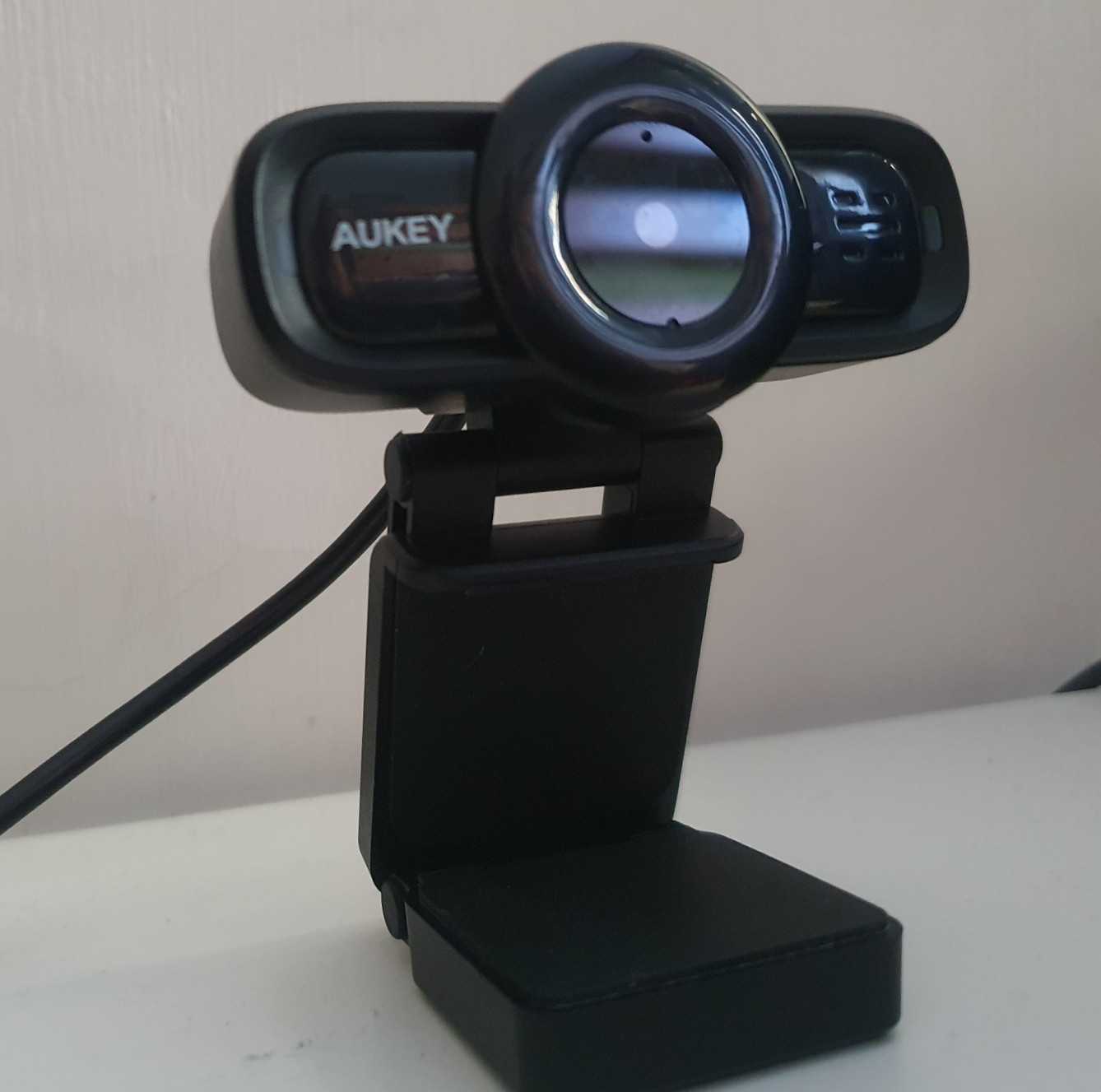 Full Tech Specs – Aukey PC-LM3 Webcam Review
Template
PC-LM3
Sensor
1/3 " CMOS image sensor
Recording resolution
1920 x 1080p (30fps)
Video format
H.264, MJPEG
Photo resolution
2 Megapixel
Focus mode
Autofocus
Focus distance
1.5 – 5 m
Field of view
90°
Minimum illumination
≤2 lux
Automatic white balance
Yup
Microphone
Two built-in microphones
(configuration for noise reduction
Entrance
DC 5 V 200 mA (max)
System requirements
Windows XP, Mac OS 10.6 and
Android 5.0 or higher
Material
ABS
Operating temperature
0 °C – 45 °C
USB cable length
175 cm
Dimensions
84 x 72 x 30 mm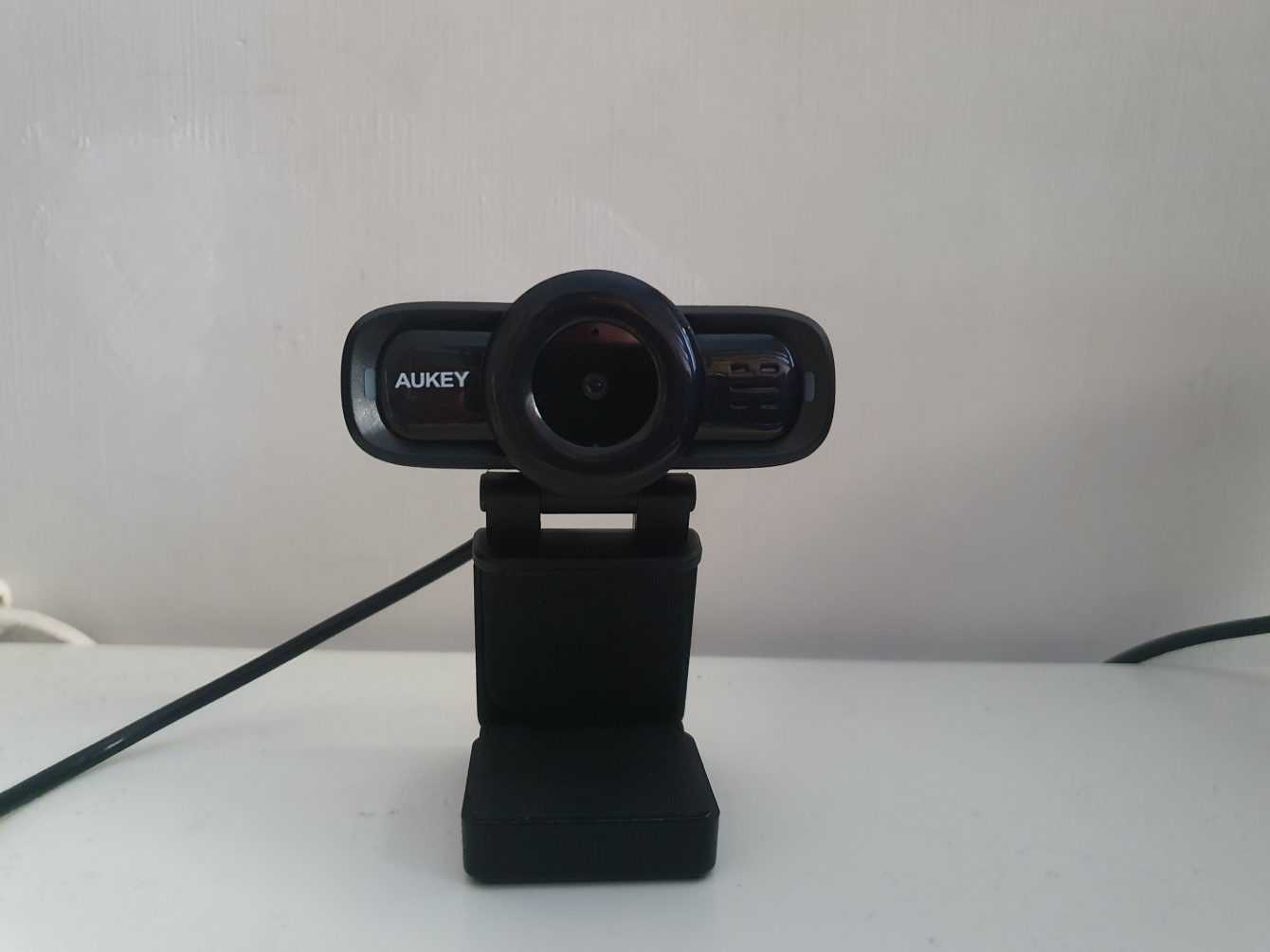 A great webcam for the price
Aukey's PC-LM3 webcam is an extremely well built device, with excellent video and audio quality, and above all, sold at a low price. The microphone captures any noisy keyboards or mice, but remains very good for simple conferences or video calls, even speaking in a low voice or away from the webcam.
The excellent integrated clip / stand allows for stable positioning of the webcam on any monitor, directly on flat surfaces or even on a tripod, with adjustable angle up and down. If you are looking for a Full HD webcam for video lessons, smart-working, and video calls or to replace the one integrated in a laptop, this is the model that can do for you.
Update following the review
After working perfectly in the first few weeks of use, the webcam began to manifest several problems, such as frequent disconnections and auto-focus malfunction, which is why we have obviously updated the review.
Aukey has already received several similar reports relating to this specific model, and has therefore decided to withdraw it from the market.
For other reviews, news, guides and specials on the hardware world, go to the dedicated section on our site! Remember to also follow us on our Instagram, Facebook and Twitter, and on our Youtube and Twitch channels!