WD BLACK AN1500 review. Two internal SSDs for a RAID 0 protocol, PCIe Gen3 connection, and stratospheric speeds, with a whopping 4TB
A warm welcome to the readers of techgameworld.com. We have in our hands the latest jewel from Western Digital, it belongs to the family WD BLACK, and it is the expansion card WD BLACK AN1500, we told you about it weeks ago in this news, and today we are here to review it.
This expansion card is advertised by WD with the following motto: "COLLEAGUE. PLAYS. STRAVINCI. ", And in fact, it is just like that in real daily use. It is useless to go around it, it is very fast and offers everything necessary for those who need not only performance in all operations, but also extreme stability without ever running into performance losses due to high temperatures.
Before talking about the new PCIe product of the US house, however, I would like to focus on direction that the WD BLACK brand wants to take, or rather, it would be more correct to say that it has been going on for some time. With the latest products, we are witnessing the desire to increasingly assume a pivotal position on the market: gaming industry leader. All products of the BLACK series want to represent not only maximum performance, but also a sophisticated and modern design.
Available in variants from 1TB, 2TB and 4TB, has a consumption that varies between 8/9 Watts and 15/16 Watts during the most demanding operations. After this preview information, let's get to the heart of the review now.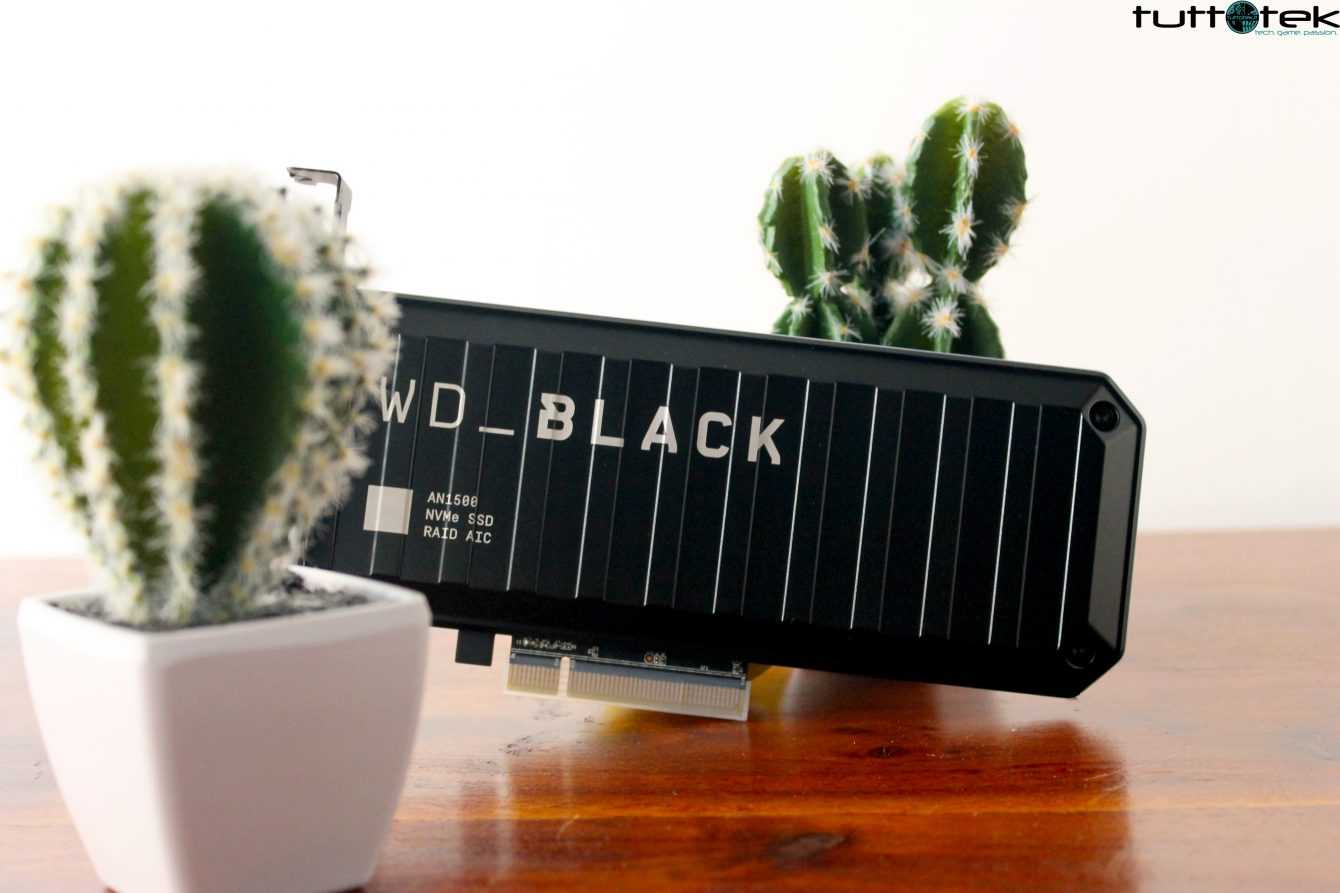 Materials and design | WD BLACK AN1500 review
The expansion card WD BLACK AN1500 NVMe boasts a high standard construction, and modern design. Typical of the BLACK family, it brings with it the distinctive element that is it stile "rugged" of the main facade, the same facade showing highlight the logo of the brand and details on the device. A façade created by alternating elevations with grooves, now a symbol of the family.
All is made of aluminum of excellent quality, and this is also reflected in the final weight, of about 210g. Solid and robust in construction, it remains so once mounted on the motherboard, also because occupies a single slot.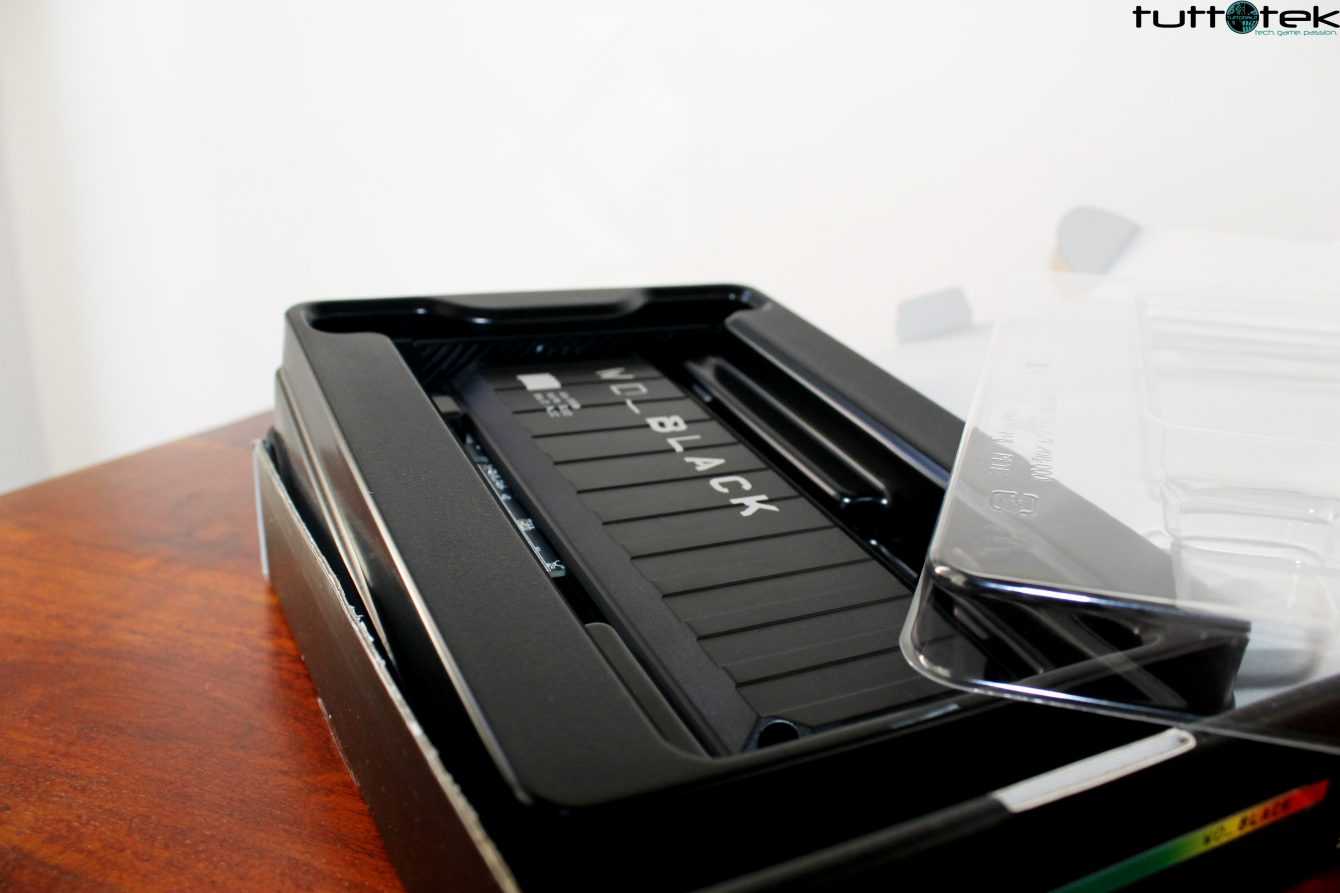 The size I'm di 13 x 72 x 176mm (LxWxH). While the package contains nothing but simply the device. Which comes in a packaging really compact in order to protect it during transport.
We give space to RGB lovers | Dashboard
The main prominent aspect of the SSD is the LED strip of RGB lighting.
The name of the product is engraved on this strip. There brightness really high, and faithful also the reproduction of colors, an element that can add that extra touch in the design of the machine to those who love RGB.
There are 13 basic effects already present in the system, and they can be controlled not only by the proprietary software but also by the systems MSI Mystic Light Sync, Asus Aura Sync e Gigabyte RGB Fusion systems, so as to synchronize it with all the devices in your possession.
Good and complete then the software Dashboard by Western Digital, downloadable at the following link. Dashboard, as you will be seeing from the images, is a software aimed at managing the drive at three hundred and sixty degrees. It will be possible check temperatures, RGB lighting, it health state, and up to performance same. All with very easy and intuitive graphics. The technical data that the program reports to us is interesting, such as the connection and bandwidth used, or any problems present in the drive.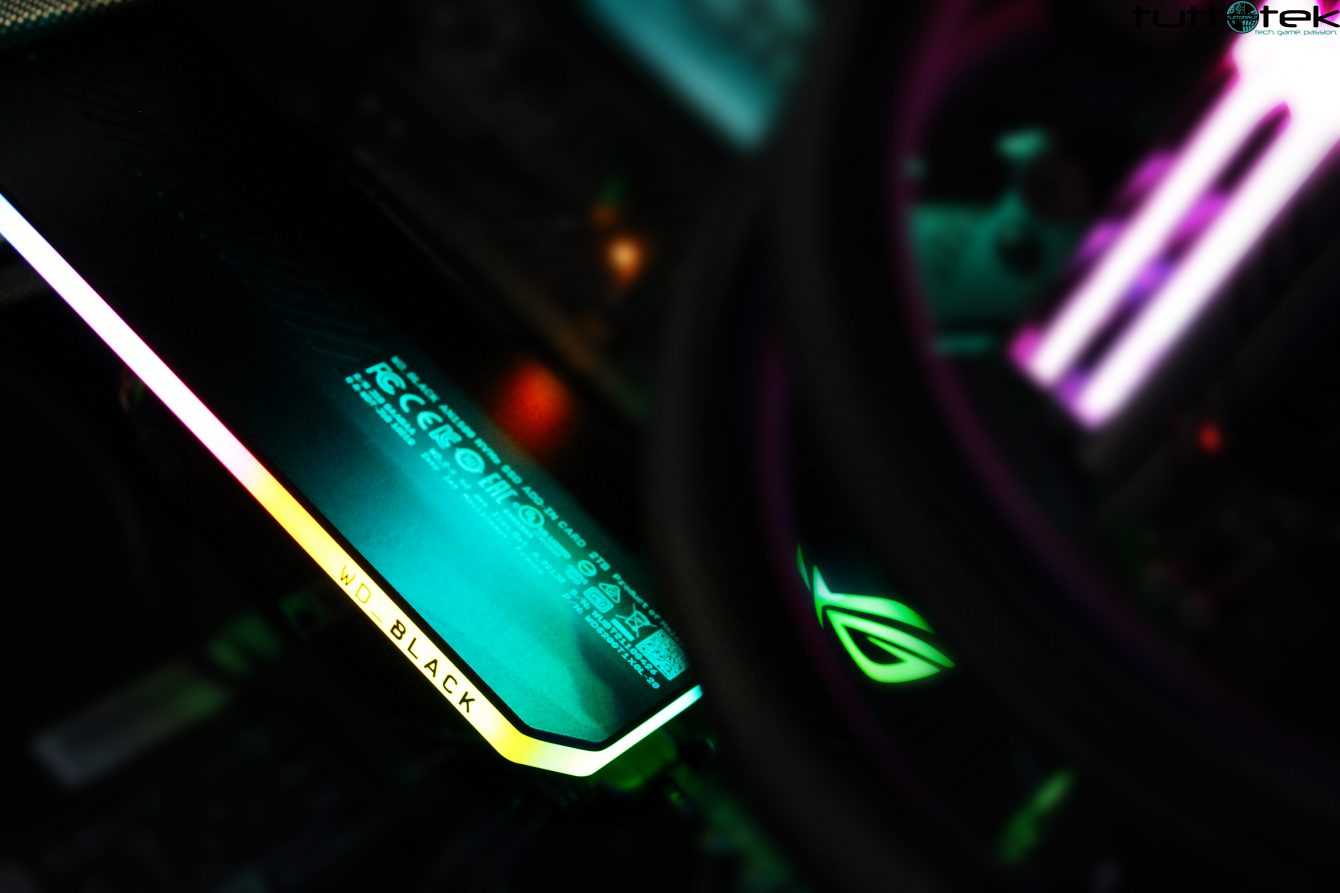 A look under the body | WD BLACK AN1500 review
The performance of the new WD BLACK AN1500 is ensured by one PCIe 3.0 x8 connection, which while not being an interface PCIe 4.0 x4, manages to exploit enough bandwidth to ensure very high performance. It is necessary therefore make sure before making your purchase that you have a PCIe 3.0 X8 slot available on your motherboard. Otherwise you will not be able to take full advantage of the maximum bandwidth, and therefore, maximum performance.
Under the body we find two SSDs placed in a RAID 0 configuration. And we are talking about the model WD PC SN730 NVMe, a intended version ai OEM therefore not present in the sale to the public, but which we can consider broadly as a sort of variant of the model intended for retail: WD SN720. Moving on, the model 730 was produced in November 2019, therefore, with memoirs SanDisk 96-Layer 3D TLC type. Let's talk about SSD that boasts a connection NVMe Gen3 X4, a duration equal to 200 TBW, random performance in read / write equal to 270 / 280K IOPS, e respectively in 3,150 and 2,100MB / s sequential performance.
Performance is certainly not an issue for the engine that powers this card, but neither is the security, these SSDs boast protocols such as Secure Boot, protection from Thermal Throttling, or function Full ECC Data Patch.
Places as mentioned in RAID 0, to manage both disks we find a controller manufactured by Marvell, it is a top of the range, the88NR2241, a model capable of supporting a theoretical maximum of 6.4 GB / s of throughput so i 1.6M random input output per second (IOPS).

Nothing to say about the controller, a champion, able to perfectly manage configurations RAID 0 and 1, supports applications such as: NVMe server boot cards, NVMe dual-port enablement, SSD QcS in Virtual Machines, EDSDD and NGSFF storage card, this tells us how specifically optimized it is for maximum performance, and cache management.
To keep temperatures down, Western Digital has inserted between the aluminum body and SSDs two related quality thermal pads to ensure excellent management. A quite thick thermal stamp it was instead placed in direct contact with the controller, an element that certainly tends to overheat as much as the drives.
We talked about the great stability of the controller, the performance of the SSDs, but how fast will it really be in daily actions? Let's find out in the tests we carried out.
Outstanding performance | WD BLACK AN1500 review
Western Digital claims for this latest generation SSD very high performance, we read on the manufacturer's website we read of a maximum speed of 6500 MB / s in reading and 4100 MB / s, the tests carried out go even further.
Summarizing the behavior in terms of temperatures, after testing the product for several weeks, and with different uses, the measurements made by me showed temperatures that were on average acceptable and under control. And builds, they ranged from 38 ° to 43 ° in conditions of normal office use, such as web browsing, office, and mail management.
And in conditions of maximum demand that they rise suddenly le temperature, to then stabilize later. From 56 ° to 62 ° degrees, we are in the second "operational scenario" that it reaches. I can state that the following degrees are achieved by using multiple resources at the same time, to report an example by opening several projects of the Adobe suite. I also registered peaks of 70/74 ° after 3/ 4 hours of intense use continuous of the PC. What surprised me though, is that performance has never dropped, even after performing benchmarks for long sessions of use.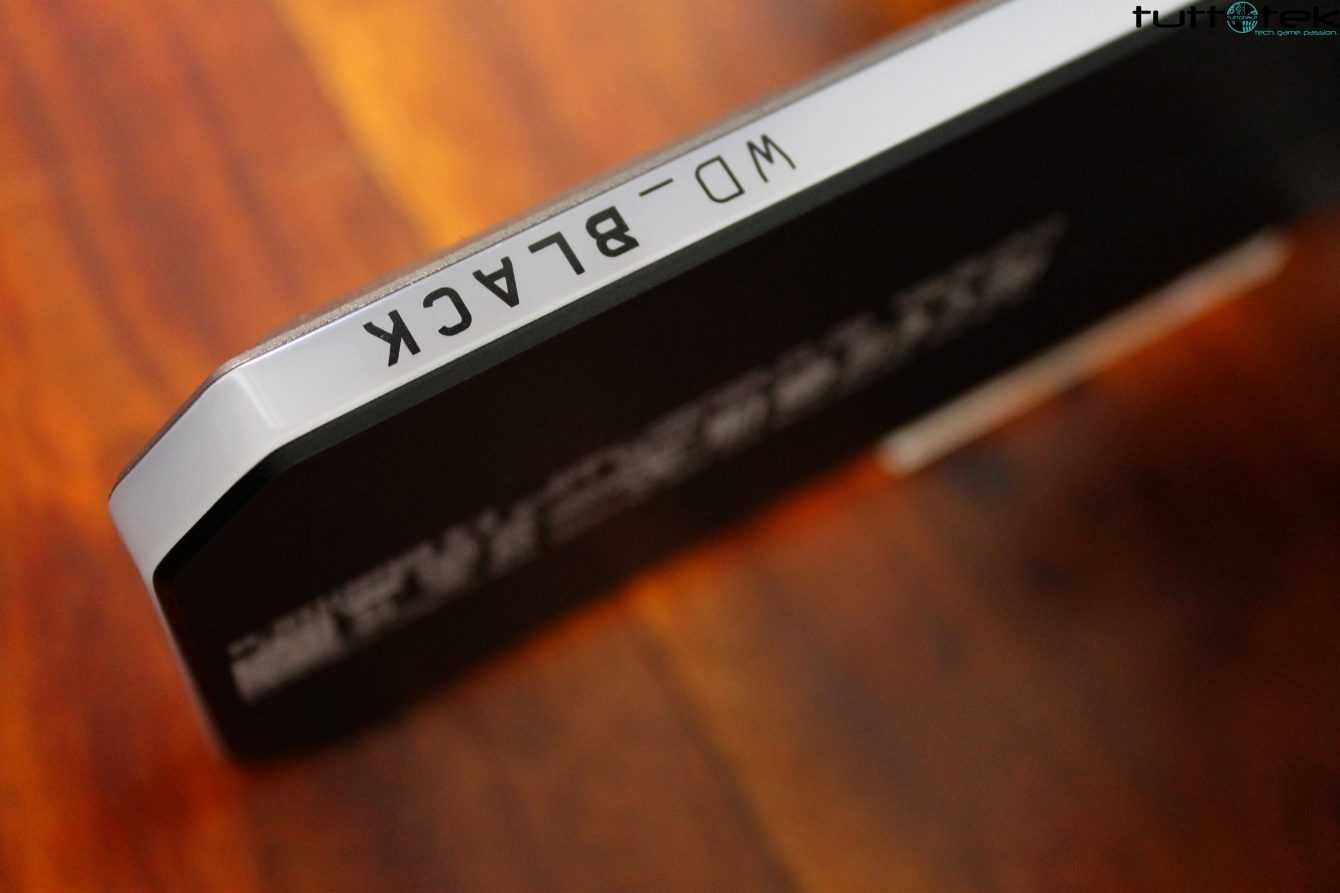 Before diving into the synthetic tests ie i benchmarks, let's go to effect our usual real tests, simulating a situation of daily use. These tests make sense as some controllers currently benefit from compressed files while others do not. Some storage drives in front of small files have lower performance, others work well with them.
I prepared two compressed folders, one containing files for approx 30GB, the other for 120 GB, including various documents (PDF, Word files, etc.), photos, videos, films and various projects.
The folder transfer test from 30 GB is finished in just 00:16:34 seconds, with a fixed average of 1.86 GB/s (1GB / s, 0.86MB / s). Even more incredible is the tests carried out with the folder from 120 GB, with a transfer ending in just over a minute: 01:08:05. With an average of 1.67 MB / s, peaks of 2.40 MB / s and minimums of 1,04 MB / s. A truly incredible speed, which synthetic tests have then confirmed.
Let us remember that SSD or Hard Disk performance are classified using two main and different parameters: sequential speed, which indicates the theoretical maximum speed with which data is read or written to the disk sequentially e the IOPS (input / output operations per second) which instead indicate the speed with which the data is read or written in a random way, using small files of 4KB. Sequential speed is expressed in MB / s (Megabytes per second) or GB / s (Gigabytes per second), while IOPS are expressed in number (ie the maximum number of input and output operations that the unit can "handle" every second). In the daily use of an SSD or Hard Disk, the value of the IOPS is also very important both as a real performance indicator and as a drive life. Using some certain software returns very reliable values ​​in this field.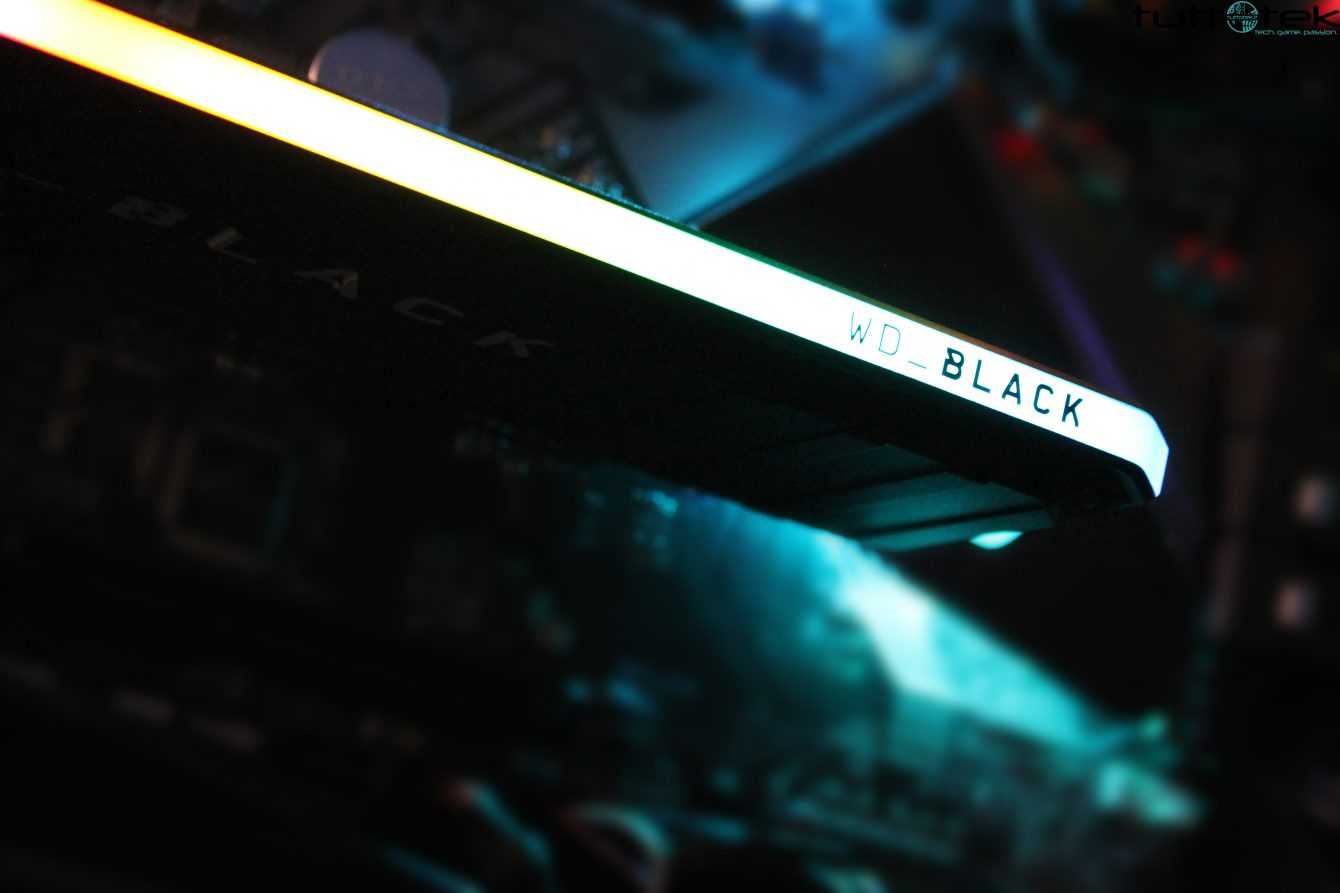 WD BLACK AN1500 in azione con CrystalDiskMark
The next test was performed with CrystalDiskMark, to measure maximum theoretical sequential read / write performance with random data of various sizes.
The WD BLACK AN1500 SSD performed really well. Both as regards the data obtained regarding reading, and for the performance in writing. In fact, we are talking about a value of over 6500 MB in reading, e more than 4400 MB in writing. Speeds confirmed by daily use, truly lightning-fast.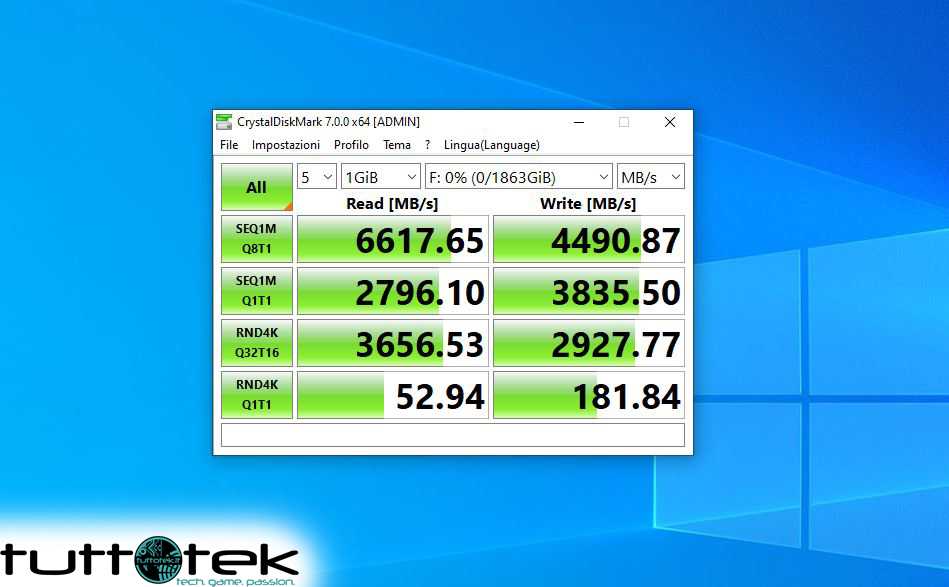 WD BLACK AN1500 in action with Atto Disk Benchmark
I then subjected the WD BLACK AN1500 to the software Atto Disk Benchmark. One of the best tools available for measuring storage performance. Famous for being very reliable, it produces very accurate results. With ATTO we can test building block sizes. So we can test with a sequence of 32MB of 4KB files, but also 32MB in 1MB files. What then is the most important and difficult task for any storage drive, that is, write very small files quickly.
Here too the data obtained are extraordinary, on the reading front we have incredible performance, with all the file cuts used. In writing we can observe with file with 32 KB write speeds well 2.57 GB/ s.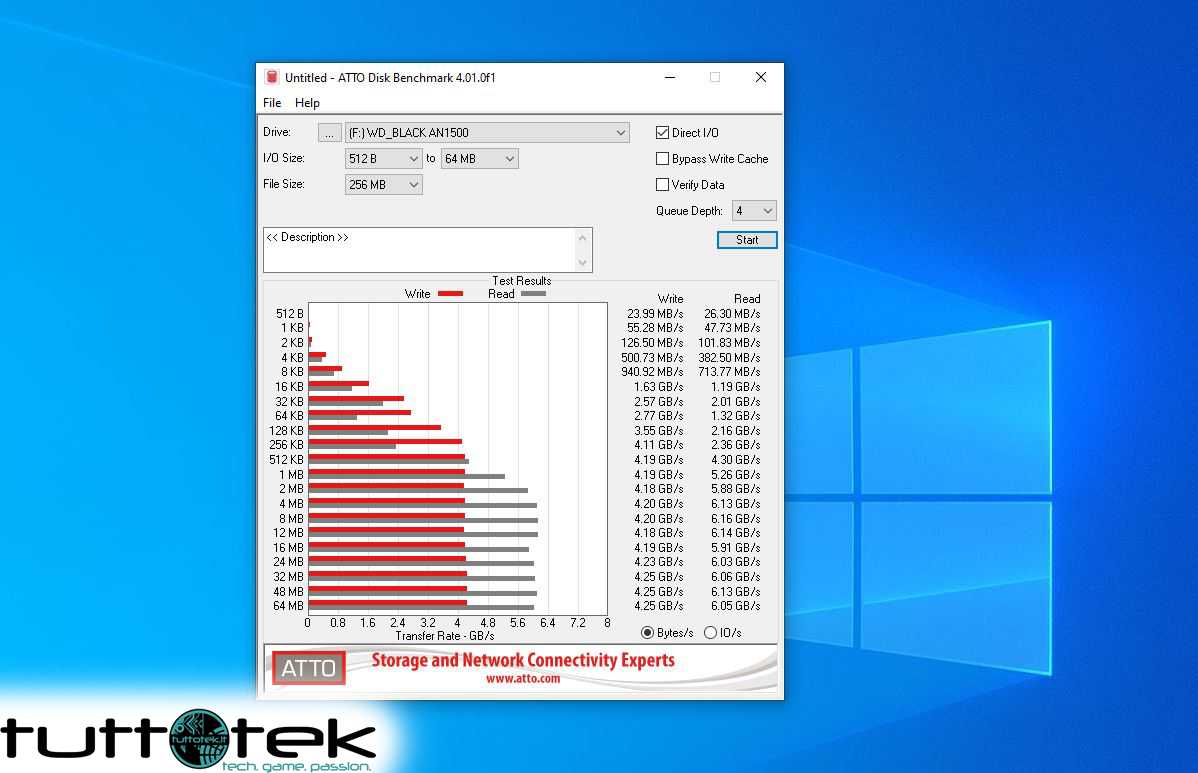 WD BLACK AN1500 in action with HD Tune Pro
The last test I did was with HD Tune Pro, a professional tool also used by companies in the sector. It allows you to scan hard drives for errors and thoroughly analyze various data and performance aspects from the storage drive under consideration.
The first test was carried out in the File Benchmark section, to measure the performance in reading and writing files with blocks of different sizes ranging from 0.5KB to 8192KB (x-axis), a very challenging test for these drives. Once again we find ourselves …