In this review we will take a closer look at the brand new WD BLACK SN850, the latest gem from the company of the same name. Let's find out together
A warm welcome to the readers of TechGameWorld.com. Today we have in our hands one of the latest finds from Western Digital. More precisely we are talking about the WD BLACK SN850, an SSD belonging to the WD BLACK family, which we told you about weeks ago in our article.
After having tested and reviewed its "big brother" in PCIe 3.0 version, the WD BLACK AN1500, today it's up to this little PCIe 4.0 thoroughbred to demonstrate its full potential. On the official page of the company's website, it is presented with the following motto: "INCREDIBLY FAST. INCREDIBLY TRUE". Actually you can not blame this statement, as the "small" solid state memory gallops at full speed in both reading and writing.
In fact, the SSD uses one PCIe Gen4 x4 connection to better adapt to new motherboards and take advantage of all the computing power of the CPUs. This guarantees a quite high data flow equal to theoretical 8 Gb / s, to ensure speed of 7000 MB / s in reading and, 5300 MB / s in writing. However we will see later in this review if the WD BLACK SN850 has managed to keep the premises or if the performance, however fast and formidable, will have been lower.
This new NVMe SSD from Western Digital is available in 500GB, 1TB and 2TB variants, to offer a good storage capacity even with the new increasingly voluminous games. It is also equipped with a heat sink, although the one received in test does not have one. THE prices start at € 152.99 and go up depending on the variant selected. But we will also talk about this later.
Packaging and design | WD BLACK SN850 review
The SSD arrives at the user in one minimal packaging in all senses. The box, despite the fairly generous dimensions compared to the product, contains only the latter inside. On front part we find the image of the WD BLACK SN850 and some of the main specifications of the product. In rear part instead we can see a description, quite concise as a whole, but which provides some more information.
Inside, as mentioned, we find only the SSD. Thanks to this choice of the company, it was possible to use a more compact packaging, which greatly increases the safety of the product during transport. Thanks to the size of 80 x 22 x 2.38 mm (LxWxH), this very small expansion card features a barely perceptible weight of about 8 grams. Its design is quite ordinary. On the front we find the main information such as the company name, the product name and all related information.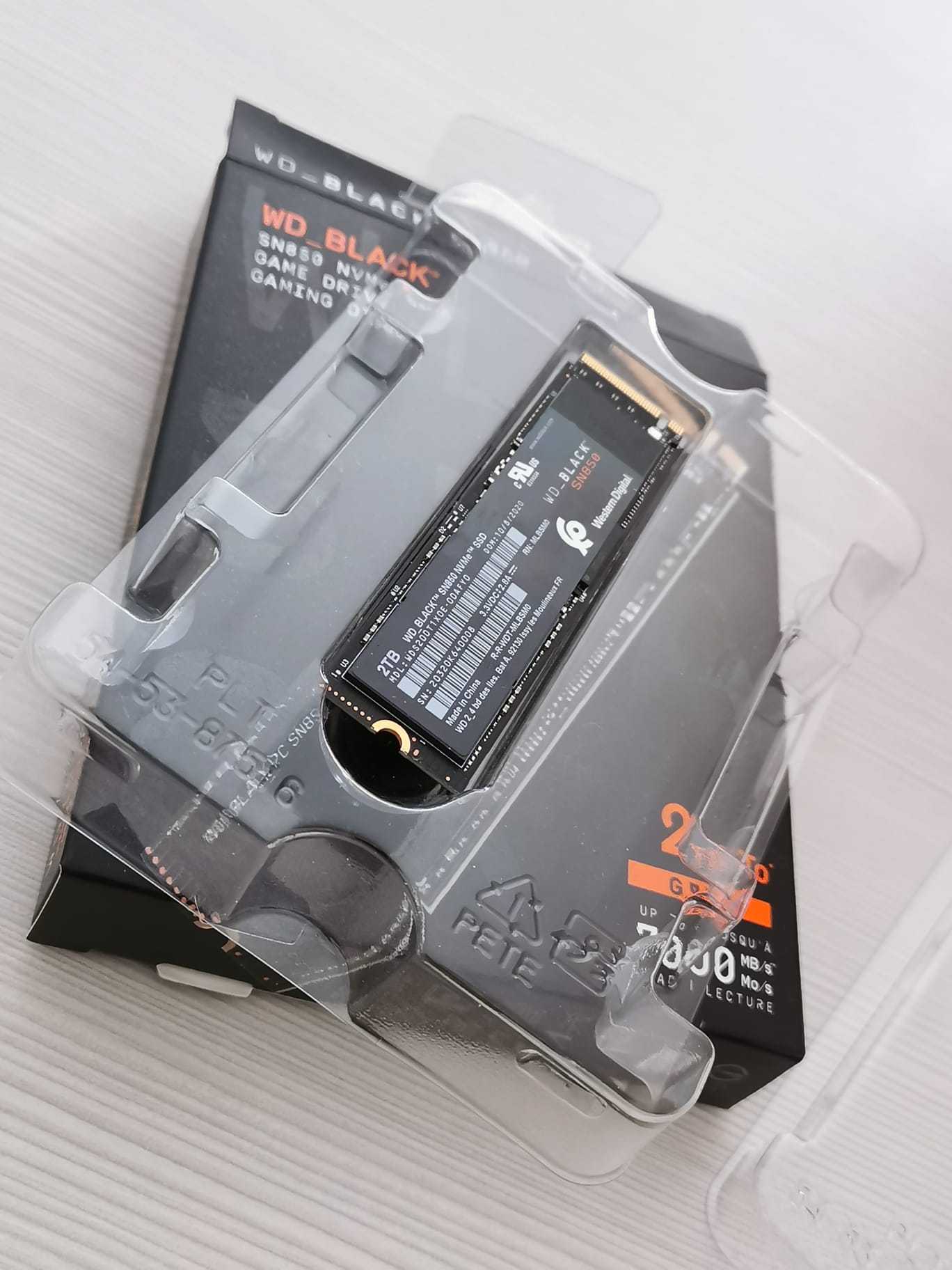 Get to know this SSD closely | WD BLACK SN850 review
As previously stated, the WD BLACK SN850 takes advantage of a PCIe Gen4 x4 connection. Western Digital has also opted for a M.2 2280 drive for an NVMe protocol in version 1.3. With a Endurance value of 600 TBW, many memory produced by SanDisk, of the 8-Channel type. Memories produced a 96 layer di tipo BiC S4 3D TLC NAND, really very performing.
To stay on topic, the controller used is called WD Black G2, but it is a derivative of a SanDisk model. To ensure maximum performance however, WD has decided well to insert RAM, 1GB, of the DDR4 type placed in "buffer". This allows you to ensure greater stability, especially in the writing phase. It also features a overtemperature detection system to lower performance in view of excessively high temperatures.
We are faced with a product that in daily use demonstrates its muscles with truly surprising access and write latencies. It's also important to point out the lightning-fast uploads, thanks largely to the new dynamic cache technology. It is definitely a destined product to those looking for maximum performance, but above all for those who want to make the most of their motherboard equipped with PCIe 4 and always look for maximum performance even in gaming.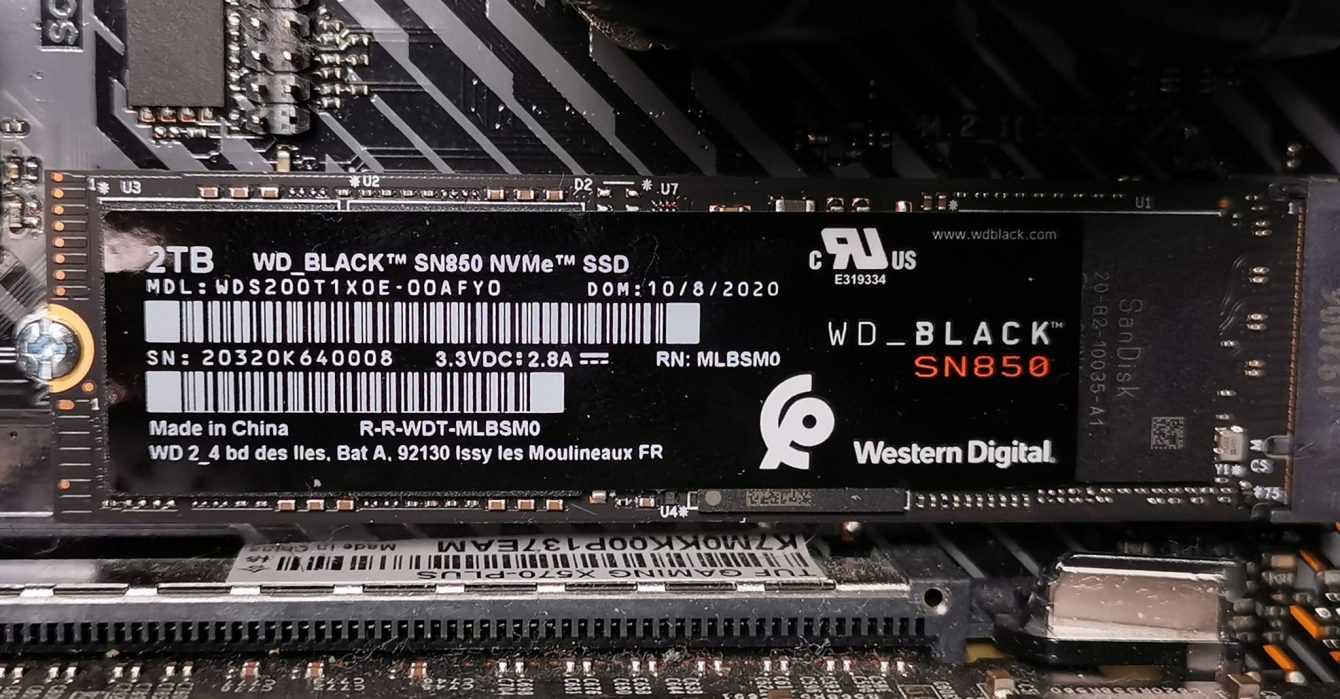 High performance and more | WD BLACK SN850 review
Western Digital in its official page declares that this latest generation SSD is precisely capable of achieve and guarantee speeds of 7000 MB / s in reading and 5300 MB / s in writing. Speeds that were met almost entirely in our benchmark tests and beyond. Before continuing and seeing the various results obtained from the various tests, it seems right to make a clarification.
We have placed the WD BLACK SN850 in the compartment just above the video card and under the CPU heatsink pump. This choice was considered for try to "limit" the flow of air as much as possible, looking for the note of re-create a system that is as close to that of most users as possible. In this way we were able to test not only the SSD itself, but also its over-temperature detection system that allows you to lower the performance to promote cooling.
We are sure that in the presence of a heatsink – or better ventilation – better performance could have been achieved. However, despite this, the tests had very positive results, guaranteeing excellent results, despite temperature peaks between 87 and 90 degrees during the various benchmarks. In addition to these tests, we then performed "real" tests, more truthful to what will be common use during the various play and / or work sessions according to your needs.
"Real" tests | WD BLACK SN850 review
The first test carried out as always and that of trial transfer. During this type of test, carried out with a folder containing various types of files both small and large, for a total weight of about 120 GB. The passage ended in about 2 minutes, with a constant speed – excluding a small, not incisive decrease in the overall – thanks to a speeds that ranged on average from 1.81 GB / s up to 1.90 GB / s.
In this test, we also carried out a test for gamer friends. In this test we actually have tested the loading times of 4 games plus one bonus, however, encountering them with an HDD, decidedly less competitive, but which is certainly present on most computers for a question of storage / price. In all four games considered – Assassin's Creed: Valhalla, Assassins's Creed: Odyssey, Assassin's Creed Origins and Anno 1800 – we encountered loading times almost halved.
| | | |
| --- | --- | --- |
| Games | HDD loading times | WD BLACK SN850 loading times |
| Assassin's Creed: Origins | 19.13 s | 8.55 s |
| Assassin's Creed: Odyssey | 57.36 s | 30.10 s |
| Assassin's Creed: Valhalla | 37.47 s | 16.58 s |
| Year 1800 | 56.18 s | 34.10 s |
Also important was the test with the bonus game. We are talking about Star Citizen, a game still in alpha stage which, not being optimized, requires more power to load various files while we play. In this case, however, the comparison was made with a 2.5 ″ SATA SSD. Also in this case a improvement in loading times, which however is only just 10 seconds.
To summarize these results, we can say that these are very important values, but they are definitely not what we expected given the type of controller that this SN850 boasts. Probably the speeds, which despite being high could be better, they are in fact held back by the temperature factor, which are certainly not among the lowest. And speaking of temperatures, let's see how it performed in the synthetic benchmarks.
Test with ATTO Disk Benchmark, HD Tune Pro and Crystal Disk Mark | WD BLACK SN850 review
The next test was performed with ATTO Disk Benchmark. The performances did score up to well 4.81 GB / s in writing, and 6.56 GB / s in reading in the test with 1 MB files, an often challenging operation for both solid state drives and hard drives. The temperatures, however, were really high, which as you can read they stand up to a good 90 °. A behavior that has been confirmed also in other benchmarks run with HD Tune Pro.
Here the WD BLACK SN850 in the test Random Access showed a great consistency and performance stability and, again in the 1 MB test, it scored 5419 IOPS and an Avg. Speed ​​of 5419.643. Nothing to say about performance and stability. However, even here the temperatures were not among the lowest. The performance was also confirmed in the Benchmark section, where we have a Extremely low Burst Rate of 1266.0 MB / s, it's a average of 2465.9 MB / s in reading, too, with large files.
Finally we have the test carried out with Crystal Disk Mark, the data actually speaks for itself, unfortunately the temperatures marked are 87 ° which certainly is not among the lowest values. In short, an SSD with really important performance albeit limited by a temperature that is not exactly optimal to make it work at its best.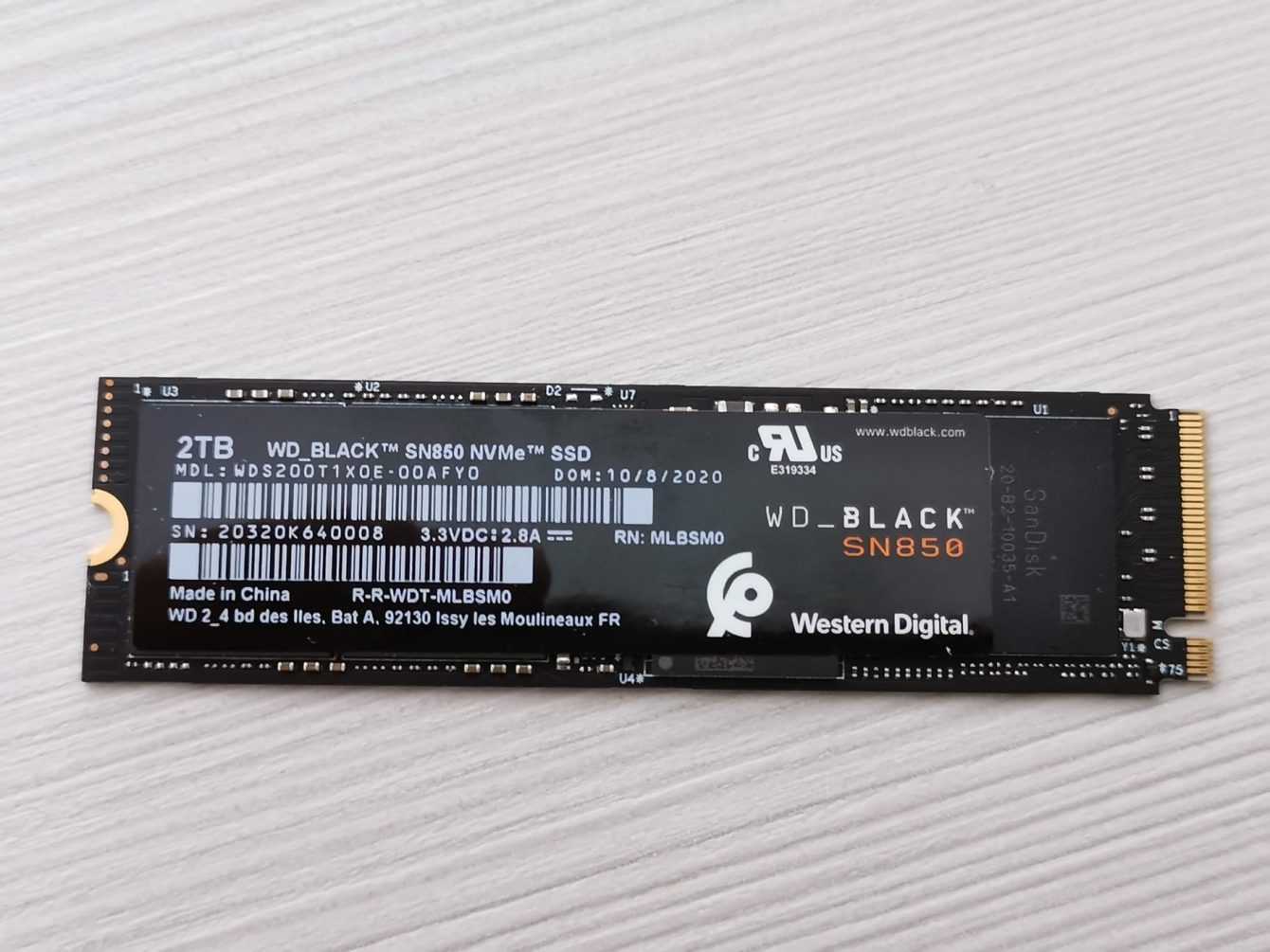 Who should buy it?
We have reached the end of this review on the WD BLACK SN850 and it is therefore time to take some conclusions. The SSD is very fast, on all fronts. Lightning fast in daily use in the most diverse applications, as in loading the games themselves. In short, a truly great performing product suitable for everyone. However, this little gem has only one problem, although not to be underestimated: le temperature quite high under stress.
Certainly, the place selected by us it was not the most optimal for ariflow, but we must remember that not all homes have adequate flow to cool these components. Surely, the variant of the following model, with heatsink, manages to maintain lower temperatures during intense use, and provide slightly higher performance. However, we cannot say the same about the heatsinkless model that was sent to us.
Let me be clear, this SSD is not to be discarded, on the contrary! A huge commendation goes to Western Digital for to be able to make such a fast and stable SSD, despite the very high temperatures. However it is not in doubt that all this is not healthy for unity. It will be possible to solve this problem, at least in part, by installing the SSD inside a heatsink for SSD M.2 present on the motherboard, if it was prepared for it.
So who should buy this device? Surely those who have a heatsink on the motherboard or those who have an excellent airflow inside the case. If used for not too demanding jobs, it is certainly an excellent product, able to provide maximum efficiency. However, its cost is not indifferent and indeed it turns out to be quite high for a version without a heatsink.
Below we report the prices related to the various cuts of memory without heatsink:
500 GB, 152,99 €
1 TB, 274,99 €
2 TB 549,99 €
For this review on the WD BLACK SN850 it is now …